Levon Aronian wins Satty Zhuldyz Rapid and Blitz 2023, Arjun Ergaisi second
Arjun Erigaisi faltered on the second day of Blitz. He started with a draw against Haik Martirosyan, suffered three consecutive losses between Round 19 and 21, including a loss against the eventual champion Levon Aronian. The only two-time FIDE World Cup winner in history, won the Satty Zhuldyz Rapid and Blitz 2023 with one round to spare. Even a last round loss against the World Blitz 2022 Bronze medalist, Haik Martirosyan, did not deter his championship hopes. Aronian won the tournament scoring 23/33, Arjun Erigaisi finished second 21.5/33 and Haik finished third 21/33. Blitz did not go well for Arjun, however, one must not forget his excellent performance in the Rapid event. Photo: Aditya Sur Roy
Haik Martirosyan beats Aronian and tops the Blitz
The next best thing to winning the tournament is considered to be, beating the champion of the tournament. Arjun could not do it, Haik managed to do that. In fact, the Armenia no.2 is the sole player to remain undefeated against Levon Aronian in both Rapid and Blitz events. Aronian managed to beat the remaining ten players at least once in either Rapid or the Blitz event. That is certainly a unique feat achieved by Haik.
As we mentioned in our previous report, the key game for Arjun to win the tournament was the first game of the day against the Armenia no.2, GM Haik Martirosyan. The game ended in a draw.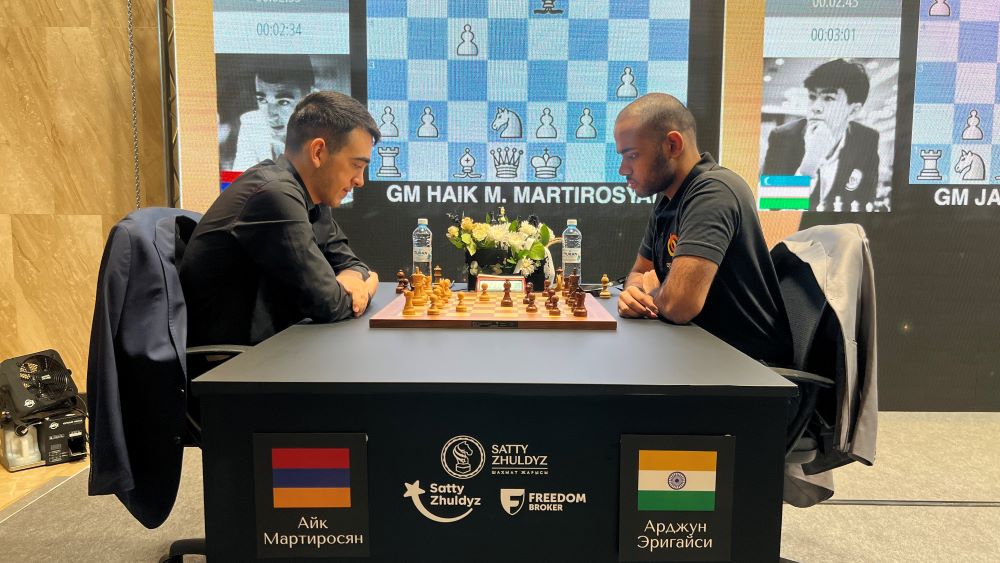 Levon Aronian won the tournament with a round to spare. Thus, a last round against a former compatriot, Haik Martirosyan, did not deter his championship chances. He has never lost against Aronian in rated games.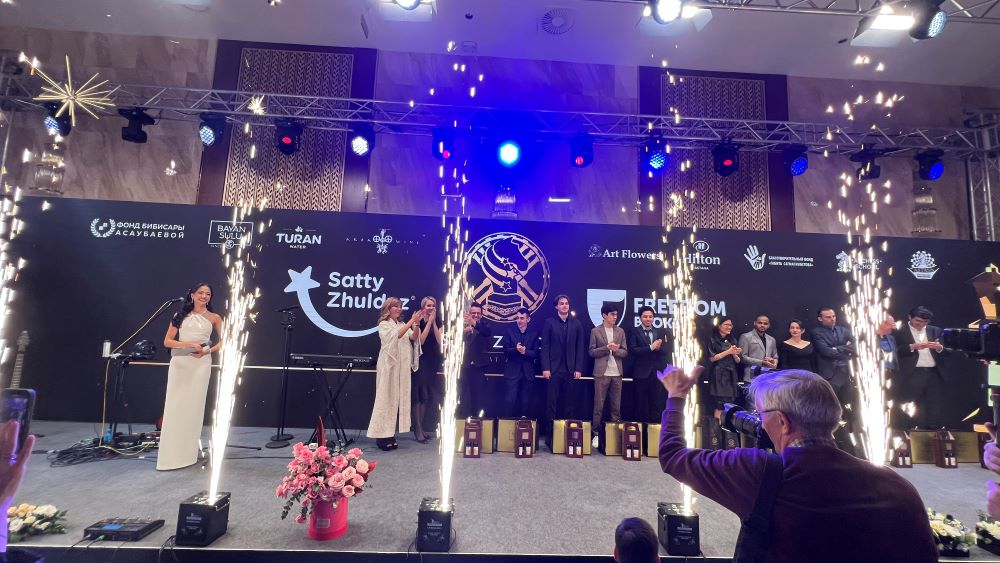 Video Gallery
For more Blitz Round 12-22 photos, please click here.
Replay Blitz Round 12-22 games
Blitz Round 22 results
Bo.
No.
Rtg
Name
Result
Name
Rtg
No.
1
12
2508
GM
Lagno, Kateryna
½ - ½
GM
Erigaisi, Arjun
2737
6
2
5
2809
GM
Aronian, Levon
0 - 1
GM
Martirosyan, Haik M.
2770
7
3
4
2712
GM
Kramnik, Vladimir
1 - 0
GM
Sindarov, Javokhir
2591
8
4
3
2651
GM
Keymer, Vincent
1 - 0
GM
Hou, Yifan
2601
9
5
2
2601
GM
Gelfand, Boris
½ - ½
GM
Grischuk, Alexander
2727
10
6
1
2440
IM
Assaubayeva, Bibisara
½ - ½
GM
Vakhidov, Jakhongir
2568
11
Blitz standings after Round 22
| | | | | | | | | | |
| --- | --- | --- | --- | --- | --- | --- | --- | --- | --- |
| Rk. | SNo | | Name | FED | Rtg | Pts. | TB1 | TB2 | TB3 |
| 1 | 7 | GM | Martirosyan, Haik M. | ARM | 2770 | 15,5 | 0 | 165,50 | 12 |
| 2 | 5 | GM | Aronian, Levon | USA | 2809 | 15 | 0 | 150,00 | 11 |
| 3 | 3 | GM | Keymer, Vincent | GER | 2651 | 13 | 1 | 139,00 | 10 |
| 4 | 10 | GM | Grischuk, Alexander | RUS | 2727 | 13 | 1 | 129,75 | 8 |
| 5 | 6 | GM | Erigaisi, Arjun | IND | 2737 | 12 | 0 | 116,75 | 9 |
| 6 | 4 | GM | Kramnik, Vladimir | RUS | 2712 | 11,5 | 0 | 113,75 | 9 |
| 7 | 8 | GM | Sindarov, Javokhir | UZB | 2591 | 10,5 | 0 | 106,25 | 8 |
| 8 | 11 | GM | Vakhidov, Jakhongir | UZB | 2568 | 10 | 1,5 | 106,50 | 6 |
| 9 | 2 | GM | Gelfand, Boris | ISR | 2601 | 10 | 0,5 | 105,25 | 2 |
| 10 | 12 | GM | Lagno, Kateryna | RUS | 2508 | 8 | 1 | 82,00 | 3 |
| 11 | 9 | GM | Hou, Yifan | CHN | 2601 | 8 | 1 | 76,75 | 5 |
| 12 | 1 | IM | Assaubayeva, Bibisara | KAZ | 2440 | 5,5 | 0 | 64,50 | 2 |
Links
---