Satty Zhuldyz 2023: Arjun Erigaisi Roars in Rapid, now World no.24
Arjun Erigaisi won his first game for the third consecutive day. He won against the 14th world champion, Vladimir Kramnik. Then he drew against Levon Aronian, before finishing the Rapid event with a victory over, Kateryna Lagno. Although a draw would have sufficed for a first place finish in the Rapid, Arjun still went for the full point. Arjun won the Rapid event 9.5/11. Aronian finished second 8/11, followed by Alexader Grischuk at 7/11. The tournament is not over, as the final standings will be decided based on a cumulative score of Rapid and Blitz events. 22 games of Blitz will be played in a Double Round-Robin format. Today is a rest day. Blitz Round 1 starts tomorrow Monday 24th April at 5 p.m. local time, 4:30 p.m. IST. Photo: Aditya Sur Roy
Arjun and Aronian remain unbeaten in Rapid
Both Arjun Erigaisi and Levon Aronian (USA) remained undefeated in the Rapid event. The highly anticipated encounter between them ended in a draw. Although, Arjun had a substantial advantage, the tournament situation did not require him to push for a full point. They will face each other in the Blitz event at least two times in the next few days.

Apart from Vishy Anand, Arjun Erigaisi is the only other Indian who has 2700+ rating in all three formats of the game.
Round 9: First-ever encounter against Kramnik
Arjun Erigaisi (2685) has never faced the 14th world champion, Vladimir Kramnik (2756) in a rated game. The tourament leader had all the momentum and form on his side. Starting his third consecutive day with a win would definitely set the tone before facing his healthy rival, Levon Aronian in the penultimate round.
Arjun - Kramnik
18.b3 forced Black to give up the b5-pawn. There are various ways for Black to deal with the attack on the knight, followed by on b5-pawn. 18...Nd6 19.Nxb5 Bxb5 20.Bxb5+ Ke7 21.Rfc1 and eventually the extra b-pawn played a crucial role in White earning the victory.
Round 10: A new chapter
The healthy rivalry which started in June 2021, had another chapter written in the penultimate round. Arjun made his intentions very clear when he went 15...g5, followed by 17...g4.
Aronian - Arjun
17...g4 18.hxg4 Bxg4 19.g3 Kh8 20.dxe5 dxe5 21.Nh2 Rg8 made White's king quite vulnerable. 22.Kh1 and now computer recommends a rook lift Rg6 23.Bg2 Be6 would have given Black a significant edge. Arjun decided to go safe 22...Ne6 23.Bg2 Nd4 24.Qb2 and draw. He moved to 8.5/10 and Aronian 8/10.
Round 11: Finishing on a high note
GM Arjun Erigaisi faced the former World Rapid and three-time World Blitz Women's champion, GM Kateryna Lagno in the final round of Rapid event.
Arjun - Kateryna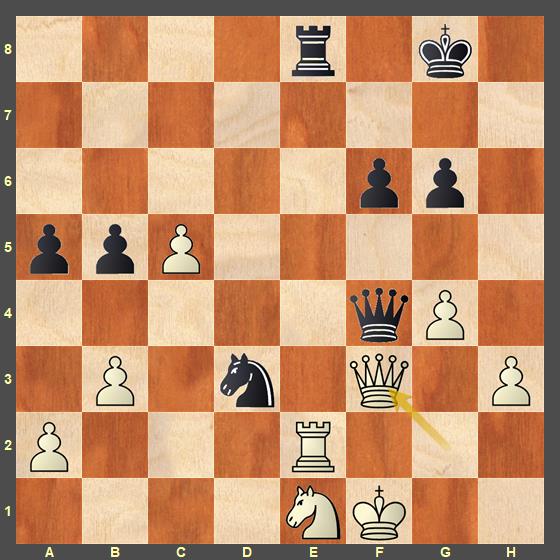 Black was a critical juncture. Which endgame to choose - queen and knight, rook and knight or just knight endgame? The correct answer is - rook and knight endgame. However, Black went for a knight endgame. It did not go well for her. 40...Rxe2 41.Kxe2 Qxf3+ 42.Nxf3 Nxc5 43.Nd4 b4 44.Nc6 and White went on to win the game.
For more Round 9-11 photos, please click here.
Replay Round 9-11 games
Round 9-11 results
Round 9 on 2023/04/22
Bo.
No.
Rtg
Name
Result
Name
Rtg
No.
1
5
2720
GM
Aronian, Levon
1 - 0
GM
Lagno, Kateryna
2485
12
2
6
2685
GM
Erigaisi, Arjun
1 - 0
GM
Kramnik, Vladimir
2756
4
3
7
2587
GM
Martirosyan, Haik M.
½ - ½
GM
Keymer, Vincent
2630
3
4
8
2578
GM
Sindarov, Javokhir
1 - 0
GM
Gelfand, Boris
2626
2
5
9
2618
GM
Hou, Yifan
½ - ½
IM
Assaubayeva, Bibisara
2359
1
6
10
2731
GM
Grischuk, Alexander
1 - 0
GM
Vakhidov, Jakhongir
2513
11
Round 10 on 2023/04/22
Bo.
No.
Rtg
Name
Result
Name
Rtg
No.
1
12
2485
GM
Lagno, Kateryna
1 - 0
GM
Vakhidov, Jakhongir
2513
11
2
1
2359
IM
Assaubayeva, Bibisara
0 - 1
GM
Grischuk, Alexander
2731
10
3
2
2626
GM
Gelfand, Boris
1 - 0
GM
Hou, Yifan
2618
9
4
3
2630
GM
Keymer, Vincent
½ - ½
GM
Sindarov, Javokhir
2578
8
5
4
2756
GM
Kramnik, Vladimir
1 - 0
GM
Martirosyan, Haik M.
2587
7
6
5
2720
GM
Aronian, Levon
½ - ½
GM
Erigaisi, Arjun
2685
6
Round 11 on 2023/04/22
Bo.
No.
Rtg
Name
Result
Name
Rtg
No.
1
6
2685
GM
Erigaisi, Arjun
1 - 0
GM
Lagno, Kateryna
2485
12
2
7
2587
GM
Martirosyan, Haik M.
½ - ½
GM
Aronian, Levon
2720
5
3
8
2578
GM
Sindarov, Javokhir
1 - 0
GM
Kramnik, Vladimir
2756
4
4
9
2618
GM
Hou, Yifan
½ - ½
GM
Keymer, Vincent
2630
3
5
10
2731
GM
Grischuk, Alexander
½ - ½
GM
Gelfand, Boris
2626
2
6
11
2513
GM
Vakhidov, Jakhongir
½ - ½
IM
Assaubayeva, Bibisara
2359
1
Standings after Rapid Round 11
| | | | | | | | | | |
| --- | --- | --- | --- | --- | --- | --- | --- | --- | --- |
| Rk. | SNo | | Name | FED | Rtg | Pts. | TB1 | TB2 | TB3 |
| 1 | 6 | GM | Erigaisi, Arjun | IND | 2685 | 9,5 | 0 | 46,75 | 8 |
| 2 | 5 | GM | Aronian, Levon | USA | 2720 | 8 | 0 | 40,00 | 5 |
| 3 | 10 | GM | Grischuk, Alexander | RUS | 2731 | 7 | 0 | 34,75 | 4 |
| 4 | 4 | GM | Kramnik, Vladimir | RUS | 2756 | 6 | 0 | 29,75 | 4 |
| 5 | 7 | GM | Martirosyan, Haik M. | ARM | 2587 | 5,5 | 0 | 28,25 | 3 |
| 6 | 2 | GM | Gelfand, Boris | ISR | 2626 | 5 | 0 | 23,50 | 2 |
| 7 | 3 | GM | Keymer, Vincent | GER | 2630 | 4,5 | 1,5 | 23,75 | 0 |
| 8 | 11 | GM | Vakhidov, Jakhongir | UZB | 2513 | 4,5 | 1,5 | 23,00 | 2 |
| 9 | 8 | GM | Sindarov, Javokhir | UZB | 2578 | 4,5 | 1,5 | 21,25 | 3 |
| 10 | 12 | GM | Lagno, Kateryna | RUS | 2485 | 4,5 | 1,5 | 20,75 | 2 |
| 11 | 9 | GM | Hou, Yifan | CHN | 2618 | 3,5 | 0,5 | 18,00 | 1 |
| 12 | 1 | IM | Assaubayeva, Bibisara | KAZ | 2359 | 3,5 | 0,5 | 16,25 | 0 |
Blitz Round 1 pairings
Round 1 on 2023/04/24
Bo.
No.
Rtg
Name
Result
Name
Rtg
No.
1
1
2440
IM
Assaubayeva, Bibisara
GM
Lagno, Kateryna
2508
12
2
2
2601
GM
Gelfand, Boris
GM
Vakhidov, Jakhongir
2568
11
3
3
2651
GM
Keymer, Vincent
GM
Grischuk, Alexander
2727
10
4
4
2712
GM
Kramnik, Vladimir
GM
Hou, Yifan
2601
9
5
5
2809
GM
Aronian, Levon
GM
Sindarov, Javokhir
2591
8
6
6
2737
GM
Erigaisi, Arjun
GM
Martirosyan, Haik M.
2770
7
Links
---