Norway Chess R9: Carlsen scores four in-a-row, takes sole lead
Magnus Carlsen registered his fourth consecutive victory as he defeated Karjakin in the penultimate ninth round of Norway Chess 2021. According to the world champion, this was the toughest win out of them. At one point his position was really bad, and he wanted to provoke a break which is exactly what the former world championship challenger did, allowing his opponent to get back in the game. Firouzja beat Tari for the second time in this tournament, and this win brought him to World no.10 in the live ratings list. Carlsen and Nepomniachtchi will very likely face each other the last time before their world championship match, today in the final round of the tournament starting at 8:30 p.m. IST. Photo: Lennart Ootes/Norway Chess
Firouzja enters World top 10
Rapport's strategy of making a quick draw in the Classical and playing Armageddon did not work for the second time. It did not work against Carlsen in the third round and this time it was against Nepomniachtchi. The Hungarian got a good opportunity in Armageddon but he was unable to seize it. Gukesh maintains his sole lead, 8.0/9 in the Open section. He just needs a draw to win the tournament.
Tari - Firouzja: 0-3
Tari made an incorrect decision at a critical moment of not exchanging knights which allowed Firouzja to get some play.
White should have played 22.Nxe5 here to keep things balanced. 22.Nb5 is an ineffective outpost which does not add anything to White's position. In fact, 22...Ng4 forces White to exchange the bishop with the knight. The game continued 23.Bf4 Rfe8 24.Bf3 g5 and now White is forced to trade the bishop and get a less than favorable position.
27.c4 allows Black to do tactics to gain material. Find out how.
Carlsen - Karjakin: 3-0
Carlsen had a really bad position he felt where he had no plan and tried hard to stay in the game.
26...h5 was not the best way to continue which the world champion correctly felt to be inaccurate. 26...Re8 or Rbf8 are suggested by the computer.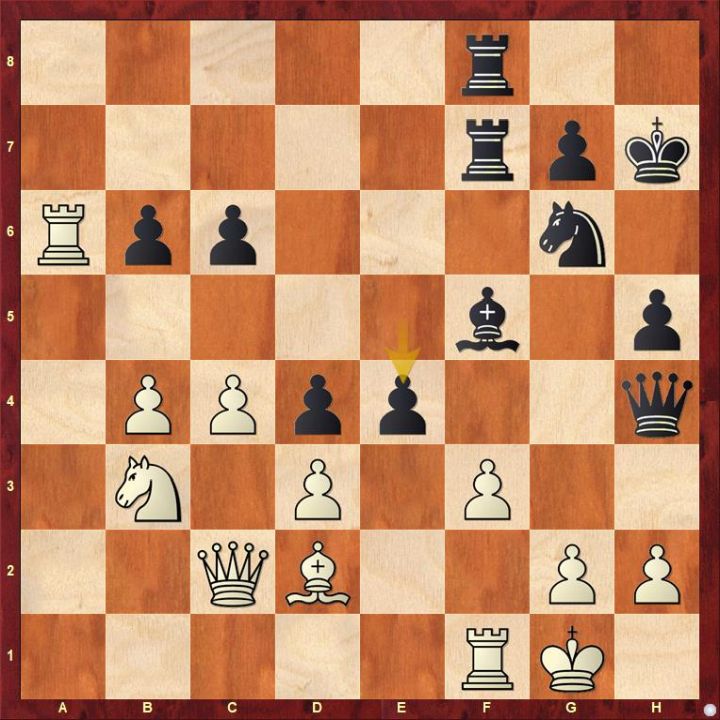 Carlsen admitted playing 31.Ra6 to provoke 30...e4 which is exactly what he did. It gave White an opportunity to get back in the game 31.Nxd4. Black sacrificed an exchange 31...exf3 32.Nxf3 Bh3 33.Rf2 Rxf3 34.gxf3 with no proper follow up 34...Rf5. Instead, 34...Bg4 would have some semblance.
Rapport - Nepomniachtchi: 1-1.5
Rapport made a quick 18-move draw in the Classical game and decided to play Armageddon.
Armageddon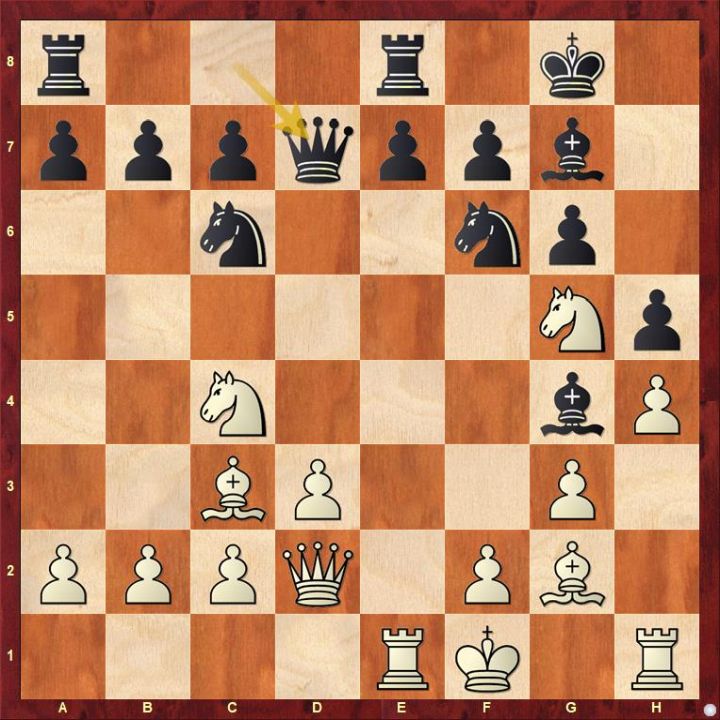 White's best opportunity occured when Black slipped 16...Qd7. Find out how White should have seized the opportunity here.
Photo Gallery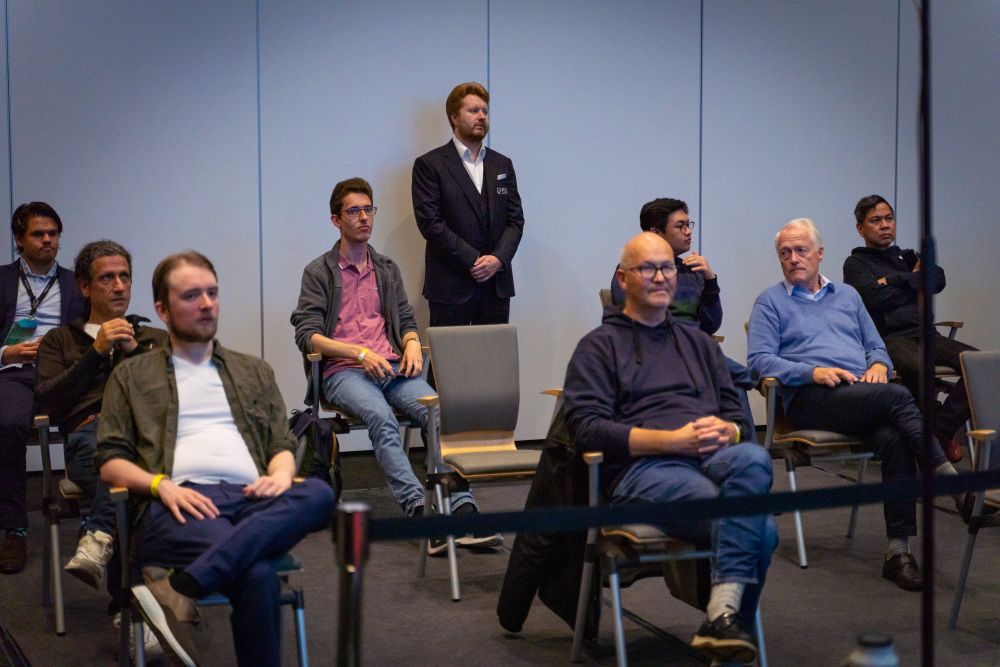 Replay Round 9 games
Pairings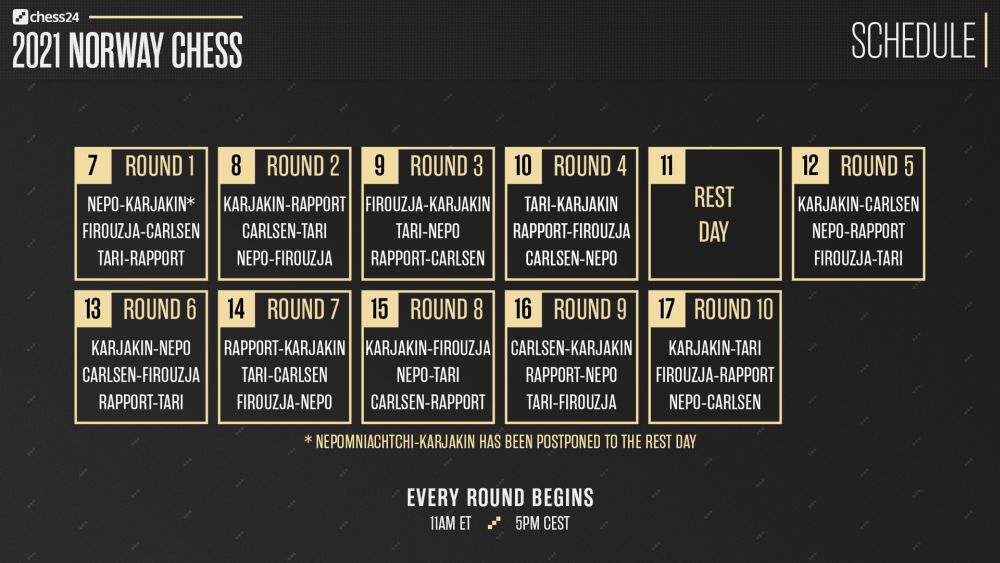 Results
Standings
Scoring
Players will get the following points per round:
Victory in main game: 3 points
Loss in main game: 0 points
Draw in main game & victory Armageddon: 1.5 points
Draw in main game & loss Armageddon: 1 point
Armageddon Rules
• If there is a draw in the classical game, then the players will move on to Armageddon.
• White pieces will continue with white in Armageddon. With this, there will be a winner in each game due to the fact that black pieces will win if the game ends in a draw.
Replay the Live Stream
Links
Norway Chess official site
---