Norway Chess R1: Carlsen survives a scare, beats Firouzja in Armageddon
Magnus Carlsen started his Norway Chess 2021 campaign in the exact same way as last year, by making a draw in the Classical game and then winning the Armageddon. Although it was Firouzja who was completely winning the endgame in Armageddon, but he missed in a time scramble and allowed the world champion to escape with a draw. Rapport beat Tari in the Classical game to score 3.0 points and enter the World top 10. As announced earlier, Nepomniachtchi will play against Karjakin on the rest day, Saturday 11th September. Catch all the action of Round 2 tonight from 8:30 p.m. IST. Photo: Lennart Ootes/Norway Chess
Rapport scores a Classical victory, enters World top 10
Richard Rapport's peak ranking was World no.11 in August 2021. That changed yesterday when he beat Norway no.2 Aryan Tari clean in their Classical encounter to enter into the World top 10 in the live ratings. He is now World no.9 as per the live ratings in 2700chess.
Firouzja - Carlsen 1-1.5
The first Classical over-the-board game between Firouzja and Carlsen ended in a draw. Carlsen made an interesting sacrifice in Armageddon.
Armageddon
16.Bxd8 Rf3+ 17.Kh1 Rxg3 and 18.Bxb6 could have landed White in more trouble than he could ask for. Instead, White could have gone for the relatively quieter 18.hxg3 Rxd8. 18...Bxb6 19.hxg3 and now 19...Rf8 could have made things difficult for White.
33...dxe4 completely started turning things in White's favor. 34.Rxe4 Ra3 35.Rc4 Rxc3 36.Rxc3 Bxc3 37.Rc1 and White is now well-placed to push for a win.
Firouzja blundered in time scramble 51.Ke3 and allowed the world champion to escape with a draw. Find out what White should have done instead.
Tari - Rapport: 0-3
Once the queen's got exchanged, white's bishop lacked a proper square to go to, which made white virtually down by a piece.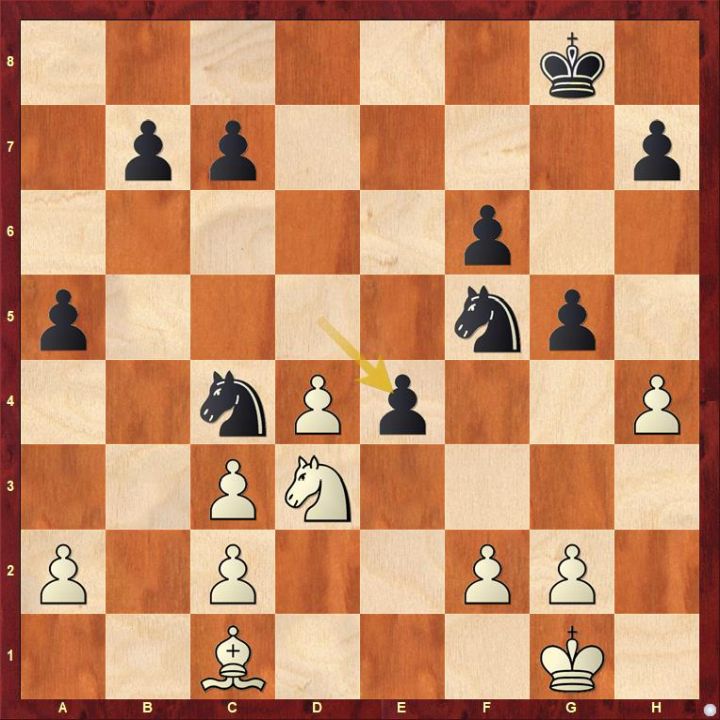 The c1-bishop is gridlocked completely. 29.Nc5 Nxh4. Now, both 30.Nxb7 or Nxe4 will eventually cost the game for White because white is playing with only one minor piece and it is just a matter of time before black knights overpower White which is what happened in the game and Rapport scored a victory.
Due to visa problems, GM Ian Nepomniachtchi was prevented from boarding his plane and had to be issued a new visa to get to Norway. The Norwegian Embassy in Moscow and the Directorate of Immigration have been very helpful in resolving this issue quickly, so that Nepomniachtchi arrives in Stavanger on 7 September. However, Nepomniachtchi will be too late to start the first round at 17.00, and will therefore play round 1 on the day off on Saturday 11 September, where he will play against GM Sergey Karjakin. Source
Nepomniachtchi - Karjakin: 3-0
Nepomniachtchi beat Karjakin in Ruy Lopez Berlin.
17.Nf6 is a beautiful move. Black's best chance is 17...gxf6 18.Nxe6+ fxe6 19.Bxh6 Nxh6 20.exf6 Bxf6 21.Rxe6. 17...Bc4 is another option. Karjakin opted for 17...Bxa2 which is lost after 18.b3
Carlsen has already made a subtle reference to his opponents, especially Nepomniachtchi as this event will be the last time they will face each other in-person at a tournament before the world championship in November.
Photo Gallery
Replay Round 1 games
Pairings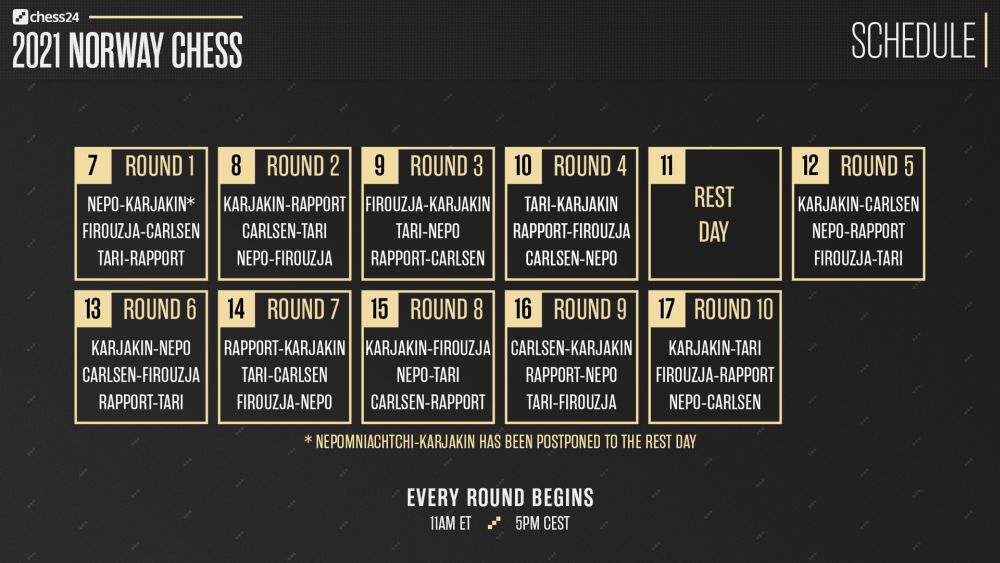 Results
Standings
Scoring
Players will get the following points per round:
Victory in main game: 3 points
Loss in main game: 0 points
Draw in main game & victory Armageddon: 1.5 points
Draw in main game & loss Armageddon: 1 point
Armageddon Rules
• If there is a draw in the classical game, then the players will move on to Armageddon.
• White pieces will continue with white in Armageddon. With this, there will be a winner in each game due to the fact that black pieces will win if the game ends in a draw.
Replay the Live Stream
Links
Norway Chess official site
---