Norway Chess R7: Rapport overcomes Karjakin, moves to World no.6
Exactly a week after entering the World top 10 in the live ratings list, Richard Rapport has moved up to World no.6 now. He roared his way to the top by defeating Karjakin in their Classical encounter in the seventh round of Norway Chess 2021. The tournament boasts the field of a world champion, his challenger to the world championship, a former world championship challenger and world's best junior. Rapport has showed his true strength, creative play can still topple the best the world has to offer and climb the ranks at the same time. Apart from Rapport and Carlsen, Firouzja also scored victory in Classical against Nepomniachtchi. Round 8 starts today at 8:30 p.m. IST. Photo: Lennart Ootes/Norway Chess
Classical rules, Gukesh is in sole lead
Richard Rapport scored his third Classical victory of the event in a fantastic manner as he halted prevented Karjakin from scoring a hat-trick of match wins. Gukesh has taken sole lead 5.5/6 in the Open section. He is a full point ahead of the competition.
Firouzja - Nepomniachtchi: 3-0
Firouzja made a timely break in the center which gave him the initiative.
24.d4 forces Black to exchange the pawns, otherwise Black just ends up having a terrible pawn structure with an isolated doubled pawn on e-file and the d-file being in White's control.
38.Qd3 Ne7 39.Nc4 and it was all over for Black. White's knights and queen are much better placed which gives him the decisive advantage. Firouzja eventually managed to convert it into a win.
Tari - Carlsen: 0-3
Carlsen grinded a relatively equal queen and knight endgame against Tari.
White had to play the unpleasant 39.d5+ and Qd4 to prevent any shenanigans. 39.Qd3 allowed Black to go for 39...h4 40.d5 Qe5 and now Black is in driver's seat. There is no good way for White to continue the fight.
Rapport - Karjakin: 3-0
Rapport showcased fantastic technique in the bishop and knight endgame against Karjakin.
It would have been difficult to fathom that the passed c-pawn would be a deciding factor of the game.
45...h5 turned out to be the final straw that cost Black the game in an already dwindling situation. Find out the correct continuation for White.
Photo Gallery
Replay Round 7 games
Pairings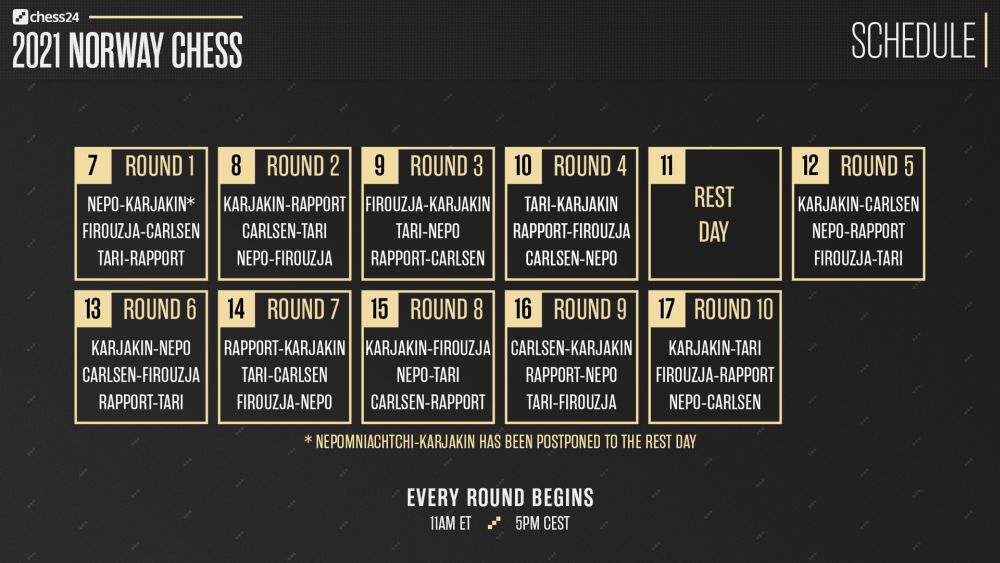 Results
Standings
Scoring
Players will get the following points per round:
Victory in main game: 3 points
Loss in main game: 0 points
Draw in main game & victory Armageddon: 1.5 points
Draw in main game & loss Armageddon: 1 point
Armageddon Rules
тАв If there is a draw in the classical game, then the players will move on to Armageddon.
тАв White pieces will continue with white in Armageddon. With this, there will be a winner in each game due to the fact that black pieces will win if the game ends in a draw.
Replay the Live Stream
Links
Norway Chess official site
---