Nepo stops Kramnik, catches Carlsen | Legends of Chess Round 5
At the halfway mark, we finally begin to have some clarity in the standings! Ian Nepomniachtchi cruised past Peter Svidler 3-1, catching Magnus Carlsen, who needed an Armageddon to seal a comeback win over Vassily Ivanchuk. Vladimir Kramnik continues his hot streak, this time beating the out-of-sorts Ding Liren to claim sole third place with 10 points, 4 behind the leaders. Anish Giri continued to slowly climb up the rankings, this time beating Boris Gelfand, who has suddenly lost 3 matches in a row after a brilliant start. Peter Leko played the better chess in the entire match against Vishy Anand, but had to win the Armageddon game to go through after losing a winning position in Game 1. With 4 rounds to go, it's still anyone's race to take as the top 4 spots are still up for grabs. An exhaustive report by Tanmay Srinath.
As Magnus Carlsen won match after match, Ian Nepomniachtchi silently continued to do his thing, and only in Round 5 did he finally catch the leader at the top, after Vassily Ivanchuk pushed Magnus to the brink. With Carlsen and Nepo yet to play, this matchup could be decisive in determining the group stage winner. Vladimir Kramnik is another 'veteran' who has show astonishing consistency, as he has now climbed up to sole third place, a point ahead of Peter Svidler, who saw his hot streak suffer with losses in the last 2 rounds. Peter Leko,Vishy Anand and Ding Liren are almost out of contention for the top 4 places, as they will need to win all their 4 remaining match and need a host of results to go their way. But with this intriguing scoring system, the impossible becomes possible, so one can only get super excited at the action that is to come!
Nepo 3-1 Svidler:
Definitely the highlight of the round, as we have Nepo catching up to Magnus with this great win. Let us look at the two decisive games that resulted in the current Russian No.1 taking the match:
Nepo-Svidler(Game 3)
Game 4 was a must win game for Svidler, and true to his style throughout this tournament he chose a variant of 1.Nf3. He had a better chance of gaining an advantage had he chosen the right continuation on move 13:
Svidler-Nepo
Later in the game Peter missed the only chance to hold in his quest to play for the win:
Svidler-Nepo
Kramnik 2.5-1.5 Ding: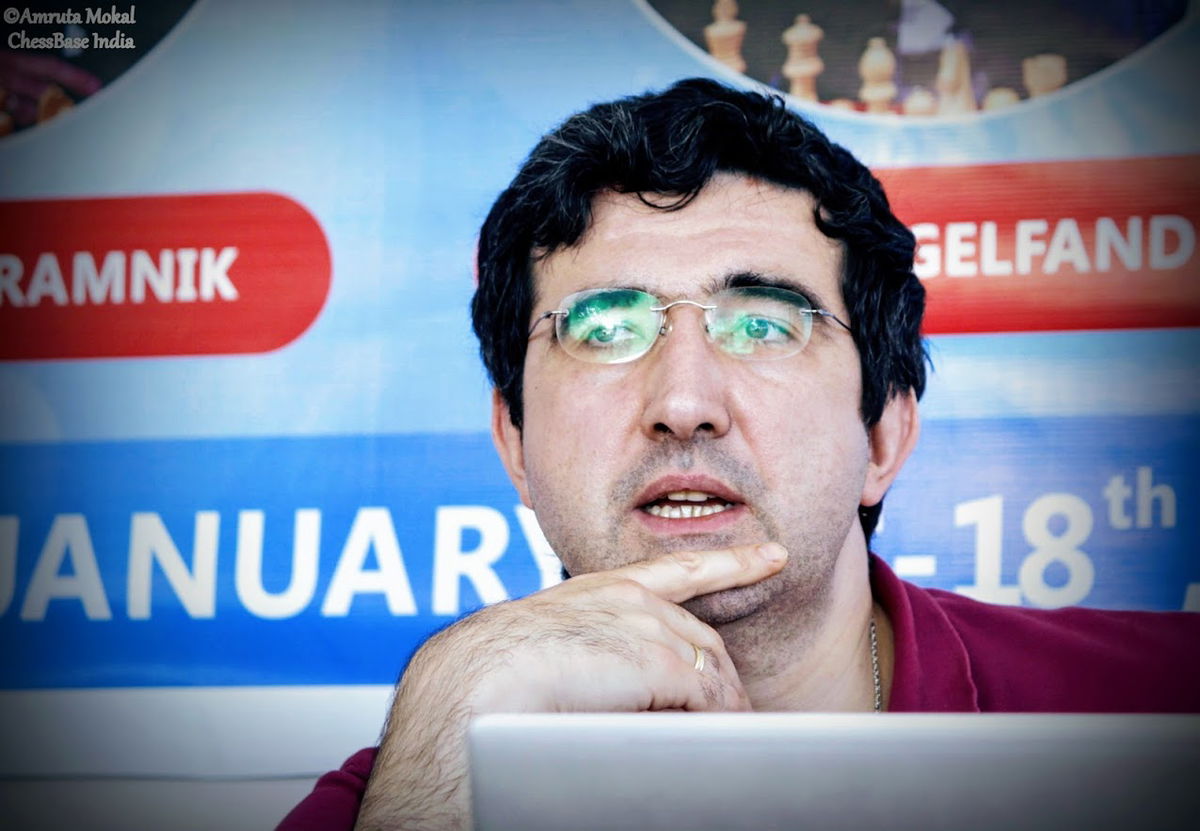 This is a match where the scoreline doesn't paint the full picture, as Kramnik had to come from behind to beat Ding Liren. Vlad's decision to retire may not be reversible, but we have no complaints if he continues to come back and create masterpieces in the faster formats!
Game 1 did not go according to plan for Kramnik. He chose to play 1.e4 in the match, and while both games saw the same Sozin Najdorf the first was not such great play from the Russian Genius. But he fought back admirably, only to lose to either a mouse slip or incredible time trouble:
Kramnik-Ding
But Kramnik did not reach the World Title by fluke. His enormous mental strength saw him retaliating in the very next game:
Ding-Kramnik
Game 3 was a draw, but Kramnik continued to play strongly, and won game 4 after an impressive performance pressured Ding into blundering a piece:
Ding-Kramnik
Giri 2.5-1.5 Gelfand:
After a rough start, it seems that Anish Giri is slowly getting his mojo back, as today he comfortably got past the legend Boris Gelfand, whose form has dipped after two brilliant wins in the first 2 rounds. It makes sense to look at the decisive last round game, which saw Giri repeat the line that Fabiano used against him in the Candidates:
Gelfand-Giri
Carlsen 2*-2 Ivanchuk (*-Won the Armageddon):
After staying unbeaten in the last 4 rounds, Carlsen lost his first game of the tournament against a persistent Ivanchuk, who took advantage of a sudden blunder by Magnus to win game 1. However, Carlsen stayed on course and came back with a win to tie the scores, and later won the Armageddon. A closer look at the decisive games:
Carlsen-Ivanchuk
Carlsen however is the strongest player on the planet today, and he soon bounced back:
Carlsen-Ivanchuk
The Armageddon was a dramatic encounter, sealed by mutual blindness, similar to a previous Carlsen game (against Anand if I am not mistaken):
Ivanchuk-Carlsen
Leko 2*-2 Anand (*-Won the Armageddon)
In a match where 1.e4 dominated for the first time in ages, Vishy Anand and Peter Leko both made numerous mistakes, but the former Hungarian prodigy was clearly the more consistent player in the match.
However, it would have all ended sooner had Leko not committed Hara-Kiri in game 1:
Anand-Leko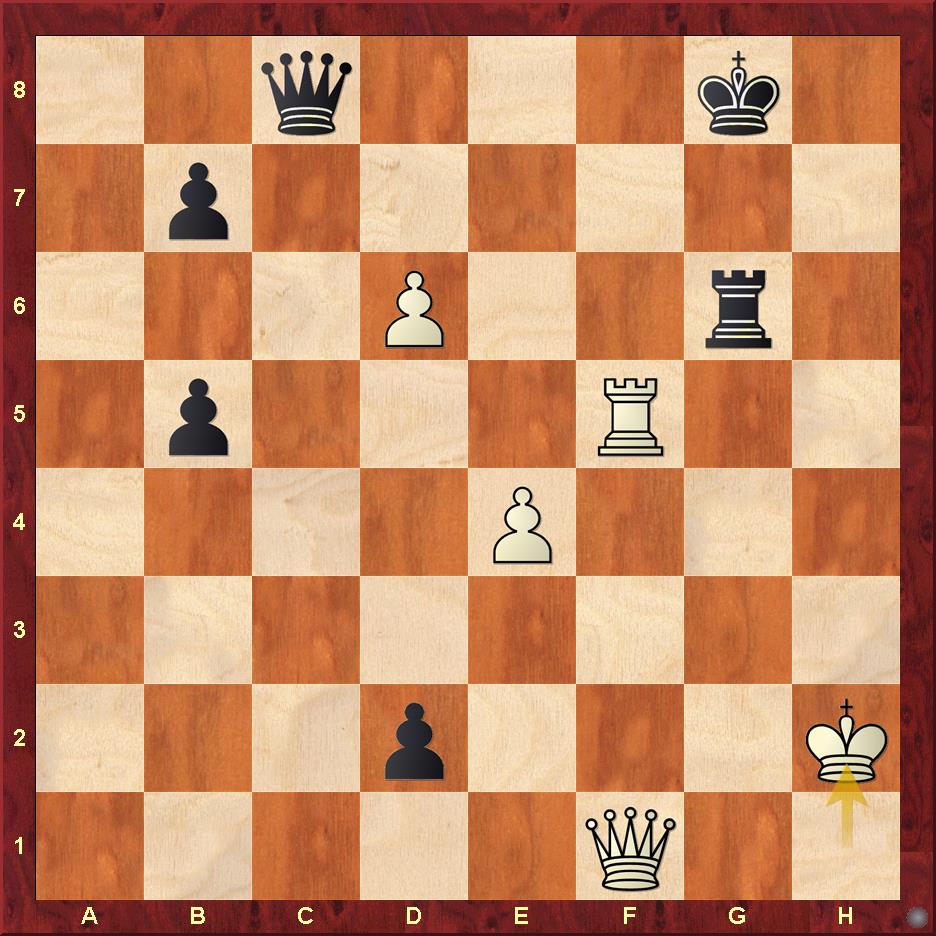 However, Leko has definitely been the better player in this tournament, even if his fabled technique hasn't shown up to the party. In a must win situation in game 4 he delivered the goods after Anand slipped up in a sharp Giuoco Pianissimo middlegame:
Leko-Anand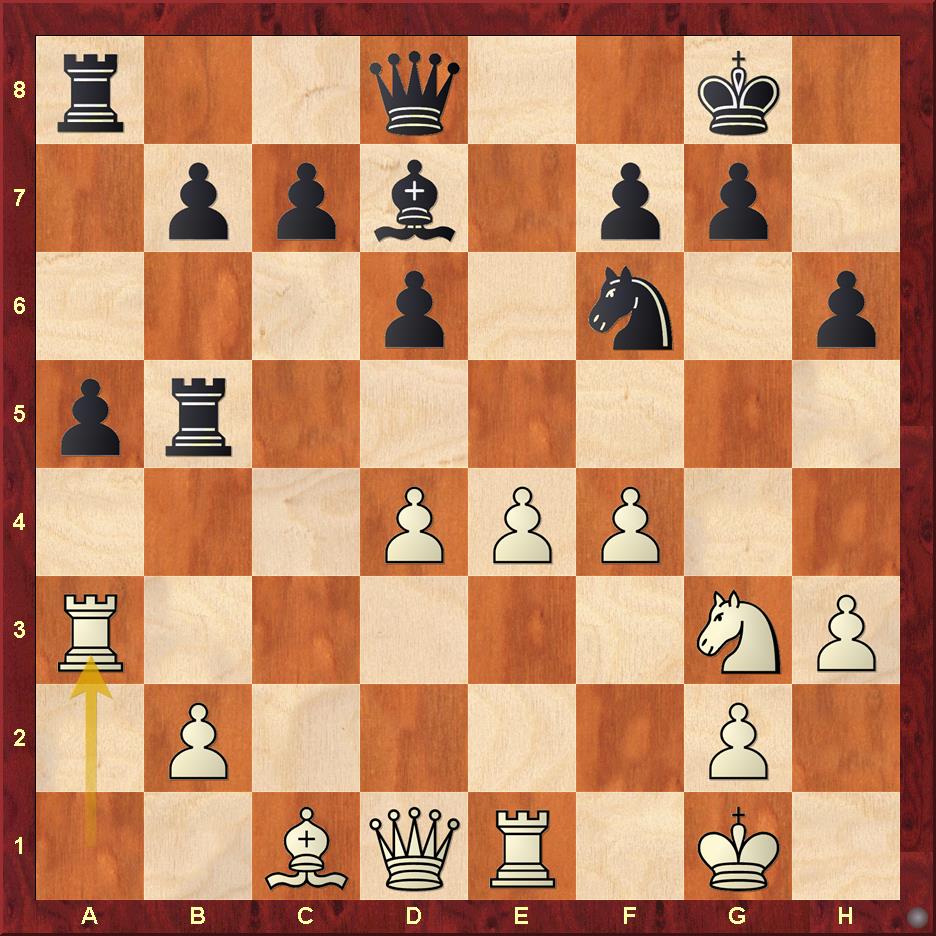 However what has worked against Anand in this tournament is that his usually good time management is just below par this time around. He lost on time against Anish in the Armageddon despite having an extra minute (5 minutes to 4 as he was White), and this (poor time management) can probably explain the panicky blunder in this Armageddon:
Leko-Anand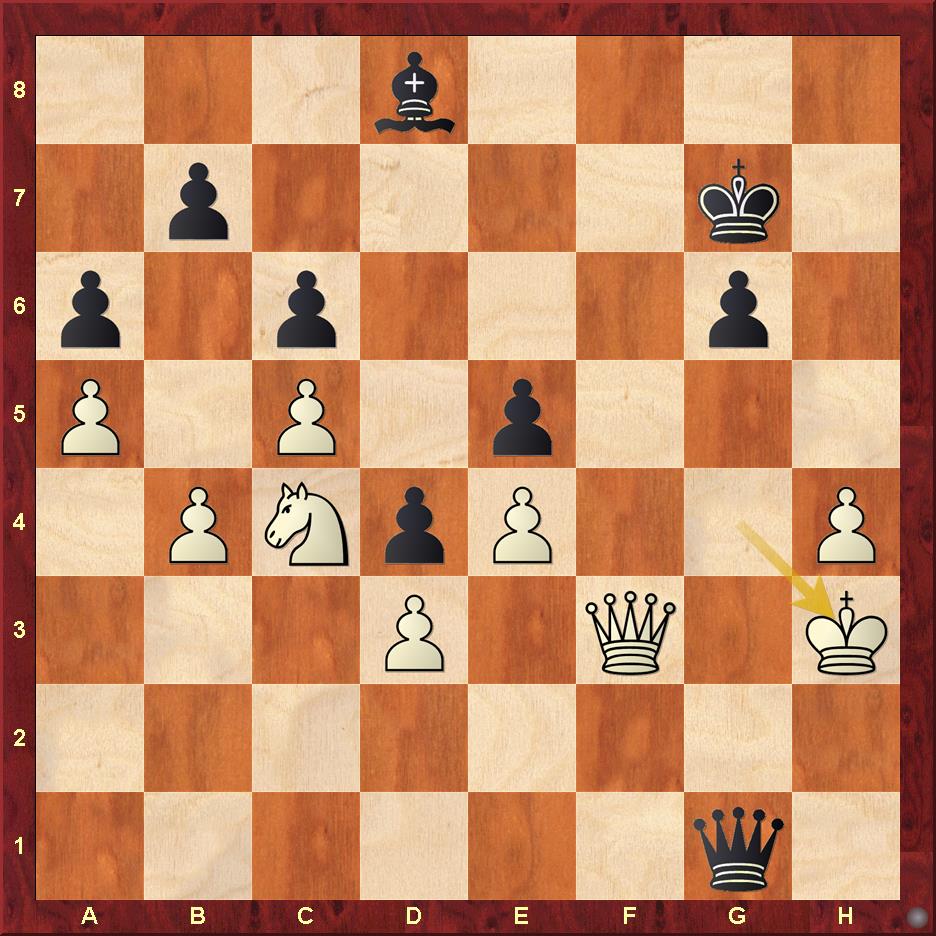 However, speaking from experience, it is just impossible to write Anand off. I have had to eat my own words many a times before, and this is why I can confidently say that pretty soon Anand will be whipping the youngsters! One just hopes that it begins in this tournament, though as a Team India Supporter I would be happier if it happened in the Online Olympiad!
Replay all games of round 5
---