Lakecity GM R04: Deepan Chakkravarthy's 21-move crush
Deepan Chakkravarthy pulled off a 21-move miniature to demolish his Egyptian adversary Hesham Abdelrahman and registered his fourth consecutive win in the ongoing Lakecity Grandmaster Open Chess Tournament taking place in Udaipur, Rajasthan. After four rounds of the event six players have emerged as leaders with 4.0/4 points each including Deepan and two more Indians, namely Mitrabha Guha and IM Sayantan Das. Elsewhere, Swapnil Dhopade beat Kumar Gaurav and Neelotpal Das got the better of Pranav Shetty. While, in what were the most surprising results of the day, Saptarshi Roy (2480) was held to a draw by Odisha's Utkal Ranjan Sahoo (2329) and Himanshu Sharma (2408) by Thanki Hemal Karsanji (2098) of Gujarat.
Deepan's Semi-Slav brilliancy lights up Udaipur!
Not often do we see a Grandmaster being completely outplayed from the opening and dismantled in just 21 moves. However, in the fourth round of Lakecity GM Open, this exactly happened with the Egyptian Grandmaster Hesham Abdelrahman as India's Deepan Chakkravarthy managed to thoroughly crush him playing the Semi-Slav defense with the black pieces. The game started off normally with 1.d4 Nf6 2.c4 e6 but soon turned disadvantageous for White when he made a premature pawn push on the kingside allowing some critical lines to open.
Hesham Abdelrahman - Deepan Chakkravarthy, Round 4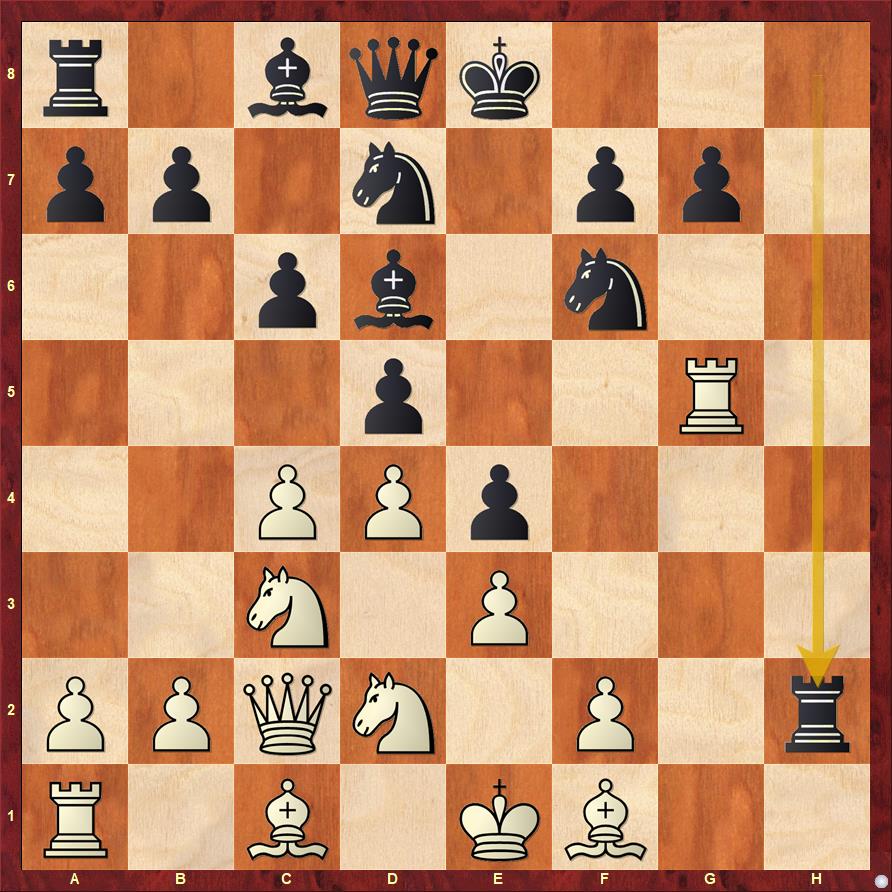 Can't White simply grab the pawn on g7? Well, after 12.Rxg7 Rh1 13.cxd5 cxd5 14.Nb5 Nb6 15.Nxd6+ Qxd6 it doesn't seem White's woes are in any way alleviating as Black slowly but surely is able to bring all his pieces out.
Analysis diagram
In the game therefore 12... cxd5 13.Nxd5 Nxd5 14.Rxd5 Nf6 15.Rg5 Kf8 was chosen. This was perhaps safer but White's issues with the king on e1 and development of his pieces lingered. In contrast, Black's king on f8 was extremely comfortable.
Next came 16.Rg1 Bf5 17.Be2 Rc8 18.Qb3 and it was only here Black struck with 18...Rxf2!
Thus, 19.Nf1 was played and after 19...Be6 20.Qxb7 Rxe2+ 21.Kxe2 Bd5 it was in the following position White gave up:
Well, believe it or not, the queen on b7 is completely dominated by Black's bishops. 22.Qb5/Qa6 is simply met with the fork 22...Bc4+, while 22.Qxa7 runs into 22...Ra8! - a fine performance by the Indian Grandmaster.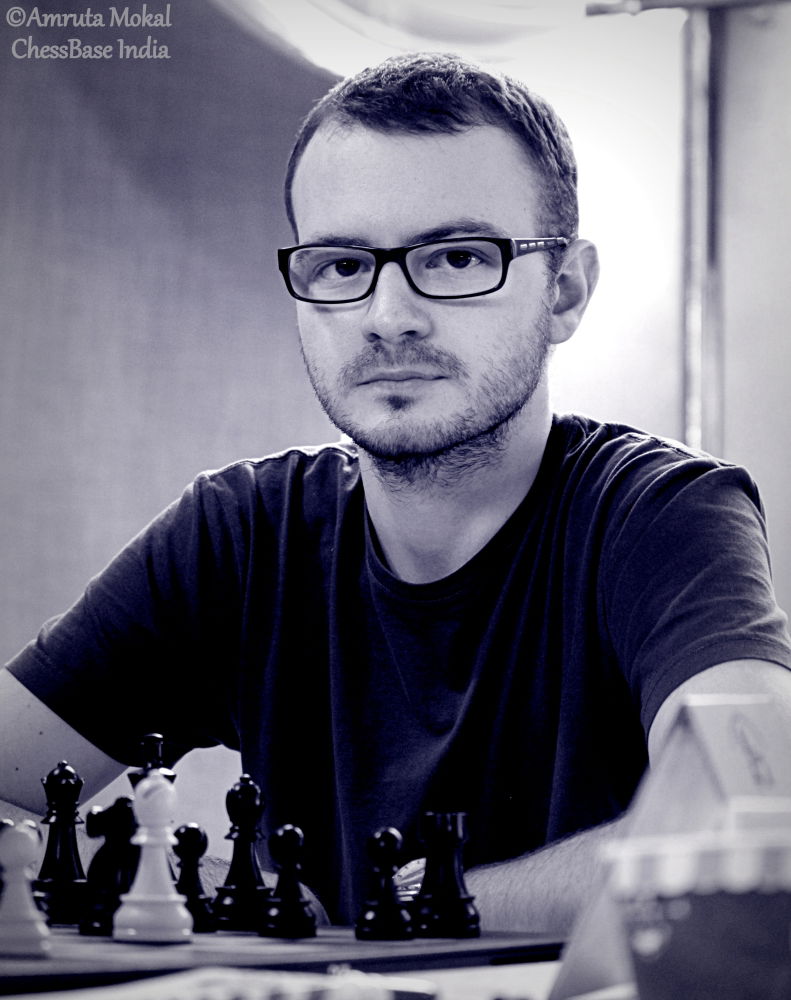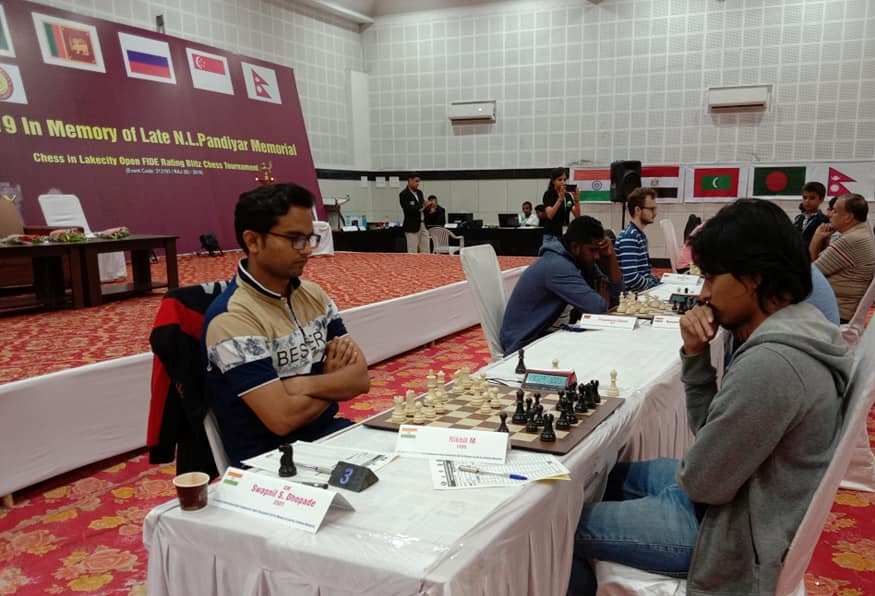 Results of round four
Standings after round four
| | | | | | | | | | | | | | | |
| --- | --- | --- | --- | --- | --- | --- | --- | --- | --- | --- | --- | --- | --- | --- |
| Rk. | SNo | | | Name | Typ | sex | FED | Rtg | Pts. | TB1 | TB2 | TB3 | TB4 | TB5 |
| 1 | 6 | | GM | Vasquez Schroeder Rodrigo | | | CHI | 2476 | 4,0 | 0,0 | 9,0 | 11,0 | 11,00 | 4 |
| 2 | 2 | | GM | Deepan Chakkravarthy J. | | | IND | 2539 | 4,0 | 0,0 | 8,0 | 10,0 | 10,00 | 4 |
| | 10 | | GM | Lugovskoy Maxim | | | RUS | 2422 | 4,0 | 0,0 | 8,0 | 10,0 | 10,00 | 4 |
| | 11 | | FM | Mitrabha Guha | | | IND | 2414 | 4,0 | 0,0 | 8,0 | 10,0 | 10,00 | 4 |
| 5 | 1 | | GM | Rozum Ivan | | | RUS | 2596 | 4,0 | 0,0 | 8,0 | 9,5 | 9,50 | 4 |
| 6 | 8 | | IM | Das Sayantan | | | IND | 2434 | 4,0 | 0,0 | 8,0 | 9,0 | 9,00 | 4 |
| 7 | 5 | | GM | Saptarshi Roy | | | IND | 2480 | 3,5 | 0,0 | 9,0 | 11,0 | 9,25 | 3 |
| 8 | 3 | | GM | Swapnil S. Dhopade | | | IND | 2501 | 3,5 | 0,0 | 8,5 | 10,5 | 9,25 | 3 |
| 9 | 4 | | GM | Rahman Ziaur | | | BAN | 2492 | 3,5 | 0,0 | 8,5 | 10,5 | 9,00 | 3 |
| 10 | 20 | | | Sahoo Utkal Ranjan | | | IND | 2329 | 3,5 | 0,0 | 8,5 | 9,5 | 7,75 | 3 |
---