World Youth U16 Olympiad 2022 R7: India loses to Uzbekistan-1
After an emphatic victory in the sixth round, India lost to Uzbekistan-1 in the seventh round of FIDE World Youth Under-16 Olympiad 2022. GM Pranav V scored the sole win for the team. IM Pranesh M and Mrittika Mallick lost their respective games and FM Harshad S drew. Turkiye-Red continues their dominance as they defeated Iran 3-1. The sole leaders are now three points ahead of the competition at 14/14. India is currently tied at fifth place 9/14 with four other teams - Iran, Azerbaijan-1, Kyrgyzstan and Moldova. India will be up against Kyrgyzstan in Round 8 which starts today at 3 p.m. local time, 4:30 p.m. IST. Photo: Nakhchivan Chess Federation
A tough loss
Both of India's losses were in a minimum margin. Kazakhstan in round 3 and Uzbekistan-1 in round 7 managed to defeat India by a minimum difference of 2.5-1.5. India surely will have medal chances, provided they win the last two rounds. Bigger margin wins can certainly make a difference if the score gets tied.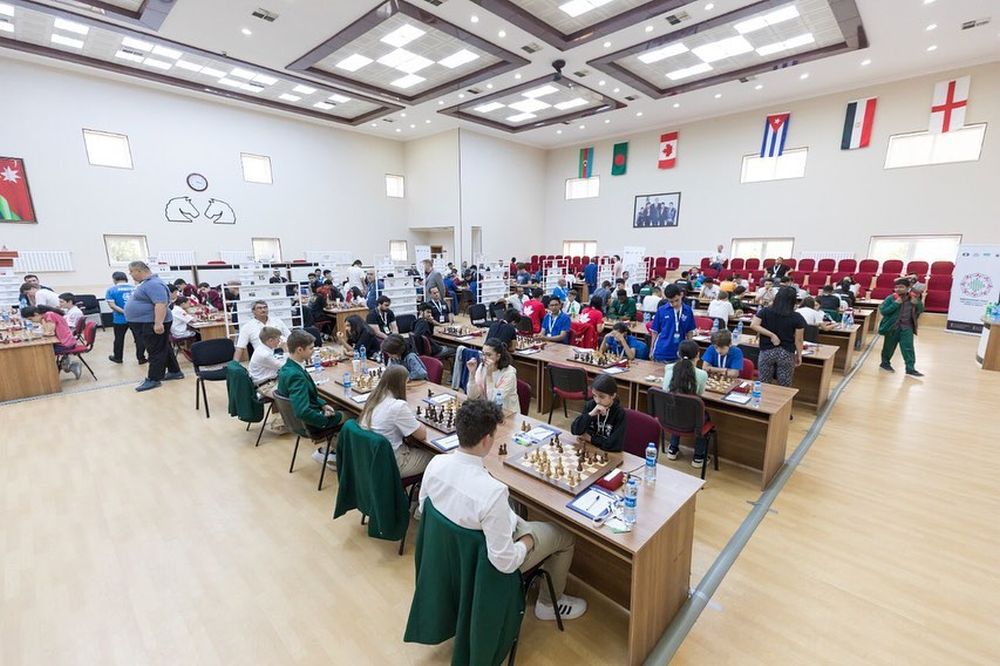 India - Uzbekistan-1: 1.5-2.5
GM Pranav Venkatesh (2530) scored the sole win. IM Pranesh M (2442) and Mrittika Mallick (1879) lost their respective games. FM Harshad S (2228) drew his game.
Replay India - Uzbekistan-1 games
Schedule
Everyday round starts at 3 p.m. local time, 4:30 p.m. IST from 2nd to 9th October 2022. The final round on 10th October starts 10 a.m. local time, 11:30 a.m. IST.
Round 7 results
No.
SNo
Team
Team
Pts.
MP
Res.
:
Res.
MP
Pts.
Team
Team
SNo
1
5
TUR-1
Turkiye-Red
18
12
3
:
1
9
15
Iran
IRI
1
2
3
IND
India
17½
9
1½
:
2½
9
16½
Uzbekistan-1
UZB
2
3
4
AZE-1
Azerbaijan-1
14
9
1½
:
2½
8
13½
Kazakhstan
KAZ
6
4
18
UZB-2
Uzbekistan-2
15
8
3
:
1
8
13
Cuba
CUB
8
5
9
TUR-3
Turkiye-Anatolia
12½
7
2
:
2
8
16
Kyrgyzstan
KGZ
12
6
14
MDA
Moldova
12
7
2½
:
1½
7
15½
Mongolia
MGL
13
7
23
AZE-4
Azerbaijan-4
13½
7
2
:
2
7
16
Georgia-1
GEO
17
8
11
MEX
Mexico
13
6
2
:
2
6
12½
Azerbaijan-2
AZE
10
9
15
BAN
Bangladesh
12
6
3
:
1
6
12½
Latvia
LAT
16
10
21
CAN
Canada
12
6
1½
:
2½
5
12½
Turkiye-White
TUR
7
Round 8 pairings
No.
SNo
Team
Team
Pts.
MP
Res.
:
Res.
MP
Pts.
Team
Team
SNo
1
5
TUR-1
Turkiye-Red
21
14
:
10
18
Uzbekistan-2
UZB
18
2
2
UZB-1
Uzbekistan-1
19
11
:
10
16
Kazakhstan
KAZ
6
3
1
IRI
Iran
16
9
:
9
15½
Azerbaijan-1
AZE
4
4
12
KGZ
Kyrgyzstan
18
9
:
9
19
India
IND
3
5
8
CUB
Cuba
14
8
:
9
14½
Moldova
MDA
14
6
9
TUR-3
Turkiye-Anatolia
14½
8
:
8
15½
Azerbaijan-4
AZE
23
7
17
GEO-1
Georgia-1
18
8
:
8
15
Bangladesh
BAN
15
8
7
TUR-2
Turkiye-White
15
7
:
7
17
Mongolia
MGL
13
9
10
AZE-2
Azerbaijan-2
14½
7
:
7
12
England
ENG
22
10
11
MEX
Mexico
15
7
:
7
13
South Africa-1
RSA
24
Links
---