World Youth U16 Olympiad 2022 R3: India suffers a loss against Kazakhstan by a minimum margin
India suffered a loss against Kazakhstan in the third round of World Youth Under-16 Olympiad 2022. IM Pranesh M scored the sole win for the team. GM Pranav V drew his game. Mrittika Mallick and Rohit S lost their respective games. India will face Uzbekistan-2 in the fourth round. FM Harshad S and Tanisha S Boramanikar will be replacing Mrittika and Rohit respectively in the fourth round. Top three boards are rated much higher than their Uzbek counterparts. Top seed of the event, Iran was held to a 2-2 draw by Georgia-1. Round 4 starts today at 3 p.m. local time, 4:30 p.m. IST. Photo: Islam Igshid
Azerbaijan-1, Kazakhstan and Turkiye Red share the lead
The top three matches in round 3 were a close one. Each of them were decided in a minimum margin score. Both rating favorites, second seeded Uzbekistan-1 and third seed India lost their respective matches.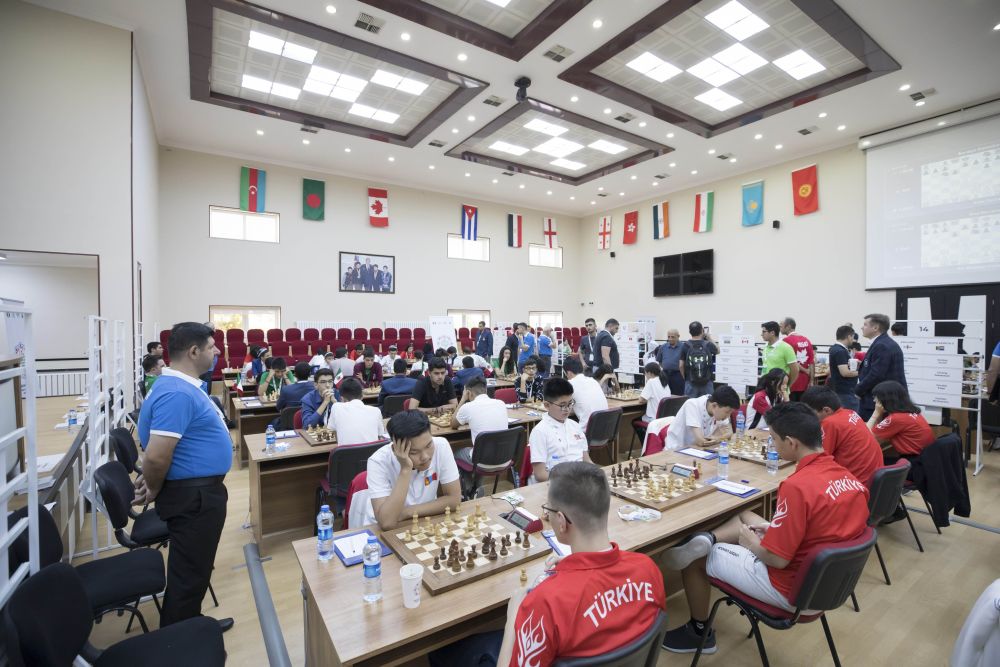 India - Kazakhstan: 1.5-2.5
IM Pranesh M (2442) scored the sole victory of the team. GM Pranav Venkatesh (2530) drew with FM Daniyal Sapenonv (2323). Mrittika Mallick (1879) and Rohit S (2181) lost to WIM Alua Nurmanova (2188) and Imangali Akhilbay (2098) respectively.
Amina - Pranesh
White's all-out attack 19.Bg5 does not work. 19...hxg5 20.Nxg6 Rf8 21.Nxf8+ Qxf8 and Black gains a substantial advantage. White might have managed to expose the black king by giving up her two pieces for a rook, however, the lack of development hinders White from causing any damage. Pranesh had no difficulty converting his advantage into a win.
Replay India vs Kazakhstan games
Schedule
Everyday round starts at 3 p.m. local time, 4:30 p.m. IST from 2nd to 9th October 2022. The final round on 10th October starts 10 a.m. local time, 11:30 a.m. IST.
Round 3 results
No.
SNo
Team
Team
Pts.
MP
Res.
:
Res.
MP
Pts.
Team
Team
SNo
1
5
TUR-1
Turkiye-Red
6
4
2½
:
1½
4
6½
Uzbekistan-1
UZB
2
2
3
IND
India
7½
4
1½
:
2½
4
6½
Kazakhstan
KAZ
6
3
8
CUB
Cuba
5½
4
1½
:
2½
4
5½
Azerbaijan-1
AZE
4
4
17
GEO-1
Georgia-1
8
4
2
:
2
3
5½
Iran
IRI
1
5
7
TUR-2
Turkiye-White
6
3
1
:
3
3
5
Turkiye-Anatolia
TUR
9
6
10
AZE-2
Azerbaijan-2
5
2
2½
:
1½
2
4
Latvia
LAT
16
7
18
UZB-2
Uzbekistan-2
4½
2
3
:
1
2
4½
Mexico
MEX
11
8
12
KGZ
Kyrgyzstan
4½
2
3½
:
½
2
2½
Panama
PAN
20
9
23
AZE-4
Azerbaijan-4
4½
2
2
:
2
2
5
Mongolia
MGL
13
10
14
MDA
Moldova
3
2
2
:
2
2
5
Azerbaijan-Nakhchivan
AZE
25
Round 4 pairings
No.
SNo
Team
Team
Pts.
MP
Res.
:
Res.
MP
Pts.
Team
Team
SNo
1
4
AZE-1
Azerbaijan-1
8
6
:
6
8½
Turkiye-Red
TUR
5
2
6
KAZ
Kazakhstan
9
6
:
5
8
Turkiye-Anatolia
TUR
9
3
2
UZB-1
Uzbekistan-1
8
4
:
5
10
Georgia-1
GEO
17
4
1
IRI
Iran
7½
4
:
4
7½
Azerbaijan-2
AZE
10
5
3
IND
India
9
4
:
4
7½
Uzbekistan-2
UZB
18
6
12
KGZ
Kyrgyzstan
8
4
:
4
7
Cuba
CUB
8
7
26
MAS
Malaysia
8
4
:
3
7
Turkiye-White
TUR
7
8
13
MGL
Mongolia
7
3
:
3
6
Canada
CAN
21
9
14
MDA
Moldova
5
3
:
3
6½
Azerbaijan-4
AZE
23
10
25
AZE-5
Azerbaijan-Nakhchivan
7
3
:
3
4½
Sri Lanka
SRI
19
Links
---