8th Johor International Chess Open 2023 begins
After winning Professsor Lim Kok Ann Open 2023 and finishing second on tie-breaks at Thailand Open 2023, GM Diptayan Ghosh is now the top seed at 8th Johor Open 2023. Peter Long who is playing after almost 13 years, writes from the tournament location, Johor Bahru, Malaysia. Peter's last event was 39th Chess Olympiad back in September 2009. The tournament has two sections - Masters and Amateurs. A total of 24 players including four GMs and eight IMs are taking part from seven countries across the world in the Masters section. The average rating is 2303. Total prize fund is RM 125000, RM 90000 in the Masters and RM 35000 in the Amateurs. The winner of the Masters will earn RM 22000 (approx. ₹389378). Photos: FM FT IA Peter Long
A strong field in the Masters
From 5th to 11th July 2023, a total of 79 players, 24 in the Masters and 55 in the Amateurs, are battling for honours in the 8th Johor International Open Chess Championships 2023 at the Fairview International School Campus in Johor Bahru, Malaysia.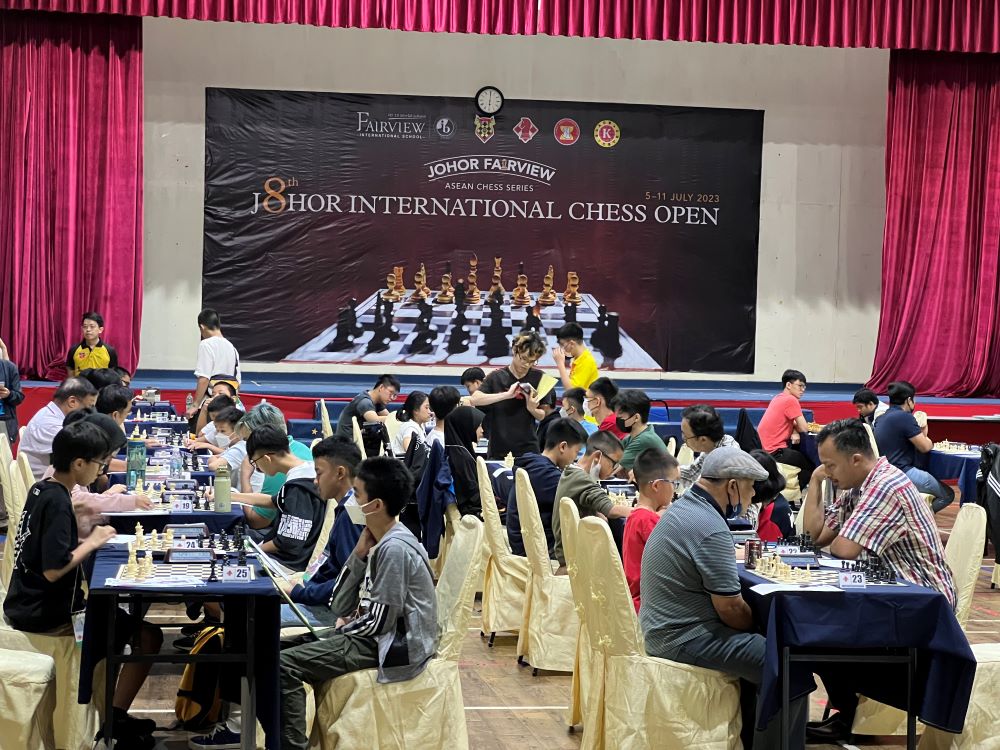 The Johor Open is the second in the ASEAN chess event series, the first being the Thailand International Open held in Chiang Mai from 28th June to 4th July 2023.
Chiang Mai saw no less than three players achieving IM-norms and with a significantly stronger Masters (average rating of 2303) at the 8th Johor Open, this number is expected to significantly improve!
Top seed is GM Diptayan Ghosh (2577) from India, and in first round play defeated Malaysian National Champion FM Lim Zhuo Ren (2310) with the black pieces.
Discounting surprises, his main challenges are expected to come from Indonesian no.1 and no. 2, GMs Susanto Megaranto and Novendra Priasmoro, who are also the second and fourth seeds, and Chinese IM Chen Qi B is seeded third.
In total there are 16 titled players from eight countries, of which four are Grandmasters, eight are International Masters and four are FIDE Masters.
The 8th Johor Open International Open Chess Championships is being organised by the Johor Chess Association as part of the ASEAN Chess Event series open tournament initiative of the ASEAN Chess Confederation, and all details can be found at its website.
Round 1 results
| | | | | | | | | | | | |
| --- | --- | --- | --- | --- | --- | --- | --- | --- | --- | --- | --- |
| Bo. | No. | | Name | Rtg | Pts. | Result | Pts. | | Name | Rtg | No. |
| 1 | 13 | FM | Lim Zhuo Ren, | 2310 | 0 | 0 - 1 | 0 | GM | Ghosh Diptayan, | 2577 | 1 |
| 2 | 2 | GM | Megaranto Susanto, | 2505 | 0 | 1 - 0 | 0 | FM | Hafiz Arif Abdul, | 2241 | 15 |
| 3 | 16 | CM | Shreyans K. Shah, | 2237 | 0 | 0 - 1 | 0 | IM | Chen Qi B, | 2475 | 3 |
| 4 | 4 | GM | Priasmoro Novendra, | 2467 | 0 | 1 - 0 | 0 | GM | Wong Meng Kong, | 2214 | 17 |
| 5 | 18 | | Kamalsyah Muhammad, | 2210 | 0 | 0 - 1 | 0 | IM | Badmatsyrenov Oleg, | 2440 | 5 |
| 6 | 6 | IM | Mohammad Fahad Rahman, | 2428 | 0 | 1 - 0 | 0 | | Dziththauly Ramadhan, | 2201 | 19 |
| 7 | 20 | | Wu Yixing, | 2102 | 0 | ½ - ½ | 0 | IM | Wang Shixu B, | 2419 | 7 |
| 8 | 8 | IM | Firman Syah Farid, | 2403 | 0 | ½ - ½ | 0 | CM | Ang Ern Jie Anderson, | 2083 | 21 |
| 9 | 22 | | Chen Kailin, | 2060 | 0 | ½ - ½ | 0 | IM | Setyaki Azarya Jodi, | 2393 | 9 |
| 10 | 10 | | Sek Konstantin, | 2392 | 0 | ½ - ½ | 0 | CM | Owen Michael, | 2048 | 23 |
| 11 | 24 | FM | Muhammed Shuaau, | 2008 | 0 | 0 - 1 | 0 | IM | Siddharth Jagadeesh, | 2390 | 11 |
| 12 | 12 | IM | Liu Xiangyi, | 2377 | 0 | ½ - ½ | 0 | FM | Long Peter, | 2282 | 14 |
Standings after Round 1
Round 2 pairings
| | | | | | | | | | | | |
| --- | --- | --- | --- | --- | --- | --- | --- | --- | --- | --- | --- |
| Bo. | No. | | Name | Rtg | Pts. | Result | Pts. | | Name | Rtg | No. |
| 1 | 1 | GM | Ghosh Diptayan, | 2577 | 1 | | 1 | GM | Priasmoro Novendra, | 2467 | 4 |
| 2 | 5 | IM | Badmatsyrenov Oleg, | 2440 | 1 | | 1 | GM | Megaranto Susanto, | 2505 | 2 |
| 3 | 3 | IM | Chen Qi B, | 2475 | 1 | | 1 | IM | Mohammad Fahad Rahman, | 2428 | 6 |
| 4 | 11 | IM | Siddharth Jagadeesh, | 2390 | 1 | | ½ | IM | Firman Syah Farid, | 2403 | 8 |
| 5 | 7 | IM | Wang Shixu B, | 2419 | ½ | | ½ | | Chen Kailin, | 2060 | 22 |
| 6 | 9 | IM | Setyaki Azarya Jodi, | 2393 | ½ | | ½ | | Wu Yixing, | 2102 | 20 |
| 7 | 14 | FM | Long Peter, | 2282 | ½ | | ½ | | Sek Konstantin, | 2392 | 10 |
| 8 | 21 | CM | Ang Ern Jie Anderson, | 2083 | ½ | | ½ | IM | Liu Xiangyi, | 2377 | 12 |
| 9 | 23 | CM | Owen Michael, | 2048 | ½ | | 0 | FM | Lim Zhuo Ren, | 2310 | 13 |
| 10 | 15 | FM | Hafiz Arif Abdul, | 2241 | 0 | | 0 | | Kamalsyah Muhammad, | 2210 | 18 |
| 11 | 19 | | Dziththauly Ramadhan, | 2201 | 0 | | 0 | CM | Shreyans K. Shah, | 2237 | 16 |
| 12 | 17 | GM | Wong Meng Kong, | 2214 | 0 | | 0 | FM | Muhammed Shuaau, | 2008 | 24 |
Links
Johor Chess Association: Official site, fb page
About the Author
---