National Junior 2023 R1-5: Sneha topples Tejaswini
Sneha Halder (WB) defeated the newly crowned Asian Junior Girls 2023 champion, WIM Tejaswini G (TN). The reigning National Amateur U2300 Women 2023 and National Under-13 Girls 2022 champion, seized her opportunity when Tejaswini miscalculated a tactic and blundered her rook. She could not recover it for the rest of the game and lost. Sneha is the sole leader among girls at 5/5. She is closely followed by Mrittika Mallick (WB), Anishka Vikram (DEL) and Marium Fatima (BIH) at 4.5/5 each. In the 52nd National Junior Open, Alekhya Mukhopadhyay (WB) and Sathvik Adiga (KAR) are the coleaders at 5/5. They will face each other in Round 6 which starts today from 9:30 a.m. IST today. Photos by Prashant Raval unless stated otherwise.
Alekhya and Sathvik emerge coleaders
In the Open event, six players are trailing the leaders by a half point at 4.5/5 each. They are - IM Manish Anto Cristiano F (TN), FM Md. Imran (AP), CM Arjun Adireddy (TN), Vrashank Chouhan (RAJ), Kushal R Jani (GUJ) and Priansh Das (ODI). The eleven-round event has a total prize fund of ₹100000, ₹500000 in Open and Girls section each. Top three prizes are ₹100000, ₹72000 and ₹60000 each.
Om Nagnath - Alekhya, Round 5
Black is threatening Qb2# and if you decide to take the a3-pawn then Qa1#. So White must give continuous checks to stay in the game. 54.Qc8+ Kf4 55.Qf8+ Ke4 56.Qe8+ Ke3 57.Qg2 is one of the ways for White to play. The key was to give long range checks to have many options open. 56.Qf7+? reduced the distance and hence reduced the options for White. 56...Kg4 57.Qe6+ Kf4 58.Qf7+ Kg3 59.Qc7+ Kg2 60.Qc6+ Kg1 and White has run out of checks which means checkmate is unstoppable.
Sathvik - Yash
36...Ne4?? is a blunder. Try to find the beautiful winning combination for White which Sathvik Adiga (KAR, 1754) executed against Yash Bharadia (RAJ, 2000).
Girls: Sneha - Tejaswini: 1-0
Last year at National Under-15 and Under-17 Girls, Sneha Halder (WB, 1835) faced Tejaswini G (TN, 1905) twice with the black pieces. They traded a win each. This time they faced each other at National Under-19 Girls in the fifth round and for the first time, Sneha had the white pieces.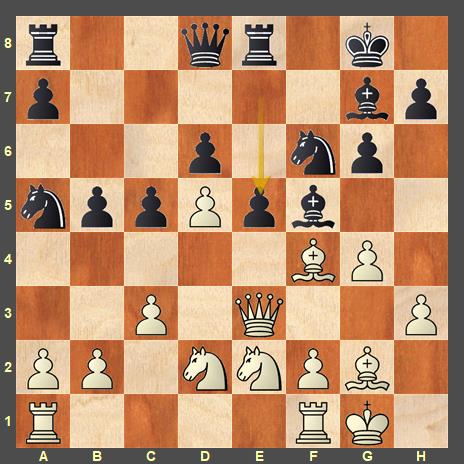 15...e5 was responded with 16.dxe6 Bxe6 17.Bxa8 Bxg4?? 18.Be4 White managed to save her extra rook. Black could not recover material for the rest of the game and lost in another eleven moves.
Mrittika - Shubhi
13...Bxh3? is a bold sacrifice. It actually does not yield anything for Black. 14.Nxe5! Nxg3 15.Nxc6 bxc6 16.gxh3 d5 17.d4 Nxe4 18.Nxe4 dxe4 19.Rxe4 Qf6 20.Qh5 Kg7 21.Rae1 and White won the game in another seven moves.
For more photos, please click here.
A total of 223 players including 2 IMs in the Open and 129 players including 2 WIMs in the Girls tournament are taking part. The tournaments are organized by Gujarat State Chess Association. They are taking place at Karnavati Club in Ahmedabad, Gujarat from 20th to 28th September 2023. The eleven-round Swiss league tournament has a time control of 90 minutes + 30 seconds increment from move no.1
Replay Open Round 1-5 games
Replay Girls Round 1-5 games
Open Round 5 results
| | | | | | | | | | | | | | | |
| --- | --- | --- | --- | --- | --- | --- | --- | --- | --- | --- | --- | --- | --- | --- |
| Bo. | No. | | Name | Rtg | Club/City | Pts. | Result | Pts. | | Name | Rtg | Club/City | No. | PGN |
| 1 | 22 | | Jani, Kushal R | 1904 | Gujarat | 4 | ½ - ½ | 4 | FM | Md, Imran | 2197 | AP | 6 | PGN |
| 2 | 28 | | Om, Nagnath Lamkane | 1858 | MAH | 4 | 0 - 1 | 4 | | Alekhya, Mukhopadhyay | 2149 | WB | 10 | PGN |
| 3 | 48 | | Sathvik, Adiga | 1754 | KAR | 4 | 1 - 0 | 4 | | Bharadia, Yash | 2000 | RAJ | 12 | PGN |
| 4 | 1 | | Sanket, Chakravarty | 2381 | WB | 3½ | ½ - ½ | 3½ | | Mukund, Hemant Agarwal | 1917 | Gujarat | 20 | PGN |
| 5 | 23 | | Kartik, Kumar Singh | 1901 | MAH | 3½ | 0 - 1 | 3½ | IM | Manish, Anto Cristiano F | 2372 | TN | 2 | PGN |
| 6 | 29 | | Priansh, Das | 1846 | ODI | 3½ | 1 - 0 | 3½ | | Anadkat, Kartavya | 2177 | Gujarat | 8 | PGN |
| 7 | 11 | CM | Adireddy, Arjun | 2057 | TEL | 3½ | 1 - 0 | 3½ | | Sriram, Adarsh Uppala | 1883 | TEL | 24 | PGN |
| 8 | 13 | | Vrashank, Chouhan | 1985 | RAJ | 3½ | 1 - 0 | 3½ | | Mithiran, A | 1727 | TN | 60 | PGN |
| 9 | 39 | | Jval, Saurin Patel | 1814 | Gujarat | 3½ | ½ - ½ | 3½ | | Shah, Jeet | 1925 | MAH | 19 | PGN |
| 10 | 7 | | Dhyey, Agarwal | 2178 | Gujarat | 3 | 1 - 0 | 3½ | | Jihan, Tejas Shah | 1761 | Gujarat | 46 | PGN |
Standings after Round 5
| | | | | | | | | | |
| --- | --- | --- | --- | --- | --- | --- | --- | --- | --- |
| Rk. | SNo | | Name | Typ | sex | FED | Rtg | Club/City | TB1 |
| 1 | 10 | | Alekhya, Mukhopadhyay | | | IND | 2149 | WB | 5 |
| | 48 | | Sathvik, Adiga | | | IND | 1754 | KAR | 5 |
| 3 | 2 | IM | Manish, Anto Cristiano F | | | IND | 2372 | TN | 4,5 |
| | 6 | FM | Md, Imran | | | IND | 2197 | AP | 4,5 |
| | 11 | CM | Adireddy, Arjun | | | IND | 2057 | TEL | 4,5 |
| | 13 | | Vrashank, Chouhan | | | IND | 1985 | RAJ | 4,5 |
| | 22 | | Jani, Kushal R | | | IND | 1904 | Gujarat | 4,5 |
| | 29 | | Priansh, Das | | | IND | 1846 | ODI | 4,5 |
| 9 | 1 | | Sanket, Chakravarty | | | IND | 2381 | WB | 4 |
| | 4 | | Srihari, L | | | IND | 2207 | PUD | 4 |
| | 7 | | Dhyey, Agarwal | | | IND | 2178 | Gujarat | 4 |
| | 9 | CM | Vivaan, Vijay Saraogi | | | IND | 2152 | MAH | 4 |
| | 12 | | Bharadia, Yash | | | IND | 2000 | RAJ | 4 |
| | 15 | | Lad, Mandar Pradip | | | IND | 1959 | Goa | 4 |
| | 19 | | Shah, Jeet | | | IND | 1925 | MAH | 4 |
| | 20 | | Mukund, Hemant Agarwal | | | IND | 1917 | Gujarat | 4 |
| | 26 | | Gaikwad, Manas | | | IND | 1866 | MAH | 4 |
| | 28 | | Om, Nagnath Lamkane | | | IND | 1858 | MAH | 4 |
| | 33 | | Vrandesh, Parekh | | | IND | 1839 | Gujarat | 4 |
| | 37 | | Arshpreet, Singh | | | IND | 1822 | HAR | 4 |
Round 6 pairings
| | | | | | | | | | | | | | |
| --- | --- | --- | --- | --- | --- | --- | --- | --- | --- | --- | --- | --- | --- |
| Bo. | No. | | Name | Rtg | Club/City | Pts. | Result | Pts. | | Name | Rtg | Club/City | No. |
| 1 | 10 | | Alekhya, Mukhopadhyay | 2149 | WB | 5 | | 5 | | Sathvik, Adiga | 1754 | KAR | 48 |
| 2 | 2 | IM | Manish, Anto Cristiano F | 2372 | TN | 4½ | | 4½ | | Vrashank, Chouhan | 1985 | RAJ | 13 |
| 3 | 6 | FM | Md, Imran | 2197 | AP | 4½ | | 4½ | | Priansh, Das | 1846 | ODI | 29 |
| 4 | 11 | CM | Adireddy, Arjun | 2057 | TEL | 4½ | | 4½ | | Jani, Kushal R | 1904 | Gujarat | 22 |
| 5 | 38 | CM | Mrithyunjay, Mahadevan | 1818 | TN | 4 | | 4 | | Sanket, Chakravarty | 2381 | WB | 1 |
| 6 | 4 | | Srihari, L | 2207 | PUD | 4 | | 4 | | Om, Nagnath Lamkane | 1858 | MAH | 28 |
| 7 | 40 | | Rohith, S | 1810 | TN | 4 | | 4 | | Dhyey, Agarwal | 2178 | Gujarat | 7 |
| 8 | 58 | AFM | Sureka, Akshat | 1730 | KAR | 4 | | 4 | CM | Vivaan, Vijay Saraogi | 2152 | MAH | 9 |
| 9 | 12 | | Bharadia, Yash | 2000 | RAJ | 4 | | 4 | | Vrandesh, Parekh | 1839 | Gujarat | 33 |
| 10 | 74 | | Boricha, Yohan | 1658 | MAH | 4 | | 4 | | Lad, Mandar Pradip | 1959 | Goa | 15 |
Girls Round 5 results
| | | | | | | | | | | | | | | |
| --- | --- | --- | --- | --- | --- | --- | --- | --- | --- | --- | --- | --- | --- | --- |
| Bo. | No. | | Name | Rtg | Club/City | Pts. | Result | Pts. | | Name | Rtg | Club/City | No. | PGN |
| 1 | 10 | | Sneha, Halder | 1835 | WB | 4 | 1 - 0 | 4 | | Tejaswini, G | 1905 | TN | 6 | PGN |
| 2 | 3 | | Mrittika, Mallick | 2059 | WB | 3½ | 1 - 0 | 4 | AFM | Shubhi, Gupta | 1761 | UP | 15 | PGN |
| 3 | 27 | | Khairmode, Dhanashree | 1616 | MAH | 3½ | ½ - ½ | 3½ | WFM | Kheerthi, Ganta | 2148 | TEL | 1 | PGN |
| 4 | 13 | | Anishka, Vikram | 1773 | DEL | 3½ | 1 - 0 | 3½ | | Anushka, Gupta | 1675 | WB | 25 | PGN |
| 5 | 20 | | Marium, Fatima | 1715 | Bihar | 3½ | 1 - 0 | 3½ | | Sachi, Jain | 1756 | Delhi | 16 | PGN |
| 6 | 29 | | Swara, Lakshmi S Nair | 1601 | KAR | 3 | 0 - 1 | 3 | WIM | Mrudul, Dehankar | 2059 | MAH | 2 | PGN |
| 7 | 5 | | Rindhiya, V | 1918 | TN | 3 | 0 - 1 | 3 | | Keerti, Shree Reddy | 1580 | TN | 34 | PGN |
| 8 | 7 | WFM | Bhagyashree, Patil | 1879 | MAH | 3 | ½ - ½ | 3 | | Divyabharathi, Masanam | 1596 | TN | 32 | PGN |
| 9 | 31 | | Arshiya, Das | 1596 | TRI | 3 | 0 - 1 | 3 | WCM | Bristy, Mukherjee | 1858 | WB | 8 | PGN |
| 10 | 38 | | Prasiddhi, Bhat | 1543 | KAR | 3 | 1 - 0 | 3 | | Bhat, Sannidhi Ramakrishna | 1767 | MAH | 14 | PGN |
Standings after Round 5
| | | | | | | | | | |
| --- | --- | --- | --- | --- | --- | --- | --- | --- | --- |
| Rk. | SNo | | Name | Typ | sex | FED | Rtg | Club/City | TB1 |
| 1 | 10 | | Sneha, Halder | | w | IND | 1835 | WB | 5 |
| 2 | 3 | | Mrittika, Mallick | | w | IND | 2059 | WB | 4,5 |
| | 13 | | Anishka, Vikram | | w | IND | 1773 | DEL | 4,5 |
| | 20 | | Marium, Fatima | | w | IND | 1715 | Bihar | 4,5 |
| 5 | 1 | WFM | Kheerthi, Ganta | | w | IND | 2148 | TEL | 4 |
| | 2 | WIM | Mrudul, Dehankar | | w | IND | 2059 | MAH | 4 |
| | 6 | | Tejaswini, G | | w | IND | 1905 | TN | 4 |
| | 8 | WCM | Bristy, Mukherjee | | w | IND | 1858 | WB | 4 |
| | 15 | AFM | Shubhi, Gupta | | w | IND | 1761 | UP | 4 |
| | 17 | | Ishvi, Aggarwal | | w | IND | 1748 | HAR | 4 |
| | 19 | | Kanishka, S | | w | IND | 1716 | TN | 4 |
| | 21 | | Dakshita, Kumawat | | w | IND | 1690 | RAJ | 4 |
| | 22 | | Kashthuri, Bhai R | | w | IND | 1689 | AND | 4 |
| | 26 | | Rajanya, Datta | | w | IND | 1654 | WB | 4 |
| | 27 | | Khairmode, Dhanashree | | w | IND | 1616 | MAH | 4 |
| | 34 | | Keerti, Shree Reddy | | w | IND | 1580 | TN | 4 |
| | 35 | | Kale, Shruti | | w | IND | 1567 | MAH | 4 |
| | 38 | | Prasiddhi, Bhat | | w | IND | 1543 | KAR | 4 |
| 19 | 7 | WFM | Bhagyashree, Patil | | w | IND | 1879 | MAH | 3,5 |
| | 11 | | Rebecca, Jesumarian | | w | IND | 1811 | TN | 3,5 |
Round 6 pairings
| | | | | | | | | | | | | | |
| --- | --- | --- | --- | --- | --- | --- | --- | --- | --- | --- | --- | --- | --- |
| Bo. | No. | | Name | Rtg | Club/City | Pts. | Result | Pts. | | Name | Rtg | Club/City | No. |
| 1 | 13 | | Anishka, Vikram | 1773 | DEL | 4½ | | 5 | | Sneha, Halder | 1835 | WB | 10 |
| 2 | 3 | | Mrittika, Mallick | 2059 | WB | 4½ | | 4½ | | Marium, Fatima | 1715 | Bihar | 20 |
| 3 | 22 | | Kashthuri, Bhai R | 1689 | AND | 4 | | 4 | WFM | Kheerthi, Ganta | 2148 | TEL | 1 |
| 4 | 2 | WIM | Mrudul, Dehankar | 2059 | MAH | 4 | | 4 | | Dakshita, Kumawat | 1690 | RAJ | 21 |
| 5 | 6 | | Tejaswini, G | 1905 | TN | 4 | | 4 | | Khairmode, Dhanashree | 1616 | MAH | 27 |
| 6 | 8 | WCM | Bristy, Mukherjee | 1858 | WB | 4 | | 4 | | Kale, Shruti | 1567 | MAH | 35 |
| 7 | 15 | AFM | Shubhi, Gupta | 1761 | UP | 4 | | 4 | | Prasiddhi, Bhat | 1543 | KAR | 38 |
| 8 | 26 | | Rajanya, Datta | 1654 | WB | 4 | | 4 | | Ishvi, Aggarwal | 1748 | HAR | 17 |
| 9 | 34 | | Keerti, Shree Reddy | 1580 | TN | 4 | | 4 | | Kanishka, S | 1716 | TN | 19 |
| 10 | 36 | | Jain, Ashita | 1564 | Gujarat | 3½ | | 3½ | WFM | Bhagyashree, Patil | 1879 | MAH | 7 |
---