National Junior 2023 R9: Dhanashree and Shubhi join Sneha in the lead
Alekhya Mukhopadhyay (WB) lost to CM Arjun Adireddy (TEL) in Round 9 of 52nd National Junior 2023 Open. The former made the final mistake in a back and forth battle. Arjun is now the sole leader 8.5/9. Manas Gaikwad (MAH) won against Akshat Sureka (KAR) to stay in pursuit at 8/9. Second seeded IM Manish Anto Cristiano F (TN) is the only boy at 7.5/9. In the Girls section, Sneha Halder (WB) drew against WFM Bhagyashree Patil (MAH) to maintain her lead 7.5/9. Dhanashree Khairmode (MAH) and Shubhi Gupta (UP) defeated Ishvi Aggarwal (HAR) and WIM Tejaswini G (TN), to join Sneha at the top at 7.5/9 each. Round 10 starts today from 1:30 p.m. IST. Photos: Prashant Raval
Arjun Adireddy still in sole lead, Manas maintains his pursuit
Manas Gaikwad (MAH) is the sole player trailing CM Arjun Adireddy (TEL) by a half point. He is on a seven-game winning streak.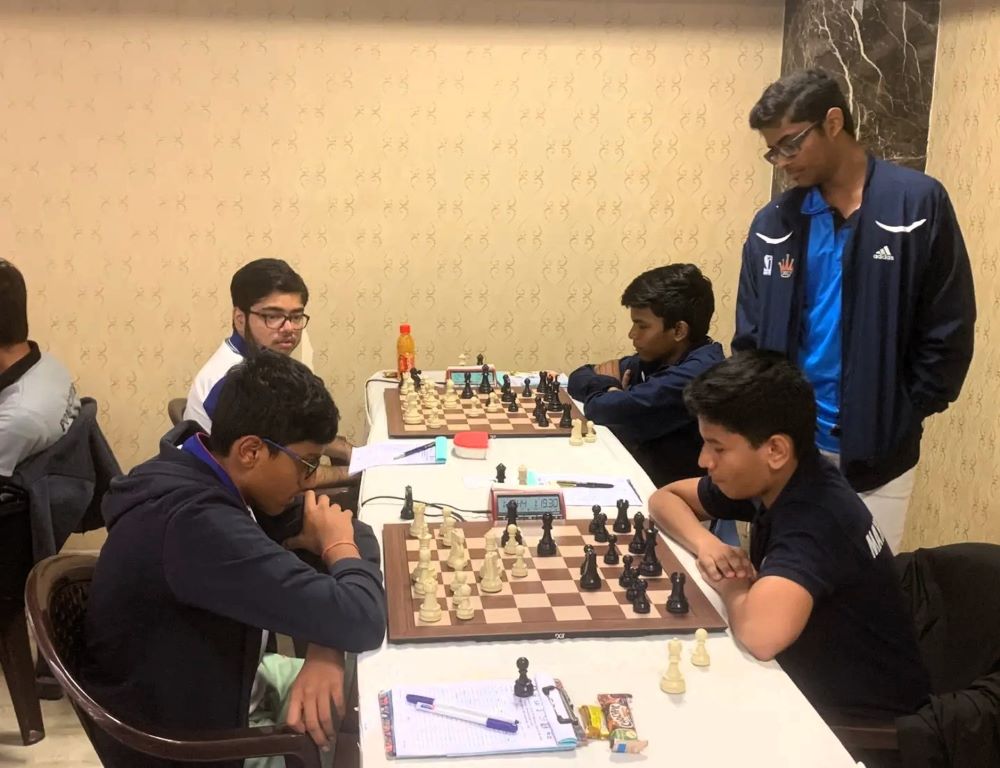 Alekhya - Arjun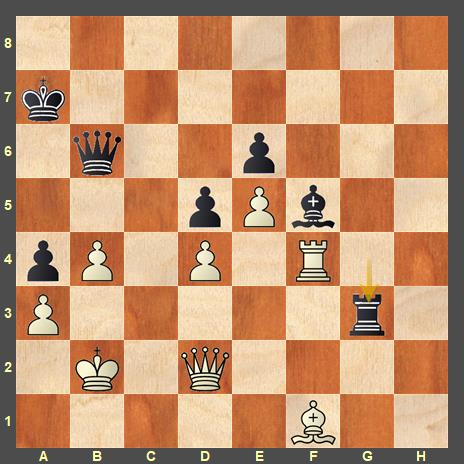 After a back and forth battle, it was Alekhya Mukhopadhyay (WB, 2149) who made the last mistake against CM Arjun Adireddy (TEL, 2057). It was incredibly difficult to find 57.Qc1 which not only provides support to the a3-pawn after Rb3+, but also controls the c-file to prevent the black queen invading from there. 57.Be2?? Rb3+ 58.Ka2 Qc7 59.Rf1 Rc3 and White's position started falling apart.
Girls: Dhanashree - Ishvi
Ishvi Aggarwal (HAR, 1748) made a paltry mistake 12...Qd7? 13.Bxf6 gxf6 14.Nxe5 dxe5 15.Qxh5 exd4 16.Nf3 and White eventually went on to win the game.
A total of 223 players including 2 IMs in the Open and 129 players including 2 WIMs in the Girls tournament are taking part. The tournaments are organized by Gujarat State Chess Association. They are taking place at Karnavati Club in Ahmedabad, Gujarat from 20th to 28th September 2023. The eleven-round Swiss league tournament has a time control of 90 minutes + 30 seconds increment from move no.1
Replay Open Round 9 games
Replay Girls Round 9 games
Open Round 9 results
| | | | | | | | | | | | | | | |
| --- | --- | --- | --- | --- | --- | --- | --- | --- | --- | --- | --- | --- | --- | --- |
| Bo. | No. | | Name | Rtg | Club/City | Pts. | Result | Pts. | | Name | Rtg | Club/City | No. | PGN |
| 1 | 10 | | Alekhya, Mukhopadhyay | 2149 | WB | 7 | 0 - 1 | 7½ | CM | Adireddy, Arjun | 2057 | TEL | 11 | PGN |
| 2 | 58 | AFM | Sureka, Akshat | 1730 | KAR | 6½ | 0 - 1 | 7 | | Gaikwad, Manas | 1866 | MAH | 26 | PGN |
| 3 | 2 | IM | Manish, Anto Cristiano F | 2372 | TN | 6½ | 1 - 0 | 6½ | | Dhyey, Agarwal | 2178 | Gujarat | 7 | PGN |
| 4 | 15 | | Lad, Mandar Pradip | 1959 | Goa | 6 | ½ - ½ | 6 | | Sanket, Chakravarty | 2381 | WB | 1 | PGN |
| 5 | 3 | FM | Harshad, S | 2236 | TN | 6 | ½ - ½ | 6 | | Dinesh, Rajan M | 1908 | TN | 21 | PGN |
| 6 | 22 | | Jani, Kushal R | 1904 | Gujarat | 6 | 0 - 1 | 6 | | Srihari, L | 2207 | PUD | 4 | PGN |
| 7 | 5 | | Apoorv, Kamble | 2201 | KAR | 6 | ½ - ½ | 6 | | Kartik, Kumar Singh | 1901 | MAH | 23 | PGN |
| 8 | 37 | | Arshpreet, Singh | 1822 | HAR | 6 | 0 - 1 | 6 | | Anadkat, Kartavya | 2177 | Gujarat | 8 | PGN |
| 9 | 12 | | Bharadia, Yash | 2000 | RAJ | 6 | 1 - 0 | 6 | | Priansh, Das | 1846 | ODI | 29 | PGN |
| 10 | 33 | | Vrandesh, Parekh | 1839 | Gujarat | 6 | ½ - ½ | 5½ | | Vrashank, Chouhan | 1985 | RAJ | 13 | PGN |
Standings after Round 9
| | | | | | | | | | |
| --- | --- | --- | --- | --- | --- | --- | --- | --- | --- |
| Rk. | SNo | | Name | Typ | sex | FED | Rtg | Club/City | TB1 |
| 1 | 11 | CM | Adireddy, Arjun | | | IND | 2057 | TEL | 8,5 |
| 2 | 26 | | Gaikwad, Manas | | | IND | 1866 | MAH | 8 |
| 3 | 2 | IM | Manish, Anto Cristiano F | | | IND | 2372 | TN | 7,5 |
| 4 | 4 | | Srihari, L | | | IND | 2207 | PUD | 7 |
| | 8 | | Anadkat, Kartavya | | | IND | 2177 | Gujarat | 7 |
| | 10 | | Alekhya, Mukhopadhyay | | | IND | 2149 | WB | 7 |
| | 12 | | Bharadia, Yash | | | IND | 2000 | RAJ | 7 |
| 8 | 1 | | Sanket, Chakravarty | | | IND | 2381 | WB | 6,5 |
| | 3 | FM | Harshad, S | | | IND | 2236 | TN | 6,5 |
| | 5 | | Apoorv, Kamble | | | IND | 2201 | KAR | 6,5 |
| | 7 | | Dhyey, Agarwal | | | IND | 2178 | Gujarat | 6,5 |
| | 15 | | Lad, Mandar Pradip | | | IND | 1959 | Goa | 6,5 |
| | 21 | | Dinesh, Rajan M | | | IND | 1908 | TN | 6,5 |
| | 23 | | Kartik, Kumar Singh | | | IND | 1901 | MAH | 6,5 |
| | 24 | | Sriram, Adarsh Uppala | | | IND | 1883 | TEL | 6,5 |
| | 31 | | Bhoir, Paras Dilip | | | IND | 1841 | MAH | 6,5 |
| | 32 | | Daaevik, Wadhawan | | | IND | 1839 | Delhi | 6,5 |
| | 33 | | Vrandesh, Parekh | | | IND | 1839 | Gujarat | 6,5 |
| | 34 | | Kalyani, Sirin | | w | IND | 1838 | KER | 6,5 |
| | 44 | | Sharnarthi, Viresh | | | IND | 1764 | MAH | 6,5 |
Round 10 pairings
| | | | | | | | | | | | | | |
| --- | --- | --- | --- | --- | --- | --- | --- | --- | --- | --- | --- | --- | --- |
| Bo. | No. | | Name | Rtg | Club/City | Pts. | Result | Pts. | | Name | Rtg | Club/City | No. |
| 1 | 26 | | Gaikwad, Manas | 1866 | MAH | 8 | | 8½ | CM | Adireddy, Arjun | 2057 | TEL | 11 |
| 2 | 4 | | Srihari, L | 2207 | PUD | 7 | | 7½ | IM | Manish, Anto Cristiano F | 2372 | TN | 2 |
| 3 | 8 | | Anadkat, Kartavya | 2177 | Gujarat | 7 | | 7 | | Alekhya, Mukhopadhyay | 2149 | WB | 10 |
| 4 | 1 | | Sanket, Chakravarty | 2381 | WB | 6½ | | 7 | | Bharadia, Yash | 2000 | RAJ | 12 |
| 5 | 31 | | Bhoir, Paras Dilip | 1841 | MAH | 6½ | | 6½ | FM | Harshad, S | 2236 | TN | 3 |
| 6 | 32 | | Daaevik, Wadhawan | 1839 | Delhi | 6½ | | 6½ | | Apoorv, Kamble | 2201 | KAR | 5 |
| 7 | 34 | | Kalyani, Sirin | 1838 | KER | 6½ | | 6½ | | Dhyey, Agarwal | 2178 | Gujarat | 7 |
| 8 | 44 | | Sharnarthi, Viresh | 1764 | MAH | 6½ | | 6½ | | Lad, Mandar Pradip | 1959 | Goa | 15 |
| 9 | 21 | | Dinesh, Rajan M | 1908 | TN | 6½ | | 6½ | | Vrandesh, Parekh | 1839 | Gujarat | 33 |
| 10 | 23 | | Kartik, Kumar Singh | 1901 | MAH | 6½ | | 6½ | | Daksh, Goyal | 1738 | Delhi | 55 |
Girls Round 9 results
| | | | | | | | | | | | | | | |
| --- | --- | --- | --- | --- | --- | --- | --- | --- | --- | --- | --- | --- | --- | --- |
| Bo. | No. | | Name | Rtg | Club/City | Pts. | Result | Pts. | | Name | Rtg | Club/City | No. | PGN |
| 1 | 10 | | Sneha, Halder | 1835 | WB | 7 | ½ - ½ | 6½ | WFM | Bhagyashree, Patil | 1879 | MAH | 7 | PGN |
| 2 | 27 | | Khairmode, Dhanashree | 1616 | MAH | 6½ | 1 - 0 | 7 | | Ishvi, Aggarwal | 1748 | HAR | 17 | PGN |
| 3 | 6 | | Tejaswini, G | 1905 | TN | 6 | 0 - 1 | 6½ | AFM | Shubhi, Gupta | 1761 | UP | 15 | PGN |
| 4 | 3 | | Mrittika, Mallick | 2059 | WB | 6 | 0 - 1 | 6 | | Dakshita, Kumawat | 1690 | RAJ | 21 | PGN |
| 5 | 11 | | Rebecca, Jesumarian | 1811 | TN | 5½ | 0 - 1 | 6 | | Kanishka, S | 1716 | TN | 19 | PGN |
| 6 | 1 | WFM | Kheerthi, Ganta | 2148 | TEL | 5½ | 1 - 0 | 5½ | WCM | Arushi, Kotwal | 1677 | J & K | 24 | PGN |
| 7 | 5 | | Rindhiya, V | 1918 | TN | 5½ | 0 - 1 | 5½ | | Kashthuri, Bhai R | 1689 | AND | 22 | PGN |
| 8 | 26 | | Rajanya, Datta | 1654 | WB | 5½ | 1 - 0 | 5½ | | Anishka, Vikram | 1773 | DEL | 13 | PGN |
| 9 | 25 | | Anushka, Gupta | 1675 | WB | 5½ | 0 - 1 | 5½ | | Sachi, Jain | 1756 | Delhi | 16 | PGN |
| 10 | 32 | | Divyabharathi, Masanam | 1596 | TN | 5½ | 0 - 1 | 5½ | | Anupam, M Sreekumar | 1721 | KER | 18 | PGN |
Standings after Round 9
| | | | | | | | | | |
| --- | --- | --- | --- | --- | --- | --- | --- | --- | --- |
| Rk. | SNo | | Name | Typ | sex | FED | Rtg | Club/City | TB1 |
| 1 | 10 | | Sneha, Halder | | w | IND | 1835 | WB | 7,5 |
| | 15 | AFM | Shubhi, Gupta | | w | IND | 1761 | UP | 7,5 |
| | 27 | | Khairmode, Dhanashree | | w | IND | 1616 | MAH | 7,5 |
| 4 | 7 | WFM | Bhagyashree, Patil | | w | IND | 1879 | MAH | 7 |
| | 17 | | Ishvi, Aggarwal | | w | IND | 1748 | HAR | 7 |
| | 19 | | Kanishka, S | | w | IND | 1716 | TN | 7 |
| | 21 | | Dakshita, Kumawat | | w | IND | 1690 | RAJ | 7 |
| 8 | 1 | WFM | Kheerthi, Ganta | | w | IND | 2148 | TEL | 6,5 |
| | 16 | | Sachi, Jain | | w | IND | 1756 | Delhi | 6,5 |
| | 18 | | Anupam, M Sreekumar | | w | IND | 1721 | KER | 6,5 |
| | 20 | | Marium, Fatima | | w | IND | 1715 | Bihar | 6,5 |
| | 22 | | Kashthuri, Bhai R | | w | IND | 1689 | AND | 6,5 |
| | 26 | | Rajanya, Datta | | w | IND | 1654 | WB | 6,5 |
| 14 | 2 | WIM | Mrudul, Dehankar | | w | IND | 2059 | MAH | 6 |
| | 3 | | Mrittika, Mallick | | w | IND | 2059 | WB | 6 |
| | 6 | | Tejaswini, G | | w | IND | 1905 | TN | 6 |
| | 31 | | Arshiya, Das | | w | IND | 1596 | TRI | 6 |
| | 35 | | Kale, Shruti | | w | IND | 1567 | MAH | 6 |
| | 36 | | Jain, Ashita | | w | IND | 1564 | Gujarat | 6 |
| | 45 | | Drishtee, Ghosh | | w | IND | 1495 | KAR | 6 |
Round 10 pairings
| | | | | | | | | | | | | | |
| --- | --- | --- | --- | --- | --- | --- | --- | --- | --- | --- | --- | --- | --- |
| Bo. | No. | | Name | Rtg | Club/City | Pts. | Result | Pts. | | Name | Rtg | Club/City | No. |
| 1 | 15 | AFM | Shubhi, Gupta | 1761 | UP | 7½ | | 7½ | | Sneha, Halder | 1835 | WB | 10 |
| 2 | 21 | | Dakshita, Kumawat | 1690 | RAJ | 7 | | 7½ | | Khairmode, Dhanashree | 1616 | MAH | 27 |
| 3 | 19 | | Kanishka, S | 1716 | TN | 7 | | 7 | | Ishvi, Aggarwal | 1748 | HAR | 17 |
| 4 | 18 | | Anupam, M Sreekumar | 1721 | KER | 6½ | | 7 | WFM | Bhagyashree, Patil | 1879 | MAH | 7 |
| 5 | 16 | | Sachi, Jain | 1756 | Delhi | 6½ | | 6½ | WFM | Kheerthi, Ganta | 2148 | TEL | 1 |
| 6 | 22 | | Kashthuri, Bhai R | 1689 | AND | 6½ | | 6½ | | Marium, Fatima | 1715 | Bihar | 20 |
| 7 | 2 | WIM | Mrudul, Dehankar | 2059 | MAH | 6 | | 6½ | | Rajanya, Datta | 1654 | WB | 26 |
| 8 | 36 | | Jain, Ashita | 1564 | Gujarat | 6 | | 6 | | Mrittika, Mallick | 2059 | WB | 3 |
| 9 | 63 | | Asmita, Avijit Ray | 1397 | Goa | 6 | | 6 | | Tejaswini, G | 1905 | TN | 6 |
| 10 | 45 | | Drishtee, Ghosh | 1495 | KAR | 6 | | 6 | | Arshiya, Das | 1596 | TRI | 31 |
---