National Junior 2023 R10: Arjun Adireddy stays ahead, Shubhi and Dhanashree race towards the title
CM Arjun Adireddy (TEL) was held to a draw by Manas Gaikwad (MAH) in the penultimate round of 52nd National Junior 2023 Open. Srihari L (PUD) also drew his game against IM Manish Anto Cristiano F (TN). Thus, Arjun mantained his sole lead 9/10. Kartavya Anadkat (GUJ) defeated Alekhya Mukhopadhyay (WB) to move to 8/10. He will face Arjun in the final round. Manas is the only one trailing the leader by a half point at 8.5/10. In the Girls section, Shubhi Gupta (UP) and Dhanashree Khairmode (MAH) defeated Sneha Halder (WB) and Dakshita Kumawat (RAJ) respectively to maintain their lead 8.5/10. Final Round 11 starts today from 10 a.m. IST. Photos: FA FI Juily Kulkarni
52nd National Junior Open and 37th National Junior Girls 2023 are poised for an exciting finish
The coleaders of the Girls event, Shubhi Gupta (UP) and Dhanashree Khairmode (MAH) have already squared off in the seventh round. It ended in a draw. In the final round, it will be WFM Bhagyashree Patil (MAH) vs Shubhi and Dhanashree vs Kanishka S (TN).
Kartavya - Alekhya
Alekhya Mukhopadhyay (WB, 2149) offered an incorrect queen exchange against Kartavya Anadkat (GUJ, 2177). 29.Qxd4 exd4 30.Nd5 Nxd5 31.exd5 Bc5 now White needed to go 32.a4 to maintain a firm grip on the same color bishop endgame. 32...Kf8 33.a5 Ke7 34.a6 now Kd6 loses immediately to 35.Ba3. So 34...Kd7 35.Ba3 Ba7 36.g4 Kc7 37.Kf1 Kb6 38.d6 ensures White does not lose either of the passed pawns. The game continued 32.Kf1 and White eventually won the game.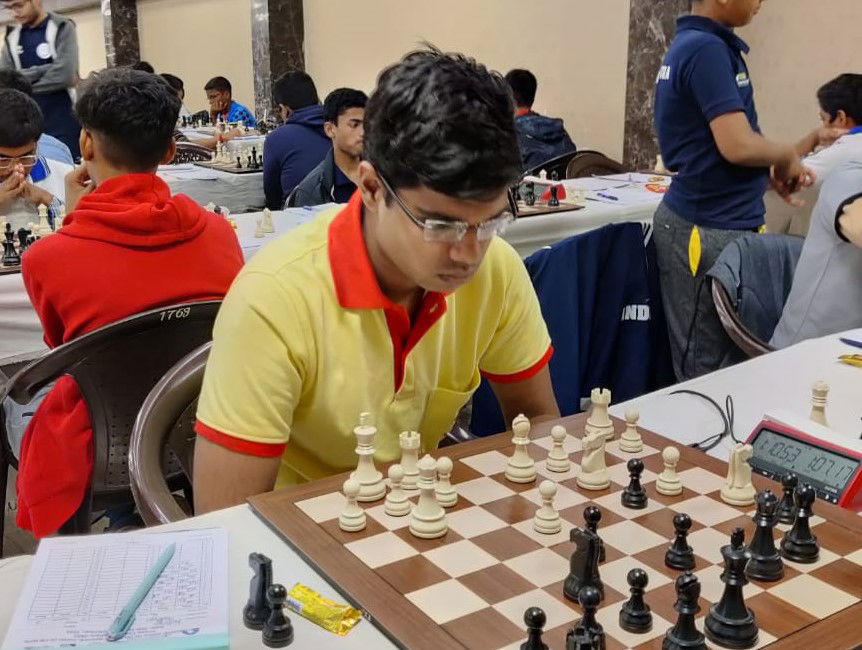 Girls: Shubhi - Sneha
Sneha Halder's (WB, 1835) position was quite unpleasant to play. 20...Nxc5? A desperate sacrifice to get a couple of pawns for the knight, did not help her case against Shubhi Gupta (UP, 1761).
A total of 223 players including 2 IMs in the Open and 129 players including 2 WIMs in the Girls tournament are taking part. The tournaments are organized by Gujarat State Chess Association. They are taking place at Karnavati Club in Ahmedabad, Gujarat from 20th to 28th September 2023. The eleven-round Swiss league tournament has a time control of 90 minutes + 30 seconds increment from move no.1
Replay Open Round 10 games
Replay Girls Round 10 games
Open Round 10 results
Bo.
No.
Name
Rtg
Club/City
Pts.
Result
Pts.
Name
Rtg
Club/City
No.
PGN
1
26
Gaikwad, Manas
1866
MAH
8
½ - ½
8½
CM
Adireddy, Arjun
2057
TEL
11
PGN
2
4
Srihari, L
2207
PUD
7
½ - ½
7½
IM
Manish, Anto Cristiano F
2372
TN
2
PGN
3
8
Anadkat, Kartavya
2177
Gujarat
7
1 - 0
7
Alekhya, Mukhopadhyay
2149
WB
10
PGN
4
1
Sanket, Chakravarty
2381
WB
6½
½ - ½
7
Bharadia, Yash
2000
RAJ
12
PGN
5
31
Bhoir, Paras Dilip
1841
MAH
6½
½ - ½
6½
FM
Harshad, S
2236
TN
3
PGN
6
32
Daaevik, Wadhawan
1839
Delhi
6½
0 - 1
6½
Apoorv, Kamble
2201
KAR
5
PGN
7
34
Kalyani, Sirin
1838
KER
6½
0 - 1
6½
Dhyey, Agarwal
2178
Gujarat
7
PGN
8
44
Sharnarthi, Viresh
1764
MAH
6½
½ - ½
6½
Lad, Mandar Pradip
1959
Goa
15
PGN
9
21
Dinesh, Rajan M
1908
TN
6½
0 - 1
6½
Vrandesh, Parekh
1839
Gujarat
33
PGN
10
23
Kartik, Kumar Singh
1901
MAH
6½
+ - -
6½
Daksh, Goyal
1738
Delhi
55
Standings after Round 10
| | | | | | | | | | |
| --- | --- | --- | --- | --- | --- | --- | --- | --- | --- |
| Rk. | SNo | | Name | Typ | sex | FED | Rtg | Club/City | TB1 |
| 1 | 11 | CM | Adireddy, Arjun | | | IND | 2057 | TEL | 9 |
| 2 | 26 | | Gaikwad, Manas | | | IND | 1866 | MAH | 8,5 |
| 3 | 2 | IM | Manish, Anto Cristiano F | | | IND | 2372 | TN | 8 |
| | 8 | | Anadkat, Kartavya | | | IND | 2177 | Gujarat | 8 |
| 5 | 4 | | Srihari, L | | | IND | 2207 | PUD | 7,5 |
| | 5 | | Apoorv, Kamble | | | IND | 2201 | KAR | 7,5 |
| | 7 | | Dhyey, Agarwal | | | IND | 2178 | Gujarat | 7,5 |
| | 12 | | Bharadia, Yash | | | IND | 2000 | RAJ | 7,5 |
| | 23 | | Kartik, Kumar Singh | | | IND | 1901 | MAH | 7,5 |
| | 24 | | Sriram, Adarsh Uppala | | | IND | 1883 | TEL | 7,5 |
| | 33 | | Vrandesh, Parekh | | | IND | 1839 | Gujarat | 7,5 |
| 12 | 1 | | Sanket, Chakravarty | | | IND | 2381 | WB | 7 |
| | 3 | FM | Harshad, S | | | IND | 2236 | TN | 7 |
| | 10 | | Alekhya, Mukhopadhyay | | | IND | 2149 | WB | 7 |
| | 15 | | Lad, Mandar Pradip | | | IND | 1959 | Goa | 7 |
| | 20 | | Mukund, Hemant Agarwal | | | IND | 1917 | Gujarat | 7 |
| | 31 | | Bhoir, Paras Dilip | | | IND | 1841 | MAH | 7 |
| | 35 | | Nandish, V S | | | IND | 1835 | TN | 7 |
| | 38 | CM | Mrithyunjay, Mahadevan | | | IND | 1818 | TN | 7 |
| | 39 | | Jval, Saurin Patel | | | IND | 1814 | Gujarat | 7 |
Round 11 pairings
| | | | | | | | | | | | | | |
| --- | --- | --- | --- | --- | --- | --- | --- | --- | --- | --- | --- | --- | --- |
| Bo. | No. | | Name | Rtg | Club/City | Pts. | Result | Pts. | | Name | Rtg | Club/City | No. |
| 1 | 11 | CM | Adireddy, Arjun | 2057 | TEL | 9 | | 8 | | Anadkat, Kartavya | 2177 | Gujarat | 8 |
| 2 | 2 | IM | Manish, Anto Cristiano F | 2372 | TN | 8 | | 8½ | | Gaikwad, Manas | 1866 | MAH | 26 |
| 3 | 23 | | Kartik, Kumar Singh | 1901 | MAH | 7½ | | 7½ | | Srihari, L | 2207 | PUD | 4 |
| 4 | 5 | | Apoorv, Kamble | 2201 | KAR | 7½ | | 7½ | | Vrandesh, Parekh | 1839 | Gujarat | 33 |
| 5 | 12 | | Bharadia, Yash | 2000 | RAJ | 7½ | | 7½ | | Sriram, Adarsh Uppala | 1883 | TEL | 24 |
| 6 | 7 | | Dhyey, Agarwal | 2178 | Gujarat | 7½ | | 7 | | Nandish, V S | 1835 | TN | 35 |
| 7 | 48 | | Sathvik, Adiga | 1754 | KAR | 7 | | 7 | | Sanket, Chakravarty | 2381 | WB | 1 |
| 8 | 3 | FM | Harshad, S | 2236 | TN | 7 | | 7 | | Mukund, Hemant Agarwal | 1917 | Gujarat | 20 |
| 9 | 10 | | Alekhya, Mukhopadhyay | 2149 | WB | 7 | | 7 | | Sharnarthi, Viresh | 1764 | MAH | 44 |
| 10 | 15 | | Lad, Mandar Pradip | 1959 | Goa | 7 | | 7 | CM | Mrithyunjay, Mahadevan | 1818 | TN | 38 |
Girls Round 10 results
| | | | | | | | | | | | | | | |
| --- | --- | --- | --- | --- | --- | --- | --- | --- | --- | --- | --- | --- | --- | --- |
| Bo. | No. | | Name | Rtg | Club/City | Pts. | Result | Pts. | | Name | Rtg | Club/City | No. | PGN |
| 1 | 15 | AFM | Shubhi, Gupta | 1761 | UP | 7½ | 1 - 0 | 7½ | | Sneha, Halder | 1835 | WB | 10 | PGN |
| 2 | 21 | | Dakshita, Kumawat | 1690 | RAJ | 7 | 0 - 1 | 7½ | | Khairmode, Dhanashree | 1616 | MAH | 27 | PGN |
| 3 | 19 | | Kanishka, S | 1716 | TN | 7 | 1 - 0 | 7 | | Ishvi, Aggarwal | 1748 | HAR | 17 | PGN |
| 4 | 18 | | Anupam, M Sreekumar | 1721 | KER | 6½ | 0 - 1 | 7 | WFM | Bhagyashree, Patil | 1879 | MAH | 7 | PGN |
| 5 | 16 | | Sachi, Jain | 1756 | Delhi | 6½ | 1 - 0 | 6½ | WFM | Kheerthi, Ganta | 2148 | TEL | 1 | PGN |
| 6 | 22 | | Kashthuri, Bhai R | 1689 | AND | 6½ | 0 - 1 | 6½ | | Marium, Fatima | 1715 | Bihar | 20 | PGN |
| 7 | 2 | WIM | Mrudul, Dehankar | 2059 | MAH | 6 | 0 - 1 | 6½ | | Rajanya, Datta | 1654 | WB | 26 | PGN |
| 8 | 36 | | Jain, Ashita | 1564 | Gujarat | 6 | 0 - 1 | 6 | | Mrittika, Mallick | 2059 | WB | 3 | PGN |
| 9 | 63 | | Asmita, Avijit Ray | 1397 | Goa | 6 | 0 - 1 | 6 | | Tejaswini, G | 1905 | TN | 6 | PGN |
| 10 | 45 | | Drishtee, Ghosh | 1495 | KAR | 6 | ½ - ½ | 6 | | Arshiya, Das | 1596 | TRI | 31 | PGN |
Standings after Round 10
| | | | | | | | | | |
| --- | --- | --- | --- | --- | --- | --- | --- | --- | --- |
| Rk. | SNo | | Name | Typ | sex | FED | Rtg | Club/City | TB1 |
| 1 | 11 | CM | Adireddy, Arjun | | | IND | 2057 | TEL | 9 |
| 2 | 26 | | Gaikwad, Manas | | | IND | 1866 | MAH | 8,5 |
| 3 | 2 | IM | Manish, Anto Cristiano F | | | IND | 2372 | TN | 8 |
| | 8 | | Anadkat, Kartavya | | | IND | 2177 | Gujarat | 8 |
| 5 | 4 | | Srihari, L | | | IND | 2207 | PUD | 7,5 |
| | 5 | | Apoorv, Kamble | | | IND | 2201 | KAR | 7,5 |
| | 7 | | Dhyey, Agarwal | | | IND | 2178 | Gujarat | 7,5 |
| | 12 | | Bharadia, Yash | | | IND | 2000 | RAJ | 7,5 |
| | 23 | | Kartik, Kumar Singh | | | IND | 1901 | MAH | 7,5 |
| | 24 | | Sriram, Adarsh Uppala | | | IND | 1883 | TEL | 7,5 |
| | 33 | | Vrandesh, Parekh | | | IND | 1839 | Gujarat | 7,5 |
| 12 | 1 | | Sanket, Chakravarty | | | IND | 2381 | WB | 7 |
| | 3 | FM | Harshad, S | | | IND | 2236 | TN | 7 |
| | 10 | | Alekhya, Mukhopadhyay | | | IND | 2149 | WB | 7 |
| | 15 | | Lad, Mandar Pradip | | | IND | 1959 | Goa | 7 |
| | 20 | | Mukund, Hemant Agarwal | | | IND | 1917 | Gujarat | 7 |
| | 31 | | Bhoir, Paras Dilip | | | IND | 1841 | MAH | 7 |
| | 35 | | Nandish, V S | | | IND | 1835 | TN | 7 |
| | 38 | CM | Mrithyunjay, Mahadevan | | | IND | 1818 | TN | 7 |
| | 39 | | Jval, Saurin Patel | | | IND | 1814 | Gujarat | 7 |
Round 11 pairings
| | | | | | | | | | | | | | |
| --- | --- | --- | --- | --- | --- | --- | --- | --- | --- | --- | --- | --- | --- |
| Bo. | No. | | Name | Rtg | Club/City | Pts. | Result | Pts. | | Name | Rtg | Club/City | No. |
| 1 | 11 | CM | Adireddy, Arjun | 2057 | TEL | 9 | | 8 | | Anadkat, Kartavya | 2177 | Gujarat | 8 |
| 2 | 2 | IM | Manish, Anto Cristiano F | 2372 | TN | 8 | | 8½ | | Gaikwad, Manas | 1866 | MAH | 26 |
| 3 | 23 | | Kartik, Kumar Singh | 1901 | MAH | 7½ | | 7½ | | Srihari, L | 2207 | PUD | 4 |
| 4 | 5 | | Apoorv, Kamble | 2201 | KAR | 7½ | | 7½ | | Vrandesh, Parekh | 1839 | Gujarat | 33 |
| 5 | 12 | | Bharadia, Yash | 2000 | RAJ | 7½ | | 7½ | | Sriram, Adarsh Uppala | 1883 | TEL | 24 |
| 6 | 7 | | Dhyey, Agarwal | 2178 | Gujarat | 7½ | | 7 | | Nandish, V S | 1835 | TN | 35 |
| 7 | 48 | | Sathvik, Adiga | 1754 | KAR | 7 | | 7 | | Sanket, Chakravarty | 2381 | WB | 1 |
| 8 | 3 | FM | Harshad, S | 2236 | TN | 7 | | 7 | | Mukund, Hemant Agarwal | 1917 | Gujarat | 20 |
| 9 | 10 | | Alekhya, Mukhopadhyay | 2149 | WB | 7 | | 7 | | Sharnarthi, Viresh | 1764 | MAH | 44 |
| 10 | 15 | | Lad, Mandar Pradip | 1959 | Goa | 7 | | 7 | CM | Mrithyunjay, Mahadevan | 1818 | TN | 38 |
---