National Junior 2023 R6-7: Sneha Halder maintains her perfect score 7/7
Sneha Halder (WB) continues her fantastic form at 37th National Junior Under-19 Girls Championship 2023. She defeated Anishka Vikram (DEL) and Mrittika Mallick (WB) in Round 6 and 7, to increase her lead by a full point 7/7. Ishvi Aggarwal (HAR) is the only girl trailing her by a full point at 6/7. Alekhya Mukhopadhyay (WB) defeated Sathvik Adiga (KAR) to gain sole lead 6/6. However, in the seventh round, IM Manish Anto Cristiano F (TN) won against him to emerge as the new leader 6.5/7. Manish defeated the defending champion, Vrashank Chouhan (RAJ) in the previous round. CM Arjun Adireddy (TEL) defeated Srihari L in Round 7 to join Manish in the lead 6.5/7. They will inevitably face each other in Round 8. It starts today from 1:30 p.m. IST. Photos: Prashant Raval
Manish and Arjun Adireddy are the new leaders in the Open
In the Open event, five players are trailing the leaders by a half point at 6/7 each. They are - Alekhya Mukhopadhyay (WB), Yash Bharadia (RAJ), Mandar Pradip Lad (Goa), Manas Gaikwad (MAH) and Arshpreet Singh (HAR).
Alekhya - Sathvik, Round 6
Alekhya Mukhopadhyay (WB, 2149) could have finished things much earlier if he had played 16.Qd2 Qe4+ 17.Qe2 gaining an exchange. The game continued 16.c3 Qe4+ 17.Qe2 and White did not have wait too long as his opponent Sathvik Adiga (KAR, 1754) blundered his bishop for free in another nine moves.
Manish - Vrashank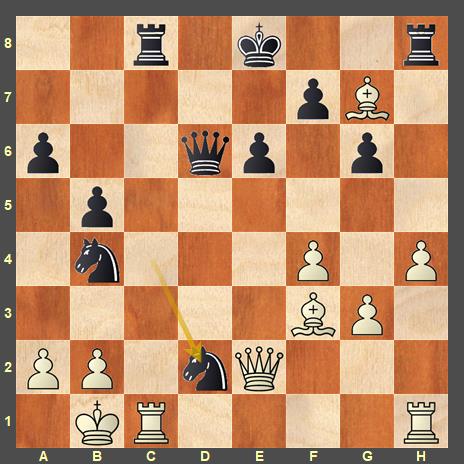 IM Manish Anto Cristiano F (2372) could have opted for 30.Qxd2 Qxd2 31.Rxc8+ Kd7 32.Rc3 and that would have reduced Black's chances to fight back. Instead, 30.Ka1 Nc2+ 31.Rxc2 Rxc2 allowed Black to stay in the game. 32.Bxh8 Nb3+? put White in control again.
Manish - Alekhya, Round 7
Manish decided to sacrifice an exchange and gain positional advantage. 26...Ke6 27.exd6 gxh5 28.Rh1 and slowly White outplayed Black to win the game using his passed d-pawn.
Srihari L - Arjun Adireddy
32.f4 was the correct continuation for Srihari L (PUD, 2207). However, he opted for 32.Qb7? Rxf2 and a desperate sacrifice 33.Rxe5? did not work out due to Kxe5 and Arjun Adireddy (TEL, 2057) went on to win the game.
Girls Round 6: Anishka - Sneha
30.Bf6 needed to be played first as it prevents black king's escape and she would have had no choice but to go for a draw via perpetual check. 30.Rb8? allowed Black to gain decisive advantage Nxf4+ 31.Kf3 now Kg7 was possible. However, 31...Ne5+ was played and the win got prolonged.
Sneha - Mrittika, Round 7
White needed to play 27.e5 first before going h5. The difference is 27...dxe5 28.a3 Na6 and now 29.h5. 27.h5 Rxf6 28.Rxf6 Black misplayed Qe5? 29.hxg6+ and White won the game eventually.
For more photos, please click here.
A total of 223 players including 2 IMs in the Open and 129 players including 2 WIMs in the Girls tournament are taking part. The tournaments are organized by Gujarat State Chess Association. They are taking place at Karnavati Club in Ahmedabad, Gujarat from 20th to 28th September 2023. The eleven-round Swiss league tournament has a time control of 90 minutes + 30 seconds increment from move no.1
Replay Open Round 6-7 games
Replay Girls Round 6-7 games
Open Round 7 results
| | | | | | | | | | | | | | | |
| --- | --- | --- | --- | --- | --- | --- | --- | --- | --- | --- | --- | --- | --- | --- |
| Bo. | No. | | Name | Rtg | Club/City | Pts. | Result | Pts. | | Name | Rtg | Club/City | No. | PGN |
| 1 | 2 | IM | Manish, Anto Cristiano F | 2372 | TN | 5½ | 1 - 0 | 6 | | Alekhya, Mukhopadhyay | 2149 | WB | 10 | PGN |
| 2 | 4 | | Srihari, L | 2207 | PUD | 5 | 0 - 1 | 5½ | CM | Adireddy, Arjun | 2057 | TEL | 11 | PGN |
| 3 | 37 | | Arshpreet, Singh | 1822 | HAR | 5 | 1 - 0 | 5 | FM | Md, Imran | 2197 | AP | 6 | PGN |
| 4 | 12 | | Bharadia, Yash | 2000 | RAJ | 5 | 1 - 0 | 5 | CM | Mrithyunjay, Mahadevan | 1818 | TN | 38 | PGN |
| 5 | 15 | | Lad, Mandar Pradip | 1959 | Goa | 5 | 1 - 0 | 5 | | Tirth, Jayeshkumar Parmar | 1500 | Gujarat | 116 | PGN |
| 6 | 48 | | Sathvik, Adiga | 1754 | KAR | 5 | 0 - 1 | 5 | | Gaikwad, Manas | 1866 | MAH | 26 | PGN |
| 7 | 29 | | Priansh, Das | 1846 | ODI | 5 | ½ - ½ | 5 | AFM | Sureka, Akshat | 1730 | KAR | 58 | PGN |
| 8 | 3 | FM | Harshad, S | 2236 | TN | 4½ | 1 - 0 | 4½ | | Sriram, Adarsh Uppala | 1883 | TEL | 24 | PGN |
| 9 | 7 | | Dhyey, Agarwal | 2178 | Gujarat | 4½ | 1 - 0 | 4½ | | Bhoir, Paras Dilip | 1841 | MAH | 31 | PGN |
| 10 | 55 | | Daksh, Goyal | 1738 | Delhi | 4½ | 0 - 1 | 4½ | | Anadkat, Kartavya | 2177 | Gujarat | 8 | PGN |
Standings after Round 7
| | | | | | | | | | |
| --- | --- | --- | --- | --- | --- | --- | --- | --- | --- |
| Rk. | SNo | | Name | Typ | sex | FED | Rtg | Club/City | TB1 |
| 1 | 2 | IM | Manish, Anto Cristiano F | | | IND | 2372 | TN | 6,5 |
| | 11 | CM | Adireddy, Arjun | | | IND | 2057 | TEL | 6,5 |
| 3 | 10 | | Alekhya, Mukhopadhyay | | | IND | 2149 | WB | 6 |
| | 12 | | Bharadia, Yash | | | IND | 2000 | RAJ | 6 |
| | 15 | | Lad, Mandar Pradip | | | IND | 1959 | Goa | 6 |
| | 26 | | Gaikwad, Manas | | | IND | 1866 | MAH | 6 |
| | 37 | | Arshpreet, Singh | | | IND | 1822 | HAR | 6 |
| 8 | 3 | FM | Harshad, S | | | IND | 2236 | TN | 5,5 |
| | 7 | | Dhyey, Agarwal | | | IND | 2178 | Gujarat | 5,5 |
| | 8 | | Anadkat, Kartavya | | | IND | 2177 | Gujarat | 5,5 |
| | 13 | | Vrashank, Chouhan | | | IND | 1985 | RAJ | 5,5 |
| | 21 | | Dinesh, Rajan M | | | IND | 1908 | TN | 5,5 |
| | 29 | | Priansh, Das | | | IND | 1846 | ODI | 5,5 |
| | 58 | AFM | Sureka, Akshat | | | IND | 1730 | KAR | 5,5 |
| 15 | 1 | | Sanket, Chakravarty | | | IND | 2381 | WB | 5 |
| | 4 | | Srihari, L | | | IND | 2207 | PUD | 5 |
| | 5 | | Apoorv, Kamble | | | IND | 2201 | KAR | 5 |
| | 6 | FM | Md, Imran | | | IND | 2197 | AP | 5 |
| | 17 | | Swarna, Nihal | | | IND | 1935 | AP | 5 |
| | 20 | | Mukund, Hemant Agarwal | | | IND | 1917 | Gujarat | 5 |
Round 8 pairings
| | | | | | | | | | | | | | |
| --- | --- | --- | --- | --- | --- | --- | --- | --- | --- | --- | --- | --- | --- |
| Bo. | No. | | Name | Rtg | Club/City | Pts. | Result | Pts. | | Name | Rtg | Club/City | No. |
| 1 | 11 | CM | Adireddy, Arjun | 2057 | TEL | 6½ | | 6½ | IM | Manish, Anto Cristiano F | 2372 | TN | 2 |
| 2 | 10 | | Alekhya, Mukhopadhyay | 2149 | WB | 6 | | 6 | | Lad, Mandar Pradip | 1959 | Goa | 15 |
| 3 | 26 | | Gaikwad, Manas | 1866 | MAH | 6 | | 6 | | Bharadia, Yash | 2000 | RAJ | 12 |
| 4 | 7 | | Dhyey, Agarwal | 2178 | Gujarat | 5½ | | 6 | | Arshpreet, Singh | 1822 | HAR | 37 |
| 5 | 29 | | Priansh, Das | 1846 | ODI | 5½ | | 5½ | FM | Harshad, S | 2236 | TN | 3 |
| 6 | 8 | | Anadkat, Kartavya | 2177 | Gujarat | 5½ | | 5½ | | Dinesh, Rajan M | 1908 | TN | 21 |
| 7 | 58 | AFM | Sureka, Akshat | 1730 | KAR | 5½ | | 5½ | | Vrashank, Chouhan | 1985 | RAJ | 13 |
| 8 | 1 | | Sanket, Chakravarty | 2381 | WB | 5 | | 5 | | Jval, Saurin Patel | 1814 | Gujarat | 39 |
| 9 | 38 | CM | Mrithyunjay, Mahadevan | 1818 | TN | 5 | | 5 | | Srihari, L | 2207 | PUD | 4 |
| 10 | 43 | | Jaidambareesh, N R | 1771 | TN | 5 | | 5 | | Apoorv, Kamble | 2201 | KAR | 5 |
Girls Round 7 results
| | | | | | | | | | | | | | | |
| --- | --- | --- | --- | --- | --- | --- | --- | --- | --- | --- | --- | --- | --- | --- |
| Bo. | No. | | Name | Rtg | Club/City | Pts. | Result | Pts. | | Name | Rtg | Club/City | No. | PGN |
| 1 | 10 | | Sneha, Halder | 1835 | WB | 6 | 1 - 0 | 5½ | | Mrittika, Mallick | 2059 | WB | 3 | PGN |
| 2 | 1 | WFM | Kheerthi, Ganta | 2148 | TEL | 5 | ½ - ½ | 5 | | Kanishka, S | 1716 | TN | 19 | PGN |
| 3 | 27 | | Khairmode, Dhanashree | 1616 | MAH | 5 | ½ - ½ | 5 | AFM | Shubhi, Gupta | 1761 | UP | 15 | PGN |
| 4 | 17 | | Ishvi, Aggarwal | 1748 | HAR | 5 | 1 - 0 | 5 | | Dakshita, Kumawat | 1690 | RAJ | 21 | PGN |
| 5 | 7 | WFM | Bhagyashree, Patil | 1879 | MAH | 4½ | 1 - 0 | 4½ | | Sachi, Jain | 1756 | Delhi | 16 | PGN |
| 6 | 20 | | Marium, Fatima | 1715 | Bihar | 4½ | ½ - ½ | 4½ | WCM | Bristy, Mukherjee | 1858 | WB | 8 | PGN |
| 7 | 25 | | Anushka, Gupta | 1675 | WB | 4½ | 1 - 0 | 4½ | WCM | Sasvatha, A | 1783 | TN | 12 | PGN |
| 8 | 35 | | Kale, Shruti | 1567 | MAH | 4½ | 0 - 1 | 4½ | | Anishka, Vikram | 1773 | DEL | 13 | PGN |
| 9 | 32 | | Divyabharathi, Masanam | 1596 | TN | 4 | ½ - ½ | 4 | WIM | Mrudul, Dehankar | 2059 | MAH | 2 | PGN |
| 10 | 5 | | Rindhiya, V | 1918 | TN | 4 | ½ - ½ | 4 | AFM | Gade, Sharanya | 1507 | TEL | 44 | PGN |
Standings after Round 7
| | | | | | | | | | |
| --- | --- | --- | --- | --- | --- | --- | --- | --- | --- |
| Rk. | SNo | | Name | Typ | sex | FED | Rtg | Club/City | TB1 |
| 1 | 10 | | Sneha, Halder | | w | IND | 1835 | WB | 7 |
| 2 | 17 | | Ishvi, Aggarwal | | w | IND | 1748 | HAR | 6 |
| 3 | 1 | WFM | Kheerthi, Ganta | | w | IND | 2148 | TEL | 5,5 |
| | 3 | | Mrittika, Mallick | | w | IND | 2059 | WB | 5,5 |
| | 7 | WFM | Bhagyashree, Patil | | w | IND | 1879 | MAH | 5,5 |
| | 13 | | Anishka, Vikram | | w | IND | 1773 | DEL | 5,5 |
| | 15 | AFM | Shubhi, Gupta | | w | IND | 1761 | UP | 5,5 |
| | 19 | | Kanishka, S | | w | IND | 1716 | TN | 5,5 |
| | 25 | | Anushka, Gupta | | w | IND | 1675 | WB | 5,5 |
| | 27 | | Khairmode, Dhanashree | | w | IND | 1616 | MAH | 5,5 |
| 11 | 6 | | Tejaswini, G | | w | IND | 1905 | TN | 5 |
| | 8 | WCM | Bristy, Mukherjee | | w | IND | 1858 | WB | 5 |
| | 20 | | Marium, Fatima | | w | IND | 1715 | Bihar | 5 |
| | 21 | | Dakshita, Kumawat | | w | IND | 1690 | RAJ | 5 |
| | 26 | | Rajanya, Datta | | w | IND | 1654 | WB | 5 |
| | 45 | | Drishtee, Ghosh | | w | IND | 1495 | KAR | 5 |
| | 50 | AFM | Goddeti, Hima Tejaswini | | w | IND | 1454 | AP | 5 |
| 18 | 2 | WIM | Mrudul, Dehankar | | w | IND | 2059 | MAH | 4,5 |
| | 5 | | Rindhiya, V | | w | IND | 1918 | TN | 4,5 |
| | 11 | | Rebecca, Jesumarian | | w | IND | 1811 | TN | 4,5 |
Round 8 pairings
| | | | | | | | | | | | | | |
| --- | --- | --- | --- | --- | --- | --- | --- | --- | --- | --- | --- | --- | --- |
| Bo. | No. | | Name | Rtg | Club/City | Pts. | Result | Pts. | | Name | Rtg | Club/City | No. |
| 1 | 17 | | Ishvi, Aggarwal | 1748 | HAR | 6 | | 7 | | Sneha, Halder | 1835 | WB | 10 |
| 2 | 15 | AFM | Shubhi, Gupta | 1761 | UP | 5½ | | 5½ | WFM | Kheerthi, Ganta | 2148 | TEL | 1 |
| 3 | 19 | | Kanishka, S | 1716 | TN | 5½ | | 5½ | | Mrittika, Mallick | 2059 | WB | 3 |
| 4 | 7 | WFM | Bhagyashree, Patil | 1879 | MAH | 5½ | | 5½ | | Anushka, Gupta | 1675 | WB | 25 |
| 5 | 13 | | Anishka, Vikram | 1773 | DEL | 5½ | | 5½ | | Khairmode, Dhanashree | 1616 | MAH | 27 |
| 6 | 6 | | Tejaswini, G | 1905 | TN | 5 | | 5 | | Drishtee, Ghosh | 1495 | KAR | 45 |
| 7 | 21 | | Dakshita, Kumawat | 1690 | RAJ | 5 | | 5 | WCM | Bristy, Mukherjee | 1858 | WB | 8 |
| 8 | 26 | | Rajanya, Datta | 1654 | WB | 5 | | 5 | | Marium, Fatima | 1715 | Bihar | 20 |
| 9 | 50 | AFM | Goddeti, Hima Tejaswini | 1454 | AP | 5 | | 4½ | | Rindhiya, V | 1918 | TN | 5 |
| 10 | 2 | WIM | Mrudul, Dehankar | 2059 | MAH | 4½ | | 4½ | | Kale, Shruti | 1567 | MAH | 35 |
---