Vladimir Fedoseev wins 29th Abu Dhabi Masters 2023, Aravindh Chithambaram third
The top three boards ended in draws in the final round of 29th Abu Dhabi Masters 2023. Both GM Vladimir Fedoseev (SLO) and GM Xiangyu Xu (CHN) scored 7/9 each. Fedoseev won the tournament due to better tie-breaks, Xiangyu was placed second. Eight players including GM Aravindh Chithambaram and GM S L Narayanan scored 6.5/9 each. Aravindh was placed and Narayanan ninth. Total prize fund was US$ 41600. The top three prizes were US$ 15000 + trophy, $10000 and $6000 each respectively. Sanket Chakravarty earned his final IM-norm to become India's latest International Master. Ayush Sharma, Ritviz Parab and Ethan Vaz scored an IM-norm each. Photos: Aditya Sur Roy
Sanket Chakravarty becomes India's latest IM, Ethan, Ritviz, Ayush score IM-norms
Sanket Chakravarty already had two IM-norms and crossed 2400 in the July 2023 FIDE Rating list. His 4.5/9, with a performance of 2488 earned him the final IM-norm to become India's latest International Master. FM Ayush Sharma, FM Ritviz Parab and FM Ethan Vaz scored an IM-norm each. This is Ayush's fourth, Ritviz's third and 11-year-old Ethan's first IM-norm. We will have separate articles about Sanket's journey towards the IM title and other events of the festival.
Norm makers
Four Indians scored an IM-norm each.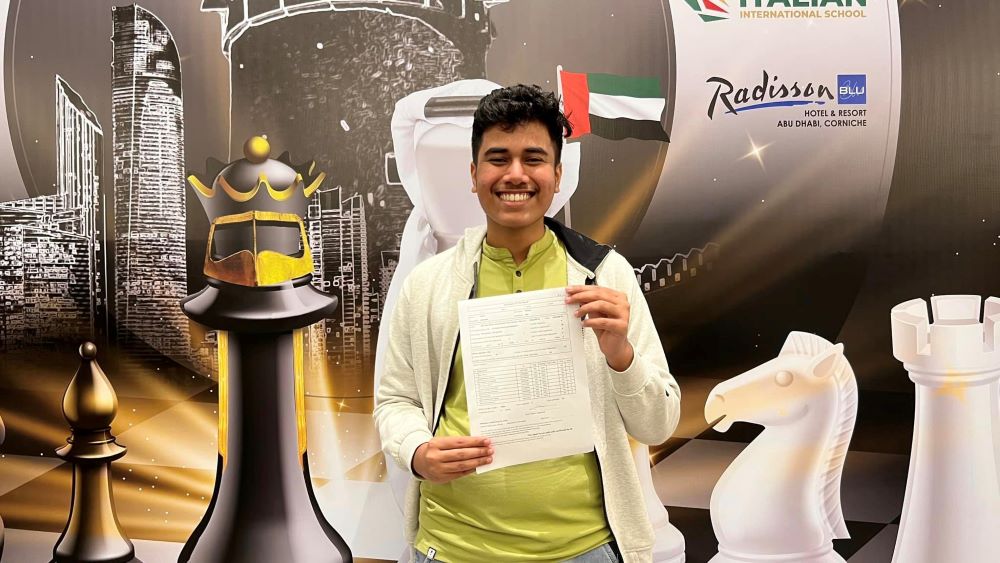 For more Round 9 and Prize distribution ceremony photos, please click here.
It was announced that the 30th edition of Abu Dhabi Chess Festival will have US$ 30000 as the first prize.
Video Gallery
A total of 145 players including 41 GMs, 54 IMs, 6 WGMs and 3 WIMs took part from 22 countries across the world. The tournament was organized by Abu Dhabi Chess Club & Mind Games from 16th to 24th August 2023 at Radisson Blu Hotel & Resort in Abu Dhabi Corniche Abu Dhabi, UAE. The nine-round Swiss league tournament had a time control of 90 minutes + 30 seconds increment from move no.1.
Replay Round 9 games
Round 9 results
Final standings
| | | | | | | | | | | | | |
| --- | --- | --- | --- | --- | --- | --- | --- | --- | --- | --- | --- | --- |
| Rk. | SNo | | | Name | FED | Rtg | Pts. | TB1 | TB2 | TB3 | TB4 | TB5 |
| 1 | 4 | | GM | Fedoseev, Vladimir | SLO | 2676 | 7 | 0,5 | 47 | 42,5 | 37,25 | 2593 |
| 2 | 18 | | GM | Xu, Xiangyu | CHN | 2608 | 7 | 0,5 | 46,5 | 42 | 36,50 | 2563 |
| 3 | 10 | | GM | Aravindh, Chithambaram Vr. | IND | 2645 | 6,5 | 0 | 46 | 42 | 32,25 | 2527 |
| 4 | 59 | | IM | Abdisalimov, Abdimalik | UZB | 2438 | 6,5 | 0 | 45,5 | 41 | 31,75 | 2627 |
| 5 | 6 | | GM | Niemann, Hans Moke | USA | 2660 | 6,5 | 0 | 45 | 41 | 32,75 | 2516 |
| 6 | 3 | | GM | Matlakov, Maxim | RUS | 2677 | 6,5 | 0 | 44,5 | 40 | 34,50 | 2486 |
| 7 | 19 | | GM | Lu, Shanglei | CHN | 2598 | 6,5 | 0 | 44,5 | 39,5 | 30,75 | 2518 |
| 8 | 1 | | GM | Artemiev, Vladislav | RUS | 2698 | 6,5 | 0 | 44 | 40 | 33,00 | 2529 |
| 9 | 8 | | GM | Narayanan.S.L, | IND | 2656 | 6,5 | 0 | 43,5 | 39 | 31,00 | 2443 |
| 10 | 14 | | GM | Murzin, Volodar | FID | 2631 | 6,5 | 0 | 43,5 | 39 | 30,75 | 2497 |
Links
---