29th Abu Dhabi Masters 2023 R1: Divya Deshmukh stuns Pranav Anand
The 29th edition of Abu Dhabi Chess Festival 2023 Masters started with a lot of upsets in the first round. The biggest one is the reigning Asian Continental and National Women champion, IM Divya Deshmukh winning against the World Under-16 Open champion, GM Pranav Anand. IM Jubin Jimmy defeated GM Alexander Raetsky. 18 players are rated above 2600. 41 GMs, 54 IMs, 6 WGMs and 3 WIMs are taking part. The average rating of the tournament is 2435. That should give you an idea about the strength of the tournament. Check out a pictorial report of the first round along with some final moments of few games. Round 2 starts today at 5 p.m. local time, 6:30 p.m. IST. Photos: Aditya Sur Roy
Jubin Jimmy beats Alexander Raetsky
The top three prizes in the Masters section are - US$ 15000, $10000 and $6000 each respectively.
Jinan Jomon - GM Aravindh Chithambaram: 0.5-0.5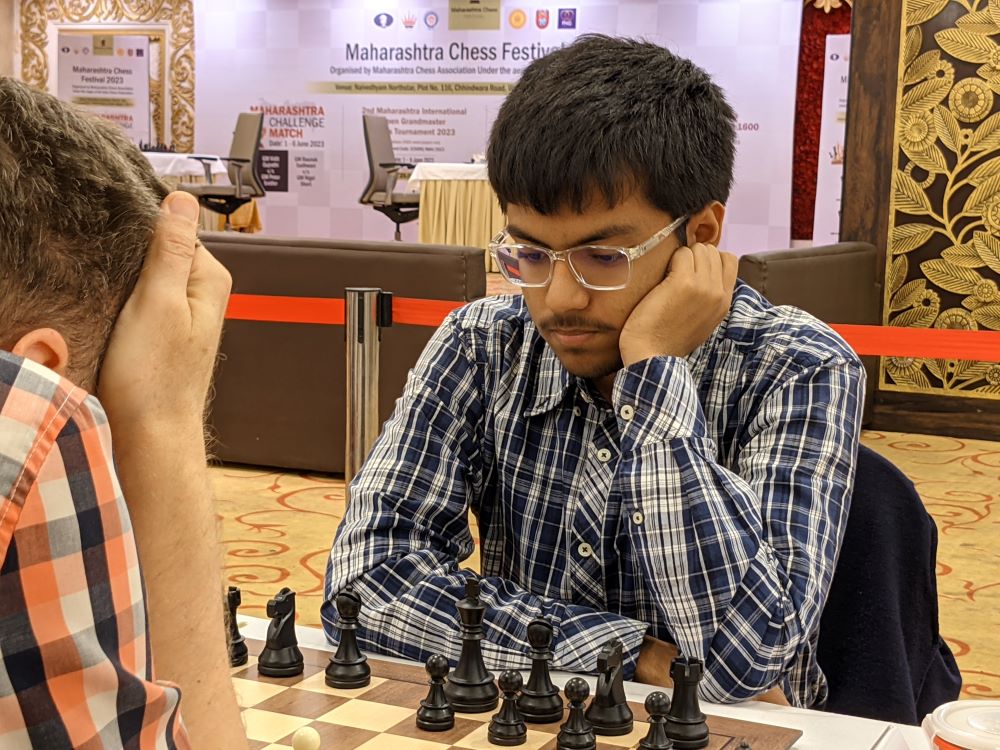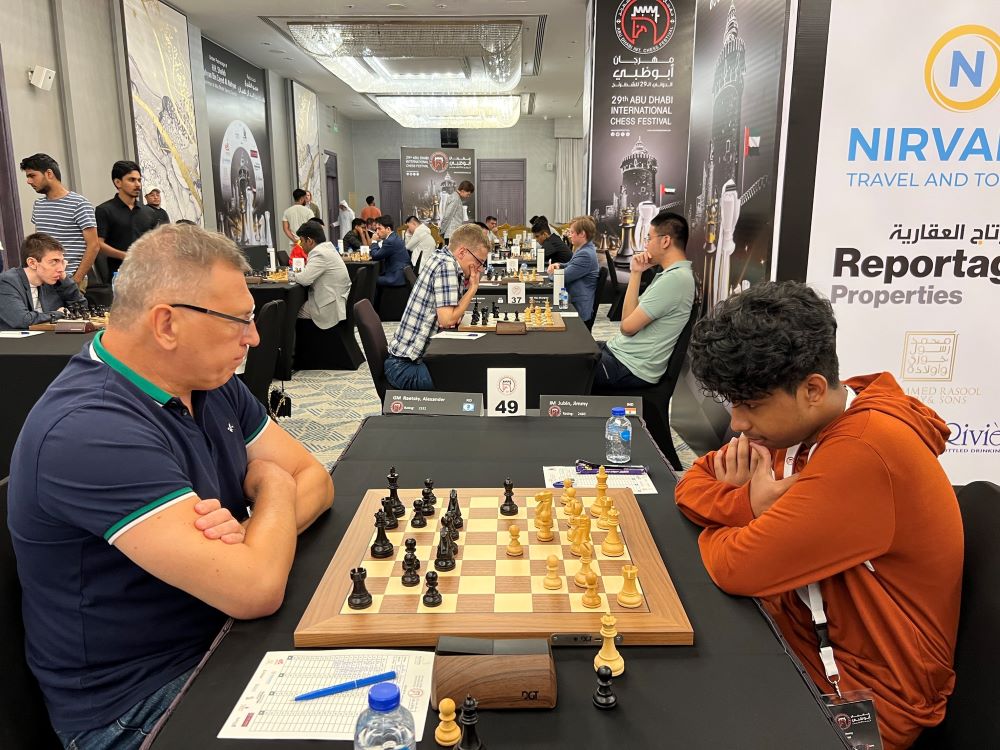 For more Round 1 and Inauguration Ceremony photos, please click here.
Video Gallery
A total of 145 players including 41 GMs, 54 IMs, 6 WGMs and 3 WIMs are taking part from 22 countries across the world. The tournament is being organized by Abu Dhabi Chess Club & Mind Games from 16th to 24th August 2023 at Radisson Blu Hotel & Resort in Abu Dhabi Corniche Abu Dhabi, UAE. The nine-round Swiss league tournament has a time control of 90 minutes + 30 seconds increment from move no.1.
Round 1 results
Standings after Round 1
Rk.
SNo
Rtg
Pts.
TB1
TB2
TB3
1
1
Artemiev, Vladislav
RUS
2698
1
0
1
0
2
Anton Guijarro, David
ESP
2693
1
0
1
0
4
Fedoseev, Vladimir
SLO
2676
1
0
1
0
5
Salem, A.R. Saleh
UAE
2661
1
0
1
0
6
Niemann, Hans Moke
USA
2660
1
0
1
0
7
Sindarov, Javokhir
UZB
2659
1
0
1
0
8
Narayanan.S.L,
IND
2656
1
0
1
0
9
Santos Latasa, Jaime
ESP
2656
1
0
1
0
11
Aryan, Chopra
IND
2641
1
0
1
0
13
Nguyen, Thai Dai Van
CZE
2637
1
0
1
0
14
Murzin, Volodar
FID
2631
1
0
1
0
17
Vakhidov, Jakhongir
UZB
2618
1
0
1
0
18
Xu, Xiangyu
CHN
2608
1
0
1
0
19
Lu, Shanglei
CHN
2598
1
0
1
0
21
Pranav, V
IND
2588
1
0
1
0
23
Suleymanli, Aydin
AZE
2586
1
0
1
0
24
Karthik, Venkataraman
IND
2562
1
0
1
0
27
Kobalia, Mikhail
FID
2547
1
0
1
0
29
Sankalp, Gupta
IND
2522
1
0
1
0
33
Suleymenov, Alisher
KAZ
2509
1
0
1
0
Round 2 pairings
Links
---