29th Abu Dhabi Masters 2023 R4: Hari Madhavan wins a wild game against Kobalia
GM-elect IM Rathanvel V S drew against the 44th Olympiad Gold medalist GM Javokhir Sindarov (UZB) in the fourth round of 29th Abu Dhabi Masters 2023. GM Aryan Chopra defeated GM Sankalp Gupta after the latter made a huge positional mistake in the endgame. Both Rathanvel and Aryan are at 3.5/4 each. They will face each other in the fifth round. GM Vladimir Fedoseev (SLO) and GM Xiangyu Xu (CHN) are the coleaders with a perfect score 4/4. GM Karthik Venkataraman, GM Sandipan Chanda, GM Aravindh Chithambaram, FM Ethan Vaz, GM Pranav V and IM Hari Madhavan N B are at 3/4 each. Round 5 starts today at 5 p.m. local time, 6:30 p.m. IST. Photos: Aditya Sur Roy
Rathanvel and Aryan in pursuit
134th seeded 11-year-old FM Ethan Vaz has made a phenomenal start. He defeated IM Ajay Karthikeyan, IM Ravi Teja S and 2521-rated Amirezza Pour Agha Bala (IRI). He will face GM Volodar Murzin in the fifth round.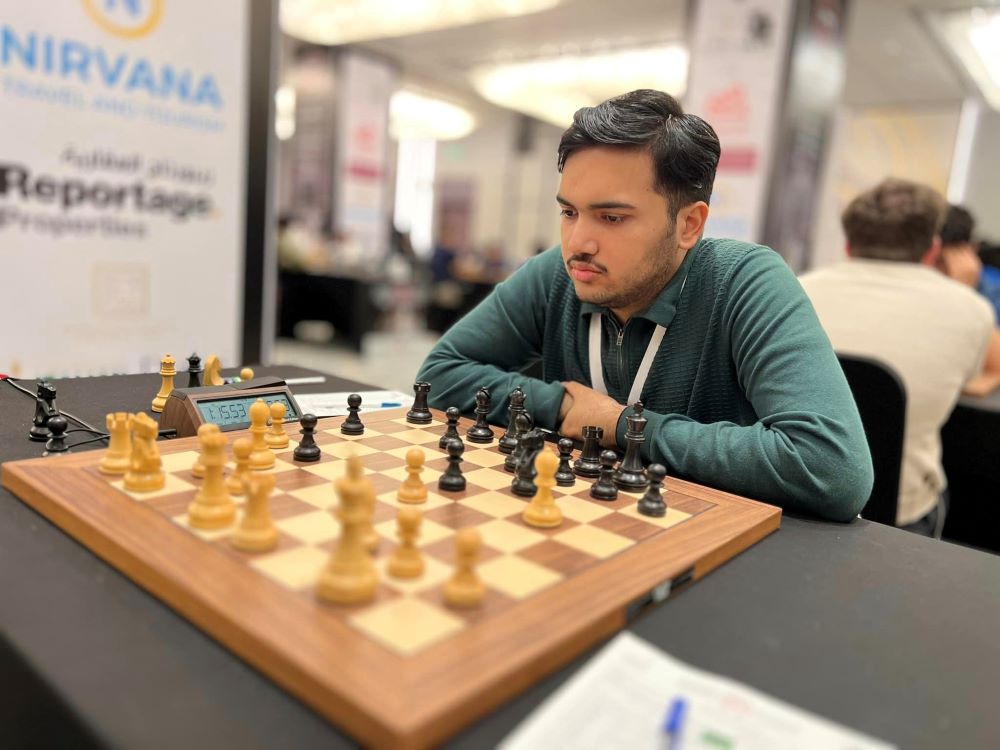 Sankalp - Aryan: 0-1
The only other time GM Sankalp Gupta (2522) faced GM Aryan Chopra (2641) in a Classical rated game was back in 2019 at Asian Continental in China. That game ended in a draw. This one in Abu Dhabi was also heading towards a draw until Sankalp made a significant change in the position.
Changing structures in the endgame can have a huge impact. 41.c4? caused one. It shut White's bishop out completely. In the above position, it can be seen that the bishop has no safe squares to go to. 41...Be6 42.Rf1 Bg4 43.Rb1 Rf6 White cannot prevent Rf3+ 44.Kd2 Rf2+ 45.Kd3 Rf3+ and Black won the game soon.
Vantika - Yakubboev
53...Qg6?? is a blunder according to the computer as it allows White to advance his king. If Black wishes to trade the queens after 54.Qd8+ Qf6 it leads to a loss in the resultant pawn endgame which can transform into another queen endgame eventually. 55.Qxf6+ Kf6 56.f4 h4+ 57.Kxh4 exf4 58.Kg4 Ke5 59.Kf3 a5 60.a4 Kd4 61.Kxf4 Kxc4 62.Kf5 Kd3 63.e5 c4 64.exd6 c3 65.d7 c2 68.d8Q c1Q 69.Qb6 is a computer line, quite difficult for a human to calculate, especially if they are low on time.
Hari Madhavan - Kobalia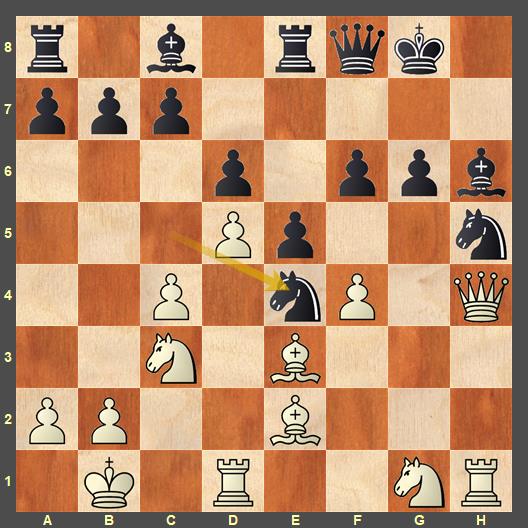 White cannot take the knight at e4 due to Bf5! However, there is nothing wrong with taking the other knight. So, IM Hari Madhavan N B (2418) went 21.Bxh5 Bf5 22.Ka1 exf4 23.Bxf4 Bg5 24.Bxg5 fxg5 25.Qh2 gxh5 26.Qxh5 Qg7 27.Nge2 Nf2 28.Rdg1 Bg6 29.Qxg5 Nxh1 30.Nf4 Nf2 31.Qh4 and White went on to win the game. This is a game that should be enjoyed because two humans played it, no computer preparation or anything is involved.
For more Round 4 photos, please click here.
Video Gallery
A total of 145 players including 41 GMs, 54 IMs, 6 WGMs and 3 WIMs are taking part from 22 countries across the world. The tournament is being organized by Abu Dhabi Chess Club & Mind Games from 16th to 24th August 2023 at Radisson Blu Hotel & Resort in Abu Dhabi Corniche Abu Dhabi, UAE. The nine-round Swiss league tournament has a time control of 90 minutes + 30 seconds increment from move no.1.
Replay Round 4 games
Round 4 results
Standings after Round 4
Rk.
SNo
Rtg
Pts.
TB1
TB2
TB3
1
18
Xu, Xiangyu
CHN
2608
4
0
4
10
2
4
Fedoseev, Vladimir
SLO
2676
4
0
4
10
3
40
Rathanvel, V S
IND
2491
3,5
0
3
9,5
4
11
Aryan, Chopra
IND
2641
3,5
0
3
8,5
5
71
Atakhan, Abtin
IRI
2414
3
0
3
11
6
33
Suleymenov, Alisher
KAZ
2509
3
0
3
10,5
7
134
Vaz, Ethan
IND
2306
3
0
3
9,5
8
21
Pranav, V
IND
2588
3
0
3
9,5
9
2
Anton Guijarro, David
ESP
2693
3
0
3
8
10
1
Artemiev, Vladislav
RUS
2698
3
0
3
7,5
11
7
Sindarov, Javokhir
UZB
2659
3
0
2
10
12
59
Abdisalimov, Abdimalik
UZB
2438
3
0
2
10
13
6
Niemann, Hans Moke
USA
2660
3
0
2
10
14
14
Murzin, Volodar
FID
2631
3
0
2
9,5
15
37
Dai, Changren
CHN
2499
3
0
2
9,5
16
23
Suleymanli, Aydin
AZE
2586
3
0
2
8,5
17
19
Lu, Shanglei
CHN
2598
3
0
2
8
24
Karthik, Venkataraman
IND
2562
3
0
2
8
19
25
Li, Di
CHN
2561
3
0
2
8
20
39
Chanda, Sandipan
IND
2491
3
0
2
7,5
Round 5 pairings
Links
---