29th Abu Dhabi Masters 2023 R3: Rathanvel swindles Jaime to score a hat-trick
GM-elect IM Rathanvel V S defeated GM Jaime Santos Latasa (ESP) in the third round of 29th Abu Dhabi Masters 2023. Despite being down by an exchange, the GM-elect played enterprisingly. He kept creating chances for himself until his opponent blundered. Rathanvel is one of the five leaders with a perfect score 3/3. GMs Aryan Chopra, Sankalp Gupta, Sandipan Chanda and Aravindh Chithambaram are in pursuit at 2.5/3 each. IM Harikrishnan A Ra held 44th Olympiad Gold medalist, GM Nodirbek Yakubboev (UZB) to a draw. FM Vedant Panesar scored an impressive victory over GM Pranav Anand. FM Ethan Vaz won the rook and pawn endgae when his opponent IM Ravi Teja misplayed. Round 4 starts today at 5 p.m. local time, 6:30 p.m. IST. Photos: Aditya Sur Roy
Vedant Panesar's knights too strong for Pranav Anand
Just like Dhananjay S used his knights in a fantastic manner against a bishop pair at 60th National championship, FM Vedant Panesar also managed to achieve something similar in this event.
Jaime - Rathanvel
IM Rathanvel V S (2491) got his rook trapped during a queen exchange. It resulted in him losing the exchange and arrived at a difficult rook vs bishop endgame against GM Jaime Santos Latasa (ESP, 2656). However, Rathanvel decided to create chances for himself and he ended up creating two passed pawns - an isolated central and a protected passed pawn. In the above position, White went wrong 48.Ra7?? Instead 48.Kd1 and get out of any immediate checks was the only way to ensure the game ends in a draw. Black seized his opportunity 48...d3+ 49.Kf1 f3 50.Ra1 Bg3 51.b4 d2 and Black's passed pawns are too strong for the white rook or the b-pawn.
Pranav Anand - Vedant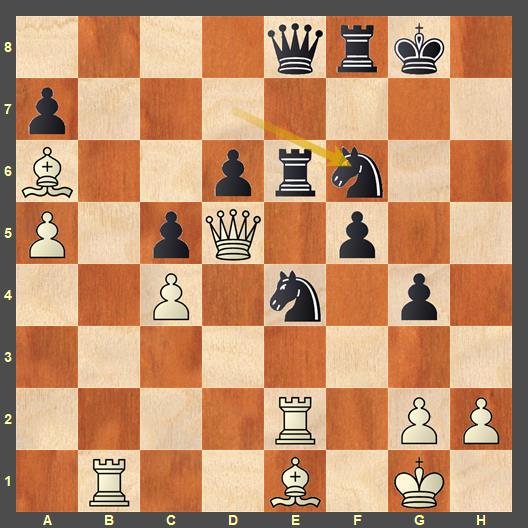 GM Pranav Anand (2529) made an incorrect decision of taking the f5-pawn. In general, White would want to open up the position so that his bishops can play better. However, here the f-file got opened which helped his opponent, FM Vedant Panesar (2391). 37.Qxf5?? Re5 38.Qf4 Qg6 39.Qc1 Nh5 40.Bb7 Qf5 threatening checkmate at f1 41.Bh4 Nf4 42.Re3 Nc3! 43.Rb2 Rxe3 and White resigned.
For more Round 3 photos, please click here.
GM Sankalp Gupta's birthday celebration
Video Gallery
A total of 145 players including 41 GMs, 54 IMs, 6 WGMs and 3 WIMs are taking part from 22 countries across the world. The tournament is being organized by Abu Dhabi Chess Club & Mind Games from 16th to 24th August 2023 at Radisson Blu Hotel & Resort in Abu Dhabi Corniche Abu Dhabi, UAE. The nine-round Swiss league tournament has a time control of 90 minutes + 30 seconds increment from move no.1.
Round 3 results
Standings after Round 3
Rk.
SNo
Rtg
Pts.
TB1
TB2
TB3
1
18
Xu, Xiangyu
CHN
2608
3
0
3
5,5
71
Atakhan, Abtin
IRI
2414
3
0
3
5,5
3
4
Fedoseev, Vladimir
SLO
2676
3
0
3
5
4
40
Rathanvel, V S
IND
2491
3
0
3
4,5
5
33
Suleymenov, Alisher
KAZ
2509
3
0
3
3,5
6
6
Niemann, Hans Moke
USA
2660
2,5
0
2
5,5
14
Murzin, Volodar
FID
2631
2,5
0
2
5,5
8
11
Aryan, Chopra
IND
2641
2,5
0
2
5
9
7
Sindarov, Javokhir
UZB
2659
2,5
0
2
4,5
19
Lu, Shanglei
CHN
2598
2,5
0
2
4,5
11
59
Abdisalimov, Abdimalik
UZB
2438
2,5
0
2
4,5
12
23
Suleymanli, Aydin
AZE
2586
2,5
0
2
4
13
37
Dai, Changren
CHN
2499
2,5
0
2
4
14
12
Nguyen, Ngoc Truong Son
VIE
2641
2,5
0
2
3,5
25
Li, Di
CHN
2561
2,5
0
2
3,5
29
Sankalp, Gupta
IND
2522
2,5
0
2
3,5
17
39
Chanda, Sandipan
IND
2491
2,5
0
2
3
18
10
Aravindh, Chithambaram Vr.
IND
2645
2,5
0
2
3
19
9
Santos Latasa, Jaime
ESP
2656
2
0
2
7
20
43
Madaminov, Mukhiddin
UZB
2484
2
0
2
6
Round 4 pairings
Links
---