29th Abu Dhabi Masters 2023 R5: Aravindh crushes Changren
IM Rathanvel V S continues his good form at 29th Abu Dhabi Masters 2023. He had a hard-fought draw against GM Aryan Chopra. GM Sandipan Chanda also maintains his unbeaten streak. He drew against 44th Olympiad Gold medalist, GM Javokhir Sindarov (UZB). GM Aravindh Chithambaram avenged his nearly decade old loss by scoring a thumping victory over GM Changren Dai (CHN). 11-year-old FM Ethan Vaz drew with GM Volodar Murzin with some great play. GM Vladimir Fedoseev (SLO) drew against GM Xiangyu Xu (CHN) to remain the coleaders 4.5/5. Nine players are at 4/9 each. Round 6 starts today at 5 p.m. local time, 6:30 p.m. IST. Photos: Aditya Sur Roy
Pranav V, Rathanvel, Aryan and Aravindh in pursuit
FM Ayush Sharma and FM Arhan Chethan Anand defeated IM Viani Antonio Dcunha and IM Moksh Amit Doshi respectively.
Changren - Aravindh: 0-1
The first time GM Changren Dai (CHN, 2499) faced GM Aravindh Chithambaram (2645) was almost a decade ago at World Under-14 Championship in 2013. Both were untitled back then. The Chinese won that game. It was time for a rematch nearly a decade later.
36.Nf7 created an opportunity for Black f4 35.Qf3 Rxd5! 38.Qxd5 Bb7 39.Qc4 Qh4 40.Re3 Bxg2+ 41.Kg1 Bxh3 42.Rxh3 Qxh3 43.Nd6 Qg3+ 44.Kh1 Qf3+ and White resigned as heavy material loss or checkmate, neither can be avoided.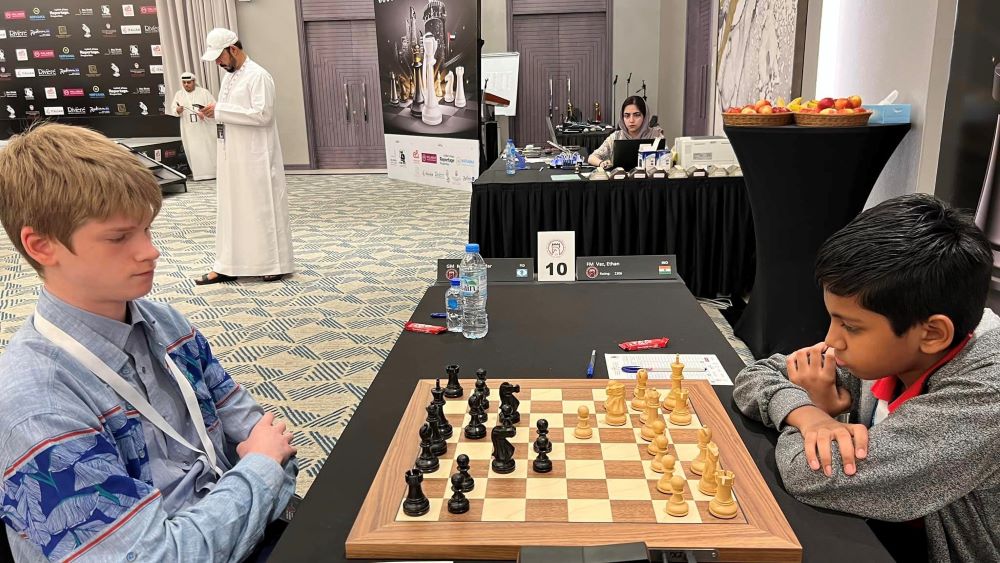 Yakubboev - Ajay Karthikeyan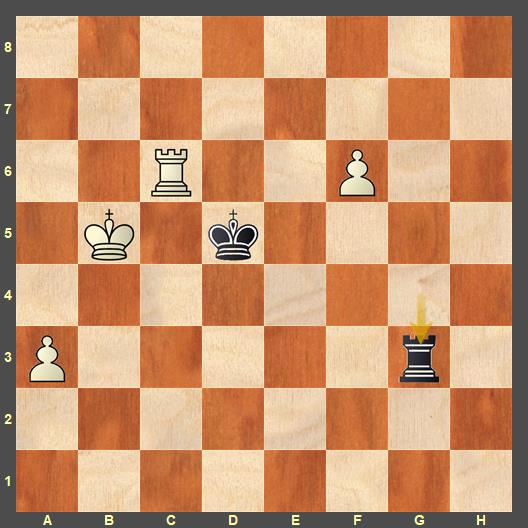 White is winning the above rook endgame. However, he needs to play carefully to convert his decisive advantage. For the second consecutive round, GM Nodirbek Yakubboev (UZB, 2630) messed up in the endgame, this time a win. 66.f7?? allowed Black to save the game Rb3+! 67.Ka4 Rf3 68.Rc7 Kd6 69.Ra7 Kc5 70.Re7 Kd6 71.Rb7 Kc6 72.Ra7 Kc5 73.Re7 Kd6 74.Ra7 and the game ended in a draw as White cannot make progress. That's why even against a GM, one should not resign too early.
Arystanbek - Sanket
According to the silicon monster - computer, Black has a mate in eleven. Can you find out the correct continuation which Sanket Chakravarty (2385) missed against IM Arystanbek Urazayev (KAZ, 2460) ?
For more Round 5 photos, please click here.
Video Gallery
A total of 145 players including 41 GMs, 54 IMs, 6 WGMs and 3 WIMs are taking part from 22 countries across the world. The tournament is being organized by Abu Dhabi Chess Club & Mind Games from 16th to 24th August 2023 at Radisson Blu Hotel & Resort in Abu Dhabi Corniche Abu Dhabi, UAE. The nine-round Swiss league tournament has a time control of 90 minutes + 30 seconds increment from move no.1.
Replay Round 5 games
Round 5 results
Standings after Round 5
Rk.
SNo
Rtg
Pts.
TB1
TB2
TB3
1
18
Xu, Xiangyu
CHN
2608
4,5
0,5
4
17
2
4
Fedoseev, Vladimir
SLO
2676
4,5
0,5
4
16,5
3
71
Atakhan, Abtin
IRI
2414
4
0
4
16
4
21
Pranav, V
IND
2588
4
0
4
15
5
1
Artemiev, Vladislav
RUS
2698
4
0
4
13
6
40
Rathanvel, V S
IND
2491
4
0
3
16
7
11
Aryan, Chopra
IND
2641
4
0
3
14,5
8
59
Abdisalimov, Abdimalik
UZB
2438
4
0
3
14,5
9
25
Li, Di
CHN
2561
4
0
3
13,5
10
19
Lu, Shanglei
CHN
2598
4
0
3
12,5
11
10
Aravindh, Chithambaram Vr.
IND
2645
4
0
3
12
12
33
Suleymenov, Alisher
KAZ
2509
3,5
0
3
17
13
43
Madaminov, Mukhiddin
UZB
2484
3,5
0
3
15,5
14
134
Vaz, Ethan
IND
2306
3,5
0
3
15,5
15
9
Santos Latasa, Jaime
ESP
2656
3,5
0
3
14,5
16
2
Anton Guijarro, David
ESP
2693
3,5
0
3
14
17
47
Hakemi, Arman
IRI
2463
3,5
0
3
13
18
57
Rahman, Ziaur
BAN
2448
3,5
0
3
12,5
19
7
Sindarov, Javokhir
UZB
2659
3,5
0
2
15
20
14
Murzin, Volodar
FID
2631
3,5
0
2
15
Round 5 pairings
Links
---