28th Abu Dhabi Masters 2022 R8: Arjun Erigaisi vanquishes Hao, now India no.3 and World no.27
Arjun Erigaisi defeated the top seed Hao Wang (CHN) to regain his sole lead 6.5/8 at 28th Abu Dhabi Masters 2022. He will face Spain no.4 GM David Anton Guijarro in the final round. Nine players are trailing by a half point at 6/8 each. Nihal Sarin, Sethuraman S P and Aryan Chopra are the three Indians among them. IM Aditya Samant drew with Argentina no.1, GM Sandro Mareco. Ajay Krishna S who became an IM last year at the age of 22 years, outplayed GM Iniyan P. IM Shyam Nikhil vs GM Raunak Sadhwani is the sole All-Indian clash among top 20 boards in the final round. The ninth round starts today at 10 a.m. local time, 11:30 a.m. IST. Photo: Rupali Mullick
Can Arjun win the tournament?
GM Arjun Erigaisi does not have the best tie-breaks. So a draw will create an opportunity for the other players to catch up with him. So, he is almost in a must-win situation if he wants to clinch the tournament. Reigning Asian Junior champion, IM Raahul V S defeated GM Shardul Gagare. FM Jubin Jimmy, FM Kashish Manoj Jain and FM Ayush Sharma defeated IM Husain Aziz (QAT), IM Saeed Ishaq (UAE) and IM Vardaan Nagpal respectively.
Hao - Arjun Erigaisi: 0-1
GM Arjun Erigaisi (2689) showed his tenacity against the China no.2 and World no.19, GM Hao Wang (2735).
29.b5 is a mistake. A careful inspection reveals that the mobility of the a6-knight is limited, bishop's path is blocked too. White is not going to have it easy to promote the b-pawn. 29...Rc8 30.e4 dxe4 31.fxe4 Bxe4 32.Qd4 f5 33.Nc7 Qe7 34.b6 Nd7. Black is not fazed with the presence of the pawn at b6. For almost 15 moves, White kept offering a queen exchange which Arjun declined and waited for his opponent to make a mistake which he did eventually and lost the game.
Spain no.1 GM Francisco Vallejo Pons complemented GM Arjun Erigaisi
Sethuraman - Salem: 1-0
GM Sethuraman S P (2625) responded correctly to UAE no.1 GM Salem Saleh's (2679) attack on his king and then launched an onslaught of his own.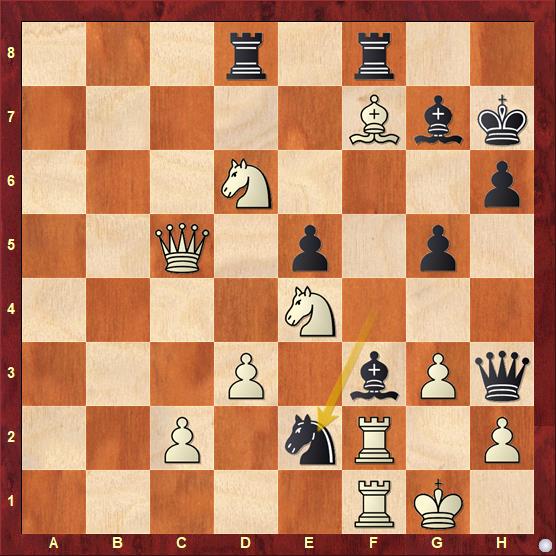 Black does not get the desired effect after 35...Ne2+ as 36.Rxe2 is the only move Bxe2 37.Rf2 Bg4 after a repetition 40.Nf6+ now Black should not have taken the knight at f6. Instead, 40...Kh8 is the only other choice which is the best defense. It is certainly not easy to find the counter-intuitive move. 40...Bxf6 41.Rxf6 Rb8 42.Nb5 Ra8 43.Na3 Bh5 44.Be6 Rxf6 45.Bxh3 and it's over.
Iniyan - Ajay Krishna S: 0-1
IM Ajay Krishna S (2367) got a better position out of the opening against GM Iniyan P (2556). He had no trouble converting his advantage into a win.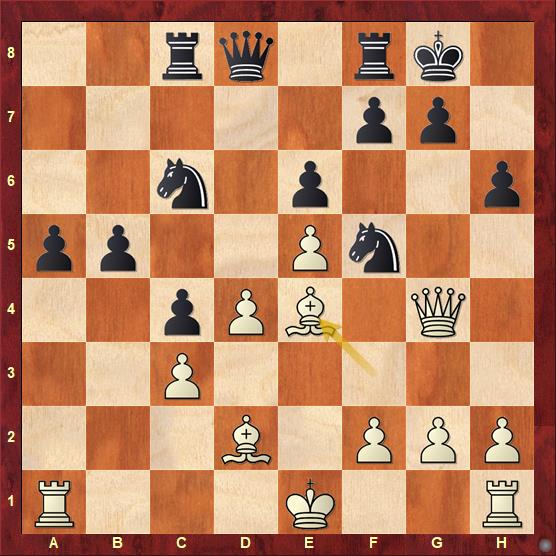 It was possible for Black to go for 18...Ncxd4 right here 19.cxd4 Qxd4 followed by c3 no matter what White opts. Instead, Black went for the solid 18...b4 19.Rd1 b3 20.Bc1 Qe7 21.Qh3 Ncxd4! 22.cxd4 Qb4+ 23.Ke2 c3 24.Bxf5 exf5 25.Rd3 b2 well it's over for White. The game went for another 14 moves before White called it a day.
For more Round 8 photos, please click here.
Replay the live stream
A total of 148 players including 43 GMs, 35 IMs, 7 WGMs and 3 WIMs are taking part from 31 countries across the world including India. The tournament is being organized by Abu Dhabi Chess Club & Mind Games from 17th to 25th August 2022 at Abu Dhabi, UAE. The nine-round Swiss league tournament has a time control of 90 minutes + 30 seconds increment from move no.1.
Replay Round 8 games
Round 8 results
Round 9 pairings
Links
---