28th Abu Dhabi Masters 2022 R4: Raunak Sadhwani joins Arjun Erigaisi at the top
Arjun Erigaisi drew with Evgeny Tomashevsky in the fourth round of 28th Abu Dhabi Masters 2022. Raunak Sadhwani defeated Indonesia no.1 woman, IM Irine Kharisma Sukandar to join the lead 3.5/4. GM Ray Robson (USA), GM Jorden van Foreest (NED) and GM Liviu-Dieter Nisipeanu (GER) are the remaining three leaders. One of the latest IMs of India, S Rohith Krishna defeated GM Shardul Gagare after the latter misplayed at a critical juncture. WGM Divya Deshmukh and WIM Rucha Pujari drew with IM P Shyam Nikhil and IM Ajay Krishna S respectively. Round 5 starts today at 5 p.m. local time, 6:30 p.m. IST. Photo: Rupali Mullick
Rohith Krishna gets the better of Shardul Gagare
IM Aditya S Samant continues his good form as he drew with the in-form GM Aryan Chopra. Apart from IM S Rohith Krishna, FM Jubin Jimmy and Bharat Kumar Reddy Poluri defeated IM Julien Song (FRA) and IM Neelash Saha respectively. CM Soham Kamotra, WGM Divya Deshmukh, Tanmay Chopra, FM Suyog Wagh, WIM Rucha Pujari, CM Aaditya Dhingra and FM Sohan Phadke drew with IM Vignesh N R, IM P Shyam Nikhil, GM Evgeny Zanan (ISR), IM Ajay Krishna S, IM Eesha Karavade and IM Vardaan Nagpal.
Aram Hakobyan - Nihal: 0.5-0.5
In a relatively drawn rook endgame, GM Aram Hakobyan (ARM, 2612) made a big mistake which went unnoticed by GM Nihal Sarin (2651).
36...Rh3+ 37.Ke2/d2 gxf4 or Kf2 g4 would have given Black some practical chances. However, 36...gxf4+ diminished them all and the game ended in a draw.
Raunak - Irine: 1-0
Indonesia's no.1 woman, IM Irine Kharishma Sukandar (2373) was having a fantastic tournament. She had defeated GM Baadur Jobava (GEO, 2585) and drew with the top seed of the tournament, GM Hao Wang (CHN, 2735) before losing to GM Raunak Sadhwani (2622).
Black launched a premature attack 14...g4 15.Nh4 gxh3 16.Ng6 and White is completely winning positionally. Perhaps Black could have prepared a bit more before pushing the pawn to g4. 14...Bh6 is the recommended to defend the g5-pawn. However, White will still have 15.d5 break.
Shardul - Rohith
GM Shardul Gagare (2521) had a better position for the significant part of the game. In the critical moment, he went awry. 30.Nxf6+ Qxf6 31.Qc1/c2 Qd8 32.Qc3 Bc5+ 33.Kh1 Bd4 34.Nxd4 would have maintained the upper hand for White. However, White played 30.Qd3 and things turned completely in Black's favor 30...Nxd5 31.exd5 Qb6+ 32.Ne3 Ba6 33.Qc3 Rbc8 34.Qb3 Qxb3 35.axb3 Bxf1 36.Bxf1 Nxf4 -+. White resigned in five more moves.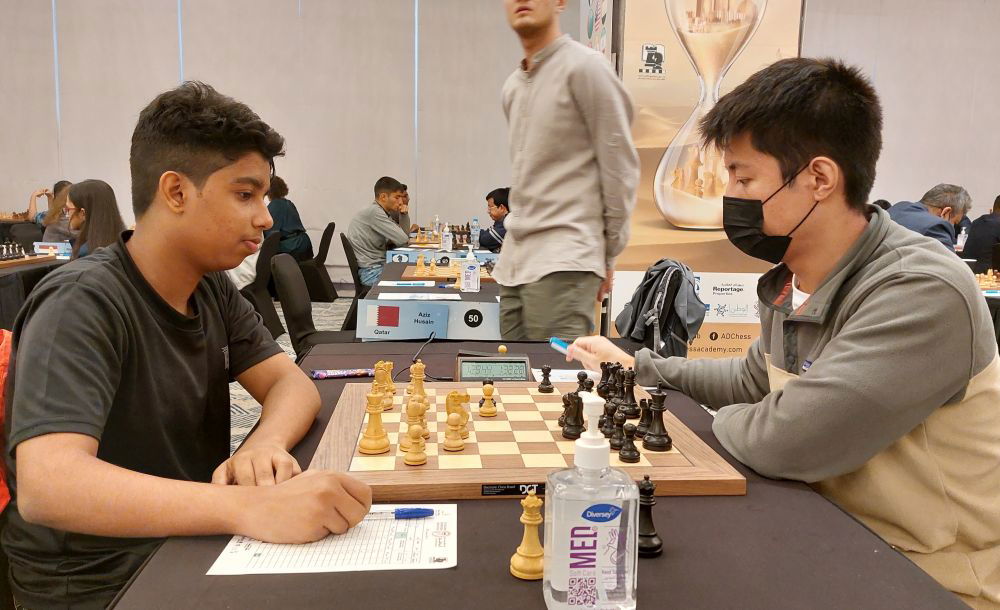 For more Round 4 photos, please click here.
A total of 148 players including 43 GMs, 35 IMs, 7 WGMs and 3 WIMs are taking part from 31 countries across the world including India. The tournament is being organized by Abu Dhabi Chess Club & Mind Games from 17th to 25th August 2022 at Abu Dhabi, UAE. The nine-round Swiss league tournament has a time control of 90 minutes + 30 seconds increment from move no.1.
Replay Round 4 games
Round 4 results
Round 5 pairings
Links
---