28th Abu Dhabi Masters 2022 R7: Aditya Samant outplays Australia no.2 Temur Kuybokarov
Arjun Erigaisi drew with Ray Robson (USA) to maintain his lead at 28th Abu Dhabi Masters 2022. Jorden van Foreest (NED), Nodirbek Yakubboev (UZB) and M Amin Tabatabaei (IRI) are the remaining three leaders 5.5/7. IM Aditya S Samant defeated Australia no.2 GM Temur Kuybokarov convincingly. He moved to 5/7 along with Harsha Bharathakoti, Nihal Sarin, Arjun Kalyan, Sethuraman S P, Aryan Chopra and CM Soham Kamotra. Soham defeated GM Leon Luke Mendonca to continue his fantastic unbeaten run. He is gaining a massive 138.8 Elo rating points so far. The penultimate round 8 starts today at 5 p.m. local time, 6:30 p.m. IST. Photo: Aditya Sur Roy
Five in the lead
Raunak Sadhwani's woes continued as he suffered his second consecutive loss of the event against another Arjun, GM Arjun Kalyan. IM Viani Antonio Dcunha, Sambit Panda, Ritviz Parab, FM Sharan Rao and WGM Vantika Agrawal defeated GM Shardul Gagare, GM Deep Sengupta, IM Maxim Lavrov (ISR), IM Savva Vetokhin, IM Omran Al Hosaini (UAE) respectively. Sanket Chakravarty drew with IM Vardaan Nagpal.
Arjun Kalyan - Raunak: 1-0
GM Arjun Kalyan (2513) created trouble for GM Raunak Sadhwani (2622) early in the middlegame.
17.Rab1 idea is Rb3 and gain the bishop for free Bb6 18.Bb4 Qa6 19.e6 c5 20.exf7+ Kxf7 21.Ne5+. However, computer recommends 21.Bd2 as a better alternative. Black had a chance to fight back but some more inaccuracies finished the game in another nine moves.
Aditya Samant - Kuybokarov: 1-0
GM Temur Kuybokarov (AUS, 2583) defended his central pawn incorrectly in the Open Ruy Lopez against IM Aditya Samant (2430).
Black needed to play 14...Bd6 first. The difference is 15.f4 would then meet with f5, followed by e4. 14...f6 first allows White to gain tempo 15.Qd5 Bb6 preventing f4, however, White is just fine without it 16.Bb3 Rf8 17.Qe4 c6 18.a4 Rb8 19.Qxh7 Black is positionally lost.
Soham - Leon: 1-0
One of the many reasons why CM Soham Kamotra (2251) has had a successful event so far, is resiliency. Despite having a worse position for the majority of the game against GM Leon Luke Mendonca (2571), he kept waiting for his opportunity.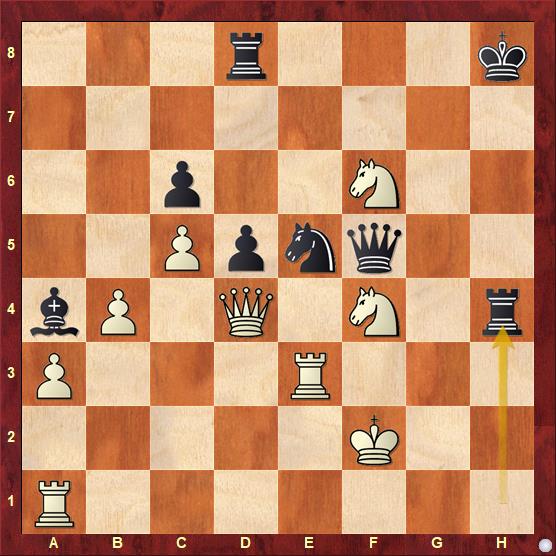 39...Rxa1 40.Rxe5 Rxa2 41.Re2 Rxe2+ 42.Kxe2 keeps Black in the game. However, 39...Rh4 has 40.Rh1 Rxh1 41.Rxe5 Qxf6 42.Re8+ Rxe8 43.Qxf6+ Kg8 44.Ne6 Rxe6 45.Qxe6+ winning for White. In the game, Aditya went for the humane 40.N6h5 Re8 41.Rae1 Qg4 42.Rxe5 Rh2+ 43.Ke3 Rh3+ 44.Kd2 Rh2+ 45.R5e2 and Black resigned.
Viani - Shardul
A beautiful finish by IM Viani Antonio Dcunha (2327) against GM Shardul Gagare (2521).
Deep - Sambit
Black met White's ambitious 14.f4 correctly with 14...h5, a break of his own on the very same side. 15.fxg5 does not work because of Bxe5. 15.Nxf7?? was a desperado Kxf7 16.fxg5 Bh2+ White cannot take it as Qc7+ finishes the game quicker. So 17.Kf2 hxg4. Black won the game in another nine moves.
For more Round 7 photos, please click here.
Replay the live stream
A total of 148 players including 43 GMs, 35 IMs, 7 WGMs and 3 WIMs are taking part from 31 countries across the world including India. The tournament is being organized by Abu Dhabi Chess Club & Mind Games from 17th to 25th August 2022 at Abu Dhabi, UAE. The nine-round Swiss league tournament has a time control of 90 minutes + 30 seconds increment from move no.1.
Replay Round 7 games
Round 7 results
Round 8 pairings
Links
---