28th Abu Dhabi Masters 2022 R6: Arjun Erigaisi regains his lead, now India no.4 and World no.29
Arjun Erigaisi defeated Raunak Sadhwani to get back in the lead at 28th Abu Dhabi Masters 2022. Arjun has not only joined Ray Robson (USA) in the lead 5/6 but also climbed to India no.4 and World no.29 in the live ratings. 13 players including three Indians, Karthikeyan Murali, Nihal Sarin and Sethuraman S P are in pursuit at 4.5/6 each. Indonesia no.1 woman, IM Irene Sukandar is having a phenomenal run. She defeated GM Robert Hovhannisyan (ARM) and moved to 4.5/6. CM Soham Kamotra continues his impressive performance as he seized his opportunity against IM Prraneeth Vuppala in a difficult position. 44th Chess Olympiad individual Bronze medalist, WGM Divya Deshmukh got the better of WGM Vantika Agrawal. Round 7 starts today at 5 p.m. local time, 6:30 p.m. IST. Photo: Rupali Mullick
Soham Kamotra superb against Prraneeth
MPL 31st National Under-18 Open champion, CM Soham Kamotra defeated IM Prraneeth Vuppala after the latter was unable to capitalize on his opportunity. GM Harsha Bharathakoti had a good opportunity to win against GM Alexandr Predke in the endgame. Vaibhav Jayant Raut defeated WGM Nandhidhaa P V. IM P Shyam Nikhil, CM Kushagra Mohan, FM Suyog Wagh and Sanket Chakravarty drew with GM Liviu-Dieter Nisipeanu (GER), GM Manuel Petrosyan (ARM), IM Arghyadip Das and IM Raahil Mullick.
Raunak - Arjun Erigaisi: 0-1
GM Raunak Sadhwani (2622) had a substantial advantage for the better part of the game against GM Arjun Erigaisi (2689).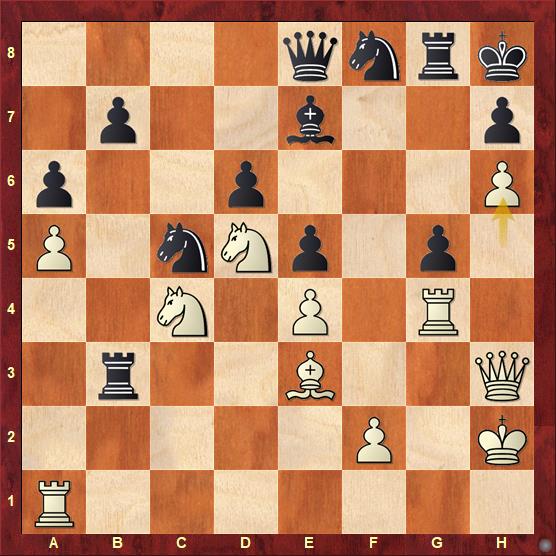 32.h6 dissipated White's attack and upper hand at the same time. 32...Rg6 33.Rd1 Bd8 quickly turned things in Black's favor and he went on to win the game in another eight moves.
Predke - Harsha: 0.5-0.5
GM Harsha Bharathakoti (2557) was completely winning the rook and same color bishop endgame against GM Alexandr Predke (2692).
White's position was already dwindling. 51.f4 did not help his case. 51...Rc2+ 52.Kf3 g4+ 53.Kxg4 Rxg2+ is completely winning for Black. 54.Kxh4 runs into Be1+ causes White to lose his bishop. Black opted for 51...gxf4 52.Bxf4 Rc4 and he was still winning.
How should Black capture on a3 here? If your answer is 61...Bxa3 which was played in the game, it reduces Black's chances drastically. However, 61...Rxa3 is completely winning for Black, despite having the wrong colored bishop for the h-pawn. The difference makers are White still having a pawn at g2 and the king being too advance to get back to h1 on time or sacrifice the g-pawn to save the game.
Prraneeth - Soham: 0-1
IM Prraneeth Vuppala (2464) in a completely winning position erred against CM Soham Kamotra (2251).
White made a big mistake 30.Rc7?? which allowed Black not only to save the game 30...Re7 31.Rxe7 Nxe7 32.Bxf6 Nf5 but also win it too. Find out the better and winning continuation of White in the above position.
For more Round 6 photos, please click here.
Replay the live stream
A total of 148 players including 43 GMs, 35 IMs, 7 WGMs and 3 WIMs are taking part from 31 countries across the world including India. The tournament is being organized by Abu Dhabi Chess Club & Mind Games from 17th to 25th August 2022 at Abu Dhabi, UAE. The nine-round Swiss league tournament has a time control of 90 minutes + 30 seconds increment from move no.1.
Replay Round 6 games
Round 6 results
Round 7 pairings
Links
---