Can Abhijeet Gupta win 18th Delhi GM Open 2020?
Aleksej Aleksandrov scored a victory in the penultimate round against Jose Eduardo Martinez and maintained his sole lead by a half point going into the final round. Abhijeet Gupta is the only one who has the opportunity to beat Aleksandrov and become champion. Aleksandrov is leading with a score of 8.0/9 and Abhijeet is at 7.5/9. They are followed by a pack of eight players who are at 7.0/9. Pranesh, Shyamnikhil and Visakh are the three Indians among the eight. The Category 'C' witnesses a total participation of 1260 players from six different countries which makes the total participation in the tournament 2347 in this year's edition. Photo: Niklesh Jain
Aleksandrov maintains sole lead, Abhijeet is just a half point behind
GM Aleksej Aleksandrov (2592) grabbed the queen side pawns while his opponent GM Jose Eduardo Martinez (2606) was a bit slow in capturing the king side pawns. In the end, Aleksandrov's pawns seemed too fast and eventually unstoppable, Martinez was unable to create enough trouble on the king side.
The reigning Commonwealth champion, Abhijeet Gupta equalized easily with black pieces out of the English Opening Four Knights variation.
Abhijeet tried to create some trouble for Diptayan early in the middle game, Diptayan somehow untangled and liquidated into a Double Bishop vs Double Knight endgame.
Diptayan - Abhijeet
Despite having a bishop pair, Diptayan's overpushed pawns were too weak to defend. Eventually he was down by two pawns and lost the game.
14-year old FM Pranesh M continued his phenomenal form as he held Bhopal GM Open 2019 winner GM Nodirbek Yakubboev to a draw.
Alexei Fedorov faced another compatriot, this time against Stupak Kirill. They made a short draw in just 29 moves.
FM Ameya Audi scored an IM-norm, despite losing to GM Pavel Ponkratov.
Ponkratov - Ameya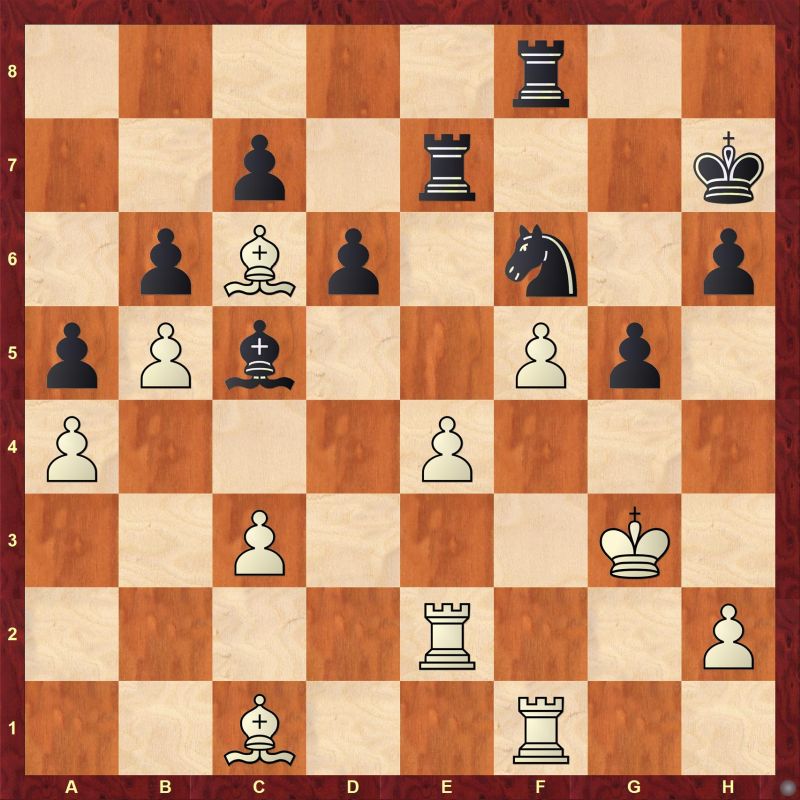 Black continued the game with 37...Re5 planning for d5 but d5 did not require a support as e4 was already in a pin.
Harsha Bharathakoti held Karthikeyan Murali after the latter was unable to convert his advantage into a full point.
Harsha played aggressively by sacrificing a piece for two pawns early in the middle game, but he was unable to generate enough attack as black managed to swap off the queen very quickly and eliminated all hopes to launch a devastating attack.
IM Rathnakaran K held GM Mikheil Mchedlishvili to a draw after the former provided strong defence in a Queen and double bishop vs Queen and double knight endgame.
IM P Shyamnikhil continued his fantastic unbeaten run by defeating GM Ivan Rozum.
IM Himal Gusain recovered well from his previous round loss and got a huge advantage against GM Alberto David but unfortunately due to some inaccuracies, he allowed his opponent to equalize the game and eventually the game ended up in a draw.
IM Neelash Saha despite having a worse position for the majority of the middle game and endgame, managed to salvage a draw against GM Debashis Das.
Replay all games
Round 9 results
Round 10 pairings
---