Mr.Commonwealth Abhijeet Gupta wins 18th Delhi GM Open 2020
Reigning and five-time Commonwealth Champion Abhijeet Gupta beat Aleksej Aleksandrov in the final round to clinch the championship in 18th Delhi International GM Open 2020. He finished at 8.5/10, a half point ahead of the field, won a huge trophy and ₹650000 cash prize. Aleksej Aleksandrov secured the runner-up position with a score of 8.0/10 according to the tie-break score, he received a huge trophy and ₹550000 cash prize. Pavel Ponkratov also finished with 8.0/10, he was placed third and won ₹450000 cash prize. The Category 'C' event was won by Bishwajit Singh Khagokpam of Manipur, he scored an unbeaten 9.5/10, followed by Shaurya Kumaria and Chiranjit Manna who finished second and third respectively. Photo: Niklesh Jain
Abhijeet Gupta wins the biggest prize money in India
Aleksej Aleksandrov enjoyed the sole lead from round 7 to 10, Abhijeet Gupta stayed in the title hunt during the entire chase. Sometimes chasing the championship is a bigger motivation to hunt the leader eventually when the time is right. That is exactly what happened with the five-time Commonwealth champion Abhijeet Gupta who stayed in the hunt and beat Aleksandrov when it mattered the most.
Abhijeet - Aleksandrov
Well sidelines may work against weaker players and in a less important game, however playing it against five-time Commonwealth champion and someone who is bent on going for a win in the final round is certainly not the ideal start for someone who was leading the tournament for the past few rounds.
Now on a regular day, Abhijeet might have considered playing 14.Qd2 or Qd3 instead of the 14.Qc2 but of course it was not just any other match.
White is getting ready to launch an attack and now the queen at e3 is proving to be a liability for black and he hasn't devloped all his pieces properly.
White has made his intent absolutely clear that he is going for a king side attack while black is yet to figure out what to do.
Now the knight has also joined the party to attack and black should have used his knight to provide some kind of futile resistance with 23...Nf5 but he played the inexplicable 23...Qe8 instead.
Black's positioned is doomed as white got his way with pieces and all the time to plan the assault on black's king side. Now it is just matter of time for white to convert it into a full point.
Aleksandrov needed a draw in the final round to clinch the championship, however a loss meant that he is guaranteed to secure the second position as his tie-break was much better than the rest at 8.0/10.
IM P Shyamnikhil had a fantastic unbeaten run in the tournament till the final round. Even in the final round, he had a huge advantage against GM Pavel Ponkratov.
Shyamnikhil - Ponkratov
Ponkratov bluffed with 19...e4 where actually nothing was happening. Shyam called his bluff and took the pawn with 20.Bxe4 f5 21.Bd5+ Be6 22.Ncxd4 and he got a huge advantage.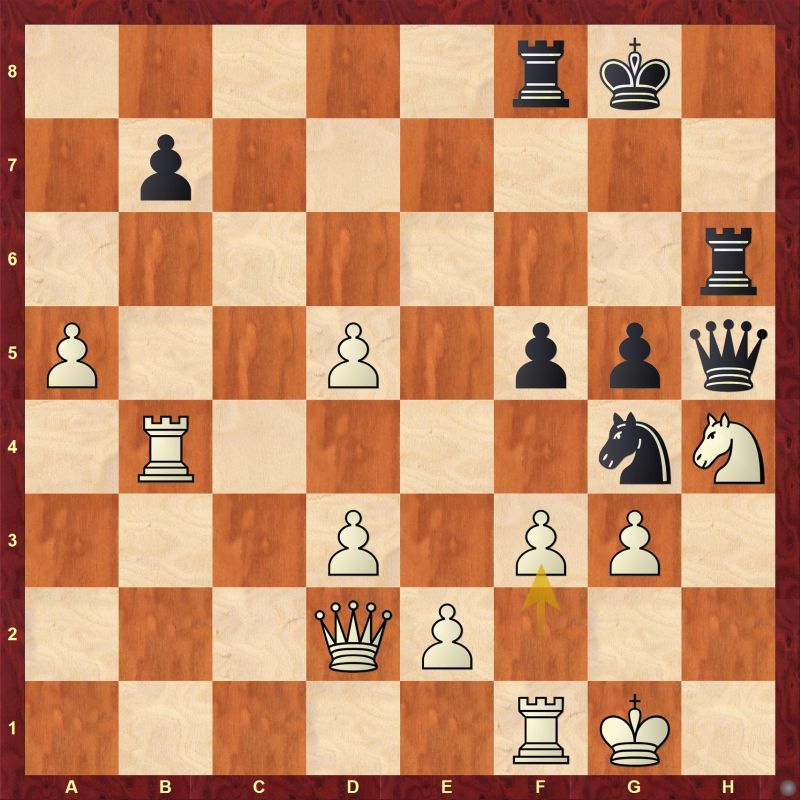 It is quite evident that things are in White's favor and Shyam is playing absolutely perfect and white is in no trouble at all.
Almost anything seems to be winning for white. White continued here with 41.Rc1 but white should have simple taken the pawn with 41.axb6, that would have made white four pawns ahead.
White continued with 43.Rh6+ instead white missed an easier win. Can you find it?
Delhi Open defending champion Levan Pantsulaia scored a comfortable win against Stupak Kirill in the final round.
FM Pranesh M played the tournament of his life and finished it on a high note by defeating GM Visakh N R with a fine game.
FM Ameya Audi drew with GM Sahaj Grover in the final round. Ameya became the latest IM of the country.
Bishwajit Singh Khagokpam wins Category 'C'
Bishwajit Singh Khagokpam scored an unbeaten 9.5/10, increased his Elo rating by 90 points to win 18th Delhi International Open 2020 Category 'C'. He received a huge trophy and ₹300000 cash prize for his efforts. Runner-up Shaurya Kumaria of Chandigarh scored 9.0/10 and he had the best tie-break among the three players who finished with the same score. He won a huge trophy and ₹250000 cash prize. Chiranjit Manna of West Bengal also scored 9.0/10, he secured second runner-up position according to his tie-break score. He bagged home ₹200000 cash prize and a trophy.
The Category 'C' witnessed a total participation of 1260 players from six different countries which makes the total participation in the tournament 2347 in this year's edition.
Final Standings in Category 'C'
| | | | | | | | | | | | | |
| --- | --- | --- | --- | --- | --- | --- | --- | --- | --- | --- | --- | --- |
| Rk. | SNo | | Name | Typ | sex | FED | Rtg | Club/City | Pts. | TB1 | TB2 | TB3 |
| 1 | 47 | | Khagokpam Bishwajit Singh | | | IND | 1532 | NEMan | 9,5 | 0,0 | 64,5 | 69,5 |
| 2 | 358 | | Shaurya Kumaria | | | IND | 1359 | Cha | 9,0 | 0,0 | 64,0 | 68,5 |
| 3 | 71 | | Manna Chiranjit | | | IND | 1512 | Wes | 9,0 | 0,0 | 61,0 | 66,0 |
| 4 | 517 | | Sushant Tiwari | | | IND | 1278 | Del | 9,0 | 0,0 | 57,0 | 60,5 |
| 5 | 1 | | Adalja Vanssh A | U15 | | IND | 1599 | Guj | 8,5 | 0,0 | 69,0 | 75,0 |
| 6 | 1162 | | Rahul N Kamath | | | IND | 0 | Mah | 8,5 | 0,0 | 65,0 | 70,5 |
| 7 | 145 | | Srihari K R | U15 | | IND | 1464 | TN | 8,5 | 0,0 | 62,5 | 67,5 |
| 8 | 100 | | Vishnu Ram M | | | IND | 1492 | TN | 8,5 | 0,0 | 62,0 | 66,5 |
| 9 | 33 | | Ritabrata Chakraborty | U15 | | IND | 1543 | Wes | 8,5 | 0,0 | 60,5 | 65,5 |
| 10 | 118 | | Shahab Uddin | | | IND | 1479 | MP | 8,5 | 0,0 | 60,0 | 64,5 |
| 11 | 308 | | Vinoth Kumar M | | | IND | 1383 | TN | 8,5 | 0,0 | 60,0 | 62,0 |
| 12 | 22 | | Gopinath P | | | IND | 1567 | TN | 8,5 | 0,0 | 58,5 | 63,5 |
| 13 | 3 | | Avhad Prajwal | | | IND | 1599 | Mah | 8,5 | 0,0 | 54,5 | 59,5 |
| 14 | 10 | | Karthik E | | | IND | 1582 | TN | 8,0 | 0,0 | 64,5 | 69,5 |
| 15 | 68 | | Narvekar Pruthviraj | | | IND | 1513 | Mah | 8,0 | 0,0 | 64,5 | 69,0 |
| 16 | 246 | | Ghouse Kamardeen D | | | IND | 1415 | TN | 8,0 | 0,0 | 63,5 | 68,5 |
| 17 | 17 | | Gabriel B M | | | IND | 1572 | Ker | 8,0 | 0,0 | 62,0 | 66,0 |
| 18 | 190 | | Mohammad Mudassir | | | IND | 1442 | Tel | 8,0 | 0,0 | 61,0 | 65,5 |
| 19 | 18 | | Piyush Kumar | | | IND | 1572 | Bih | 8,0 | 0,0 | 59,0 | 64,0 |
| 20 | 54 | | Hriday Panchal | U15 | | IND | 1527 | Del | 8,0 | 0,0 | 58,5 | 62,5 |
| 21 | 58 | | Sahil Bheron | | | IND | 1525 | Har | 8,0 | 0,0 | 57,5 | 60,0 |
| 22 | 127 | | Sparsh Yadav | | | IND | 1474 | UP | 8,0 | 0,0 | 57,5 | 60,0 |
| 23 | 134 | | Harsh Pareshbhai Ruparel | | | IND | 1470 | Guj | 8,0 | 0,0 | 57,0 | 62,0 |
| 24 | 173 | | Priyank | U12 | | IND | 1450 | Del | 8,0 | 0,0 | 57,0 | 60,5 |
| 25 | 272 | | Vasudevan K E | | | IND | 1402 | Ker | 8,0 | 0,0 | 56,5 | 61,0 |
| 26 | 206 | | Sarvaliya Niraj | | | IND | 1436 | Guj | 8,0 | 0,0 | 56,0 | 60,0 |
| 27 | 258 | | Vineesh P S | | | IND | 1409 | Ker | 8,0 | 0,0 | 55,0 | 59,5 |
| 28 | 455 | | Dhiraj Patil | | | IND | 1310 | Mah | 8,0 | 0,0 | 55,0 | 57,0 |
| 29 | 208 | | Aragonda Mohan | | | IND | 1435 | Tel | 8,0 | 0,0 | 54,5 | 58,5 |
| 30 | 254 | | Rajendra Singh Rana | | | IND | 1411 | Utt | 8,0 | 0,0 | 53,5 | 57,5 |
Replay all games
Round 10 results
Final standings
| | | | | | | | | | | | |
| --- | --- | --- | --- | --- | --- | --- | --- | --- | --- | --- | --- |
| Rk. | SNo | | | Name | FED | Rtg | Club/City | Pts. | TB1 | TB2 | TB3 |
| 1 | 5 | | GM | Gupta Abhijeet | IND | 2603 | Del | 8,5 | 0,0 | 61,0 | 65,0 |
| 2 | 8 | | GM | Aleksandrov Aleksej | BLR | 2592 | BLR | 8,0 | 0,0 | 62,5 | 67,0 |
| 3 | 2 | | GM | Ponkratov Pavel | RUS | 2622 | RUS | 8,0 | 0,0 | 58,5 | 63,5 |
| 4 | 6 | | GM | Pantsulaia Levan | GEO | 2598 | GEO | 8,0 | 0,0 | 57,0 | 62,0 |
| 5 | 59 | | FM | Pranesh M | IND | 2317 | TN | 8,0 | 0,0 | 57,0 | 60,5 |
| 6 | 7 | | GM | Yakubboev Nodirbek | UZB | 2597 | UZB | 7,5 | 0,0 | 62,0 | 67,0 |
| 7 | 10 | | GM | Mchedlishvili Mikheil | GEO | 2578 | GEO | 7,5 | 0,0 | 59,5 | 65,5 |
| 8 | 14 | | GM | Fedorov Alexei | BLR | 2562 | BLR | 7,5 | 0,0 | 59,0 | 63,0 |
| 9 | 38 | | IM | Krishna C R G | IND | 2436 | AP | 7,5 | 0,0 | 57,5 | 61,5 |
| 10 | 19 | | GM | Debashis Das | IND | 2523 | Ori | 7,5 | 0,0 | 56,5 | 62,0 |
| 11 | 3 | | GM | Karthikeyan Murali | IND | 2606 | TN | 7,5 | 0,0 | 56,5 | 60,5 |
| 12 | 57 | | IM | Rathnakaran K. | IND | 2329 | S Rlys | 7,5 | 0,0 | 55,5 | 60,5 |
| 13 | 25 | | GM | Rios Cristhian Camilo | COL | 2498 | COL | 7,5 | 0,0 | 55,5 | 60,0 |
| 14 | 15 | | GM | Lalith Babu M R | IND | 2558 | AP | 7,5 | 0,0 | 54,5 | 59,5 |
| 15 | 24 | | GM | Harsha Bharathakoti | IND | 2502 | Tel | 7,5 | 0,0 | 53,5 | 58,0 |
| 16 | 4 | | GM | Martinez Alcantara Jose Eduardo | PER | 2606 | PER | 7,0 | 0,0 | 62,0 | 68,0 |
| 17 | 23 | | GM | Stupak Kirill | BLR | 2506 | BLR | 7,0 | 0,0 | 61,5 | 66,0 |
| 18 | 37 | | GM | Lugovskoy Maxim | RUS | 2453 | RUS | 7,0 | 0,0 | 61,0 | 66,5 |
| 19 | 28 | | GM | Karthik Venkataraman | IND | 2479 | AP | 7,0 | 0,0 | 60,5 | 65,5 |
| 20 | 36 | | IM | Shyaamnikhil P | IND | 2458 | TN | 7,0 | 0,0 | 59,5 | 65,0 |
| 21 | 21 | | GM | Visakh N R | IND | 2518 | TN | 7,0 | 0,0 | 59,0 | 63,0 |
| 22 | 1 | | GM | Amonatov Farrukh | TJK | 2631 | TJK | 7,0 | 0,0 | 58,5 | 64,0 |
| 23 | 41 | | IM | Das Sayantan | IND | 2424 | Wes | 7,0 | 0,0 | 58,5 | 64,0 |
| 24 | 33 | | IM | Taher Yoseph Theolifus | INA | 2462 | INA | 7,0 | 0,0 | 57,5 | 62,5 |
| 25 | 13 | | GM | David Alberto | ITA | 2562 | ITA | 7,0 | 0,0 | 57,5 | 61,5 |
| 26 | 42 | | GM | Dzhumaev Marat | UZB | 2422 | UZB | 7,0 | 0,0 | 57,0 | 62,0 |
| 27 | 9 | | GM | Goganov Aleksey | RUS | 2583 | RUS | 7,0 | 0,0 | 56,0 | 60,5 |
| 28 | 43 | | IM | Khusenkhojaev Muhammad | TJK | 2420 | TJK | 7,0 | 0,0 | 54,0 | 59,0 |
| 29 | 70 | | | Pranav V | IND | 2265 | TN | 7,0 | 0,0 | 54,0 | 58,0 |
| 30 | 61 | | FM | Srihari L R | IND | 2302 | TN | 7,0 | 0,0 | 53,0 | 58,0 |
---