Western Asia Double Gold and Silver winner Srijit Paul is the latest IM of India
18-year-old Srijit Paul won double Gold in Western Asia Youth and Junior 2019 in both Standard and Blitz format. He also won Silver in the rapid format of the tournament, which set the tone for his performance in the entire event. He already had three IM-norms to his name. He only needed to touch ever alluring 2400 in the live rating, something he has been trying to achieve for a while. In this article you will get to know, Srijit's journey to winning double gold and silver also becoming IM at the same time as his friend Rajdeep Sarkar, who told him to play this tournament and much more in a candid interview. Photo: Shahid Ahmed and ChessBase Nepal
Srijit Paul's sensational performance at Western Asia 2019
18-year-old Srijit Paul has been hunting for this title for quite a while, only to see it seem alluring, until Western Asia Youth and Junior when he achieved it and got the monkey off his back.
Srijit's dream run started last year when he secured second runner-up position and his final IM-norm in National Open Senior 2018. Although the dream run seemed to have halted for a while but he started getting his form back by winning Saturday Club Youth Rapid Rating. Then he had a hard time about Asian Continental, Abu Dhabi Masters and missed winning State Junior 2019 and finished at 3rd place.
So how did he have a phenomenal Western Asia Youth and Junior? I managed to catch Srijit Paul on the day he arrived in Kolkata, hours after a train journey from the nation's capital. Upon asking how tired he was feeling, Srijit mentioned that he did not feel tired as he had a lot of fun in Delhi. Minutes after that we got ready for his interview.
Here is the transcript of the interview
Shahid Ahmed (SA): Congratulations Srijit for becoming one of the latest IM of the country. How does it feel to win two gold and a silver at Western Asia Youth and Junior 2019?
Srijit Paul (SP): It feels great. I have been trying to achieve this for a long time and now that I have achieved it, it feels like I am burden off.
SA: Which one is more precious to you, winning double gold or becoming the latest IM of the country?
SP: To be honest, becoming the latest IM is more precious to me, because currently I am 2300+ and I was trying to get the title for a long time.
SA: Where did you make your first, second and third IM norm?
SP: I made my first IM norm in World Junior 2016 in Bhubaneswar.
Then it was followed by a tournament in Badalona in 2017.
I got the last norm in National Open Senior last year in 2018. I wasn't able to achieve 2400 so I wasn't achieving the title and after Western Asia Youth and Junior 2019, I became the last IM.
SA: Western Asia was quite a successful tournament for you as you won two gold and one silver in it. Surprisingly in the formats where you won gold, you lost a game each and the format where you won silver, you remained undefeated. Would you say that losing helped you to become champion?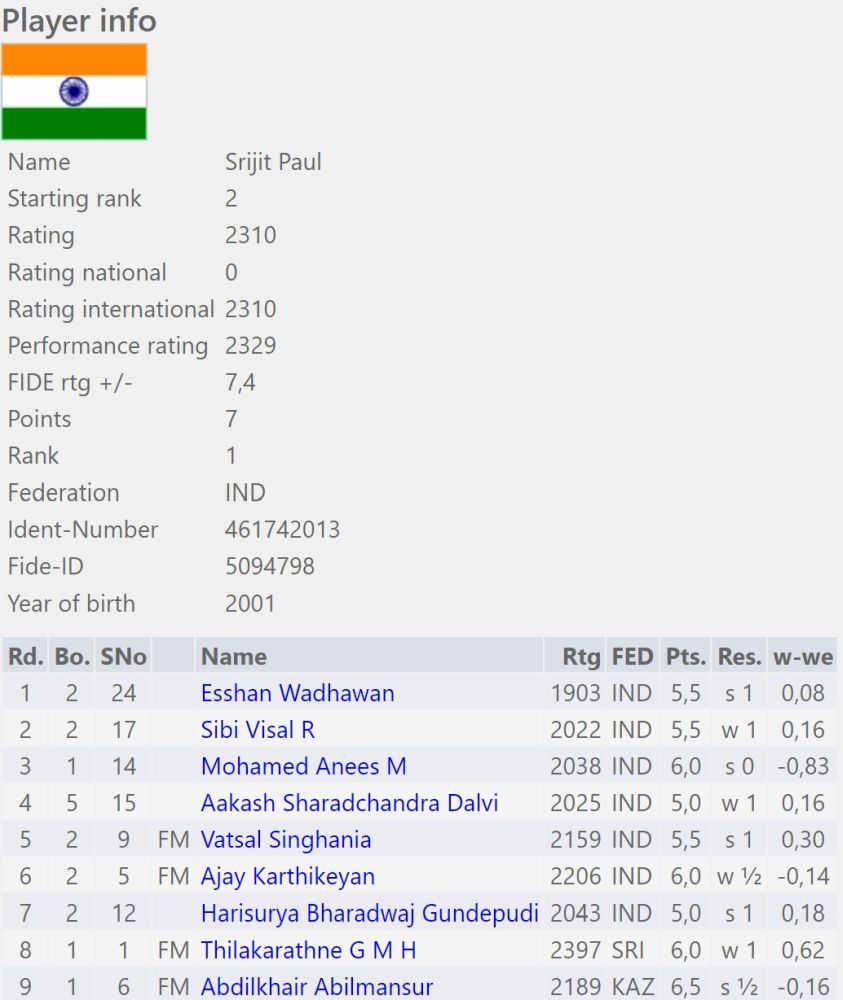 SP: I won't say that but okay in that tournament, first tie-break was number of wins, so in that sense, losing is better than drawing two games. In standard, I think I got the championship with a lead of a full point, so in the end it didn't matter.
SA: Out of two golds, which one would you rate higher according to your performance?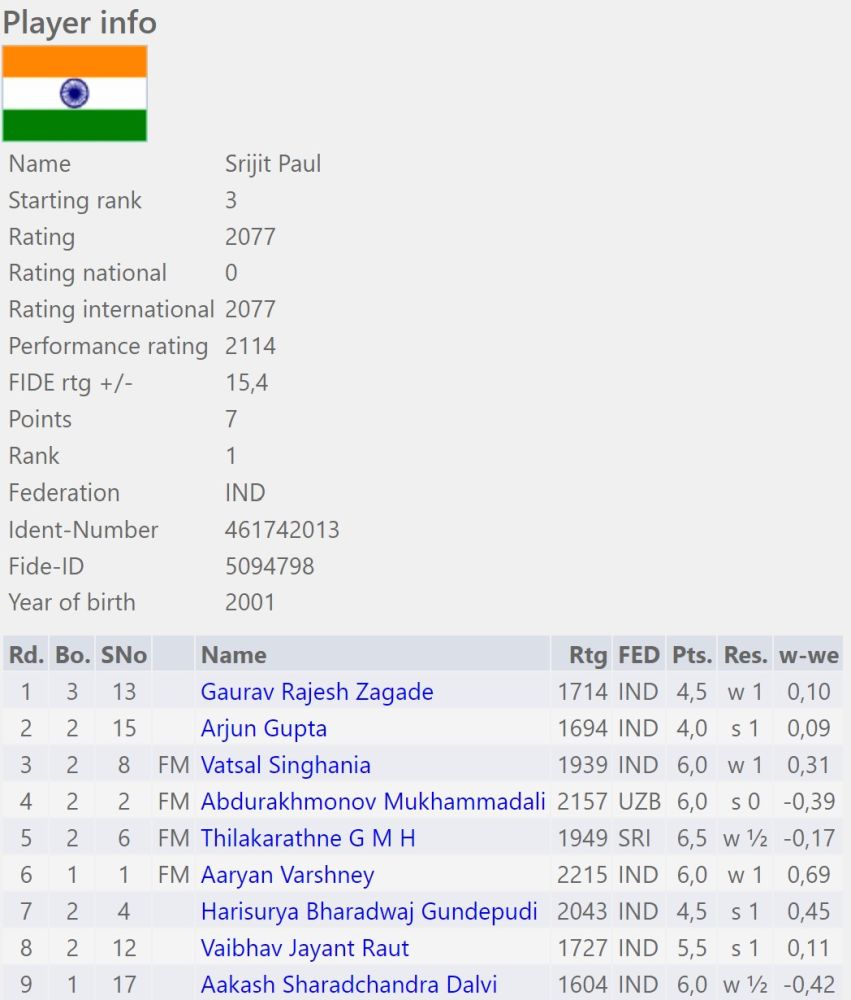 SP: For my performance, I think I would rate the blitz performance higher. In standard, most of the games, it was basically equal, however in blitz, I nearly outplayed everyone except the games I lost and drew.
SA: So you love playing blitz?
SP: Yeah I love playing blitz.
SA: How easy or difficult it was for you to play 25 games within six days?
SP: The tournament started with seven rapid games and I got the silver medal in it which kind of encouraged me in the standard. There were two games per day, it was tiresome and okay I liked it. I had enough time to prepare because there was much time for recess to prepare for the next game. So I think it wasn't that tiresome. I think we should not consider the blitz, it was only fun.
SA: How did you bounce back after losing your third round game in standard and fourth round in blitz? What goes through your mind at that time?
SP: When I lost the third game in standard, I was quite depressed. I thought I won't be able to comeback because in that game I was completely winning but then I blundered, he (my opponent) got a chance to promote. So I was completely depressed and really thought that I won't be able to get gold medal, if I get any medal. So I thought okay maybe I won't get a gold medal but I still should play my best and at last I won the gold medal.
SA: Who was your toughest opponent in the entire tournament?
SP: I would say that first game I played in the standard was the toughest and that was against Esshan Wadhawan. Maybe it was due to because I was playing rapid and it was the first standard game and maybe I did not think that much. Truth be told, the game was actually quite drawn. He suddenly made a positional mistake and I won the game but I think it would have been drawn. Maybe drawing the first standard game would have completely devastated the tournament for me.
SA: So transitioning from rapid to standard took at least one game for you?
SP: Ya, ya
SA: Rapid is the only format where you missed a gold, so do you wish that you had won gold in rapid also?
SP: To be honest, rapid was the first of the series, winning silver encouraged me to play the standard. Right now, if you ask me, I would go back and play for the gold medal. Okay it isn't happening. I am just happy. Let somebody have something at least.
SA: How happy are you with your overall performance?
SP: To be honest, someday I played some bad games and bad moves too. So I think if I can get them it's totally good. After all I am human, there were mistakes and I would love to solve them and go on.
SA: Going into the last round of the standard format, did you think that, 'I might become an IM, I might win gold'? Were these things going in your head?
SP: Before the last round, in the under-18 category I was leading by a full point. The only way I wasn't getting the title was if I lost and both of the other two players won. So I thought it won't happen after all. To be true, I didn't want that risk. Firstly I was trying to get this title for a very long time. I played very drawish and my opponent was also winning the gold in his category by drawing only. It was pretty easy to draw with someone who wants to draw. Even I knew that I will get the gold medal after I won against Thilakarathne.
SA: Who told you first that you have won the gold and become an IM at the same time?
SP: I knew the tournament rules and regulations. Rajdeep Sarkar who also got IM title in that tournament, encouraged me to go and play this tournament. My club helped in a lot of things. They didn't ask me to play the tournament. Most of the credit for this tournament goes to him.
SA: What was your parents reaction after you won two gold, a silver and became an IM?
SP: I wasn't becoming an IM, it was a frustrating this for my parents also. They were pretty happy and relieved that at least my son has done something. So it was very relieving and everybody is very happy. Maybe I will have a treat tonight.
SA: Since you said that your friend Rajdeep told and encouraged you to play this tournament, he also became an IM at the same time, so how does it feel to know that both you and your friend achieved this rare feat and became an IM at the same time?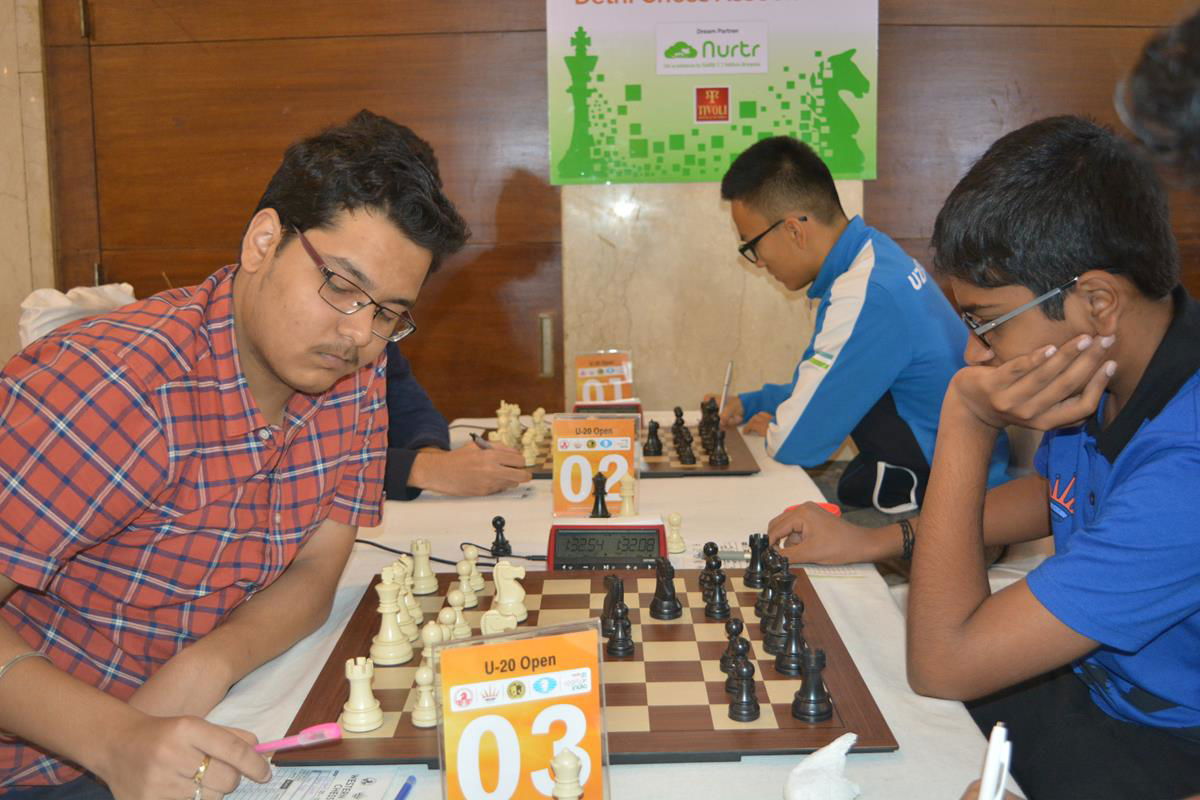 SP: It feels pretty good. If I had gotten the title and he wouldn't have, it would feel awkward as he encouraged me to play it and he didn't get it missed it by a little bit. He was leading from the start of the tournament, okay he had some lucky games. After all leading is leading. Everybody has luck, luck favors the brave is a popular saying.I think I am very happy that he also got a title and it would be unjust if only one of us got.
SA: How much support do you get from family, school and friends?
SP: Let's start with school. School gives a lot of support. They don't have any problem with attendance. Whenever I want I can go to school, I can check and solve my doubts and everything. Sometimes it becomes tiresome after playing a tournament to go to school and know that everybody is ahead of you in studies. At that time you have to study at home only. The teachers help me a lot. I somehow manage to do it. I am pretty happy and I am thankful to my school.
Parents are the kind of people who are traditional, they want you to study at least and then do some extra curricular activity They kind of want me to play chess, they might be pressurize a little bit. In their own way they motivated me.I felt a little bit of pressure.
SA: Would they be happy to hear this?
SP: No actually I don't think they would be hearing this.
SA: Who is your coach?
SP: Right now I solve my doubts from Atanu Lahiri.
Sometimes I get some materials from Durga Mahapatra.of Alekhine Chess Club. Alekhine Chess Club makes a platform so that we can study well. In that way Alekhine Chess Club is a very good coach for me.
SA: What materials helped you on your way to become an IM?
SP: Recently I am thinking about playing a new opening. So they are giving me theoretical books, the latest theory they have given me. I play Dutch, everybody knows that and they prepare very easily for it. So I am having a change of openings, maybe not right now. Other than that they are giving me tactical positions, whatever you want you can get, it's like you can ask anybody. Sir I want it, it's kind of expensive, so will you be able to get it for me?
SA: Last time when we talked, you won the Saturday Club Youth Rapid Rating, after that you played a couple of strong tournaments, like Asian Continental and Abu Dhabi Masters where things did not go well but then you bounced back and performed fantastic in Western Asia. So how do you cope with it when a strong tournament does not go well?
SP: I didn't play well in Saturday Club. I was pretty lucky to be honest. After that I played Asian Continental and I didn't think that it will be such a tough tournament. Maybe I was too ambitious in some positions. I didn't go for draw and eventually lost some of the games. Sometimes I just played bad. So that tournament really mess up my play. Firstly it was too tough for me and I don't have anything to say about that. When you see that you have scored two or three points out of nine rounds, it's kind of depressing. Maybe that was one of the reasons for playing bad in the Goa GM tournament. It's a burden that you played last tournament too bad and you have to prove that you are not that bad.
So I kind of played too harshly and if you play harshly, it doesn't give you any result, it just gives you the opposite. That's what happened in this tournament. Then I played state under-19. I was playing pretty good and leading the tournament. In the last round I was having a clearly better position, maybe not clearly but a better position. Actually I had a draw and if I drew, I would have become champion. I wasn't happy with the draw and I blundered in the next move.
That thing contiued for a longer time than I expected. It got me some losses, I am sad about them but what can I do?
Then Rajdeep told me that you can play this tournament. At that time, I had an urge to prove myself. I had exams in my school so I took the exams. I hade to study for it as I didn't study the whole year. I just studied for a day and took it. The results haven't come out yet. I practiced a lot. I have to prove myself because I haven't played good in many tournaments. That happened in Western Asia, so I am pretty happy.
SA: IM Srijit Paul. How does it sound to you?
SP: It sounds like it should have been my name for a long time.
SA: What's next for you?
SP: I don't have attendance in my school. So my school is wanting me to play the CBSE tournament which according to CBSE handbook/guidelines helps a person who is a player to cover up his attendance. So I am playing that and then I will be playing the World Youth.
SA: What's your next goal, now that you have become an IM?
SP: I have become an IM by winning a championship. I would like to increase my rating somewhat. For now I am thinking about getting my rating increased. I haven't made a specific target because I have only found that I can't achieve the goal. So I haven't created a target, I just want to improve my rating.
SA: Thank you Srijit for speaking with ChessBase India, I wish you all the best in your future endeavors.
SP: Thanks.
After the interview, I caught up with Srijit's mother Suvra Paul, here is a short interview with her in Bangla with English subtitles so that everyone can understand.
We also reached out to Srijit's coaches, IM Atanu Lahiri and Durgaprasad Mahapatra. This is what Durgaprasad had to say, "I am very happy. I can't express my happiness with words." We are yet to get a word from Atanu Lahiri.
---