Shamkir 2019 Round 6: Karjakin 30+ moves preparation grinds down Anand
The last time Sergey Karjakin beat Vishy Anand in classical chess, he went on to win the Candidates and challenge Magnus Carlsen for the highest crown. In the sixth round of Shamkir Chess 2019, Karjakin once again beat Anand and joined Magnus as the leader at the top. It was a battle of tremendous opening preparation by both Karjakin and Anand as the players followed the game Aronian versus Caruana until move 31. Sergey had a new idea prepared and although the position was round about even, Karjakin's persistence won in the end and gave him the full point. The other decisive result of the day was Topalov beating Mamedyarov. We not only bring all of the games from round six, but also pictures from the rest day where all the top players indulged in Football, Basketball and simultaneous chess.
Free day in Shamkir!
5th of April was a free day at Shamkir 2019. There were three activities that took place. Players indulged in basketball, they also played football and there was a joint simul with all the top players. In all of these activities along with the players, we had the FIDE President Arkadij Dvorkovich taking part as well. Here are some of the pictures: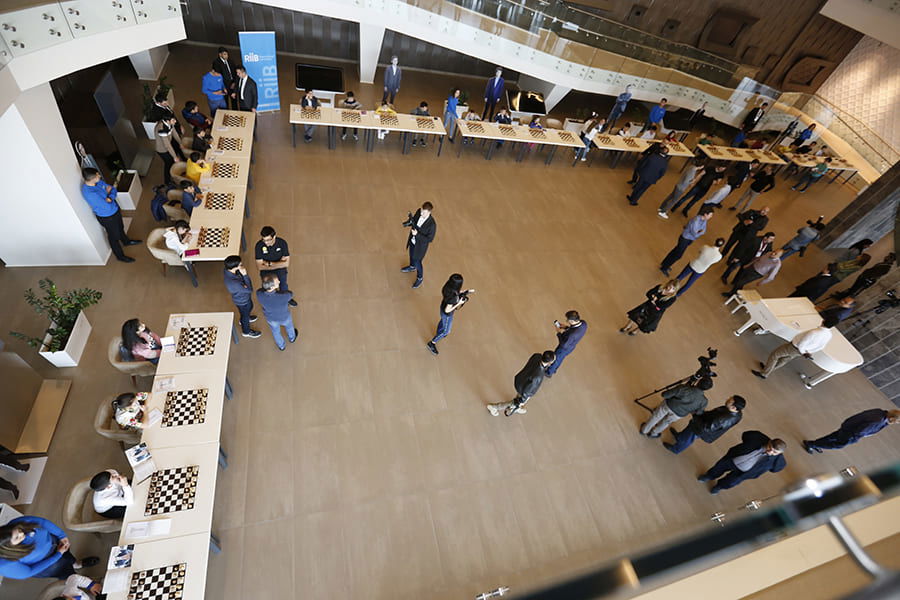 6th round
The 6th Round in Shamkir produced only two decisive games, but both had a significant impact on the leaderboard. Veselin Topalov shrugged off some indifferent form to outwit Shak Mamedyarov in a Zaitsev Ruy Lopez, to score his first win in Classical Chess since his comeback. The other decisive game saw Sergey Karjakin beat Viswananthan Anand in a prolonged endgame tussle after the latter gave up a pawn and resigned in a difficult position. With this win, Sergey catches Magnus at the top of the table. The other 3 games ended in fighting draws, with Ding Liren having the best chance to grind down Magnus Carlsen, but Magnus found the right defences at the right time and the game soon concluded in a draw.

Karjakin-Anand:
The most important game of the round, between the two second placed players. Karjakin needed a win here with White to go toe to toe with Magnus, and Anand needed to at least hold the game to have chances of future success. An intriguing clash was on the cards. This brings back memories of 2016, where Karjakin beat Anand in the Candidates and eventually became the challenger. Does a similar fate await the Russian Minister of Defence here?
After repeating Caruana's choice of defense against Carlsen in their London 2018 match, 10...Rd8, Anand now goes in for the sharp and forcing 11...d4!, initiating high complexity in play. The game now enters forced moves territory, and both players follow their stem game Aronian-Caruana. Trying to describe this position is difficult. Despite all notions about the queen's gambit declined, it is really a very sharp opening with a lot of ducking and diving to be done by any of its practitioners. Vishy is trying to punish White here for delaying his king's evacuation to the kingside. Only the computers make such a risky decision by White a playable option.
After Sergey's novelty on the 31st move (!) we have reached an endgame that looks balanced at first sight. However, it is not so simple. For starters, Black's pawn structure is horrible, and he has to make further concessions to free up his game and eliminate the c-pawn. Secondly, we reach a position by force where Black has two distant pawns (a7 and h7) to white's compact formation on h3 and g2. Such a position is easy to play for White, even though Black has enough resources to equalise.
Anand shows a liking for passive defense with his two previous moves, Nc6?! and Rc8?!. While the moves are objectively fine, the position doesn't look so good to me. Black has voluntarily chosen torture without trying active counterplay. No human must voluntarily jump into these situations if he has other options. After Sergey's precise Re6!, the position is very difficult to defend for Black.
Here we have already reached a crisis in the game. Black had to find the only move Kf7! To stay alive, and the best White can achieve here is the better side of a draw. Instead Anand irreparably weakened his position with h5?, a move that came back to haunt him.
Now it is painfully clear to all Anand fans and others that the legend is going down. Rf6! Is the end of a precise sequence of moves that forces Black to give up the h5 pawn, after which the rest is a matter of good technique. Anand decide not to test Sergey too much and resigned after a few more moves.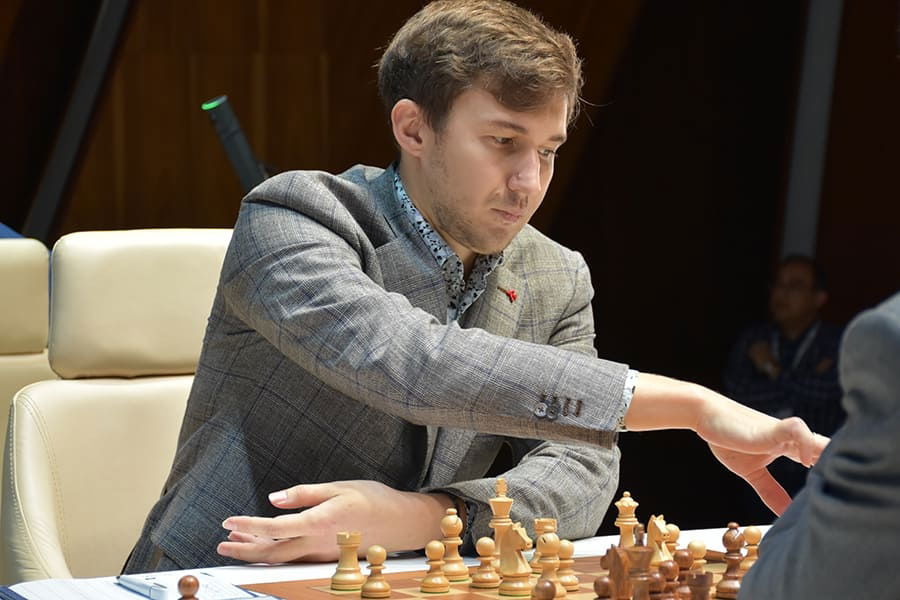 Topalov-Mamedyarov: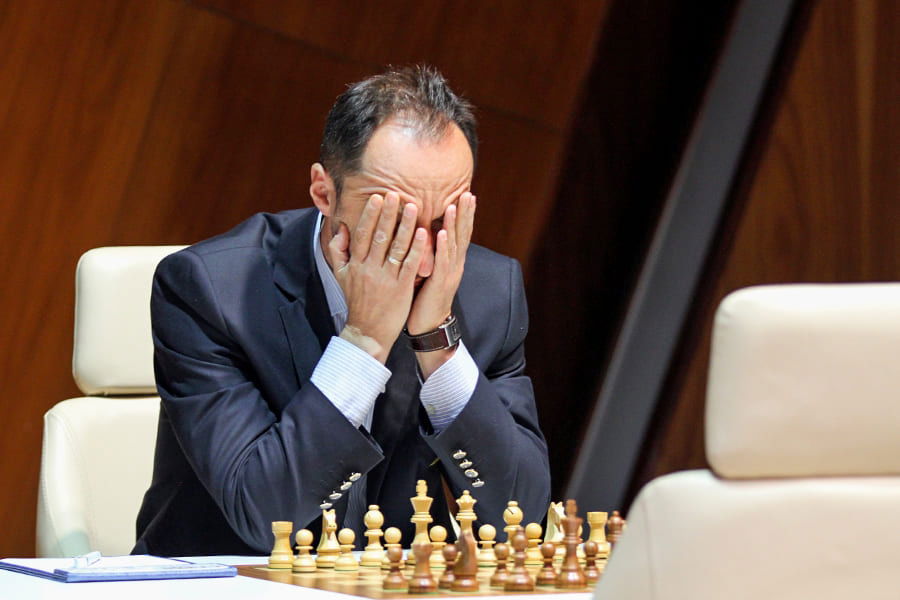 The other decisive game saw Topalov give a masterclass in the Ruy Lopez against the out of sorts Shak Mamedyarov. The game started as a Zaitsev Ruy Lopez, a rare fighting choice at the top level, given the fact that every player plays the Berlin almost exclusively these days. Topalov's novelty on move 18 gave him the easier position, but objectively Black was fine as far the engines were concerned. A few questionable decisions by Mamedyarov put him under enormous pressure, and he soon blundered. There was no mopping up required, as Shak cut short his torture early. Some highlights:
Black's attack against e4 has gathered steam, but this has done his position more harm than good. What is to be noted here is his clear lack of development, especially the major pieces sitting on the last rank. With the next move Nf1!, Veselin sacrifices a pawn, but severely restricts black's forces. Shak is not a great passive defender, and he soon commits a bad mistake.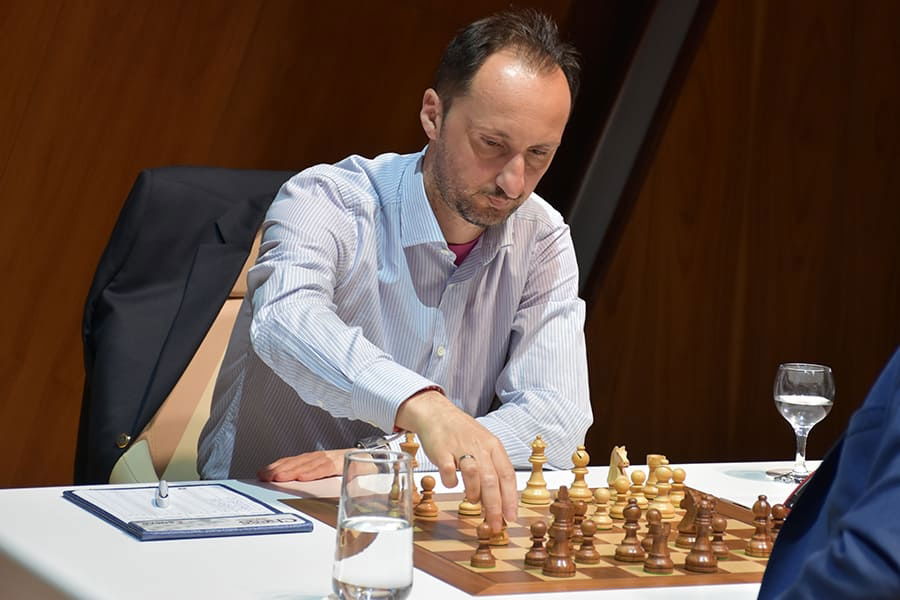 Ding - Carlsen:
A fianchetto Grunfeld was the choice of defence for the world champion, but he was clearly unhappy with his handling of the opening today. Ding got his typical White advantage today, a stable and rather unpleasant one for Carlsen to handle. The players soon traded down into an endgame, where Ding had an option to test Carlsen's endgame basics:
What did Ding and Carlsen see after the natural Bxe5! Rxe5 Rc5!. When I watched the press conference, Carlsen seemed confident that the position after Re4! Ra5 d4 exd4 Rxd4 Rxa7 Rd2! is defensible for Black, as White doesn't get the e2 square for his king. On closer inspection, it turns out that he is right! The computers show a decisive advantage for White, but it is clear that there is no way to progress. The defensive plan is simple- trade a couple of pawns, allow the White pawn to a7, sit with the king on g7 and h7, and keep the rook on the a-file.
Grischuk-Radjabov:
A Queen's Gambit accepted was Radjabov's choice of defence in this game, and we quickly entered one of the tabiyas of the 3.e4 e5 system. Sasha demonstrated an interesting concept today, sacrificing the d4 pawn for the bishop pair and queenside expansion. Radjabov was upto the task, quickly expanding on the queenside to get counterplay. The evaluation of the position didn't change too drastically at any point, and a safe draw was agreed by both on move 40. There was one interesting moment though.
Here Grischuk could have maintained a tangible advantage with h3!, computer suggestion and useful prophylaxis, or a smaller one with my preference e5!? d2 Rc4 Qf5 h4!?. In both cases Black has to work harder to maintain equality. Sasha decided to liquidate soon with Rc4, and a draw was naturally the only result possible.
Giri-Navara:
The shortest draw of the round. Anish is clearly not taking any more chances, and in an tepid Ragozin line he quickly traded queens as white. Navara too was in a peaceful mood, and the players quickly vacuumed the pieces off the board before signing the peace treaty on move 26. Giri could have been a little more precise on move 11 though:
Standings after round 6
About the author: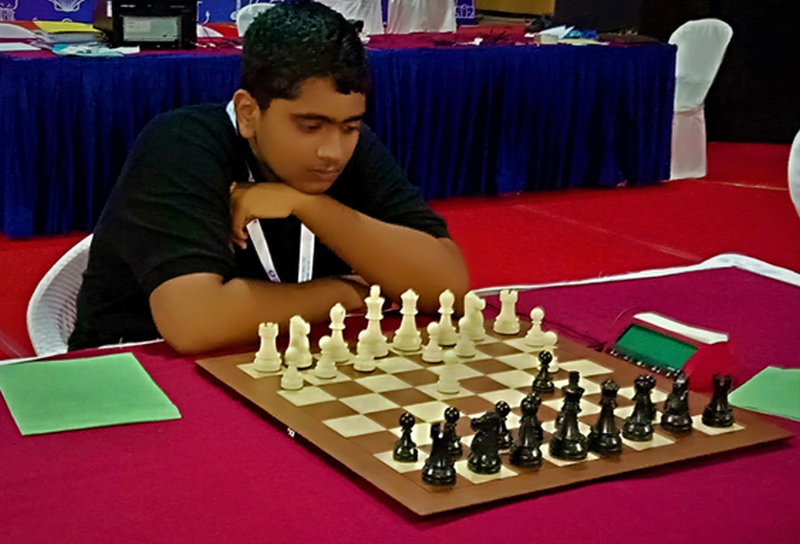 Tanmay Srinath is an 18-year-old chess player from Bangalore, Karnataka, currently pursuing both chess and engineering at BMSCE Bangalore. Tanmay is also a Taekwondo Black Belt, who has represented the country in an International Tournament in Thailand. He is a big fan of Mikhail Tal and Vishy Anand, and sincerely believes in doing his bit to Power Chess in India!
---