Remembering Vugar Gashimov
The Shamkir Chess 2019 in the memory of GM Vugar Gashimov will begin today from the 31st of March 2019. 27-year-old Vugar Gashimov left us on 11th of January 2014. Above his grave is a picture of a position from his game against Daniel Stellwagen from the European Team Championship 2009. What exactly was so special about the game that it deserved a place in Gashimov's grave? Indulge in the drama and excitement of the day of 30th October 2009 and get to know about the most thrilling game of Vugar Gashimov's life. Gashimov's contribution to the game of chess has been mammoth. A tribute to the great player by IM Sagar Shah.
Vugar Gashimov- The game of his life!
The date was 30th October 2009. It was the final round (9th) of the European Team Championships that were being held in Novi Sad, Serbia. The atmosphere was charged up with excitement. Going into the final round Russia and Azerbaijan were tied at 13 points a piece. The Russian team had Spain as their opposition and the Azerbaijani team had been paired against the Netherlands. The following was the pairing.
Russia vs Spain
Svidler - Shirov
Morozevich - Vallejo
Jakovenko - Illescas
Alekseev - Salgado Lopez.
Azerbaijan vs Netherlands
Radjabov - Smeets
Gashimov - Stellwagen
Mamedyarov - L'Ami
Mamedov - Ernst
Two of Russia's games between Svidler- Shirov and Jakovenko-Illescas ended in draws. The magic of Moro had worked. He had beaten Vallejo to give Russia a lead of 2-1. At the same time Azerbaijan had not been successful in making any breakthrough. Radjabov, Mamedyarov and Mamedov had all drawn their game. The score between Azerbaijan and Netherlands stood at 1.5-1.5. The entire onus was on Gashimov's shoulders now.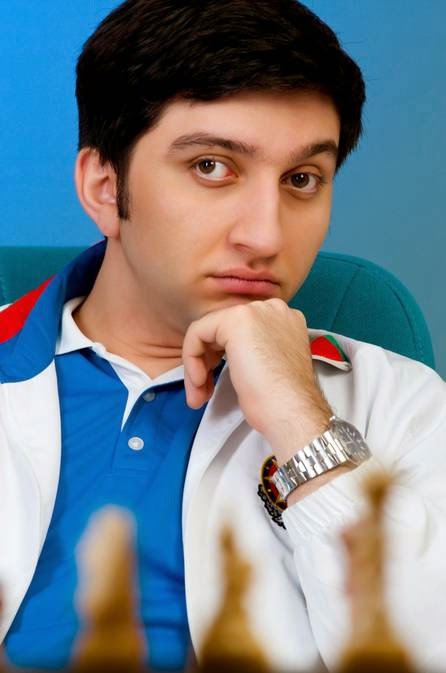 The first good news for the Azerbaijan fans came from different quarters. Ivan Salgado Lopez had dismantled the Winawer of Evgenvy Alekseev and had equalised the Russia-Spain match. Russians had ended their journey on 14 points. Everything was crystal clear now. Gashimov had to win. In case of a draw, Azerbaijan too would end on 14 and Russia would take the gold due to their better tiebreak.
Vugar did just what the doctor ordered. He built up a winning position against Stellwagen and went into a winning Rook endgame. But as they say, "No one alive has really mastered the Rook endgames!" Below is Gashimov's game upto the critical point which he has annotated himself.
Gashimov in his annotations mentions that he has missed the win but doesn't give the way for black to draw. I think it has to do with the fact that the draw for black is very easy to achieve. Stellwagen under tremendous pressure played the move 70... Rf4?? which was a horrible blunder. The right was for black to draw was to start with 70...Rb4!
Stellwagen made the final blunder and Gashimov gave him no more chances. Here is how the game ended.
Azerbaijan had become the European Champions and Vugar Gashimov played the biggest role in their victory. The moment the game was over, the entire Azerbaijani squad jumped over to Vugar, hugged him, kissed him and just went all over him! You must see this video, produced by Europe Echecs, which contains all this last round action. Watch it from the start up to 2 mins 20 secs.
I am sure your heart was touched after seeing the above video. The way the team mates ran over to Gashimov is a dream that every chess player would like to live one day! Imagine having the expectations of not only the entire team on your shoulders but of the entire nation and then delivering! Wow! I would play chess for my entire life, for only such a moment!
The only thought that comes to my mind after writing all this and watching the video is why did Vugar Gashimov have to go away so soon.
The board encaptions within itself all the emotions of joy and ecstacy which no words or pictures could ever have. Whenever Radjabov or Mamedyarov or Mamedov would see the position, the first thought that would come to their mind would be of utter joy of winning the championship and then the sadness of losing their dear friend would dawn onto them. Giving people reasons to smile even after you are gone, is a sign of greatness.
The genius from Baku has left us. But in the 27 years that he lived on this planet he has created a rich legacy of his games and annotations that will keep enthralling us.
Vugar Gashimov, You shall always live forever in the heart of every chess lover!
Achievements of Vugar Gashimov
Vugar Gashimov (24 July 1986 – 11 January 2014) was an Azerbaijani chess grandmaster. He was a noted player of blitz chess. At his peak ranking (2761) he was No. 6 in the world, achieved in November 2009. Gashimov was born on 24 July 1986 in Baku. He was the son of a retired army colonel who served at the Defense Ministry of Azerbaijan. In 2010, Gashimov won the Reggio Emilia chess tournament.
Gashimov played for Azerbaijan in the Chess Olympiads of 2002, 2004, 2006 and 2008. He played in the gold medal-winning Azerbaijani team at the European Team Chess Championship in Novi Sad in 2009, alongside Shakhriyar Mamedyarov, Teimour Radjabov, Rauf Mammadov and Gadir Guseinov, previously winning bronze medal in 2007. At the peak of his playing career, he revived the fortunes of the Modern Benoni, an opening that had become unpopular at the top level of chess, and used it to get good results against strong grandmasters, including even the leading players of the time, such as Alexander Grischuk.
He was known to enjoy football, table tennis and pool. He was also an avid fan of Jackie Chan movies. He was managed by his older brother Sarkhan, an IT manager, who is also a master-level chess player.
Doctors diagnosed Gashimov with epilepsy when he fell ill in February 2000, and shortly afterwards, discovered a brain tumor. While receiving treatment for the brain tumor in a hospital in Heidelberg, Germany, Gashimov died in the early hours of 11 January 2014. He had been inactive from chess since playing in the Tata Steel Chess Tournament in January 2012. He was buried at the Alley of Honor in Baku.
Chess grandmasters and sports professionals around the world reacted to Gashimov's death. Teimour Radjabov, one of Gashimov's closest teammates, said that he could not find "words to explain the deepest sorrow". Nigel Short described Gashimov as "a brilliant player and great guy." Former world champion Garry Kasparov said he was "deeply saddened", and found it "remarkable considering the medical obstacles he faced" that he made it to the top ten in the FIDE rating list. Magnus Carlsen described Gashimov as "one of the most talented and original players I've met. He was always friendly with everyone and always smiling. I have many good memories with him from tournaments, especially in the Amber tournaments."
Tributes also came from famous chess players such as Shakhriyar Mamedyarov, Hikaru Nakamura, Levon Aronian, Alexandra Kosteniuk, Judit Polgár, Sergey Karjakin and many others. One minute of silence was held at the 76th Tata Steel Chess Tournament and during all tournaments held in Baku in January 2014. Azerbaijani President Ilham Aliyev said, "Vugar Gashimov's services to the Azerbaijani sports are unmatched. Vugar Gashimov made an incomparable contribution to development of Azerbaijan's chess school, and glorified the country with his brilliant victories." [Information from Wikipidea]
Articles on Vugar Gashimov
Eulogy by Gashimov's girlfriend Elisabeth
---