Karpov Trophy 2019: Nihal Sarin's emphatic victory against Sara Khadem
Amin Bassem and Alexey Sarana both lost one game each in rounds twelve and thirteen of the ongoing Anatoly Karpov Trophy 2019 to slip down the leaderboard. Nihal Sarin, on the other hand, kept up his steady form and emerged as the sole second with 8.5/13 points. In the twelfth round Nihal registered a crushing victory against the Iranian player Sara Khadem with white pieces and drew his next encounter confidently against Alexey Sarana playing black. Overall, Etienne Bacrot is still leading the field with 9.0/13 points and it remains to be seen if the Indian phenom can catch up with him in the last remaining round before the knockout semi-finals of the event begin. In this illustrated article we show you the critical moments from Nihal's twelfth round victory and also give you the next round pairings.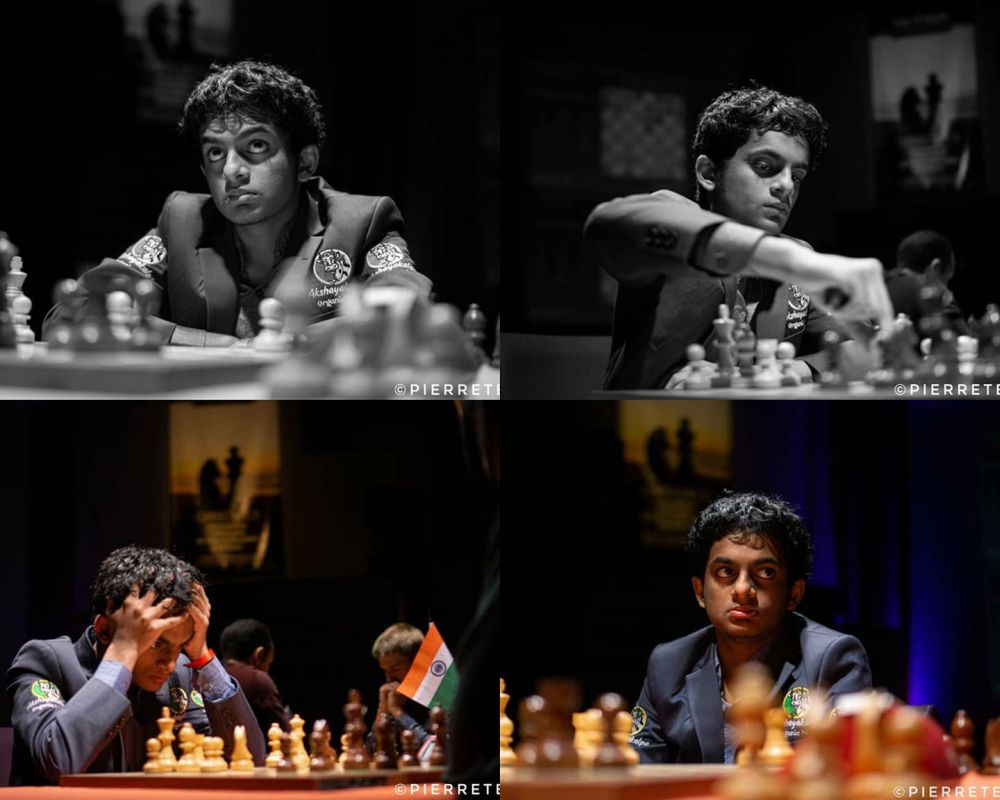 The Iranian International Master Sarasadat Khademalsharieh had the black pieces in the twelfth round against India's Nihal Sarin. The game started off with the Classical Nimzo-Indian and reached equality out of the opening but Black's position was slightly passive and she had issues with developing her light-squared bishop. Nihal exploited just this fact and played on actively to keep his opponent on a tiger leash. Sara did break free eventually but had to give up substantial material in the process, thus after move 27 it was just a matter of technical conversion for the Indian player.
Nihal Sarin - Sara Khadem, Round 12
The game followed 14...Nd7 15.Bf4 Nxe5 16.Bxe5 Bd6 17.Rfe1 Bxe5 18.Qxe5 with a series of exchanges and this is where the critical position was reached. The most active plan for Black here would have been 18...Qxc4 19.Reb1 a5 with ideas of developing the c8 bishop later via b7 but Sara erred here by going for queen exchange with 18...Qxe5 19.Rxe5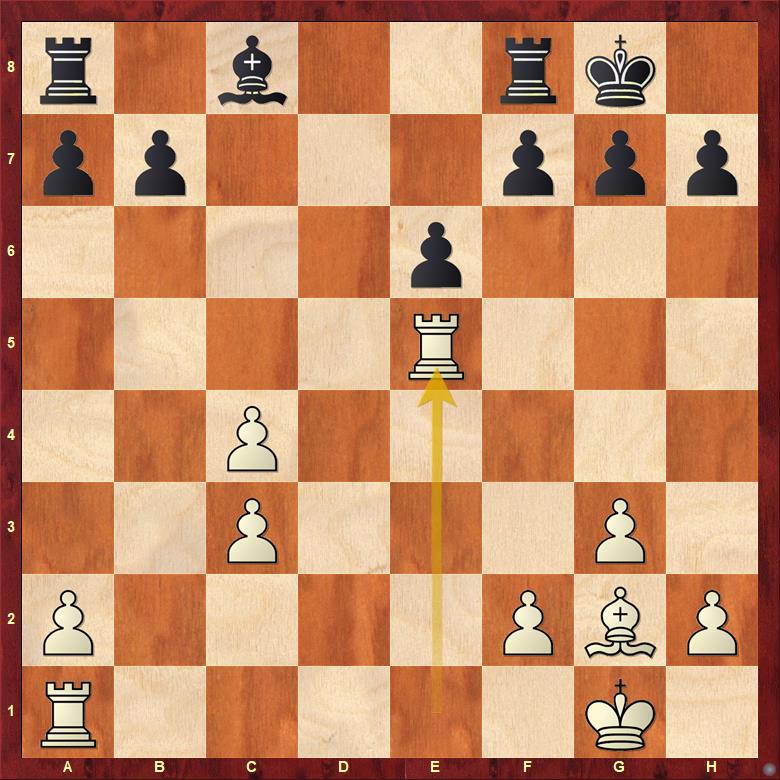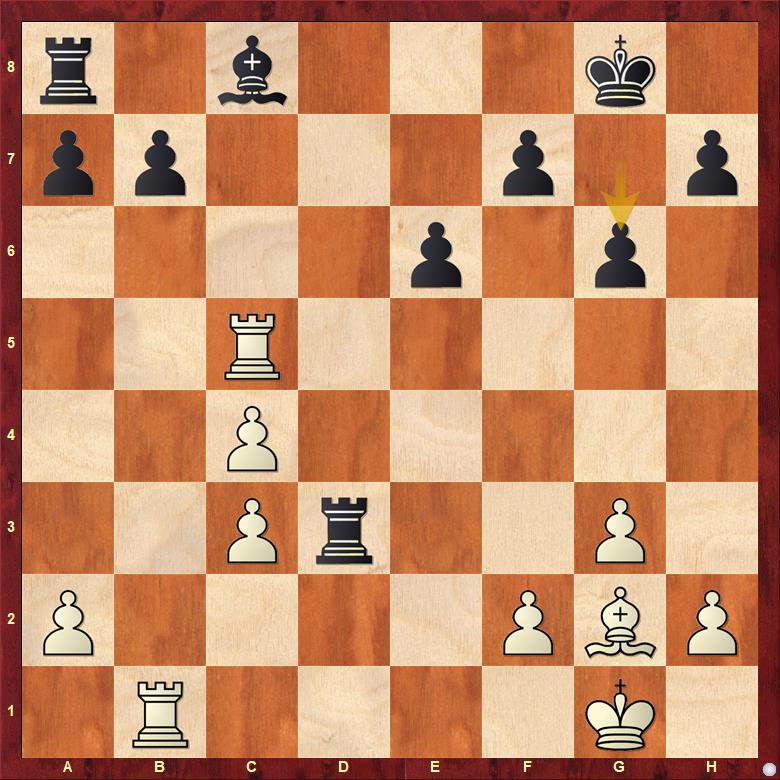 Black had to let go of her bishop at this point and after 23...Kg7 24.Rd8 Rc1+ 25.Bf1 Ra1 26.Rcxc8 Rxc8 27.Rxc8 the rest was a technical task for Nihal. The Iranian fought on for 67 moves before calling it a day.
Nihal made a confident draw in the next round with black pieces against Alexey Sarana. The Russian GM chose the Queen's Gambit Declined, against which the Indian adopted the Ragozin. The players reached an even position out of the opening and agreed to repetition on move 23. Nihal faces the strong Egyptian GM Amin Bassem in round 14 and will be playing with White.
Results of previous rounds
Round 12
Bo.
No.
Rtg
Name
Result
Name
Rtg
No.
1
8
2452
GM
Sebag Marie
0 - 1
GM
Bacrot Etienne
2671
3
2
2
2381
IM
Paehtz Elisabeth
½ - ½
GM
Hou Yifan
2607
4
3
1
2285
GM
Nihal Sarin
1 - 0
IM
Khademalsharieh Sarasadat
2421
5
4
7
2633
GM
Amin Bassem
1 - 0
GM
Sarana Alexey
2628
6
Round 13
Bo.
No.
Rtg
Name
Result
Name
Rtg
No.
1
7
2633
GM
Amin Bassem
0 - 1
GM
Sebag Marie
2452
8
2
6
2628
GM
Sarana Alexey
½ - ½
GM
Nihal Sarin
2285
1
3
5
2421
IM
Khademalsharieh Sarasadat
½ - ½
IM
Paehtz Elisabeth
2381
2
4
4
2607
GM
Hou Yifan
½ - ½
GM
Bacrot Etienne
2671
3
Pairing for the next round
| | | | | | | | | | |
| --- | --- | --- | --- | --- | --- | --- | --- | --- | --- |
| Bo. | No. | Rtg | | Name | Result | | Name | Rtg | No. |
| 1 | 8 | 2452 | GM | Sebag Marie | | GM | Hou Yifan | 2607 | 4 |
| 2 | 3 | 2671 | GM | Bacrot Etienne | | IM | Khademalsharieh Sarasadat | 2421 | 5 |
| 3 | 2 | 2381 | IM | Paehtz Elisabeth | | GM | Sarana Alexey | 2628 | 6 |
| 4 | 1 | 2285 | GM | Nihal Sarin | | GM | Amin Bassem | 2633 | 7 |
Standings after thirteen rounds
| | | | | | | | | | |
| --- | --- | --- | --- | --- | --- | --- | --- | --- | --- |
| Rk. | SNo | | Name | FED | Rtg | Pts. | TB1 | TB2 | TB3 |
| 1 | 3 | GM | Bacrot Etienne | FRA | 2671 | 9,0 | 56,25 | 0,0 | 7 |
| 2 | 1 | GM | Nihal Sarin | IND | 2285 | 8,5 | 48,25 | 0,0 | 5 |
| 3 | 7 | GM | Amin Bassem | EGY | 2633 | 8,0 | 45,00 | 0,0 | 6 |
| 4 | 6 | GM | Sarana Alexey | RUS | 2628 | 7,5 | 40,00 | 0,0 | 5 |
| 5 | 4 | GM | Hou Yifan | CHN | 2607 | 6,0 | 36,75 | 0,0 | 3 |
| 6 | 2 | IM | Paehtz Elisabeth | GER | 2381 | 6,0 | 34,00 | 0,0 | 3 |
| 7 | 8 | GM | Sebag Marie | FRA | 2452 | 5,5 | 27,25 | 0,0 | 5 |
| 8 | 5 | IM | Khademalsharieh Sarasadat | IRI | 2421 | 1,5 | 10,50 | 0,0 | 0 |
---