Karpov Trophy 2019: Nihal Sarin catches Hou Yifan in a mating net
Nihal Sarin has a rapid rating of just 2285 but he is already performing at an Elo of 2639 in the 17th edition of Anatoly Karpov Trophy that is taking place in the beautiful mediterranean town of Cap d'agde in Southern France. After eleven rounds Nihal has an impressive score of 7.0/11 points (4 wins, 1 loss, 6 draws) and is placed overall second along with Amin Bassem and Alexey Sarana. In the eleventh round playing the black pieces he registered a fine win against Hou Yifan of China. Hou was the only one who had defeated Nihal earlier in the event. Thus, the Indian phenom not only consolidated his position in the tournament with his last victory but also levelled his score against the Woman World no.1. The top seeded Etienne Bacrot is at the moment the sole leader of the event and is half a point ahead of the rest of the field with 7.5/11 points, while Elisabeth Paehtz and Hou Yifan have slipped down the leaderboard with 5.0/11 each.
In the fourth round of the ongoing Karpov Trophy 2019 Nihal had found a dominating position against Hou Yifan with the White pieces but after a long struggle lasting for sixty-four moves it was the Chinese who had come out on the top. In round eleven however, the Indian player came back brilliantly and settled the score against the Woman World no.1 registering an emphatic win with the black pieces. The game started off with a variation of closed spanish and Hou actually found a comfortable position with White after spoiling Black's kingside pawn structure on move 23. But Nihal showed tremendous resilience and played on actively with his bishop pair and rook to tilt the balance in his favour. By move 40 the position returned to perfect equality and on move 44 the Chinese erred, thereafter running straightaway into a mating net.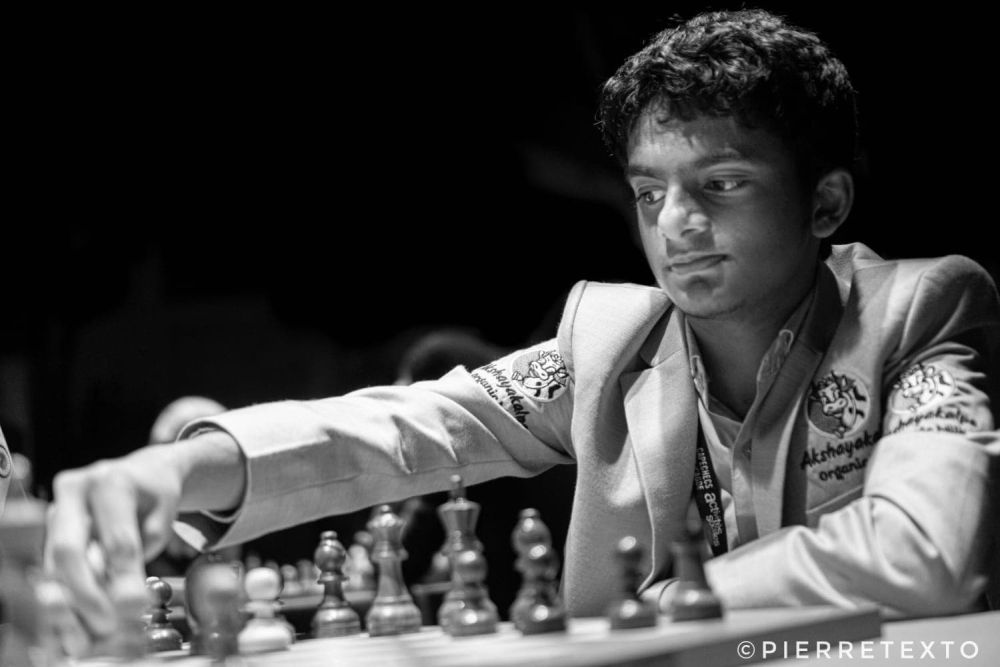 Hou Yifan - Nihal Sarin, Round 11
Well, it is very easy, even for masters, to fall for such tricks in rapid play. Hou Yifan greedily grabbed the b5 pawn in the above position and had to immediately face the devastating 44...Bg1+, even here she could have contained the damage, at least to some extent, by playing 45.Kh1 and allowing the unpleasant discovered attacks with 45...Be3+ 46.Kh2 Bxf4+ 47.g3 Rb2+ 48.Kg1 Bxg3 49.Rb7+ Kg6 50.Re7 but instead she went for the worse 45.Kg3? which walks the white king right into a mating net. The game followed 45...Rb3+ 46.Kh4 Kg6 47.Bb6 Bh2 48.Bf2 Bxf4 and White resigned in a position where checkmate was absolutely inevitable.
Final standings after eleven rounds
Nihal Sarin's performance so far and his next round pairings
---