Maksim Chigaev wins Bucharest Grand Prix Rapid 2023, Harikrishna third
Maksim, Romania no.2 Bogdan-Daniel Deac and Pentala Harikrishna all three scored 8.5/10 each at Bucharest Grand Prix Rapid 2023. They were placed first, second and third according to tie-breaks. While, Maksim and Bogdan-Daniel remained undefeated, Harikrishna suffered his only loss against Raunak Sadhwani. Raunak scored 8/10 to finish fifth. His sole defeat was against the eventual champion. The total prize fund of the tournament was 150000 Lei. The top three prizes were 25000, 15000 and 10000 Lei along with a trophy each respectively. GM-elect IM Prraneeth Vuppala scored an impressive 8/10 to finish tenth. This was the first of five tournaments in the Romania Grand Prix. The next leg will take place from 16th to 22nd July 2023. Photo: Federația Română de Șah
Top three score 8.5/10
Apart from Harikrishna, Raunak and Prraneeth, IM Dhulipalla Bala Chandra Prasad and IM Sidhant Mohapatra are the two remaining prize winners. Dhulipalla continues his fantastic form from Denmark as he became one of the four IMs to make a top 20 finish in a tournament which had a strong lineup.
Harikrishna made a fantastic debut in Romania. Finishing shared first and third on tie-breaks in his first tournament at the country is definitely a great performance.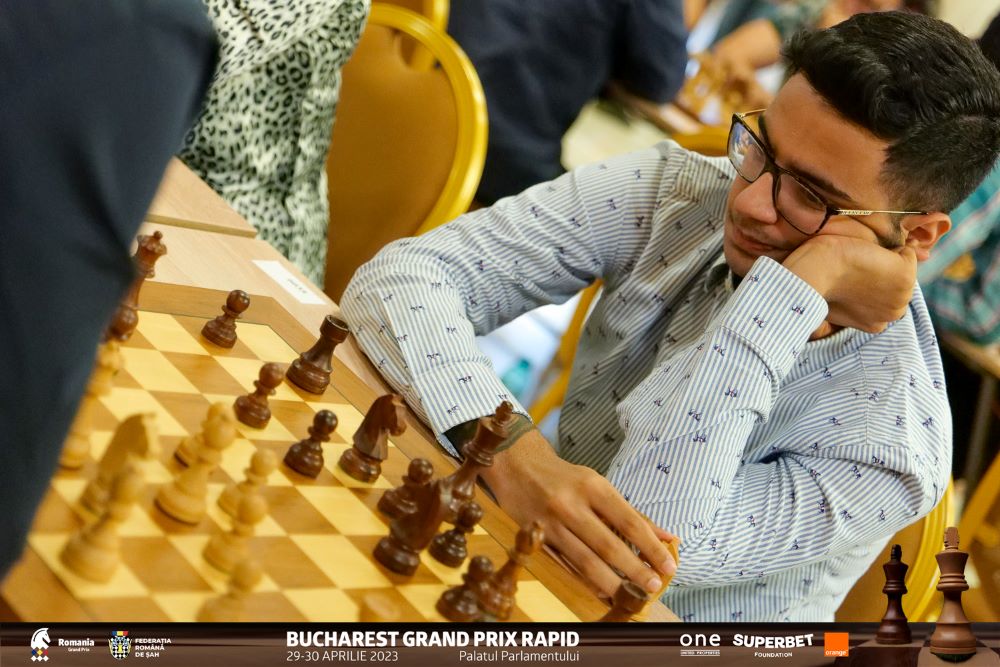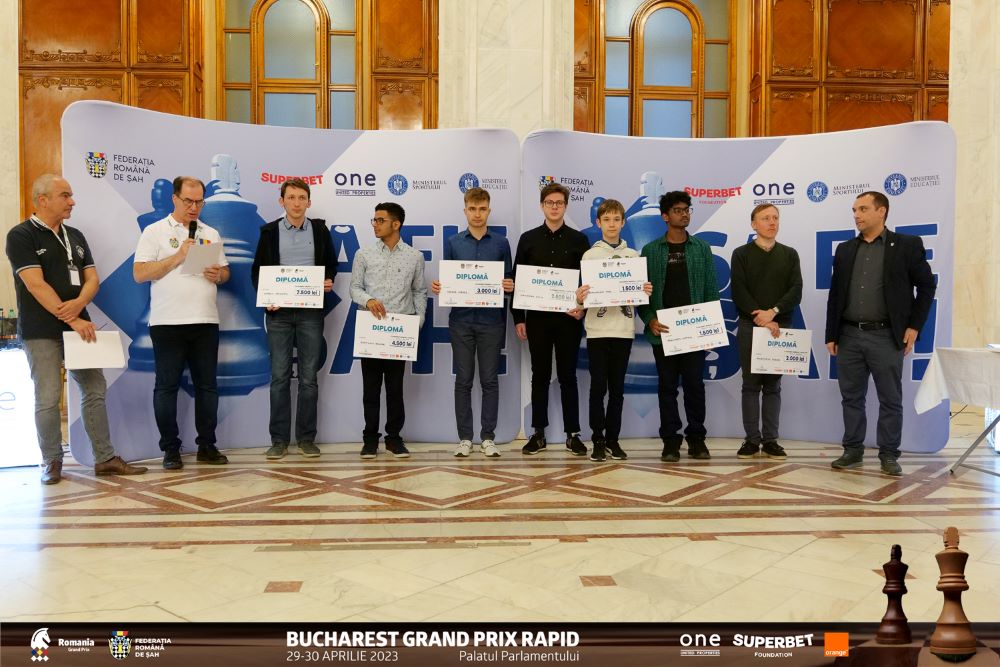 IM Dhulipalla Bala Chandra Prasad won the Sonflow Cup - Kolding City Championship 2023 few days ago. It will be mentioned in detail in a separate report.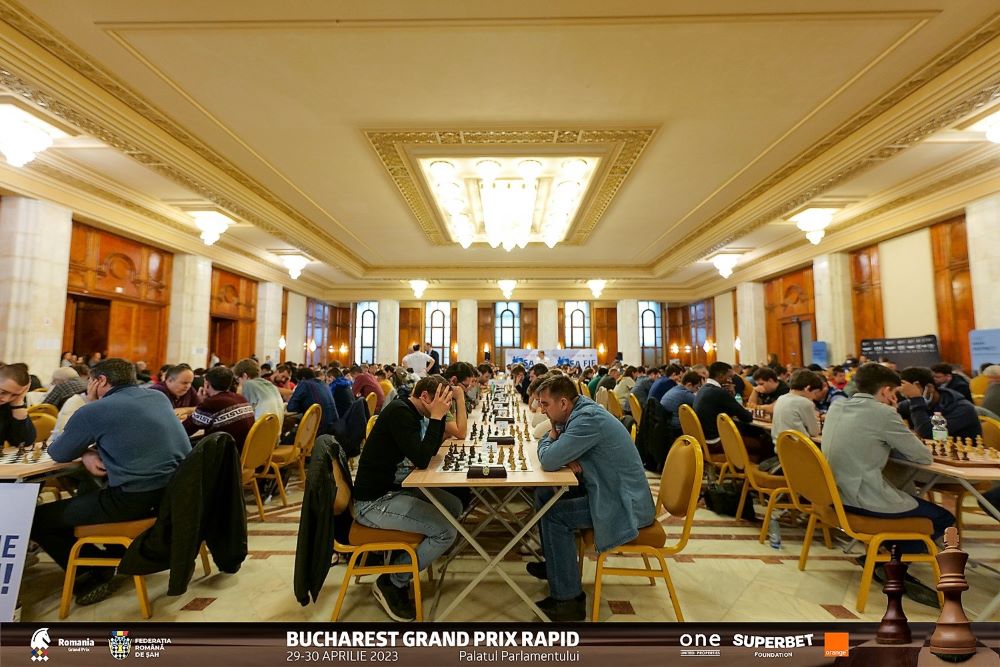 A total of 317 players including 32 GMs, 21 IMs, 3 WGMs and a WIM participated from 20 countries across the world. The two-day ten-round Swiss league Rating tournament was organized by Federatia Romana de Sah at Palatul Parlamentului in Bucharest, Romania on 29th and 30th April 2023. The time control for the event was 15 minutes + 10 seconds increment from move no.1.
Replay all available games
Final standings
| | | | | | | | | | | | |
| --- | --- | --- | --- | --- | --- | --- | --- | --- | --- | --- | --- |
| Rk. | SNo | | Name | sex | FED | Rtg | Club/City | Pts. | TB1 | TB2 | TB3 |
| 1 | 12 | GM | Chigaev, Maksim | | FID | 2568 | | 8,5 | 0 | 66,5 | 51 |
| 2 | 7 | GM | Deac, Bogdan-Daniel | | ROU | 2618 | Csu Ase Bucuresti | 8,5 | 0 | 64,5 | 50,5 |
| 3 | 6 | GM | Harikrishna, Pentala | | IND | 2627 | | 8,5 | 0 | 63 | 48 |
| 4 | 2 | GM | Oparin, Grigoriy | | USA | 2650 | | 8 | 0 | 67,5 | 48 |
| 5 | 13 | GM | Sadhwani, Raunak | | IND | 2550 | | 8 | 0 | 66 | 48,5 |
| 6 | 3 | GM | Sarana, Alexey | | FID | 2643 | | 8 | 0 | 64,5 | 48 |
| 7 | 9 | GM | Shevchenko, Kirill | | ROU | 2598 | Csu Ase Bucuresti | 8 | 0 | 62 | 46 |
| 8 | 1 | GM | Ponomariov, Ruslan | | UKR | 2669 | | 8 | 0 | 61,5 | 44,5 |
| 9 | 28 | IM | Samunenkov, Ihor | | UKR | 2420 | | 8 | 0 | 60 | 43,5 |
| 10 | 39 | IM | Prraneeth, Vuppala | | IND | 2360 | | 8 | 0 | 57 | 44 |
| 11 | 8 | GM | Georgiev, Kiril | | MKD | 2618 | | 7,5 | 0 | 63 | 44 |
| 12 | 31 | GM | Petkov, Momchil | | BUL | 2407 | | 7,5 | 0 | 62 | 44,5 |
| 13 | 38 | IM | Dhulipalla, Bala Chandra Prasad | | IND | 2371 | | 7,5 | 0 | 59 | 45 |
| 14 | 30 | IM | David, Alexandru-Vasile | | ROU | 2408 | Acs Sah Club Vados Arad | 7,5 | 0 | 58,5 | 42 |
| 15 | 16 | GM | Yuffa, Daniil | | ESP | 2526 | | 7,5 | 0 | 57 | 42 |
| 16 | 20 | GM | Nanu, Costica-Ciprian | | ROU | 2493 | Cs Dinamo Bucuresti | 7,5 | 0 | 57 | 41 |
| 17 | 11 | GM | Vocaturo, Daniele | | ITA | 2584 | | 7,5 | 0 | 57 | 41 |
| 18 | 5 | GM | Mamedov, Rauf | | AZE | 2632 | | 7 | 0 | 63 | 44,5 |
| 19 | 14 | GM | Bernadskiy, Vitaliy | | UKR | 2538 | | 7 | 0 | 62 | 44,5 |
| 20 | 22 | GM | Pranav, V | | IND | 2465 | | 7 | 0 | 61 | 44 |
| 21 | 18 | IM | Gavrilescu, David | | ROU | 2505 | Cs Sah Club Oltenia Craiova | 7 | 0 | 61 | 43 |
| 22 | 10 | GM | Lupulescu, Constantin | | ROU | 2584 | Csu Ase Bucuresti | 7 | 0 | 60,5 | 45 |
| 23 | 19 | GM | Grigoriants, Sergey | | HUN | 2495 | | 7 | 0 | 59,5 | 43 |
| 24 | 26 | IM | Costachi, Mihnea | | ROU | 2423 | Csm Unirea Alba Iulia | 7 | 0 | 59,5 | 41,5 |
| 25 | 24 | GM | Istratescu, Andrei | | ROU | 2436 | Clubul De Sah Al Municipiului | 7 | 0 | 59,5 | 41 |
| 26 | 32 | GM | Pranav, Anand | | IND | 2402 | | 7 | 0 | 59 | 40 |
| 27 | 69 | CM | Padurariu, Mihai-Edward | | ROU | 2174 | Cs Universitatea Targoviste | 7 | 0 | 58 | 38,5 |
| 28 | 23 | GM | Kobo, Ori | | ISR | 2448 | | 7 | 0 | 57,5 | 41 |
| 29 | 78 | CM | Nedelcu, Teodor-Cosmin | | ROU | 2135 | Scm Gloria Buzau | 7 | 0 | 57,5 | 41 |
| 30 | 57 | FM | Stepanencu, Nicodim-Cosmin | | ROU | 2243 | Cs Dinamo Bucuresti | 7 | 0 | 56 | 38,5 |
Links
---