Leon Luke Mendonca triumphs at Hamburg Chess Club GM Invitational 2022
GM Leon Luke Mendonca scored an unbeaten 7/9 to win Hamburg Chess Club GM Invitational 2022. He remained undefeated and finished a half point ahead of the field. This is Leon's second tournament of the year. Just like the previous event at Bangaladesh Premier League, Leon once again remained unbeaten. The 16-year-old gained 11.3 Elo rating points, taking his live rating to 2562.3. The reason behind Leon taking part in less events is because he was preparing for his tenth grade board exams for over nine months. Check out Leon's games from this event, including his final round win featuring a double exchange sacrifice.
Leon wins his first event of the year
Brand Ambassador of Geno and Microsense, GM Leon is undefeated so far in over-the-board tournaments in 2022. He increased his unbeaten streak to 20 games in this event.
Leon - Souleidis, Round 9
Leon made double exchange sacrifice in consecutive moves for three minor pieces. 25.Rxc5 bxc5 26.Rxd6 Qxd6 27.Qxb7+ Qe7 28.Qb6. Eventually it worked out as White capitalized on his opponent's mistake, went on to win the game and the tournament.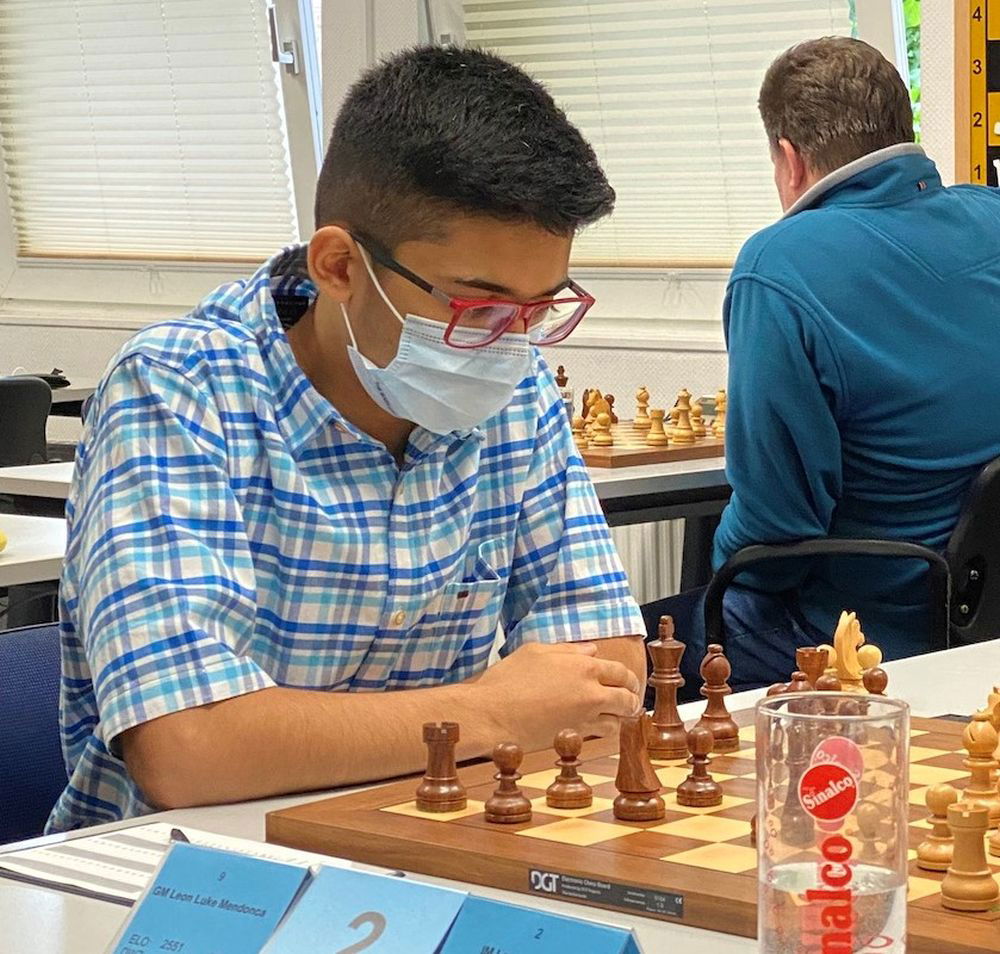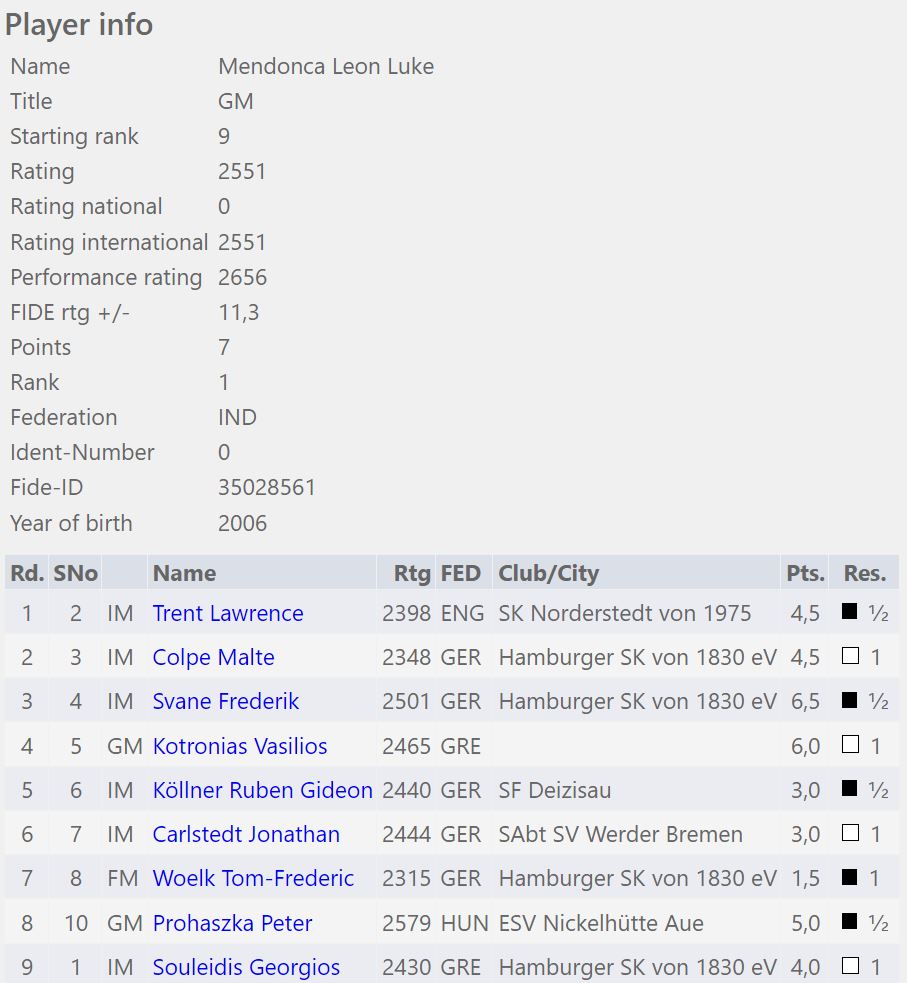 Replay Leon's games
Final Standings
| | | | | | | | | | |
| --- | --- | --- | --- | --- | --- | --- | --- | --- | --- |
| Rk. | SNo | | Name | FED | Rtg | Club/City | TB1 | TB2 | TB3 |
| 1 | 9 | GM | Mendonca Leon Luke | IND | 2551 | | 7,0 | 5 | 28,50 |
| 2 | 4 | IM | Svane Frederik | GER | 2501 | Hamburger SK von 1830 eV | 6,5 | 4 | 28,50 |
| 3 | 5 | GM | Kotronias Vasilios | GRE | 2465 | | 6,0 | 5 | 20,75 |
| 4 | 10 | GM | Prohaszka Peter | HUN | 2579 | ESV Nickelhütte Aue | 5,0 | 3 | 19,00 |
| 5 | 3 | IM | Colpe Malte | GER | 2348 | Hamburger SK von 1830 eV | 4,5 | 3 | 17,25 |
| 6 | 2 | IM | Trent Lawrence | ENG | 2398 | SK Norderstedt von 1975 | 4,5 | 3 | 16,75 |
| 7 | 1 | IM | Souleidis Georgios | GRE | 2430 | Hamburger SK von 1830 eV | 4,0 | 2 | 15,50 |
| 8 | 7 | IM | Carlstedt Jonathan | GER | 2444 | SAbt SV Werder Bremen | 3,0 | 1 | 11,75 |
| 9 | 6 | IM | Köllner Ruben Gideon | GER | 2440 | SF Deizisau | 3,0 | 1 | 11,00 |
| 10 | 8 | FM | Woelk Tom-Frederic | GER | 2315 | Hamburger SK von 1830 eV | 1,5 | 0 | 7,00 |
Links
Hamburg Chess Club Official site
---