FIDE Online Olympiad for PWD R7: India 2 finishes ahead of India 1
India 1's campaign came to an end after they suffered a loss by narrow margin against Russia 2 in the seventh and final round of the Swiss league stage in FIDE Online Olympiad for People with Disabilities. India 1 finished 18th, thus their Semi-final hopes dashed. India 2 finished ahead of India 1 at 13th position by beating Romania 1 with a score of 2.5-1.5. India 3 beat Mali by 3-1 and India 4 lost to Russia 3 by 1-3. However 16-year-old Kanishri played fantastic in her only second game of the event and avoided her team getting whitewashed in the final round of the event. Photo: Amruta Mokal
India 1 loses by narrow margin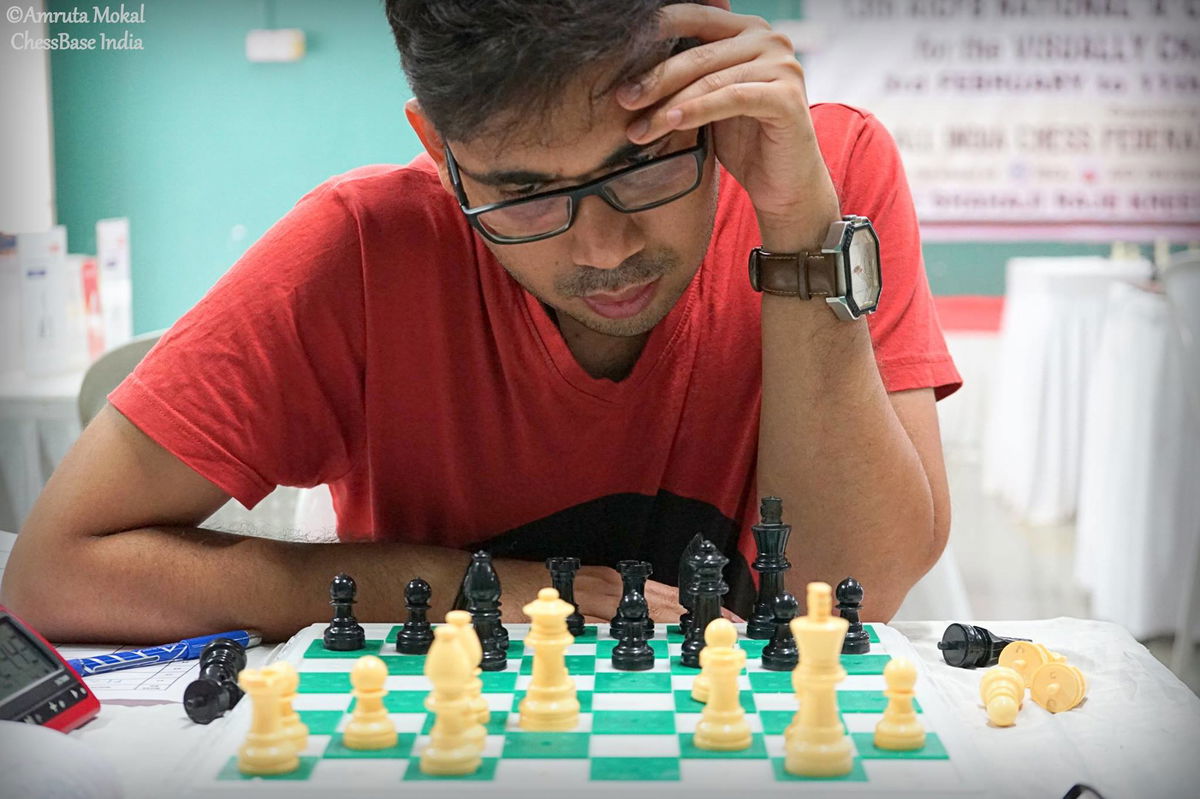 Semi-final hopes of India 1 came to a screeching halt as they suffered a loss by narrow margin against Russia 2. Kishan made a quick draw in 11 moves. Naveen misplayed in the seemingly equal endgame, Shashikant and Jennitha both played uncharacteristically in the final round which caused them to lose their respective games. India 2 defeated Romania 1 by 2.5-1.5 to finish ahead of India 1 at 13th position. Among the Indian players, 16-year-old Kanishri played extremely well in the final round to score a victory and avoided India 4's whitewash by Russia 3. India 3 finished on a high note by beating Mali 3-1.
Russia 2 - India 1: 2.5-1.5
Shashikant played the opening in a strange way and got a worse position out of the opening. Thus he couldn't get back in the game later.
Kishan made a short draw in just 11 moves against IM Alexey Pakhomov.
Naveen played the endgame incorrectly which allowed his opponent to secure the advantage.
Polina - Naveen
Find out how should black continue here. Eventually black blundered a piece in an already difficult position and lost the game. However the result was overturned as Naveen's opponent was found to be in violation of the tournament's fair-play policy.
Jennitha played extremely passive which allowed her opponent Maksim to attack and cramp her position.
Romania 1 - India 2: 1.5-2.5
Krishna won a topsy-turvy encounter against Mihail-Dacian.
Mihail-Dacian - Krishna
Black is threatening to trap the queen with Rh7. What is the best continuation for white here?
Ashish won a completely lost game on time against Costica. Subhendu lost his game versus Emil-Peter and Sarita drew with Dorina.
Mali - India 3: 1-3
Kannan and Udupa both won their game comfortably. Mrunali got a walk over, Ashutosh was completely winning in the endgame but he blundered his rook probably due to time pressure.
India 4 - Russia 3: 1-3
Kanishri scored a fantastic victory over WFM Mariya Dorozhkina. She was the lone victor for her team against Russia 3.
Mariya - Kanishri
White's last move 16.Bb2 is a blunder. Can you find out why? Kanishri spotted and executed the right continuation. She didn't let her advantage slip even for a moment for the rest of the game.
Replay all games of Indian teams of Round 7
Standings after Round 7
| | | | | | | | | | | | | | |
| --- | --- | --- | --- | --- | --- | --- | --- | --- | --- | --- | --- | --- | --- |
| Rk. | SNo | | Team | Team | Games | + | = | - | TB1 | TB2 | TB3 | TB4 | TB5 |
| 1 | 6 | | Russia 1 | RUS 1 | 7 | 6 | 1 | 0 | 13 | 22,5 | 168,5 | 112,0 | 102,5 |
| 2 | 13 | | Ukraine 3 | UKR 3 | 7 | 6 | 0 | 1 | 12 | 17,0 | 108,5 | 108,0 | 92,5 |
| 3 | 1 | | Poland 1 | POL 1 | 7 | 5 | 1 | 1 | 11 | 20,5 | 146,5 | 111,5 | 85,3 |
| 4 | 15 | | Poland 3 | POL 3 | 7 | 5 | 0 | 2 | 10 | 19,5 | 125,5 | 108,5 | 72,0 |
| 5 | 3 | | Philippines 1 | PHI 1 | 7 | 4 | 2 | 1 | 10 | 19,0 | 164,0 | 118,5 | 79,8 |
| 6 | 17 | | Poland 2 | POL 2 | 7 | 4 | 2 | 1 | 10 | 19,0 | 146,0 | 116,0 | 75,5 |
| 7 | 2 | | Germany | GER | 7 | 5 | 0 | 2 | 10 | 19,0 | 141,5 | 102,5 | 63,0 |
| 8 | 9 | | Russia 2 | RUS 2 | 7 | 4 | 2 | 1 | 10 | 15,0 | 107,5 | 110,5 | 76,5 |
| 9 | 11 | | Croatia | CRO | 7 | 5 | 0 | 2 | 10 | 14,0 | 85,5 | 112,0 | 70,5 |
| 10 | 4 | | Israel | ISR | 7 | 3 | 3 | 1 | 9 | 17,5 | 132,5 | 122,5 | 78,0 |
| 11 | 20 | | Hungary | HUN | 7 | 4 | 1 | 2 | 9 | 17,0 | 113,5 | 108,0 | 72,3 |
| 12 | 14 | | Venezuela | VEN | 7 | 4 | 1 | 2 | 9 | 17,0 | 92,0 | 90,5 | 55,8 |
| 13 | 34 | | India 2 | IND 2 | 7 | 4 | 1 | 2 | 9 | 16,0 | 99,0 | 107,0 | 66,5 |
| 14 | 10 | | North Macedonia | MKD | 7 | 4 | 1 | 2 | 9 | 16,0 | 92,5 | 99,0 | 61,5 |
| 15 | 12 | | Ukraine 2 | UKR 2 | 7 | 4 | 1 | 2 | 9 | 15,5 | 86,0 | 102,0 | 55,3 |
| 16 | 39 | | United States of America | USA | 7 | 4 | 1 | 2 | 9 | 15,0 | 105,5 | 107,0 | 65,5 |
| 17 | 18 | | Chile | CHI | 7 | 4 | 1 | 2 | 9 | 15,0 | 89,0 | 101,5 | 59,3 |
| 18 | 8 | | India 1 | IND 1 | 7 | 4 | 1 | 2 | 9 | 14,5 | 99,5 | 112,5 | 68,3 |
| 19 | 5 | | Cuba | CUB | 7 | 4 | 0 | 3 | 8 | 17,5 | 91,0 | 97,0 | 49,5 |
| 20 | 26 | | Russia 3 | RUS 3 | 7 | 4 | 0 | 3 | 8 | 15,5 | 108,0 | 99,5 | 53,0 |
Links
Edit: India 1 - Russia 2 results updated
---