FIDE Online Olympiad for PWD R4: India 1 holds top seed Poland 1 to a draw
India 1 held the top seed of FIDE Online Olympiad for People with Disabilities, Poland 1 to a 2-2 draw in Round 4. Naveen and Jennitha scored important victories for the team. Shashikant and Kishan almost overcame adversity on the board and got winning opportunities but they couldn't seize them. India 1 is currently at fifth position 7.0/8, a point behind the leaders Russia 1 and Germany. In Round 4, India 2 lost to Russia 2 by 3-1, India 3 beat Canada 3-1 and India 4 held Spain to a 2-2 draw. Today Wednesday 25th November, India 1 will face Poland 2 in Round 5 starting from 7:30 p.m. IST. Photo: Chessfest 2019
Naveen and Jennitha ensure India hold the top seed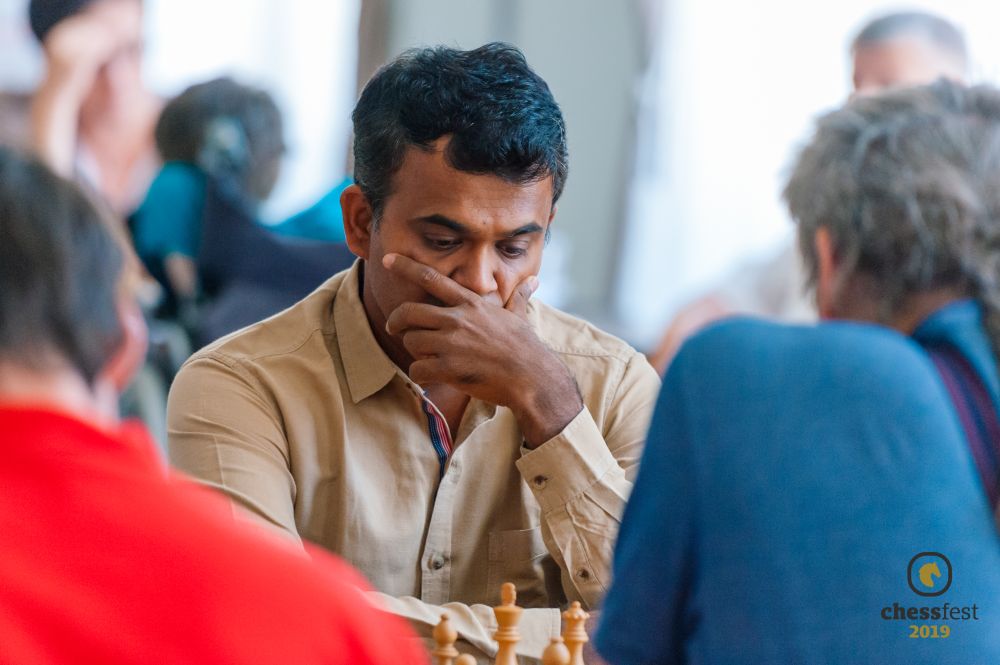 India 1 held the top seed of the tournament Poland 1 to a 2-2 draw. Naveen and Jennitha made sure the team secure to valuable points and Shashikant and Kishan both played fantastic but missed the winning opportunities. India 2 lost to Russia 2 by 3-1, India 3 beat Canada 3-1 and India 4 held Spain to a 2-2 draw.
India 1 - Poland 1: 2-2
In a topsy-turvy battle, despite having a difficult position for the better part of the game, Shashikant got a couple of winning chances in the end.
Shashikant - Marcin
Find out the winning continuation for white after 50...Kg7.
Kishan had a decent tactical chance in the endgame but he missed it, allowing his opponent to bounce back.
Lukasz - Kishan
The game went on with 38...Qd4. Find out what was the better continuation for black.
Naveen Kumar made a short work of his opponent Anna Stolarczyk in just 27 moves.
Jennitha scored an important victory after her opponent blundered a complete rook for free.

Russia 2 - India 2: 3-1
Soundarya Kumar Pradhan once again scored the lone victory for the team against the formidable Russia 2. The Russians had two IMs on the top two boards. Krishna, Subhendu and Himanshi all three lost their respective games against much stronger opponents.
India 3 - Canada: 3-1
Ashvin, Pegu and Vivek scored three comfortable victories. Mrunali also got a winning position out of the opening as her opponent Louis made a questionable choice of opening. However she was unable to maintain her advantage and eventually lost the game.

Spain - India 4: 2-2
Marimuthu scored the sole victory for the team. Malika and Bhargav drew their respective games. Krishna lost his game against Gavril.
Replay all games of Indian teams of Round 4
Standings after Round 4
| | | | | | | | | | | | | | |
| --- | --- | --- | --- | --- | --- | --- | --- | --- | --- | --- | --- | --- | --- |
| Rk. | SNo | | Team | Team | Games | + | = | - | TB1 | TB2 | TB3 | TB4 | TB5 |
| 1 | 6 | | Russia 1 | RUS 1 | 4 | 4 | 0 | 0 | 8 | 15,0 | 60,0 | 34,5 | 34,5 |
| 2 | 2 | | Germany | GER | 4 | 4 | 0 | 0 | 8 | 13,0 | 51,0 | 29,0 | 29,0 |
| 3 | 1 | | Poland 1 | POL 1 | 4 | 3 | 1 | 0 | 7 | 13,5 | 50,0 | 33,5 | 28,5 |
| 4 | 17 | | Poland 2 | POL 2 | 4 | 3 | 1 | 0 | 7 | 12,5 | 38,0 | 31,5 | 25,8 |
| 5 | 8 | | India 1 | IND 1 | 4 | 3 | 1 | 0 | 7 | 10,0 | 41,0 | 41,0 | 34,3 |
| 6 | 4 | | Israel | ISR | 4 | 2 | 2 | 0 | 6 | 11,5 | 42,0 | 39,0 | 27,3 |
| 7 | 3 | | Philippines 1 | PHI 1 | 4 | 2 | 2 | 0 | 6 | 11,0 | 47,0 | 36,0 | 26,5 |
| 8 | 26 | | Russia 3 | RUS 3 | 4 | 3 | 0 | 1 | 6 | 11,0 | 37,0 | 28,5 | 20,5 |
| 9 | 46 | | Vietnam | VIE | 4 | 3 | 0 | 1 | 6 | 11,0 | 32,5 | 36,5 | 26,5 |
| 10 | 15 | | Poland 3 | POL 3 | 4 | 3 | 0 | 1 | 6 | 10,5 | 37,5 | 39,0 | 26,0 |
| 11 | 20 | | Hungary | HUN | 4 | 3 | 0 | 1 | 6 | 10,5 | 31,0 | 36,0 | 27,0 |
| 12 | 13 | | Ukraine 3 | UKR 3 | 4 | 3 | 0 | 1 | 6 | 9,5 | 29,5 | 37,0 | 26,0 |
| 13 | 7 | | Ukraine 1 | UKR 1 | 4 | 3 | 0 | 1 | 6 | 9,0 | 30,5 | 41,0 | 28,0 |
| 14 | 11 | | Croatia | CRO | 4 | 3 | 0 | 1 | 6 | 8,0 | 24,5 | 40,5 | 25,5 |
| 15 | 43 | | India 3 | IND 3 | 4 | 2 | 1 | 1 | 5 | 10,5 | 26,0 | 28,0 | 14,5 |
| 16 | 45 | | Ecuador | ECU | 4 | 2 | 1 | 1 | 5 | 10,0 | 25,0 | 28,5 | 13,3 |
| 17 | 19 | | Romania 1 | ROU 1 | 4 | 2 | 1 | 1 | 5 | 9,5 | 22,0 | 29,5 | 11,5 |
| 18 | 9 | | Russia 2 | RUS 2 | 4 | 2 | 1 | 1 | 5 | 9,0 | 25,0 | 34,0 | 19,0 |
| 19 | 27 | | Turkey 1 | TUR 1 | 4 | 2 | 1 | 1 | 5 | 9,0 | 19,0 | 34,5 | 15,5 |
| 20 | 18 | | Chile | CHI | 4 | 2 | 1 | 1 | 5 | 8,0 | 22,0 | 37,5 | 19,5 |
| 21 | 39 | | United States of America | USA | 4 | 2 | 1 | 1 | 5 | 8,0 | 20,5 | 33,5 | 18,0 |
| 22 | 22 | | Colombia 1 | COL 1 | 4 | 2 | 0 | 2 | 4 | 10,0 | 28,0 | 31,5 | 11,5 |
| 23 | 36 | | Kyrgyzstan | KGZ | 4 | 2 | 0 | 2 | 4 | 9,5 | 28,0 | 38,0 | 12,5 |
| 24 | 5 | | Cuba | CUB | 4 | 2 | 0 | 2 | 4 | 9,5 | 26,5 | 35,5 | 14,0 |
| 25 | 16 | | Kazakhstan | KAZ | 4 | 2 | 0 | 2 | 4 | 9,5 | 23,0 | 33,5 | 13,0 |
| 26 | 38 | | Azerbaijan | AZE | 4 | 2 | 0 | 2 | 4 | 9,0 | 21,0 | 28,0 | 10,0 |
| 27 | 14 | | Venezuela | VEN | 4 | 2 | 0 | 2 | 4 | 9,0 | 16,0 | 26,0 | 10,0 |
| 28 | 12 | | Ukraine 2 | UKR 2 | 4 | 2 | 0 | 2 | 4 | 8,0 | 23,0 | 40,0 | 14,0 |
| 29 | 35 | | Colombia 2 | COL 2 | 4 | 2 | 0 | 2 | 4 | 8,0 | 21,0 | 34,5 | 14,5 |
| 30 | 44 | | India 4 | IND 4 | 4 | 1 | 2 | 1 | 4 | 8,0 | 20,0 | 32,5 | 16,8 |
Links
---