FIDE Online Olympiad for PWD R1: India 1 and 4 make a winning start
India 1 and India 4 make a winning start by registering victories over Azerbaijan and Venezuela. IM Shashikant Kutwal who is also the captain of the team, Kishan Gangolli and WIM Jennitha Anto K registered emphatic victories to secure a victory for the team India 1. Marimuthu, Krishna and Sanjay ensured India 4's win over higher rated Venezuela. Both wins for team India came in the form of 3-1. With six more rounds to go for the Swiss league stage, India 1 definitely has good chances to advance to the knockout stage. Today Sunday 22nd November India 1 will face Argentina and India 4 will go up against Ukraine 2 in Round 2 starting from 7:30 p.m. IST.
India 1 and India 4 make winning start
The medal hopes for India 1 resides on IM Shashikant Kutwal, Kishan Gangolli and WIM Jennitha Anto. All three made an emphatic winning start in Round 1 of FIDE Online Olympiad for People with Disabilities. If these three continue their momentum then India 1 will definitely reach the Knockout stage after the conclusion of seven rounds of Swiss league. India 4 also made a winning start over higher rated Venezuela as Marimuthu, Krishna and Sanjay scored three important victories for their team to register a 3-1 victory over their opponents.
Azerbaijain - India 1: 1-3
IM Shashikant Kutwal (2182) scored a fine victory against Aydin Shahpalangov (1945)
Shahpalangov - Aydin
Find out why 24.Kd2 is a huge mistake.
Kishan Gangolli (2128) scored a win with ease as his opponent Gennadiy Gelman (1793) blundered a pawn in the opening first and then blundered the queen in the next six moves.
In an already difficult position, Naveen Kumar defended his pawns incorrectly and then blundered a checkmate in another five moves.
Habibulla - Naveen
What is the best way for black to defend the pawns?
WIM Jennitha Anto K (2001) played bravely and her opponent Nadezhda Belyayeva succumbed to her attack.
Jennitha - Nadezhda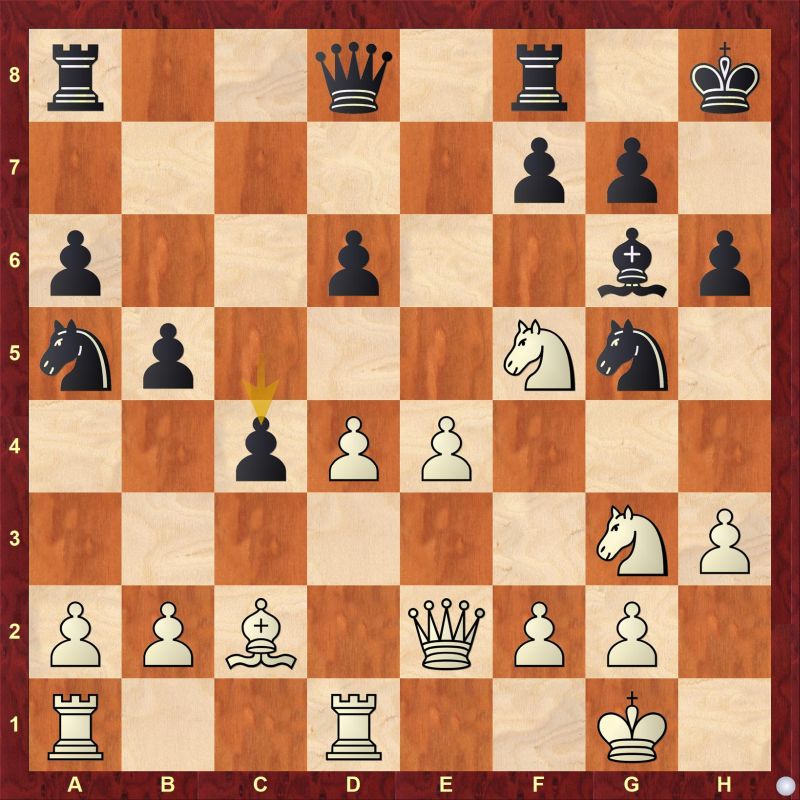 Black made an incorrect pawn advancement with 20...c4. What is the correct response for white here?
India 2 - Israel: 0.5-3.5
Soundarya Kumar Pradhan (1746) was the only player to score from India 2 as he drew with WFM Aleksandra Aleksandrova (1780) in a topsy-turvy battle. Soundarya had an early advantage but he couldn't maintain it, eventually salvaged a draw in the endgame from a difficult position.
Ukraine 3 - India 3: 2.5-1.5
Udupa Krishna (1733) scored the sole victory for the team when he capitalized on his opponent Svitlana Solomna's (1434) tactical error.
Megha Chakraborty (1232) held Vyacheslav Anikeev (1841) to a draw.
India 4 - Venezuela: 3-1
K Marimuthu, R Krishna and S Kavlekar score victories to make sure India 4 beats Venezuela by 3-1.
Replay all games of Indian teams of Round 1
Standings after Round 1
| | | | | | | | | | | | |
| --- | --- | --- | --- | --- | --- | --- | --- | --- | --- | --- | --- |
| Rk. | SNo | | Team | Team | Games | + | = | - | TB1 | TB2 | TB3 |
| 1 | 1 | | Poland 1 | POL 1 | 1 | 1 | 0 | 0 | 2 | 4,0 | 0,0 |
| | 2 | | Germany | GER | 1 | 1 | 0 | 0 | 2 | 4,0 | 0,0 |
| | 12 | | Ukraine 2 | UKR 2 | 1 | 1 | 0 | 0 | 2 | 4,0 | 0,0 |
| | 17 | | Poland 2 | POL 2 | 1 | 1 | 0 | 0 | 2 | 4,0 | 0,0 |
| | 19 | | Romania 1 | ROU 1 | 1 | 1 | 0 | 0 | 2 | 4,0 | 0,0 |
| | 21 | | Spain | ESP | 1 | 1 | 0 | 0 | 2 | 4,0 | 0,0 |
| | 22 | | Colombia 1 | COL 1 | 1 | 1 | 0 | 0 | 2 | 4,0 | 0,0 |
| | 23 | | Philippines 2 | PHI 2 | 1 | 1 | 0 | 0 | 2 | 4,0 | 0,0 |
| | 26 | | Russia 3 | RUS 3 | 1 | 1 | 0 | 0 | 2 | 4,0 | 0,0 |
| | 27 | | Turkey 1 | TUR 1 | 1 | 1 | 0 | 0 | 2 | 4,0 | 0,0 |
| | 29 | | France | FRA | 1 | 1 | 0 | 0 | 2 | 4,0 | 0,0 |
| 12 | 4 | | Israel | ISR | 1 | 1 | 0 | 0 | 2 | 3,5 | 0,0 |
| | 20 | | Hungary | HUN | 1 | 1 | 0 | 0 | 2 | 3,5 | 0,0 |
| 14 | 6 | | Russia 1 | RUS 1 | 1 | 1 | 0 | 0 | 2 | 3,0 | 0,0 |
| | 7 | | Ukraine 1 | UKR 1 | 1 | 1 | 0 | 0 | 2 | 3,0 | 0,0 |
| | 8 | | India 1 | IND 1 | 1 | 1 | 0 | 0 | 2 | 3,0 | 0,0 |
| | 10 | | North Macedonia | MKD | 1 | 1 | 0 | 0 | 2 | 3,0 | 0,0 |
| | 15 | | Poland 3 | POL 3 | 1 | 1 | 0 | 0 | 2 | 3,0 | 0,0 |
| | 18 | | Chile | CHI | 1 | 1 | 0 | 0 | 2 | 3,0 | 0,0 |
| | 25 | | Argentina | ARG | 1 | 1 | 0 | 0 | 2 | 3,0 | 0,0 |
| | 28 | | Belarus | BLR | 1 | 1 | 0 | 0 | 2 | 3,0 | 0,0 |
| | 44 | | India 4 | IND 4 | 1 | 1 | 0 | 0 | 2 | 3,0 | 0,0 |
Links
---