Divya Deshmukh eyes Gold at Asian Continental Women 2023
IM Divya Deshmukh defeated WIM Meruert Kamalidenova (KAZ) convincingly in the penultimate round of Asian Continental Women 2023. She needs a draw in the final round against WIM Xeniya Balabayeva (KAZ) to become a clear champion. WGM Mary Ann Gomes averted disaster in the opening against WIM Alua Nurmanova (KAZ). She turned things around eventually and won the game. Mary and top seed IM Batkhuyag Munguntuul (MGL) are at 6/8 each, a full point behind Divya 7/8. Both of them have medal chances. In the Open event, GM Abhimanyu Puranik defeated IM Aronyak Ghosh in a sharp battle. Abhimanyu along with three other players are at 6/8, a half point behind the sole leader GM Shamsiddin Vokhidov (UZB). Abhimanyu must win the last round to have medal hopes. Round 9 starts today at 10 a.m. local time, 9:30 a.m. IST. Photos: Kazakhstan Chess Federation
Abhimanyu Puranik has an outside chance
Meruert - Divya
WIM Meruert Kamalidenova (KAZ, 2350) could have stayed in the game had she played 42.Kg1 to unpin her bishop 42...Rc2 43.Bh3. Instead, 42.g4? turned things completely in Black's favor 42...Rc2 43.gxh5 gxh5 44.Kg3 b2 45.Bf3 Bxc6 46.Kf4 Bd7 47.Ke3 Be6 48.Kd3 Rh2 49.Be2 Bb3 and it's over.
Alua - Mary
WGM Mary Ann Gomes (2315) averted a disaster against WIM Alua Nurmanova (KAZ, 2102). Black went wrong early in the opening 11...Bxe5?? 12.fxe6! Bxd4+ 13.Kh1 0-0 and we reached the above position. Find out what White could have done in the above position. She missed her chance and played 14.Nd5? Mary eventually turned things around and won the game in another eleven moves.
Abhimanyu - Aronyak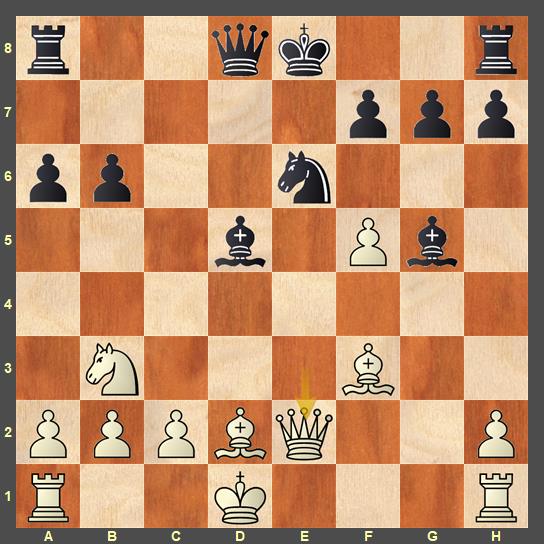 IM Aronyak Ghosh (2534) opted for a sharp position 19...Bxb3, something where his opponent, GM Abhimanyu Puranik (2602) thrives in. 19...Bxf3 20.Qxf3 Nc5 21.Re1+ Kf8 and the black king would have been much safer, compared to what transpired in the game. 20.axb3 Bxd2 21.Bc6+ Ke7 22.fxe6 Bg5+ 23.Bd7 Qc7 24.exf7+ Kd7 25.Qg4+ Kc6 26.Qg2+ ensuring the king cannot hide away via b7 Kd6 27.Qxg5 White went on to win the game soon as it was not easy to defend the king.
A total of 87 players including 17 GMs and 21 IMs in the Open, 38 players including 5 IMs, 5 WGMs and 9 WIMs in the Women, are taking part from 18 countries across the world including India. The nine-round Swiss League Classical Rating tournament is taking place from 4th to 11th June 2023 in Almaty, Kazakhstan. It is being organized by Ministry of Culture and Sports of Kazakhstan, the Asian Chess Federation, and the Kazakhstan Chess Federation with the support of the Akimat of Almaty. The time control of the tournament is 90 minutes / 40 moves + 30 mins / end + 30 seconds increment per move starting from move no.1.
Replay Round 8 Open games
Replay Round 8 Women games
Round 8 Open results
Round 8 Women results
Standings after Round 8 in Open
| | | | | | | | | | | | |
| --- | --- | --- | --- | --- | --- | --- | --- | --- | --- | --- | --- |
| Rk. | SNo | | | Name | FED | Rtg | Pts. | TB1 | TB2 | TB3 | TB4 |
| 1 | 7 | | GM | Vokhidov, Shamsiddin | UZB | 2583 | 6,5 | 2523 | 36,5 | 39 | 0 |
| 2 | 9 | | GM | Daneshvar, Bardiya | IRI | 2555 | 6 | 2518 | 37 | 40,5 | 0 |
| 3 | 22 | | IM | Suleymenov, Alisher | KAZ | 2463 | 6 | 2499 | 36 | 38,5 | 0 |
| 4 | 5 | | GM | Puranik, Abhimanyu | IND | 2602 | 6 | 2477 | 35 | 38,5 | 0 |
| 5 | 8 | | GM | Tin, Jingyao | SGP | 2570 | 6 | 2432 | 35 | 39 | 0 |
| 6 | 18 | | IM | Nogerbek, Kazybek | KAZ | 2493 | 5,5 | 2516 | 35,5 | 39,5 | 0 |
| 7 | 6 | | GM | Jumabayev, Rinat | KAZ | 2590 | 5,5 | 2493 | 39 | 43,5 | 0 |
| 8 | 27 | | | Utegaliyev, Azamat | KAZ | 2432 | 5,5 | 2493 | 37 | 39,5 | 0 |
| 9 | 10 | | IM | Aronyak, Ghosh | IND | 2534 | 5,5 | 2451 | 33,5 | 37 | 0 |
| 10 | 11 | | | Pour Agha Bala, Amirreza | IRI | 2523 | 5,5 | 2444 | 33,5 | 37 | 0 |
Standings after Round 8 in Women
| | | | | | | | | | | | |
| --- | --- | --- | --- | --- | --- | --- | --- | --- | --- | --- | --- |
| Rk. | SNo | | | Name | FED | Rtg | Pts. | TB1 | TB2 | TB3 | TB4 |
| 1 | 2 | | WGM | Divya, Deshmukh | IND | 2389 | 7 | 2237 | 36,5 | 40,5 | 0 |
| 2 | 1 | | IM | Munguntuul, Batkhuyag | MGL | 2397 | 6 | 2265 | 34,5 | 38 | 0 |
| 3 | 7 | | WGM | Gomes, Mary Ann | IND | 2315 | 6 | 2257 | 35,5 | 39,5 | 0 |
| 4 | 15 | | WIM | Balabayeva, Xeniya | KAZ | 2186 | 5,5 | 2199 | 29,5 | 31,5 | 0 |
| 5 | 20 | | WIM | Nurmanova, Alua | KAZ | 2102 | 5 | 2315 | 36,5 | 40,5 | 0 |
| 6 | 5 | | WIM | Kamalidenova, Meruert | KAZ | 2350 | 5 | 2239 | 35 | 37 | 0 |
| 7 | 11 | | WGM | Munkhzul, Turmunkh | MGL | 2259 | 5 | 2231 | 36 | 39,5 | 0 |
| 8 | 13 | | WIM | Chitlange, Sakshi | IND | 2225 | 5 | 2229 | 31 | 34 | 0 |
| 9 | 6 | | WGM | Alinasab, Mobina | IRI | 2347 | 5 | 2176 | 32 | 35 | 0 |
| 10 | 17 | | WIM | Kairbekova, Amina | KAZ | 2146 | 5 | 2130 | 31 | 33,5 | 0 |
Round 9 Open pairings
Round 9 Women pairings
Links
---