Asian Continental 2023 R7: Divya Deshmukh takes a full-point lead
In the all-Indian battle at the top board, India's latest Female IM came out on top. IM Divya Deshmukh won against WGM Mary Ann Gomes, where the latter blundered in a complex Rook ending. With this win, Divya is leading the women's section with 6/7 points. In the Open section, GM Arjun Erigaisi had a draw against the tournament leader GM Shamsiddin Vokidov (UZB). Aronyak Ghosh is just half a point behind Shamsiddin, as he defeated one of the World's top juniors GM Pranav V with the White pieces in a chaotic battle. IM Aronyak Ghosh is the only Indian player with 5.5/6, while GMs Abhimanyu Puranik. Arjun Erigaisi and Prraneeth Vuppala trail behind with 5/6. Round 8 starts today at 3 p.m. local time, 2:30 p.m. IST. Photo: Nursultan Sabdenov
Aronyak inches closer to the leader
Divya Deshmukh - Mary Ann Gomes
IM Divya Deshmukh had a better position throughout the majority of the game, but her opponent WGM Mary Ann Gomes put up solid resistance and the players reached a drawn Rook ending. Divya is a pawn up, but with correct play it should be a draw. But with just 2 minutes in the clock, Mary blundered:
Black has to just maintain their position here - moves like ...h6, ...Rd1 are the way to draw. But 72...Rd4+? allows 73. Ke5, and now the White King gets active with a tempo! The game continued with 73...Rd3 74. Ke6 Re3+ 75. Re5 Rxf3 76. Kxe7, and the strength of the d-pawn was too much to handle. Divya won the game in a few more moves.
Aronyak Ghosh - Pranav V
It was a very complex game between GM Pranav V and IM Aronyak Ghosh where both sides had better positions at multiple points, but it was Pranav who made the final error with 32...d4. Aronyak simply captured the offered material with 33.Bxe7 Qxe7 34. Nxc8 Rxc8 35. exd4, and emerged an exchange up. Pranav had envisioned a strong attack on the White king, but he maybe missed one key defense: after 35...e3 36. Re2 exf2+ 37. Kf1! and the White King is completely safe, using the Black f-pawn as a shield. Aronyak managed to win the game comfortably.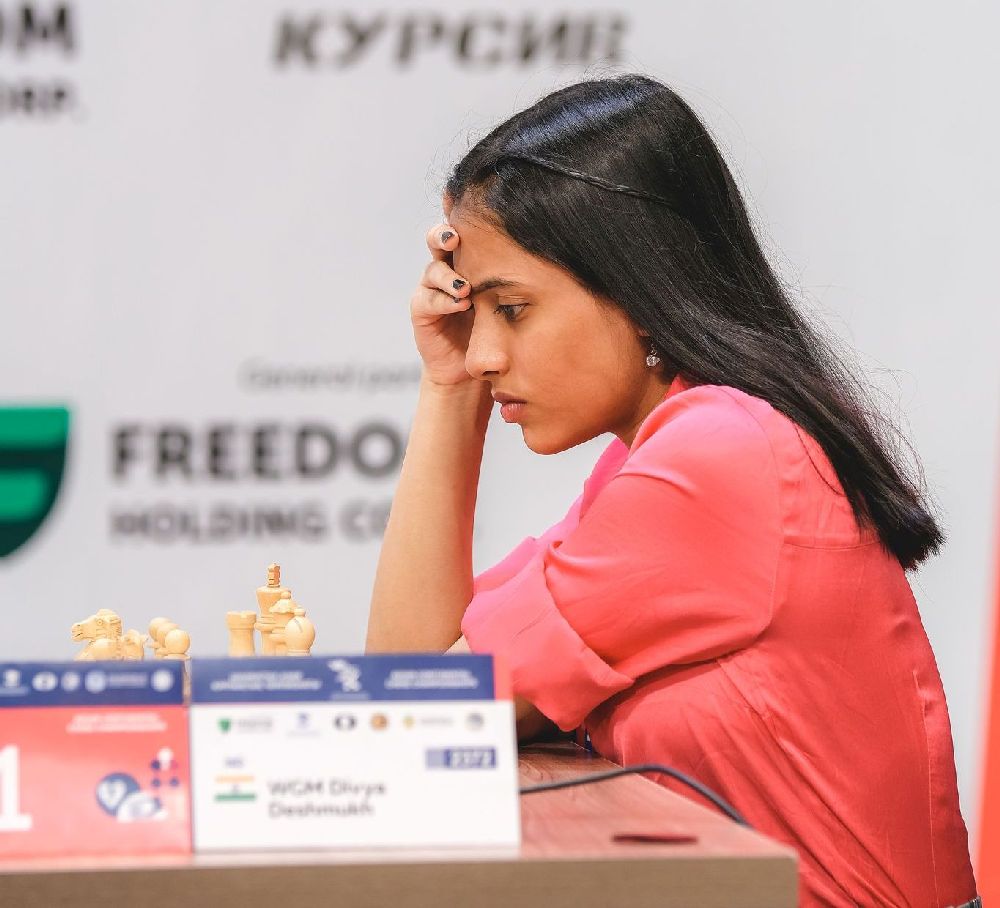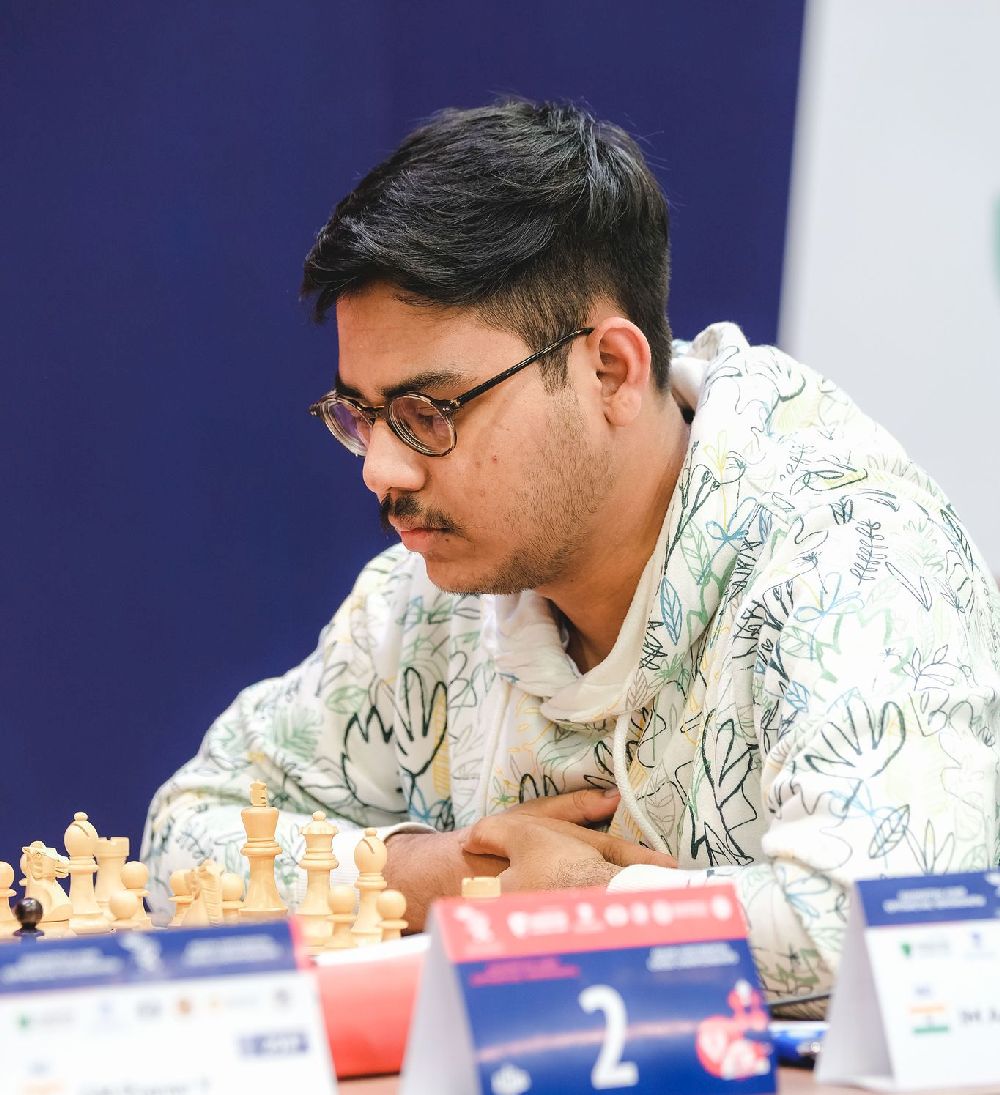 A total of 87 players including 17 GMs and 21 IMs in the Open, 38 players including 5 IMs, 5 WGMs and 9 WIMs in the Women, are taking part from 18 countries across the world including India. The nine-round Swiss League Classical Rating tournament is taking place from 4th to 11th June 2023 in Almaty, Kazakhstan. It is being organized by Ministry of Culture and Sports of Kazakhstan, the Asian Chess Federation, and the Kazakhstan Chess Federation with the support of the Akimat of Almaty. The time control of the tournament is 90 minutes / 40 moves + 30 mins / end + 30 seconds increment per move starting from move no.1.
Replay Round 7 Open games
Replay Round 7 Women games
Round 7 Open results
Round 7 Women results
Standings after Round 7 in Open
| | | | | | | | | | | | |
| --- | --- | --- | --- | --- | --- | --- | --- | --- | --- | --- | --- |
| Rk. | SNo | | | Name | FED | Rtg | Pts. | TB1 | TB2 | TB3 | TB4 |
| 1 | 7 | | GM | Vokhidov, Shamsiddin | UZB | 2583 | 6 | 2515 | 27,5 | 30 | 0 |
| 2 | 10 | | IM | Aronyak, Ghosh | IND | 2534 | 5,5 | 2425 | 25 | 28 | 0 |
| 3 | 8 | | GM | Tin, Jingyao | SGP | 2570 | 5,5 | 2407 | 25 | 28 | 0 |
| 4 | 18 | | IM | Nogerbek, Kazybek | KAZ | 2493 | 5 | 2504 | 26,5 | 30 | 0 |
| 5 | 9 | | GM | Daneshvar, Bardiya | IRI | 2555 | 5 | 2503 | 28 | 31 | 0 |
| 6 | 22 | | IM | Suleymenov, Alisher | KAZ | 2463 | 5 | 2500 | 26,5 | 29 | 0 |
| 7 | 6 | | GM | Jumabayev, Rinat | KAZ | 2590 | 5 | 2493 | 29 | 32,5 | 0 |
| 8 | 5 | | GM | Puranik, Abhimanyu | IND | 2602 | 5 | 2468 | 26 | 29,5 | 0 |
| 9 | 27 | | | Utegaliyev, Azamat | KAZ | 2432 | 5 | 2458 | 28 | 30,5 | 0 |
| 10 | 1 | | GM | Erigaisi, Arjun | IND | 2702 | 5 | 2439 | 26,5 | 30 | 0 |
Standings after Round 7 in Women
| | | | | | | | | | | | |
| --- | --- | --- | --- | --- | --- | --- | --- | --- | --- | --- | --- |
| Rk. | SNo | | | Name | FED | Rtg | Pts. | TB1 | TB2 | TB3 | TB4 |
| 1 | 2 | | WGM | Divya, Deshmukh | IND | 2389 | 6 | 2219 | 28 | 31,5 | 0 |
| 2 | 20 | | WIM | Nurmanova, Alua | KAZ | 2102 | 5 | 2315 | 26,5 | 30 | 0 |
| 3 | 7 | | WGM | Gomes, Mary Ann | IND | 2315 | 5 | 2283 | 26 | 29 | 0 |
| 4 | 1 | | IM | Munguntuul, Batkhuyag | MGL | 2397 | 5 | 2249 | 27 | 30 | 0 |
| 5 | 5 | | WIM | Kamalidenova, Meruert | KAZ | 2350 | 5 | 2214 | 23 | 25 | 0 |
| 6 | 11 | | WGM | Munkhzul, Turmunkh | MGL | 2259 | 4,5 | 2232 | 27,5 | 30,5 | 0 |
| 7 | 13 | | WIM | Chitlange, Sakshi | IND | 2225 | 4,5 | 2224 | 22,5 | 25 | 0 |
| 8 | 15 | | WIM | Balabayeva, Xeniya | KAZ | 2186 | 4,5 | 2189 | 23,5 | 25,5 | 0 |
| 9 | 19 | | WIM | Makhija, Aashna | IND | 2126 | 4,5 | 2130 | 24,5 | 26,5 | 0 |
| 10 | 4 | | WGM | Nandhidhaa, P V | IND | 2363 | 4,5 | 2128 | 21,5 | 24 | 0 |
Round 8 Open pairings
Round 8 Women pairings
Links
---