Asian Continental 2023 R1-4: Abhimanyu Puranik and Divya Deshmukh in the lead
GM Abhimanyu Puranik defeated IM Madaminov Mukhiddin (KAZ) to join the lead with five more players at Asian Continental 2023. Abhimanyu won an exciting game against IM Arystabek Urazayev (KAZ) in the third round. GM Arjun Erigaisi has managed to win three games in-a-row after missing the first round as he was travelling from Dubai, UAE. GM Pranav V, GM Sethuraman S P and IM Aditya Samant are also at 3/4 each. In the Women's event, IM Divya Deshmukh defeated WGM-elect WIM Sakshi Chitlange to move to 3.5/4. She is now the coleader with IM Batkhuyag Munguntuul (MGL). Round 5 starts today at 3 p.m. local time, 2:30 p.m. IST. Photo: Nursultan Sabdenov
Arjun Erigaisi wins three in-a-row
Round 1 Open: A good start for the Indians
GM Sethuraman S P, IM Aronyak Ghosh, IM Aditya S Samant, GM Prraneeth Vuppala, IM Manish Anto Cristiano F and IM Dushyant Sharma won their respective first round games. GM Pranav V, GM Abhimanyu Puranik, GM Sayantan Das, GM Prraneeth Vuppala and IM P Shyam Nikhil were held to a draw each. GM Arjun Erigaisi missed the first round as he was travelling from Dubai, UAE.
Aronyak - Mazhkenov
Liu - Aditya Samant
Round 2: Aditya S Samant and Dushyant Sharma at 2/2
IM Aditya S Samant and IM Dushyant Sharma are the only two Indians at 2/2. Dushyant (2345) scored a big win over GM Denis Makhnev (KAZ, 2469). GM Sethuraman S P (2606) suffered a shocking defeat against IM Madaminov Mukhiddin (UZB, 2431).
Dushant - Makhnev
26...Rae8 27.Qc4 Rxe1 28.Rxe1 Qxh2 would have given Black a decisive advantage. 26...Rxf2 did the opposite 27.Nf5 Qxh2 28.Nd2 Rg8 29.d7 Bxd7 30.Qxd7 Rxd2 31.Rxd2 Qxd2 32.Rh1 and Black resigned as he had to give up heavy material to prevent checkmate.
Round 3: Pranav, Abhimanyu and Aronyak move to 2.5/3
GM Pranav Venkatesh, GM Abhimanyu Puranik and IM Aronyak Ghosh defeated IM Dushyant Sharma, IM Arystanbek Urazanyev (KAZ) and IM Ramazan Zhalmanov (KAZ) respectively.
Pranav - Dushyant
IM Dushyant Sharma erred in a complex position 34...e4. His opponent GM Pranav V found the correct continuation 35.Rxf6! gxf6 36.h5 Be8 37.Nxe4 Rc4 38.Bxc8 Qxc8 39.Nxc4 and it's over for Black.
Arystanbek - Abhimanyu
The above position looks extremely volatile. One wrong move and it can be over for either player. It was difficult to find the correct variation for White. Try to find out what White should have done to save the game. After a back and forth play, GM Abhimanyu Puranik went on to win the game.
Round 4: Abhimanyu joins the lead
Abhimanyu Puranik defeated IM Mukhiddin Madaminov (KAZ, 2431) to join the lead with GM Rinat Jumabayev (KAZ, 2590) and GM Bardiya Daneshvar (IRI, 2555).
Arjun - Arfan
Black needed to play 52...Kxc4 to draw the game. 52...Kb4 allowed White to win the game 53.Nxf6 Kxa4 54.Nd7. Arjun did not play this. He went 53.c5 Bc7?? 54.Nxf6 Kxa4 55.Nd5 and White went on to win the game.
Round 1 Women: Mary, Soumya, Sakshi and Nisha win
The defending Asian Continental Women's champion, WGM Nandhidhaa P V (2363) started her campaign with a loss against WFM Jemal Ovezdurdyyeva (TKM, 2028). WGM Mary Ann Gomes, IM Soumya Swaminathan, WIM Sakshi Chitlange and IM Nisha Mohota won their respective games. The newl Asian Continental Blitz Women 2023 Silver medalist, IM Divya Deshmukh (2389) was held to a draw by Melika Mohammadi (IRI, 2062). WIM Aashna Makhija was also held to a draw by Alfarabi Dumankyzy.
Melika - Divya
12-year-old Melika had a great opportunity in the above position. She needed to go 32.Ra8 Rh1 33.Ra6+ Kd7 34.Ra7+ and grabbing the h7-pawn was crucial before taking on a4. That happened after a few moves. However, White was unable to convert her advantage into a win.
Elnaz - Soumya
Mariya - Nisha
Round 2: Mary, Soumya and Sakshi win two in-a-row
WGM Mary Ann Gomes, IM Soumya Swaminathan and WIM Sakshi Chitlange are the only three Indians to score 2/2.
Nisha - Mary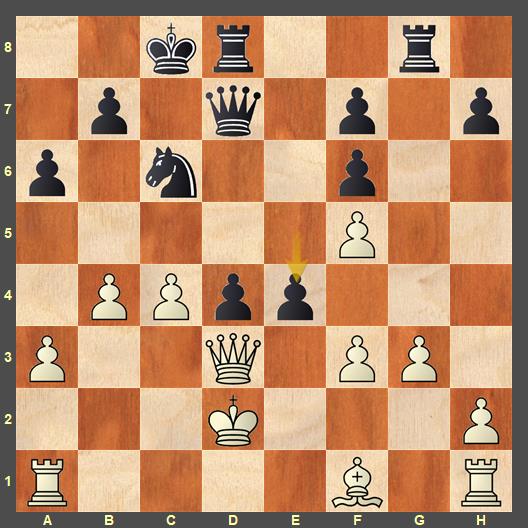 19...e4! is a beautiful move. White's position was already worse. This move just creates a domino effect and bring Black's pieces into the attack. 20.Qxe4 Rge8 21.Qf4 Re3 22.Bd3 Ne5 23.Be4 Nxc4+ 24.Kc1 d3 25.Kb1 Qd4 25.Ra2 d2 and it's over.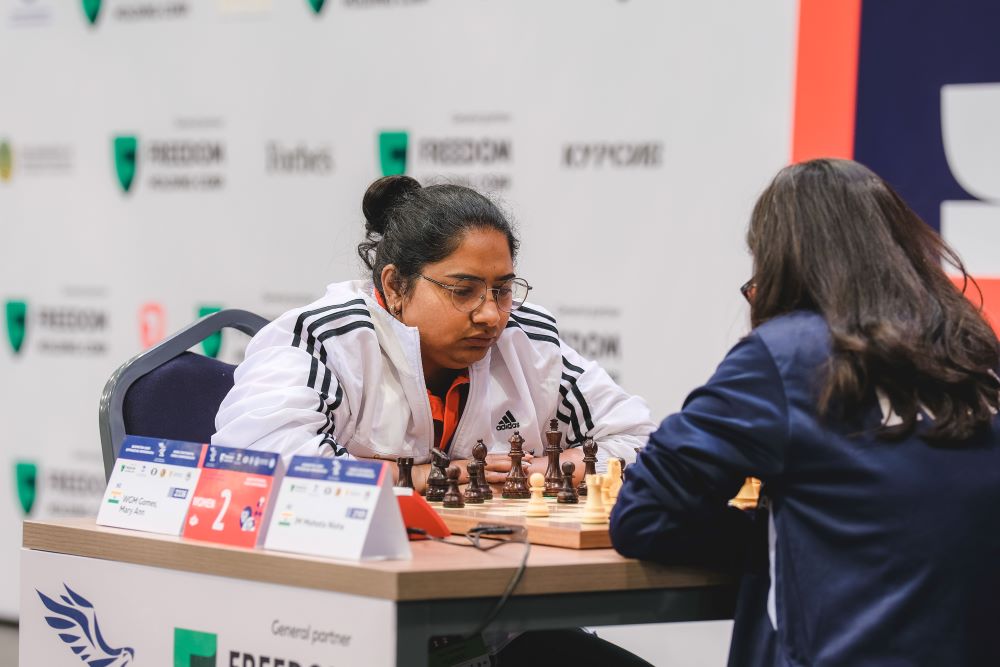 Round 3: Sakshi held Soumya, Divya wins
WGM-elect WIM Sakshi Chitlange held IM Soumya Swaminathan to a draw. IM Divya Deshmukh defeated WIM Amina Kairbekova (KAZ). All three moved to 2.5/3.
Round 4: Divya beats Sakshi
IM Divya Deshmukh defeated WIM Sakshi Chitlange to joint the lead with IM Batkhuyag Munguntuul (MGL).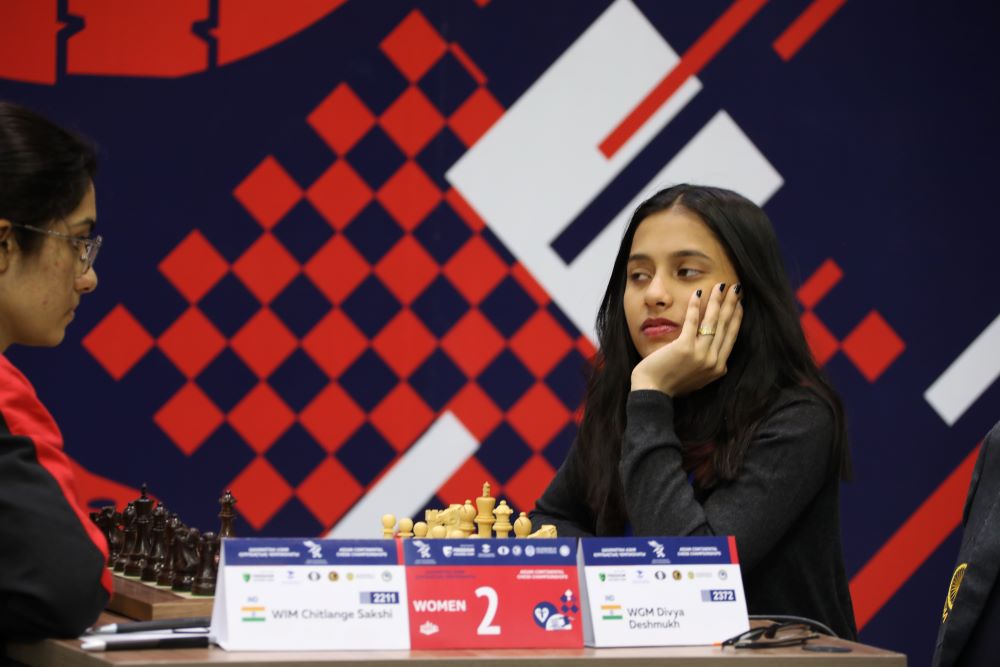 A total of 87 players including 17 GMs and 21 IMs in the Open, 38 players including 5 IMs, 5 WGMs and 9 WIMs in the Women, are taking part from 18 countries across the world including India. The nine-round Swiss League Classical Rating tournament is taking place from 4th to 11th June 2023 in Almaty, Kazakhstan. It is being organized by Ministry of Culture and Sports of Kazakhstan, the Asian Chess Federation, and the Kazakhstan Chess Federation with the support of the Akimat of Almaty. The time control of the tournament is 90 minutes / 40 moves + 30 mins / end + 30 seconds increment per move starting from move no.1.
Replay Round 1-4 Open games
Replay Round 1-4 Women games
Round 4 Open results
Round 4 Women results
Standings after Round 4 in Open
| | | | | | | | | | | | |
| --- | --- | --- | --- | --- | --- | --- | --- | --- | --- | --- | --- |
| Rk. | SNo | | | Name | FED | Rtg | Pts. | TB1 | TB2 | TB3 | TB4 |
| 1 | 6 | | GM | Jumabayev, Rinat | KAZ | 2590 | 3,5 | 2494 | 9 | 11 | 0 |
| 2 | 9 | | GM | Daneshvar, Bardiya | IRI | 2555 | 3,5 | 2477 | 8 | 9 | 0 |
| 3 | 7 | | GM | Vokhidov, Shamsiddin | UZB | 2583 | 3,5 | 2456 | 7,5 | 9 | 0 |
| 4 | 22 | | IM | Suleymenov, Alisher | KAZ | 2463 | 3,5 | 2416 | 6 | 7 | 0 |
| 5 | 5 | | GM | Puranik, Abhimanyu | IND | 2602 | 3,5 | 2384 | 8 | 10 | 0 |
| 6 | 27 | | | Utegaliyev, Azamat | KAZ | 2432 | 3,5 | 2356 | 6,5 | 7,5 | 0 |
| 7 | 28 | | IM | Madaminov, Mukhiddin | UZB | 2431 | 3 | 2577 | 9,5 | 11,5 | 0 |
| 8 | 34 | | IM | Ansat, Aldiyar | KAZ | 2384 | 3 | 2507 | 7,5 | 8,5 | 0 |
| 9 | 14 | | GM | Kazhgaleyev, Murtas | KAZ | 2506 | 3 | 2446 | 8,5 | 10,5 | 0 |
| 10 | 18 | | IM | Nogerbek, Kazybek | KAZ | 2493 | 3 | 2435 | 7,5 | 9,5 | 0 |
Standings after Round 4 in Women
| | | | | | | | | | | | |
| --- | --- | --- | --- | --- | --- | --- | --- | --- | --- | --- | --- |
| Rk. | SNo | | | Name | FED | Rtg | Pts. | TB1 | TB2 | TB3 | TB4 |
| 1 | 1 | | IM | Munguntuul, Batkhuyag | MGL | 2397 | 3,5 | 2177 | 8 | 10 | 0 |
| 2 | 2 | | WGM | Divya, Deshmukh | IND | 2389 | 3,5 | 2166 | 6,5 | 8,5 | 0 |
| 3 | 20 | | WIM | Nurmanova, Alua | KAZ | 2102 | 3 | 2315 | 8 | 10 | 0 |
| 4 | 7 | | WGM | Gomes, Mary Ann | IND | 2315 | 3 | 2218 | 7,5 | 9,5 | 0 |
| 5 | 5 | | WIM | Kamalidenova, Meruert | KAZ | 2350 | 3 | 2194 | 7 | 8,5 | 0 |
| 6 | 14 | | WIM | Nurgali, Nazerke | KAZ | 2210 | 3 | 2126 | 8 | 8,5 | 0 |
| 7 | 11 | | WGM | Munkhzul, Turmunkh | MGL | 2259 | 3 | 2093 | 7,5 | 9 | 0 |
| 8 | 10 | | WFM | Khamdamova, Afruza | UZB | 2260 | 3 | 1928 | 5,5 | 6 | 0 |
| 9 | 23 | | WFM | Ovezdurdyyeva, Jemal | TKM | 2028 | 2,5 | 2264 | 7,5 | 8,5 | 0 |
| 10 | 13 | | WIM | Chitlange, Sakshi | IND | 2225 | 2,5 | 2238 | 7,5 | 9 | 0 |
Round 5 Open pairings
Round 5 Women pairings
Links
---