Aishwin Daniel wins Khelo Chess India Late R Satyamurthy Memorial Rapid Open 2023
Aishwin Daniel won the first Khelo Chess India Rapid Open 2023. The tournament was organized in Bhopal with the aim of taking chess to every household in the central India. Aishwin scored 6/7, remained undefeated, edged past three more players to become the champion. It was held in memory of Late R Satyamurthy, the first National chess player of Madhya Pradesh. Vedant Bhardwaj, Ravi Pallsule and Rajeev Singh Parihar also scored 6/7. They were placed second to fourth respectively according to tie-breaks. WGM Beatriz Franco was the only foreign player to take part. She won the best woman prize scoring 5.5/7. The total prize fund of the tournament was ₹14100. Photo: Ayush Jain
In memory of Late R Satyamurthy
Aishwin Daniel made a good start to 2023 by winning the first tournament he took part in this year. The top seed of the tournament, WGM Beatriz Franco (COL) became the best female performer of the event.
The Chief Guest of the prize distribution ceremony was Dr. Aradhana Gupta. WIM Angela Franco, M L Khatri, Ms. Nirmala Shankar and the Tournament Director, Shankar Murthy distributed the prizes. FI Niklesh Jain was the Chief Arbiter of the tournament.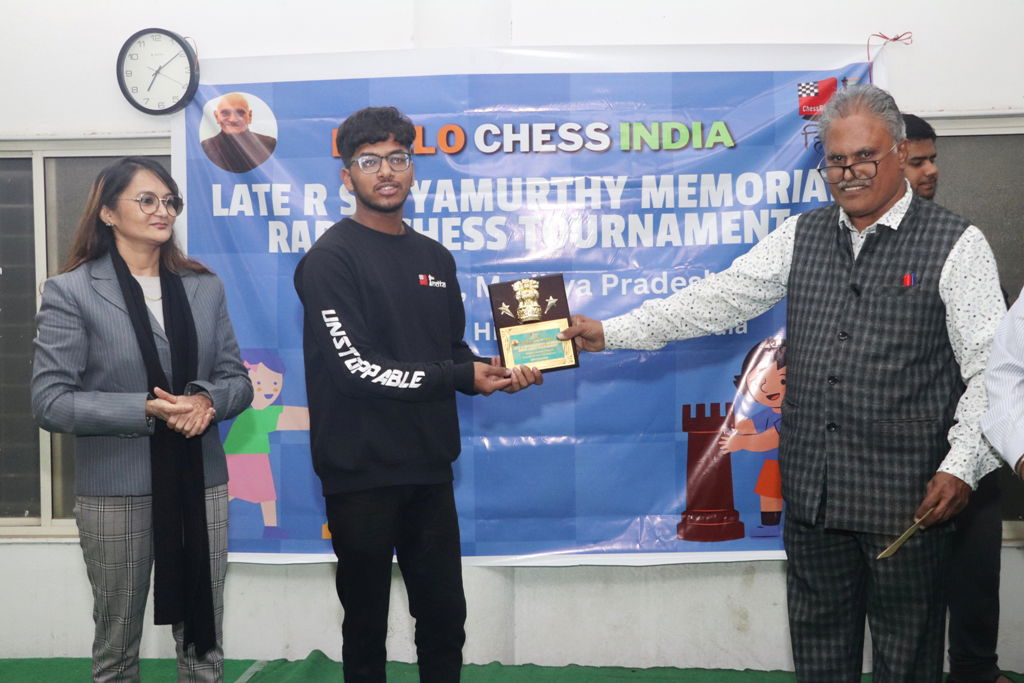 Check out all photos of the tournament
A total of 73 players including a WGM took part from various parts of Madhya Pradesh and one from Columbia. The one-day seven-round Swiss league Rapid Open tournament was organized by ChessBase India on 22nd January 2023. The time control of the tournament was 15 minutes + 10 seconds increment from move no.1.
Final standings
| | | | | | | | | | | | |
| --- | --- | --- | --- | --- | --- | --- | --- | --- | --- | --- | --- |
| Rk. | SNo | | Name | FED | Rtg | Pts. | TB1 | TB2 | TB3 | TB4 | TB5 |
| 1 | 2 | | Aishwin, Daniel | IND | 1979 | 6 | 32 | 36 | 30,25 | 0 | 5 |
| 2 | 6 | | Vedant, Bhardwaj | IND | 1595 | 6 | 30 | 32,5 | 28,25 | 0 | 5 |
| 3 | 17 | | Ravi, Palsule | IND | 1313 | 6 | 29,5 | 32,5 | 26,50 | 0 | 6 |
| 4 | 5 | | Parihar, Rajeev Singh | IND | 1621 | 6 | 25 | 28 | 22,00 | 0 | 6 |
| 5 | 14 | | Nitin, Raghuvanshi | IND | 1359 | 5,5 | 29 | 30,5 | 21,75 | 0 | 5 |
| 6 | 7 | | Madhvendra, Pratap Sharma | IND | 1577 | 5,5 | 27 | 30 | 21,00 | 0 | 5 |
| 7 | 1 | WGM | Franco Valencia, Beatriz Irene | COL | 2058 | 5,5 | 26,5 | 28 | 19,25 | 0 | 5 |
| 8 | 77 | | Varun, Sharma | IND | 0 | 5 | 28,5 | 31 | 19,50 | 0 | 5 |
| 9 | 10 | | Batham, Avinash | IND | 1507 | 5 | 27,5 | 29 | 18,00 | 0 | 5 |
| 10 | 16 | | Sanyam, Arya | IND | 1315 | 5 | 26,5 | 29,5 | 19,50 | 0 | 5 |
| 11 | 66 | | Shahid, Noor | IND | 0 | 5 | 26 | 29 | 18,50 | 0 | 5 |
| 12 | 78 | | Yadav, Pradyumna | IND | 0 | 5 | 24,5 | 27 | 17,00 | 0 | 5 |
Translated from Hindi by Shahid Ahmed
---