National Teams 2020 Day 5: PSPB maintains sole lead, AAI closes in
Team PSPB maintained their sole lead with a 100% score of 14.0/14 by beating Air India 3-1. Adhiban and Abhijeet scored the wins for their team PSPB against Srinath and Satyapragyan respectively, while Karthikeyan and Deep was held to a draw by Swayams and C S Gokhale respectively. AAI and Telangana are at tied second position with a score of 11.0/14. They drew their match with each other 2-2. Odisha A, RSPB B, RSPB A and Delhi A are tied at 10.0/14 each at fourth place. Among the Women's, PSPB beat Air India 3-1 to maintain their sole lead. Mary and Soumya beat Bhakti and Viji respectively, Padmini drew with Tania and Nisha drew with Meenakshi. AAI defeated Tamil Nadu 2.5-1.5 to get into sole second position. Photo: IA Gopakumar Sudhakaran
Adhiban and Abhijeet score the wins for Team PSPB
PSPB defeated Air India by 3-1. Adhiban and Abhijeet scored wins over Srinath and Satyapragyan respectively. Karthikeyan and Deep were held to draws by Swayams and C S Gokhale respectively.
Srinath took almost 45 minutes to make his thirteenth move Rc8.
Adhiban - Srinath, Round 7
The game eventually reached to a Queen ending where Srinath made an inaccuracy.
Black should have played 42...Qh5 or Qf4 to maintain equality. After 42...Qe6, it became just a matter of time for white to gain the full point.
Abhijeet Gupta defeated IM Swayangsu Satyapragyan without much difficulty. Although Satyapragyan tried hard to stir up trouble by sacrificing a bishop, but it did not prevail.
Swayams had a decent position and a couple of extra pawns, although four of them were doubled. He kept captured one pawn too many and allowed Karthikeyan too equalize and made a draw in 30 moves.
Karthikeyan - Swayams, Round 7
Black continued with 25...Qxe5 which allowed white to equalize with 26.Rce1 followed by 27.Bxf4. What black should have done instead was 25...d3
IM C S Gokhale (2158) held GM Deep Sengupta (2534) to a draw. Pieces got exchanged at regular interval and both players repeated moves in a Queen, double knight and many pawns ending and made a draw after 37 moves.
Telangana met their match in AAI as the battle between two young teams ended up in a 2-2 draw. The game between Arjun Erigaisi and Abhimanyu Puranik had a lacklustre draw. Visakh and Harsha's game also had a promise of fireworks but just like the board no.1 game, it also fizzled out in a draw. IM Rahul Srivasthav of Telangana and IM Sai Agni Jeevitesh J of AAI picked up a win each for their respective teams.
IM Rahul Srivasthav made a quick work of Harshavardhan in just 22 moves. Harshavardhan defended his position very poorly which made his opponent's attack that much more vicious.
IM Sai Agni Jeevitesh scored a comfortable win against IM P D S Girinath.
RSPB A barely managed to defeat Gujarat A 2.5-1.5 as IM Vignesh N R (2436) was held to a draw by reigning National Amateur champion Kartavya Anadkat (2152) and GM Deepan Chakravarthy (2545) lost to Karan Trivedi (1956).
Vignesh was forced to go for a perpetual check and make a draw in 21 moves as he made an incorrect sacrifice which lacked enough compensation.
Despite having enough compensation for his exchange, Deepan made a few inaccuracies which allowed his opponent Karan to first equalize and then get decisive advantage.
Deepan - Karan, Round 7
White should have continued with 33.g6 but Deepan played 33.Bd4 and allowed counterplay with 33...a4
Find out the winning continuation for black after 35.h6
Tamil Nadu A lost to RSPB B 1-3. However Sa Kannan was the only one to win for his team Tamil Nadu A against GM Laxman R R of RSPB B. Laxman sacrificed his knight for which he could not find any compensation and Kannan launched an attack which netted him the full point.
PSPB maintained their sole lead, AAI at sole second in Women's
PSPB maintained their winning streak as Mary and Soumya scored fantastic wins over reigning National Women's champion Bhakti and Vijayalakshmi of Air India respectively. Padmini drew with Tania and Nisha was held to a draw by Meenakshi.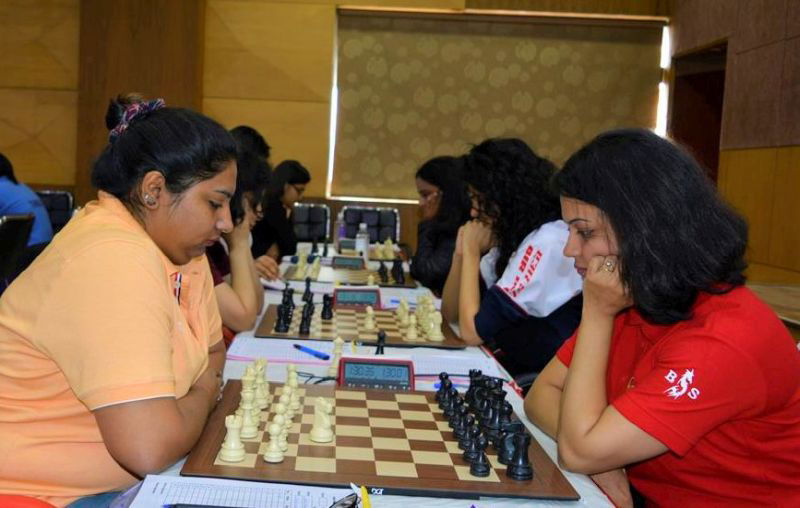 Bhakti made a tactical error which Mary capitalized on in the middle game.
Mary - Bhakti, Round 5
Soon afterwards Bhakti blundered another pawn and it all went downhill from there.
Tania had huge advantage against Padmini but she was unable to seize it.
Tania - Padmini, Round 5
White continued with 25.Qg6+ Kh8 26.Rh3 Qc7 and Black made strong defence to save the position eventually.
After suffering a loss in the previous round, Soumya Swaminathan made a strong comeback by defeating Vijayalakshmi Subbaraman in just 26 moves.
Soumya - Vijayalakshmi, Round 5
Nisha Mohota made a quiet draw with Meenakshi Subbaraman in 32 moves, although Nisha had enough advantage to play on in the final position.
AAI beat Tamil Nadu B 2.5-1.5, while Priyanka Nutakki and Srija Seshadri were victorious for AAI, Vaishali R was the sole victor of her team Tamil Nadu B. The game between Aakanksha Hagawane and P Michelle Catherina ended up in a draw.
Team LIC beat Kerala 3-1. Kiran Manisha Mohanty, Swati Ghate and Saritha K Bindu were the winners for LIC and Sheena E was the lone winner for Kerala.
Replay completed games in Open
Replay completed games in Women
Round 7 results in Open
| | | | | | | | | |
| --- | --- | --- | --- | --- | --- | --- | --- | --- |
| Bo. | 1 | Petroleum SPB | Rtg | - | 5 | Air India SPB | Rtg | 3 : 1 |
| 1.1 | GM | | 2654 | - | GM | | 2535 | 1 - 0 |
| 1.2 | GM | | 2608 | - | IM | | 2403 | 1 - 0 |
| 1.3 | GM | | 2602 | - | GM | | 2485 | ½ - ½ |
| 1.4 | GM | | 2534 | - | IM | | 2158 | ½ - ½ |
| Bo. | 4 | Telangana | Rtg | - | 3 | Airports Authority of India | Rtg | 2 : 2 |
| 2.1 | GM | | 2563 | - | GM | | 2597 | ½ - ½ |
| 2.2 | GM | | 2495 | - | GM | | 2518 | ½ - ½ |
| 2.3 | IM | | 2474 | - | | | 2377 | 1 - 0 |
| 2.4 | IM | | 2353 | - | IM | | 2310 | 0 - 1 |
| Bo. | 2 | Railways SPB A | Rtg | - | 9 | Gujarat A | Rtg | 2½:1½ |
| 3.1 | IM | | 2436 | - | | | 2152 | ½ - ½ |
| 3.2 | IM | | 2470 | - | | | 1983 | 1 - 0 |
| 3.3 | GM | | 2545 | - | | | 1956 | 0 - 1 |
| 3.4 | GM | | 2495 | - | | | 1942 | 1 - 0 |
| Bo. | 11 | Tamil Nadu A | Rtg | - | 6 | Railways SPB B | Rtg | 1 : 3 |
| 4.1 | | | 1850 | - | IM | | 2443 | 0 - 1 |
| 4.2 | | | 2074 | - | IM | | 2426 | 0 - 1 |
| 4.3 | AGM | | 1936 | - | GM | | 2432 | 1 - 0 |
| 4.4 | | | 1957 | - | IM | | 2458 | 0 - 1 |
| Bo. | 7 | Odisha A | Rtg | - | 12 | Gujarat D | Rtg | 3½: ½ |
| 5.1 | IM | | 2367 | - | | | 1864 | 1 - 0 |
| 5.2 | | | 2336 | - | | | 2071 | 1 - 0 |
| 5.3 | | | 2169 | - | | | 2154 | 1 - 0 |
| 5.4 | | | 2206 | - | | | 1823 | ½ - ½ |
Round 8 pairings
| | | | | | | | | | | | |
| --- | --- | --- | --- | --- | --- | --- | --- | --- | --- | --- | --- |
| No. | SNo | Team | Pts. | MP | Res. | : | Res. | MP | Pts. | Team | SNo |
| 1 | 17 | Delhi A | 16½ | 10 | | : | | 14 | 21½ | Petroleum SPB | 1 |
| 2 | 3 | Airports Authority of India | 19 | 11 | | : | | 10 | 19½ | Railways SPB A | 2 |
| 3 | 6 | Railways SPB B | 19½ | 10 | | : | | 11 | 18½ | Telangana | 4 |
| 4 | 8 | Delhi B | 17 | 9 | | : | | 10 | 20 | Odisha A | 7 |
| 5 | 5 | Air India SPB | 16 | 8 | | : | | 8 | 13½ | Odisha B | 18 |
Round 5 results in Women
Bo.
1
Petroleum SPB
Rtg
-
2
Air India SCB
Rtg
3 : 1
1.1
WGM
2344
-
IM
2404
1 - 0
1.2
IM
2372
-
IM
2397
½ - ½
1.3
WGM
2369
-
IM

| | |
| --- | --- |
| | Vijayalakshmi, Subbaraman |

2331
1 - 0
1.4
IM
2191
-
WGM
2162
½ - ½
Bo.
4
Airports Authority of India
Rtg
-
3
Tamil Nadu B
Rtg
2½:1½
2.1
WIM
2212
-
WFM
2194
1 - 0
2.2
WIM
2230
-
WIM
2175
½ - ½
2.3
WIM
2339
-
WGM
2383
0 - 1
2.4
WGM
2205
-
WIM
2255
1 - 0
Bo.
7
LIC
Rtg
-
8
Kerala
Rtg
3 : 1
3.1
WGM
2170
-
1745
1 - 0
3.2
WGM
2136
-
1445
1 - 0
3.3
1154
-
1731
0 - 1
3.4
WFM
1583
-
1417
1 - 0
Bo.
5
Tamil Nadu A
Rtg
-
9
Gujarat A
Rtg
2½:1½
4.1
1747
-
1512
1 - 0
4.2
2095
-
1479
1 - 0
4.3
1615
-
WFM
1961
½ - ½
4.4
1602
-
WCM
1585
0 - 1
Round 6 pairings in Women
| | | | | | | | | | | | |
| --- | --- | --- | --- | --- | --- | --- | --- | --- | --- | --- | --- |
| No. | SNo | Team | Pts. | MP | Res. | : | Res. | MP | Pts. | Team | SNo |
| 1 | 7 | LIC | 12½ | 7 | | : | | 10 | 14½ | Petroleum SPB | 1 |
| 2 | 2 | Air India SCB | 13 | 6 | | : | | 8 | 16 | Airports Authority of India | 4 |
| 3 | 3 | Tamil Nadu B | 13½ | 6 | | : | | 6 | 12 | Tamil Nadu A | 5 |
| 4 | 8 | Kerala | 12 | 6 | | : | | 6 | 10½ | Telangana | 6 |
---