Abu Dhabi 2019 R02+03: A day of epic survivals and impossible reversals!
Chess is a difficult game, from time to time even the strongest of players lose their way in its fathomless depths! Day two of 26th Abu Dhabi Masters had double rounds and saw quite a few encounters of dizzying ups and downs. In the second round Raunak Sadhwani escaped a sure loss by the skin of his teeth as his opponent Andrey Esipenko missed his footing in what was a decisive attack. Elsewhere, in the same round, IM Akash Pc Iyer gave the newly crowned Biel Master champion M.amin Tabatabaei a massive scare before himself blundering into a draw. But the most topsy-turvy battle of the day was in store for the next round, between the 13-year-old talent Pranav V. and Grandmaster Venkatesh M.R. In this report we bring to you all the excitements.
Raunak Sadhwani's lucky bullet dodge!
Beginning with the exchange variation of Ruy Lopez, the game entered uncharted territory as early as move ten. The 14-year-old Indian IM pushed hard and even created some chances against his higher rated Russian opponent but somehow failed to capitalize on them. After twenty-eight moves quite a double-edged position was reached where kings of both sides felt a bit exposed.
Raunak Sadhwani - Andrey Esipenko, Round 2
In the above position 29.Nd2, threatening to go Ra1 next, is a fine move. Black can't capture the b2 pawn as then Rb1 pins the queen. Hence, after something like 29...Qa4 30.Ra1 Bd7 31.Qd5 Qc6 we get a position which is roughly balanced. In the game however, Raunak played the move 29.Re3?! supporting the knight on b3 and this was the first critical mistake that allowed Black to seize a serious advantage.
Esipenko correctly realized his opponent's mistake and went 29...Bd6! threatening to play Rxe3 and pick up the knight on b3 next. Once again, Nd2 would have been the best move in the position, even though after 30.Nd2 Bxf4 31.Qxf4 Qa4 Black has a strong initiative. The game continuation 30.Rxe8+ Rxe8 31.Nxc5 Rg8+ 32.Kf2 Qxb2+ only worsened White's position.
But as they say, a won game is the most difficult to win! Things took a strange turn at this point when White played the move 33.Rd2 as Black simply lost the thread of the attack and went 33...Qa1
The right move would have been 33...Qc1 keeping the f4 bishop to the defense of the white rook and preventing Bg3. Nxa6+ isn't an issue as Qg1+ followed by Rg2 is a much bigger threat! 34.Bg3 Qc3 was played and now White found a nice way to even things out once and for all.
Fortune favours the brave! Raunak was spot on to find 35.Nxa6+ Kb7 36.Rxd6 cxd6 37.Qxh7+ Kxa6 38.Qxg8 and this immediately brought everything to perfect balance! The game ended with a perpetual after 57 moves.
M.Amin Tabatabaei survives a scare!
The recently crowned champion of Biel Masters 2019, Mohammad Amin Tabatabaei survived a massive scare in round two against IM Akash Pc Iyer in a topsy-turvy semi-slav encounter! Now it's time to see the highlights of this game!
Akash Pc Iyer - M.Amin Tabatabaei, Round 2
13.Be2, 13.a4, 13.Nb5 etc have been played before and they all give Black a slight edge. The new move 13.f3 wasn't any improvement rather it only incurred more weaknesses on the kingside.
A good way for Black to consolidate in the above position would have been 17...Bh2 18.Rh1 a6 19.Nc3 Rh3 pushing White backwards. But Black played the move 17...Rh4 instead and this allowed White exactly what he needed.
Perhaps the most difficult thing in chess is keeping track of opponent's counter-resources. 17...Rh4 allowed White to break with 18.e4, after 18...Bh2 19.Re1 things turned in favour of White.
White is thoroughly crushing here. The mate threat on f2 can be simply thwarted with 27.Re2 but what White did was a nasty the blunder. The game followed 27.Qf6+ Ke8 28.Qh8+?? Nf8 and White's initiative vanished in thin air.
29.Ne6+ isn't a threat as White is still facing Rf2#, hence 29.Re2 instead seems like a reasonable try but now comes 29...Qf5! with the deadly threat of Qxf3+ and this forces White to end things with Nf6+ Ke7 Nd5+ Ke8 perpetual - a sad miss by the Indian IM!
Round 3: Pranav V causes a crazy upset!
The amount of complications this game saw is reflected in the following position where White has his pair of rooks doubled on the seventh rank and Black his on the f-file. But the matter of fact is, White's rooks on the seventh isn't really hitting a weakness while Black's provision of infiltrating the white king is very real.
Pranav V - Venkatesh M.R., Round 3
Yes, Venkatesh M.R. blasted the kingside with 52.Nxg3+ hxg3 53.Rxf3 - this was decisive but in only the next three moves came an impossible reversal!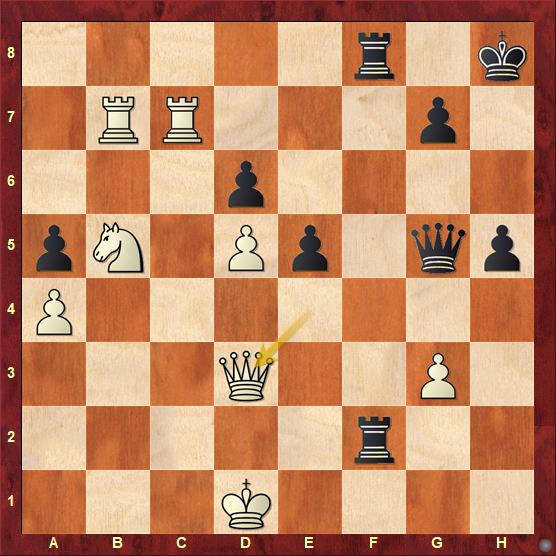 It is hard to find a move that is not winning for Black here, but the Indian Grandmaster suffered an unfortunate brain fade moment and played 53...Rg2??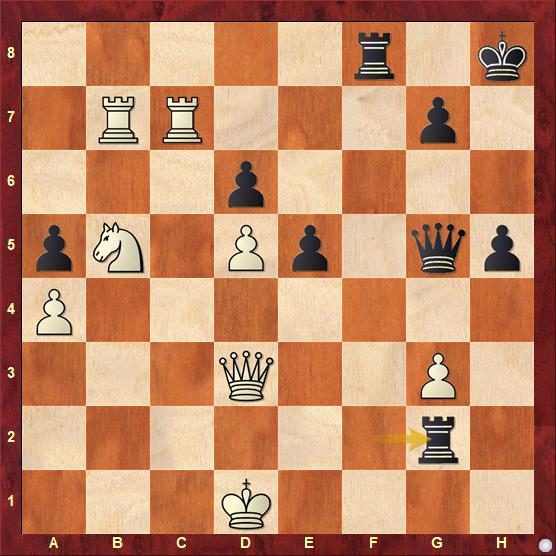 White immediately stopped Black's attack along f-file with 54.Rf7! and now Black was just left down a knight! The struggle continued till move 77 and it was in the following position Black gave up.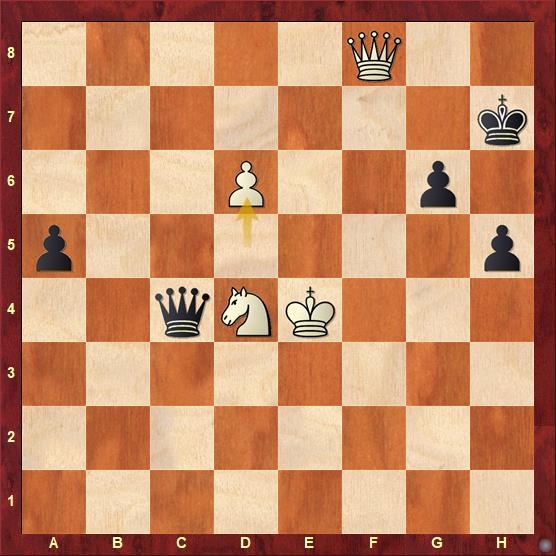 The game overall underwent several other ups and downs apart from the one shown above. Replay the full encounter below:
Photo Gallery
Results of round 2
Results of round 3
Standings after round 3
| | | | | | | | | | | |
| --- | --- | --- | --- | --- | --- | --- | --- | --- | --- | --- |
| Rk. | SNo | | | Name | FED | Rtg | Pts. | TB1 | TB2 | TB3 |
| 1 | 4 | | GM | Maghsoodloo Parham | IRI | 2656 | 3,0 | 0,0 | 2544 | 4,5 |
| 2 | 11 | | GM | Indjic Aleksandar | SRB | 2617 | 3,0 | 0,0 | 2526 | 4,0 |
| 3 | 29 | | GM | Aleksandrov Aleksej | BLR | 2571 | 3,0 | 0,0 | 2501 | 5,5 |
| 4 | 21 | | GM | Abdusattorov Nodirbek | UZB | 2594 | 3,0 | 0,0 | 2482 | 4,0 |
| 5 | 26 | | GM | Jobava Baadur | GEO | 2584 | 3,0 | 0,0 | 2467 | 4,0 |
| 6 | 23 | | GM | Petrosyan Manuel | ARM | 2592 | 3,0 | 0,0 | 2466 | 4,0 |
| 7 | 3 | | GM | Salem A.R. Saleh | UAE | 2668 | 2,5 | 0,0 | 2544 | 6,0 |
| 8 | 12 | | GM | Yilmaz Mustafa | TUR | 2614 | 2,5 | 0,0 | 2516 | 5,5 |
| 9 | 28 | | GM | Yakubboev Nodirbek | UZB | 2574 | 2,5 | 0,0 | 2514 | 5,5 |
| 10 | 16 | | GM | Zubov Alexander | UKR | 2607 | 2,5 | 0,0 | 2492 | 6,5 |
| 11 | 13 | | GM | Bartel Mateusz | POL | 2612 | 2,5 | 0,0 | 2480 | 4,5 |
| 12 | 15 | | GM | Aravindh Chithambaram Vr. | IND | 2607 | 2,5 | 0,0 | 2456 | 4,5 |
| 13 | 17 | | GM | Tabatabaei M.Amin | IRI | 2601 | 2,5 | 0,0 | 2449 | 4,0 |
| 14 | 19 | | GM | Bai Jinshi | CHN | 2599 | 2,5 | 0,0 | 2440 | 3,5 |
| 15 | 34 | | GM | Istratescu Andrei | ROU | 2561 | 2,5 | 0,0 | 2437 | 4,0 |
| 16 | 22 | | GM | Can Emre | TUR | 2593 | 2,5 | 0,0 | 2427 | 4,5 |
| 17 | 7 | | GM | Volokitin Andrei | UKR | 2636 | 2,5 | 0,0 | 2427 | 4,0 |
| 18 | 37 | | GM | Sengupta Deep | IND | 2546 | 2,5 | 0,0 | 2426 | 5,0 |
| 19 | 25 | | GM | Santos Latasa Jaime | ESP | 2586 | 2,5 | 0,0 | 2414 | 4,5 |
| 20 | 18 | | GM | Antipov Mikhail Al. | RUS | 2599 | 2,5 | 0,0 | 2407 | 3,5 |
An overview of results of all Indian players after round 3
| | | | | | | | | | | |
| --- | --- | --- | --- | --- | --- | --- | --- | --- | --- | --- |
| SNo | | Name | Rtg | FED | 1 | 2 | 3 | Pts. | Rk. | Group |
| 14 | GM | Karthikeyan Murali | 2612 | IND | 1 | ½ | ½ | 2,0 | 36 | Masters |
| 15 | GM | Aravindh Chithambaram Vr. | 2607 | IND | 1 | ½ | 1 | 2,5 | 12 | Masters |
| 24 | GM | Vaibhav Suri | 2591 | IND | ½ | 1 | ½ | 2,0 | 50 | Masters |
| 32 | GM | Praggnanandhaa R | 2569 | IND | ½ | 1 | ½ | 2,0 | 52 | Masters |
| 36 | GM | Aryan Chopra | 2553 | IND | ½ | 1 | ½ | 2,0 | 37 | Masters |
| 37 | GM | Sengupta Deep | 2546 | IND | 1 | 1 | ½ | 2,5 | 18 | Masters |
| 41 | GM | Iniyan P | 2517 | IND | 1 | ½ | ½ | 2,0 | 41 | Masters |
| 47 | IM | Sadhwani Raunak | 2493 | IND | 1 | ½ | 0 | 1,5 | 61 | Masters |
| 48 | IM | Arjun Kalyan | 2482 | IND | ½ | 1 | ½ | 2,0 | 45 | Masters |
| 50 | GM | Venkatesh M.R. | 2480 | IND | 1 | 0 | 0 | 1,0 | 108 | Masters |
| 52 | IM | Vignesh N R | 2466 | IND | 1 | ½ | 0 | 1,5 | 62 | Masters |
| 53 | IM | Shyaamnikhil P | 2457 | IND | ½ | ½ | ½ | 1,5 | 97 | Masters |
| 57 | IM | Krishna C R G | 2444 | IND | 1 | ½ | ½ | 2,0 | 27 | Masters |
| 58 | IM | Akash Pc Iyer | 2443 | IND | 1 | ½ | 0 | 1,5 | 66 | Masters |
| 61 | IM | Aditya Mittal | 2429 | IND | 1 | 0 | ½ | 1,5 | 87 | Masters |
| 62 | GM | Laxman R.R. | 2426 | IND | ½ | 1 | ½ | 2,0 | 51 | Masters |
| 65 | | Sammed Jaykumar Shete | 2416 | IND | 1 | 0 | 0 | 1,0 | 115 | Masters |
| 66 | | Sankalp Gupta | 2416 | IND | 0 | 1 | ½ | 1,5 | 98 | Masters |
| 67 | WGM | Vaishali R | 2411 | IND | 1 | ½ | 0 | 1,5 | 71 | Masters |
| 70 | IM | Mendonca Leon Luke | 2401 | IND | 0 | 1 | 0 | 1,0 | 122 | Masters |
| 72 | WGM | Soumya Swaminathan | 2377 | IND | 1 | 0 | 1 | 2,0 | 53 | Masters |
| 73 | IM | Rakesh Kumar Jena | 2375 | IND | ½ | ½ | 1 | 2,0 | 57 | Masters |
| 75 | FM | Manush Shah | 2373 | IND | ½ | ½ | ½ | 1,5 | 99 | Masters |
| 76 | IM | Viani Antonio Dcunha | 2371 | IND | 1 | ½ | ½ | 2,0 | 24 | Masters |
| 77 | FM | Rajdeep Sarkar | 2367 | IND | ½ | 0 | 0 | 0,5 | 123 | Masters |
| 78 | FM | Rathanvel V S | 2367 | IND | 0 | 1 | 1 | 2,0 | 40 | Masters |
| 79 | IM | Raja Rithvik R | 2364 | IND | 0 | 0 | ½ | 0,5 | 131 | Masters |
| 80 | IM | Kulkarni Rakesh | 2360 | IND | 0 | ½ | 1 | 1,5 | 82 | Masters |
| 81 | WIM | Divya Deshmukh | 2360 | IND | 1 | 0 | 1 | 2,0 | 26 | Masters |
| 82 | FM | Dixit Nikhil | 2358 | IND | ½ | 0 | 1 | 1,5 | 64 | Masters |
| 83 | CM | Mullick Raahil | 2355 | IND | 1 | 0 | ½ | 1,5 | 65 | Masters |
| 84 | FM | Pranav Anand | 2347 | IND | 0 | 0 | 1 | 1,0 | 112 | Masters |
| 85 | | Moksh Amit Doshi | 2343 | IND | 0 | ½ | 1 | 1,5 | 86 | Masters |
| 86 | WIM | Nandhidhaa P V | 2332 | IND | 0 | 1 | 0 | 1,0 | 100 | Masters |
| 87 | CM | Aronyak Ghosh | 2332 | IND | 0 | 1 | ½ | 1,5 | 72 | Masters |
| 88 | IM | Kathmale Sameer | 2326 | IND | 0 | 1 | ½ | 1,5 | 70 | Masters |
| 89 | FM | Krishnater Kushager | 2324 | IND | 0 | 0 | 1 | 1,0 | 114 | Masters |
| 91 | | Pranav V | 2316 | IND | 0 | 1 | 1 | 2,0 | 29 | Masters |
| 92 | FM | Mithil Ajgaonkar | 2314 | IND | 0 | 1 | 0 | 1,0 | 103 | Masters |
| 93 | | Srijit Paul | 2304 | IND | ½ | 0 | 1 | 1,5 | 59 | Masters |
| 94 | FM | Gajwa Ankit | 2302 | IND | 0 | 0 | ½ | 0,5 | 135 | Masters |
| 95 | FM | Pranesh M | 2296 | IND | ½ | 0 | 1 | 1,5 | 68 | Masters |
| 96 | | Samant Aditya S | 2295 | IND | 0 | 0 | 1 | 1,0 | 116 | Masters |
| 98 | | Bhambure Shantanu | 2288 | IND | ½ | 0 | 1 | 1,5 | 69 | Masters |
| 99 | WIM | Vantika Agrawal | 2287 | IND | 0 | 1 | ½ | 1,5 | 77 | Masters |
| 100 | WGM | Gomes Mary Ann | 2286 | IND | 0 | ½ | 0 | 0,5 | 138 | Masters |
| 101 | WIM | Srija Seshadri | 2284 | IND | 0 | ½ | 0 | 0,5 | 140 | Masters |
| 103 | | Ajay Krishna S | 2280 | IND | 0 | 1 | ½ | 1,5 | 78 | Masters |
| 105 | FM | Aaryan Varshney | 2272 | IND | ½ | 0 | ½ | 1,0 | 102 | Masters |
| 106 | FM | Nitish Belurkar | 2271 | IND | ½ | 0 | 1 | 1,5 | 73 | Masters |
| 107 | IM | Siva Mahadevan | 2270 | IND | 0 | ½ | 1 | 1,5 | 60 | Masters |
| 108 | WIM | Priyanka Nutakki | 2259 | IND | 0 | 0 | 0 | 0,0 | 144 | Masters |
| 109 | FM | Wagh Suyog | 2253 | IND | 0 | ½ | 0 | 0,5 | 124 | Masters |
| 110 | CM | Kushagra Mohan | 2252 | IND | ½ | 0 | 1 | 1,5 | 74 | Masters |
| 113 | WIM | Aakanksha Hagawane | 2244 | IND | 0 | 0 | ½ | 0,5 | 125 | Masters |
| 114 | FM | Deshpande Aniruddha | 2234 | IND | 1 | 0 | ½ | 1,5 | 75 | Masters |
| 115 | WIM | Pujari Rucha | 2232 | IND | 0 | 0 | ½ | 0,5 | 130 | Masters |
| 117 | FM | Srihari L R | 2227 | IND | 0 | 0 | 0 | 0,0 | 146 | Masters |
| 118 | | Senthil Maran K | 2222 | IND | 1 | 1 | 0 | 2,0 | 25 | Masters |
| 120 | FM | Ajay Karthikeyan | 2213 | IND | 0 | ½ | 0 | 0,5 | 132 | Masters |
| 124 | | Priyanka K | 2201 | IND | 0 | ½ | 0 | 0,5 | 133 | Masters |
| 126 | | Soham Datar | 2192 | IND | 0 | 0 | 0 | 0,0 | 147 | Masters |
| 128 | WCM | Mrudul Dehankar | 2188 | IND | ½ | ½ | 0 | 1,0 | 110 | Masters |
| 130 | WIM | Mahalakshmi M | 2173 | IND | 1 | 0 | ½ | 1,5 | 80 | Masters |
| 131 | | Arjun C Krishnamachari | 2172 | IND | 0 | ½ | 0 | 0,5 | 136 | Masters |
| 132 | | Utsab Chatterjee | 2163 | IND | 0 | 1 | 0 | 1,0 | 113 | Masters |
| 134 | WIM | Chitlange Sakshi | 2147 | IND | 0 | 0 | 1 | 1,0 | 118 | Masters |
| 137 | | Panda Sambit | 2126 | IND | ½ | 0 | 1 | 1,5 | 83 | Masters |
| 143 | | Panesar Vedant | 2102 | IND | 0 | ½ | ½ | 1,0 | 120 | Masters |
| 144 | | Srihari L | 2101 | IND | 0 | ½ | 0 | 0,5 | 142 | Masters |
| 145 | FM | Vatsal Singhania | 2087 | IND | 1 | 0 | 0 | 1,0 | 109 | Masters |
| 146 | WCM | Sharma Isha | 2078 | IND | 0 | 1 | 0 | 1,0 | 121 | Masters |
| 147 | | Thrish Karthik | 2075 | IND | 0 | 0 | 0 | 0,0 | 150 | Masters |
| 148 | WFM | Salonika Saina | 2068 | IND | ½ | ½ | ½ | 1,5 | 85 | Masters |
| 149 | | Soham Kamotra | 2061 | IND | 1 | ½ | 0 | 1,5 | 76 | Masters |
| 150 | WFM | Tarini Goyal | 2038 | IND | ½ | ½ | 0 | 1,0 | 119 | Masters |
---