76 participants out of 151 at the Abu Dhabi Masters 2019 are from India!
The 26th Abu Dhabi International Chess Festival has begun and the Indians participating have already created a stir as in round-1 itself Antonio Viani, Divya Deshmukh, and Raahil Mullick got the better of their opponents rated 300 points above them. The masters tournament of the event is a nine round Swiss restricted to players with FIDE rating 2100 and above. The Indian contingent of 76 players (total participants are 151!) is led by World Cup qualifier Murali Karthikeyan and National triple-crown champion Aravindh Chithambaram who have starting ranks of 14th and 15th respectively. In this report we bring you the glimpses of first round's action through the photos sent us to from the venue by Rupali Mullick, analyses, and more.
The Abu Dhabi Masters 2019 has begun from the 2nd of August 2019. There are three tournaments that will take place - Masters (above 2100), Open (below 2100), and the Juniors (under-16). In the masters section we have 151 participants and 76 of them are Indians! Wow, over 50%. There are only four UAE players taking part, but it's also because there are only nine players in the country who have a rating of above 2100.
One must also not forget that the Abu Dhabi Masters is one of the exposure events for the national junior and sub junior team of India that is sponsored by the Government of India. The other tournament earlier this year was the Aeroflot Open. It is also because of this reason you find so many Indians taking part.
The tournament is taking place in Hotel Sofitel and it will be a nine round swiss event. The time control is 90 minutes for the entire game with a 30 seconds increment for each move from move one. There are players from 28 countries and 48 out of 151 players are grandmasters. Top seed of the tournament is GM Yuriy Kryvoruchko (2686) and there are 17 players above the Elo of 2600. The first prize in the masters section is US $13,000.
Viani, Divya, and Raahil pull off epic shockers!
Yuriy Kryvoruchko (2686) opted for a rather dubious way of play in the Spanish, recklessly pushing pawns on the kingside and weakening his king to grab material. International Master Antonio Viani Dcunha (2371) with the black pieces was in his very element as he punished the Ukrainian Grandmaster's impetuousness with his calm, confident objectivity. Thus, carrying out one of the biggest upsets of the day.
Yuriy Kryvoruchko - Antonio Viani, Round 1
A clinical execution by the Bengaluru based International Master! The full game with brief annotations is presented below: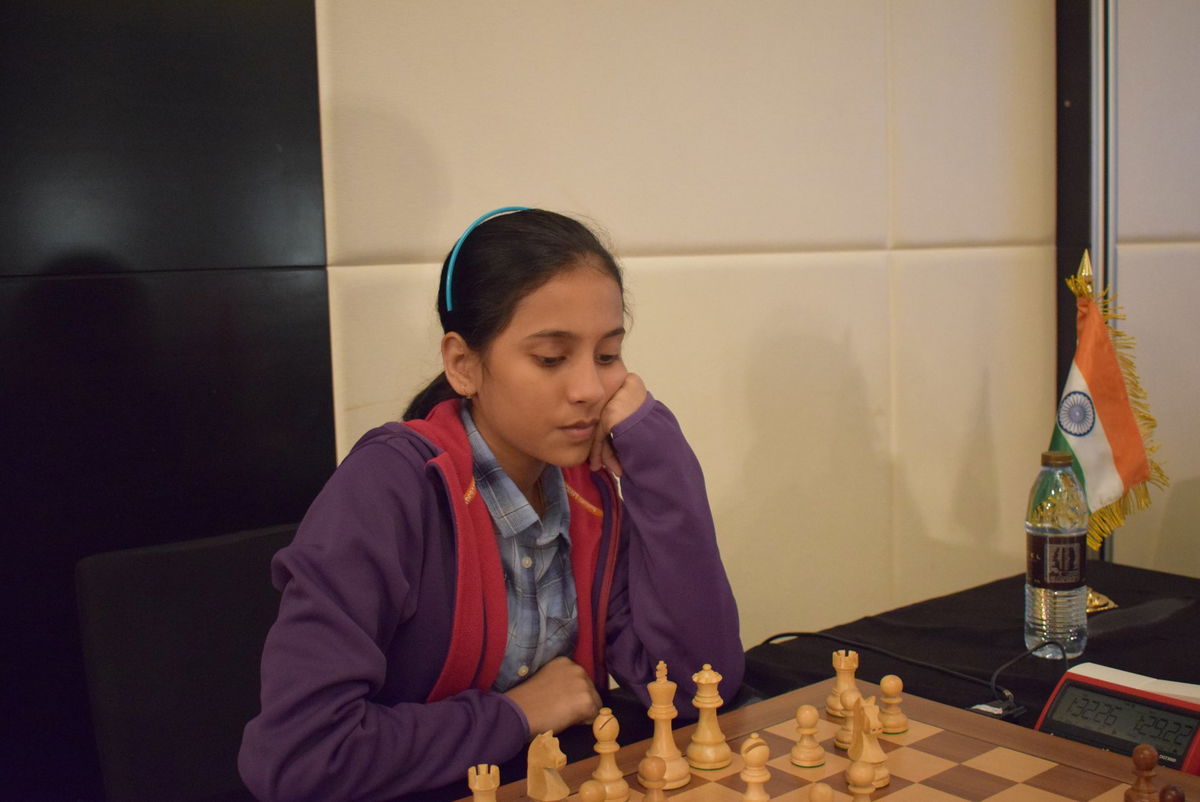 Divya Deshmukh - Vladimir Onischuk, Round 1
Raahil Mullick - Samvel Ter-Sahakyan, Round 1
Raahil Mullick gives (K)nightmare to Samvel Ter-Sahakyan in round 1 of Adchessfestival

Raahil manoeuvred his Knight by moving it 8 times within 23 moves and defeated Armenian GM in round 1 of @adchessfestival

Gamehttps://t.co/BcNmLBpFzx#Chess #ChessBaseIndia #adchessfestival pic.twitter.com/uli2F5K3SN

— ChessBase India (@ChessbaseIndia) August 2, 2019
Some more photos and results
Results of round 1
Standings after round 1
| | | | | | | | | | | |
| --- | --- | --- | --- | --- | --- | --- | --- | --- | --- | --- |
| Rk. | SNo | | | Name | FED | Rtg | Pts. | TB1 | TB2 | TB3 |
| 1 | 3 | | GM | Salem A.R. Saleh | UAE | 2668 | 1,0 | 0,0 | 0 | 0,0 |
| | 4 | | GM | Maghsoodloo Parham | IRI | 2656 | 1,0 | 0,0 | 0 | 0,0 |
| | 5 | | GM | Akopian Vladimir | ARM | 2650 | 1,0 | 0,0 | 0 | 0,0 |
| | 9 | | GM | Esipenko Andrey | RUS | 2625 | 1,0 | 0,0 | 0 | 0,0 |
| | 10 | | GM | Socko Bartosz | POL | 2625 | 1,0 | 0,0 | 0 | 0,0 |
| | 11 | | GM | Indjic Aleksandar | SRB | 2617 | 1,0 | 0,0 | 0 | 0,0 |
| | 12 | | GM | Yilmaz Mustafa | TUR | 2614 | 1,0 | 0,0 | 0 | 0,0 |
| | 13 | | GM | Bartel Mateusz | POL | 2612 | 1,0 | 0,0 | 0 | 0,0 |
| | 14 | | GM | Karthikeyan Murali | IND | 2612 | 1,0 | 0,0 | 0 | 0,0 |
| | 15 | | GM | Aravindh Chithambaram Vr. | IND | 2607 | 1,0 | 0,0 | 0 | 0,0 |
| | 16 | | GM | Zubov Alexander | UKR | 2607 | 1,0 | 0,0 | 0 | 0,0 |
| | 17 | | GM | Tabatabaei M.Amin | IRI | 2601 | 1,0 | 0,0 | 0 | 0,0 |
| | 19 | | GM | Bai Jinshi | CHN | 2599 | 1,0 | 0,0 | 0 | 0,0 |
| | 21 | | GM | Abdusattorov Nodirbek | UZB | 2594 | 1,0 | 0,0 | 0 | 0,0 |
| | 22 | | GM | Can Emre | TUR | 2593 | 1,0 | 0,0 | 0 | 0,0 |
| | 23 | | GM | Petrosyan Manuel | ARM | 2592 | 1,0 | 0,0 | 0 | 0,0 |
| | 25 | | GM | Santos Latasa Jaime | ESP | 2586 | 1,0 | 0,0 | 0 | 0,0 |
| | 26 | | GM | Jobava Baadur | GEO | 2584 | 1,0 | 0,0 | 0 | 0,0 |
| | 27 | | GM | Idani Pouya | IRI | 2581 | 1,0 | 0,0 | 0 | 0,0 |
| | 28 | | GM | Yakubboev Nodirbek | UZB | 2574 | 1,0 | 0,0 | 0 | 0,0 |
| | 29 | | GM | Aleksandrov Aleksej | BLR | 2571 | 1,0 | 0,0 | 0 | 0,0 |
| | 30 | | GM | Yuffa Daniil | RUS | 2571 | 1,0 | 0,0 | 0 | 0,0 |
---