Abu Dhabi 2019 Final Round: Triumph of the Georgian genius
The 26th Abu Dhabi Masters 2019 came to conclusion on the 10th of August. The Georgian Grandmaster Baadur Jobava dominated the field scoring an unbeaten 8.0/9 points with a phenomenal performance rating of 2908. Among Indians, the best finisher was Aryan Chopra who secured 11th place with a score of 6.0/9. Karthikeyan Murali, Deep Sengupta, Aravindh Chithambaram, and Vaibhav Suri also scored 6.0/9 and came within the top 20. Apart from this, seven players, namely FM Rathanvel V S, CM Raahil Mullick, WIM Nandhidhaa P V, CM Aronyak Ghosh, FM Nitish Belurkar, Senthil Maran K, and WIM Mahalakshmi M successfully made their norms from the event. In this final report we bring you the games and photos from the last round and also an overview of performances of all the Indian participants.
Baadur Jobava - the sole victor of the event!
Not many years ago Baadur Jobava from Georgia was sending ripples across the world of chess by defeating likes of Veselin Topalov, Ruslan Ponomariov, and even World no.1 Magnus Carlsen. In 2012 he reached a peak rating of 2734 but on the 2nd of August when he came to play the 26th Abu Dhabi Masters his rating was just 2584. Everyone knew that this number didn't reflect the true playing strength of this world class player but was only an evidence of a temporary drop in form. What no one knew was how or when this 35-year-old chess genius would make a comeback!
Baadur Jobava scored a whopping 8.0/9 points to dominate the entire field and finish a full point ahead of Nodirbek Yakubboev who came sole second with 7.0/9. Thus achieving a stratospheric performance rating of 2908, the three times champion of Georgia returned back home gaining 32.6 Elo points and 13000 US Dollar! His last game against the Uzbek GM Nodirbek Yakubboev was a solid 28 moves draw with the black pieces.
Aryan Chopra - the best among Indians!
The Norm makers of the event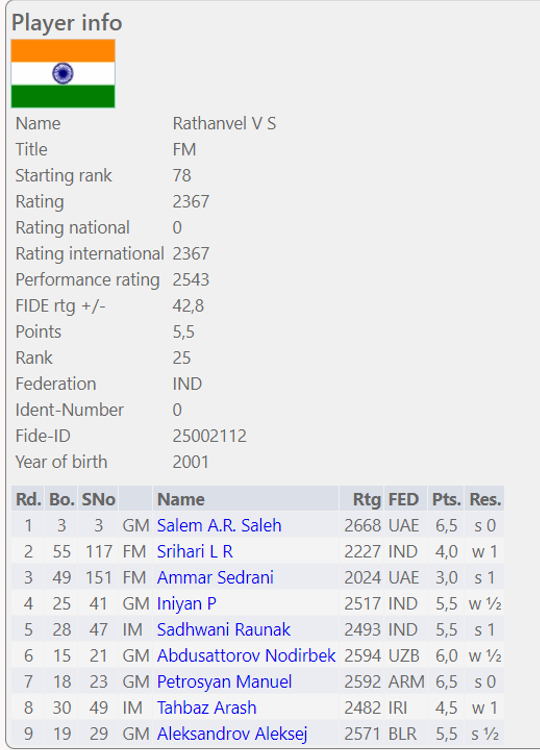 Below is the game Raahil played in the last round against the strong Turkish Grandmaster. Interestingly, his choice of opening was the same as in the first round!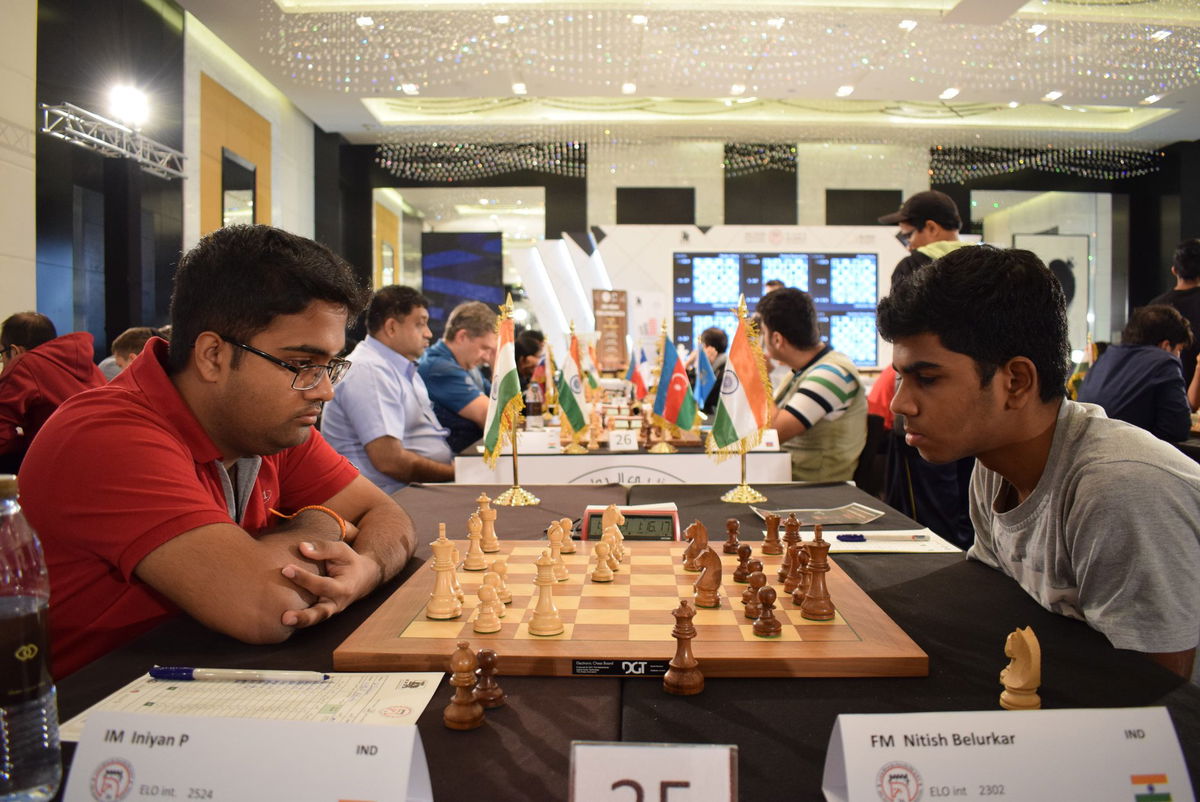 India dominates in the Juniors Event
Final standings in the junior event
| | | | | | | | | | | | | |
| --- | --- | --- | --- | --- | --- | --- | --- | --- | --- | --- | --- | --- |
| Rk. | SNo | | | Name | Typ | sex | FED | Rtg | Pts. | TB1 | TB2 | TB3 |
| 1 | 3 | | FM | Pranesh M | U14 | | IND | 2296 | 8,0 | 0,0 | 53,0 | 45,50 |
| 2 | 5 | | CM | Kushagra Mohan | U16 | | IND | 2252 | 7,5 | 0,0 | 56,5 | 45,50 |
| 3 | 6 | | FM | Srihari L R | U14 | | IND | 2227 | 7,5 | 0,0 | 56,5 | 45,25 |
| 4 | 4 | | FM | Aaryan Varshney | U14 | | IND | 2272 | 7,5 | 0,0 | 56,0 | 45,25 |
| 5 | 1 | | IM | Mendonca Leon Luke | U14 | | IND | 2401 | 7,0 | 0,0 | 57,0 | 42,00 |
| 6 | 25 | | | Assylov Miras | U12 | | KAZ | 1535 | 7,0 | 0,0 | 45,5 | 35,00 |
| 7 | 26 | | | Gu Xianghan | U14 | | CHN | 1523 | 7,0 | 0,0 | 44,5 | 33,75 |
| 8 | 9 | | | Hamad Essam | U16 | | UAE | 1906 | 6,5 | 0,0 | 57,5 | 38,25 |
| 9 | 2 | | | Pranav V | U14 | | IND | 2316 | 6,5 | 0,0 | 55,5 | 37,75 |
| 10 | 10 | | CM | Sindarov Islombek | U12 | | UZB | 1830 | 6,5 | 0,0 | 54,0 | 35,00 |
| 11 | 20 | | | Mukumov Arjin | U14 | | UZB | 1617 | 6,5 | 0,0 | 51,5 | 34,50 |
| 12 | 24 | | | Satybaldy Adil | U10 | | KAZ | 1542 | 6,5 | 0,0 | 49,5 | 31,75 |
| 13 | 21 | | | Singh Gurmeher | U14 | | IND | 1605 | 6,5 | 0,0 | 49,0 | 32,75 |
| 14 | 19 | | | Aditya Ramanathan | U12 | | IND | 1619 | 6,5 | 0,0 | 47,5 | 33,25 |
| 15 | 27 | | | Raji Sayel Abu Azizah | U14 | | PLE | 1499 | 6,5 | 0,0 | 47,5 | 32,50 |
| 16 | 22 | | | Hamad Bader | U16 | | UAE | 1581 | 6,5 | 0,0 | 43,5 | 29,50 |
| 17 | 18 | | | Krishnan Ritvik | U12 | | IND | 1653 | 6,0 | 0,0 | 53,0 | 33,00 |
| 18 | 16 | | | Sabirov Rasul | U16 | | KAZ | 1669 | 6,0 | 0,0 | 52,0 | 31,00 |
| 19 | 12 | | | Al Darmaky Sultan | U16 | | UAE | 1776 | 6,0 | 0,0 | 52,0 | 30,00 |
| 20 | 11 | | | Satybaldy Amir | U16 | | KAZ | 1781 | 6,0 | 0,0 | 51,0 | 32,00 |
Results of the final round (Masters)
Standings after the final round (Masters)
| | | | | | | | | | | |
| --- | --- | --- | --- | --- | --- | --- | --- | --- | --- | --- |
| Rk. | SNo | | | Name | FED | Rtg | Pts. | TB1 | TB2 | TB3 |
| 1 | 26 | | GM | Jobava Baadur | GEO | 2584 | 8,0 | 0,0 | 2591 | 54,5 |
| 2 | 28 | | GM | Yakubboev Nodirbek | UZB | 2574 | 7,0 | 0,0 | 2591 | 52,0 |
| 3 | 4 | | GM | Maghsoodloo Parham | IRI | 2656 | 6,5 | 0,0 | 2586 | 54,5 |
| 4 | 10 | | GM | Socko Bartosz | POL | 2625 | 6,5 | 0,0 | 2573 | 51,0 |
| 5 | 11 | | GM | Indjic Aleksandar | SRB | 2617 | 6,5 | 0,0 | 2565 | 52,0 |
| 6 | 3 | | GM | Salem A.R. Saleh | UAE | 2668 | 6,5 | 0,0 | 2562 | 52,5 |
| 7 | 23 | | GM | Petrosyan Manuel | ARM | 2592 | 6,5 | 0,0 | 2561 | 51,0 |
| 8 | 13 | | GM | Bartel Mateusz | POL | 2612 | 6,5 | 0,0 | 2543 | 52,5 |
| 9 | 2 | | GM | Ni Hua | CHN | 2668 | 6,5 | 0,0 | 2541 | 52,5 |
| 10 | 17 | | GM | Tabatabaei M.Amin | IRI | 2601 | 6,5 | 0,0 | 2531 | 46,0 |
| 11 | 36 | | GM | Aryan Chopra | IND | 2553 | 6,0 | 0,0 | 2554 | 45,5 |
| 12 | 16 | | GM | Zubov Alexander | UKR | 2607 | 6,0 | 0,0 | 2551 | 47,0 |
| 13 | 14 | | GM | Karthikeyan Murali | IND | 2612 | 6,0 | 0,0 | 2549 | 48,5 |
| 14 | 37 | | GM | Sengupta Deep | IND | 2546 | 6,0 | 0,0 | 2537 | 47,5 |
| 15 | 22 | | GM | Can Emre | TUR | 2593 | 6,0 | 0,0 | 2536 | 47,5 |
| 16 | 21 | | GM | Abdusattorov Nodirbek | UZB | 2594 | 6,0 | 0,0 | 2532 | 47,5 |
| 17 | 9 | | GM | Esipenko Andrey | RUS | 2625 | 6,0 | 0,0 | 2527 | 48,0 |
| 18 | 25 | | GM | Santos Latasa Jaime | ESP | 2586 | 6,0 | 0,0 | 2526 | 45,5 |
| 19 | 15 | | GM | Aravindh Chithambaram Vr. | IND | 2607 | 6,0 | 0,0 | 2513 | 48,0 |
| 20 | 24 | | GM | Vaibhav Suri | IND | 2591 | 6,0 | 0,0 | 2466 | 46,5 |
An overview of all Indian performances in the Masters event
| | | | | | | | | | | | | | | | | |
| --- | --- | --- | --- | --- | --- | --- | --- | --- | --- | --- | --- | --- | --- | --- | --- | --- |
| SNo | | Name | Rtg | FED | 1 | 2 | 3 | 4 | 5 | 6 | 7 | 8 | 9 | Pts. | Rk. | Group |
| 14 | GM | Karthikeyan Murali | 2612 | IND | 1 | ½ | ½ | 1 | 1 | 1 | ½ | 0 | ½ | 6,0 | 13 | Masters |
| 15 | GM | Aravindh Chithambaram Vr. | 2607 | IND | 1 | ½ | 1 | ½ | ½ | 1 | ½ | ½ | ½ | 6,0 | 19 | Masters |
| 24 | GM | Vaibhav Suri | 2591 | IND | ½ | 1 | ½ | 1 | ½ | 1 | 0 | ½ | 1 | 6,0 | 20 | Masters |
| 32 | GM | Praggnanandhaa R | 2569 | IND | ½ | 1 | ½ | 1 | ½ | 0 | ½ | 1 | ½ | 5,5 | 31 | Masters |
| 36 | GM | Aryan Chopra | 2553 | IND | ½ | 1 | ½ | 1 | ½ | 1 | 0 | 1 | ½ | 6,0 | 11 | Masters |
| 37 | GM | Sengupta Deep | 2546 | IND | 1 | 1 | ½ | ½ | 0 | 1 | 1 | ½ | ½ | 6,0 | 14 | Masters |
| 41 | GM | Iniyan P | 2517 | IND | 1 | ½ | ½ | ½ | 0 | ½ | 1 | ½ | 1 | 5,5 | 43 | Masters |
| 47 | IM | Sadhwani Raunak | 2493 | IND | 1 | ½ | 0 | 1 | 0 | ½ | 1 | ½ | 1 | 5,5 | 42 | Masters |
| 48 | IM | Arjun Kalyan | 2482 | IND | ½ | 1 | ½ | ½ | ½ | 0 | 1 | ½ | 0 | 4,5 | 82 | Masters |
| 50 | GM | Venkatesh M.R. | 2480 | IND | 1 | 0 | 0 | 1 | 1 | 0 | 1 | 0 | ½ | 4,5 | 80 | Masters |
| 52 | IM | Vignesh N R | 2466 | IND | 1 | ½ | 0 | 1 | ½ | 1 | 0 | ½ | 1 | 5,5 | 30 | Masters |
| 53 | IM | Shyaamnikhil P | 2457 | IND | ½ | ½ | ½ | 1 | ½ | 1 | ½ | ½ | ½ | 5,5 | 41 | Masters |
| 57 | IM | Krishna C R G | 2444 | IND | 1 | ½ | ½ | 0 | 1 | 1 | 0 | ½ | 0 | 4,5 | 65 | Masters |
| 58 | IM | Akash Pc Iyer | 2443 | IND | 1 | ½ | 0 | 1 | 0 | 1 | ½ | ½ | 0 | 4,5 | 67 | Masters |
| 61 | IM | Aditya Mittal | 2429 | IND | 1 | 0 | ½ | 1 | ½ | 0 | ½ | 1 | ½ | 5,0 | 52 | Masters |
| 62 | GM | Laxman R.R. | 2426 | IND | ½ | 1 | ½ | 0 | 1 | 0 | 1 | ½ | ½ | 5,0 | 56 | Masters |
| 65 | | Sammed Jaykumar Shete | 2416 | IND | 1 | 0 | 0 | 1 | 1 | 0 | ½ | ½ | 1 | 5,0 | 62 | Masters |
| 66 | | Sankalp Gupta | 2416 | IND | 0 | 1 | ½ | ½ | 0 | ½ | 0 | 0 | 1 | 3,5 | 127 | Masters |
| 67 | WGM | Vaishali R | 2411 | IND | 1 | ½ | 0 | ½ | 1 | ½ | 0 | 1 | 0 | 4,5 | 71 | Masters |
| 70 | IM | Mendonca Leon Luke | 2401 | IND | 0 | 1 | 0 | ½ | ½ | 1 | ½ | 1 | 1 | 5,5 | 46 | Masters |
| 72 | WGM | Soumya Swaminathan | 2377 | IND | 1 | 0 | 1 | 0 | 1 | 0 | 0 | 0 | ½ | 3,5 | 111 | Masters |
| 73 | IM | Rakesh Kumar Jena | 2375 | IND | ½ | ½ | 1 | 0 | 1 | 0 | 0 | ½ | 0 | 3,5 | 121 | Masters |
| 75 | FM | Manush Shah | 2373 | IND | ½ | ½ | ½ | ½ | ½ | ½ | 0 | 0 | ½ | 3,5 | 124 | Masters |
| 76 | IM | Viani Antonio Dcunha | 2371 | IND | 1 | ½ | ½ | 0 | 1 | ½ | 0 | ½ | 0 | 4,0 | 89 | Masters |
| 77 | FM | Rajdeep Sarkar | 2367 | IND | ½ | 0 | 0 | 1 | 1 | 0 | 0 | 0 | 0 | 2,5 | 138 | Masters |
| 78 | FM | Rathanvel V S | 2367 | IND | 0 | 1 | 1 | ½ | 1 | ½ | 0 | 1 | ½ | 5,5 | 25 | Masters |
| 79 | IM | Raja Rithvik R | 2364 | IND | 0 | 0 | ½ | 1 | 1 | 0 | ½ | 1 | 1 | 5,0 | 61 | Masters |
| 80 | IM | Kulkarni Rakesh | 2360 | IND | 0 | ½ | 1 | 0 | ½ | 1 | 0 | 0 | 1 | 4,0 | 101 | Masters |
| 81 | WIM | Divya Deshmukh | 2360 | IND | 1 | 0 | 1 | 0 | 0 | ½ | 1 | ½ | ½ | 4,5 | 72 | Masters |
| 82 | FM | Dixit Nikhil | 2358 | IND | ½ | 0 | 1 | 0 | ½ | 0 | 1 | 1 | 0 | 4,0 | 95 | Masters |
| 83 | CM | Mullick Raahil | 2355 | IND | 1 | 0 | ½ | ½ | ½ | 0 | 1 | ½ | 1 | 5,0 | 47 | Masters |
| 84 | FM | Pranav Anand | 2347 | IND | 0 | 0 | 1 | ½ | 1 | 0 | ½ | 1 | ½ | 4,5 | 85 | Masters |
| 85 | | Moksh Amit Doshi | 2343 | IND | 0 | ½ | 1 | 0 | 0 | 0 | 1 | 1 | 1 | 4,5 | 87 | Masters |
| 86 | WIM | Nandhidhaa P V | 2332 | IND | 0 | 1 | 0 | 1 | ½ | 0 | 1 | 1 | 0 | 4,5 | 69 | Masters |
| 87 | CM | Aronyak Ghosh | 2332 | IND | 0 | 1 | ½ | 1 | ½ | 1 | ½ | 0 | ½ | 5,0 | 48 | Masters |
| 88 | IM | Kathmale Sameer | 2326 | IND | 0 | 1 | ½ | 0 | 1 | ½ | 0 | 1 | 0 | 4,0 | 92 | Masters |
| 89 | FM | Krishnater Kushager | 2324 | IND | 0 | 0 | 1 | ½ | 1 | ½ | ½ | 0 | ½ | 4,0 | 98 | Masters |
| 91 | | Pranav V | 2316 | IND | 0 | 1 | 1 | ½ | 0 | 0 | 1 | 0 | 0 | 3,5 | 108 | Masters |
| 92 | FM | Mithil Ajgaonkar | 2314 | IND | 0 | 1 | 0 | 0 | 0 | ½ | 1 | 1 | 0 | 3,5 | 126 | Masters |
| 93 | | Srijit Paul | 2304 | IND | ½ | 0 | 1 | 0 | 0 | 0 | 1 | 1 | 1 | 4,5 | 81 | Masters |
| 94 | FM | Gajwa Ankit | 2302 | IND | 0 | 0 | ½ | 1 | ½ | ½ | ½ | ½ | 1 | 4,5 | 88 | Masters |
| 95 | FM | Pranesh M | 2296 | IND | ½ | 0 | 1 | 0 | 1 | 0 | 1 | 0 | 1 | 4,5 | 77 | Masters |
| 96 | | Samant Aditya S | 2295 | IND | 0 | 0 | 1 | 1 | ½ | ½ | 0 | 1 | 1 | 5,0 | 58 | Masters |
| 98 | | Bhambure Shantanu | 2288 | IND | ½ | 0 | 1 | 0 | ½ | ½ | 1 | ½ | ½ | 4,5 | 79 | Masters |
| 99 | WIM | Vantika Agrawal | 2287 | IND | 0 | 1 | ½ | ½ | 1 | 0 | ½ | 0 | 0 | 3,5 | 107 | Masters |
| 100 | WGM | Gomes Mary Ann | 2286 | IND | 0 | ½ | 0 | ½ | ½ | 0 | ½ | 1 | 1 | 4,0 | 106 | Masters |
| 101 | WIM | Srija Seshadri | 2284 | IND | 0 | ½ | 0 | 1 | 0 | 0 | 1 | 1 | ½ | 4,0 | 105 | Masters |
| 103 | | Ajay Krishna S | 2280 | IND | 0 | 1 | ½ | 0 | ½ | 1 | 0 | 1 | ½ | 4,5 | 73 | Masters |
| 105 | FM | Aaryan Varshney | 2272 | IND | ½ | 0 | ½ | 1 | 0 | ½ | ½ | ½ | ½ | 4,0 | 99 | Masters |
| 106 | FM | Nitish Belurkar | 2271 | IND | ½ | 0 | 1 | ½ | ½ | 1 | ½ | ½ | 0 | 4,5 | 66 | Masters |
| 107 | IM | Siva Mahadevan | 2270 | IND | 0 | ½ | 1 | 0 | 0 | ½ | ½ | 1 | 1 | 4,5 | 75 | Masters |
| 108 | WIM | Priyanka Nutakki | 2259 | IND | 0 | 0 | 0 | 1 | 1 | 0 | ½ | 1 | ½ | 4,0 | 104 | Masters |
| 109 | FM | Wagh Suyog | 2253 | IND | 0 | ½ | 0 | ½ | 1 | 0 | 1 | ½ | 0 | 3,5 | 110 | Masters |
| 110 | CM | Kushagra Mohan | 2252 | IND | ½ | 0 | 1 | 0 | ½ | ½ | 1 | 0 | ½ | 4,0 | 91 | Masters |
| 113 | WIM | Aakanksha Hagawane | 2244 | IND | 0 | 0 | ½ | ½ | 1 | ½ | ½ | 0 | ½ | 3,5 | 120 | Masters |
| 114 | FM | Deshpande Aniruddha | 2234 | IND | 1 | 0 | ½ | 0 | 0 | 1 | 1 | ½ | ½ | 4,5 | 70 | Masters |
| 115 | WIM | Pujari Rucha | 2232 | IND | 0 | 0 | ½ | 1 | 1 | 0 | 0 | ½ | 0 | 3,0 | 129 | Masters |
| 117 | FM | Srihari L R | 2227 | IND | 0 | 0 | 0 | 1 | 1 | ½ | ½ | 1 | 0 | 4,0 | 97 | Masters |
| 118 | | Senthil Maran K | 2222 | IND | 1 | 1 | 0 | ½ | ½ | 0 | ½ | ½ | ½ | 4,5 | 64 | Masters |
| 120 | FM | Ajay Karthikeyan | 2213 | IND | 0 | ½ | 0 | 0 | ½ | 1 | ½ | 0 | ½ | 3,0 | 132 | Masters |
| 124 | | Priyanka K | 2201 | IND | 0 | ½ | 0 | 0 | 1 | 1 | 0 | 0 | 1 | 3,5 | 122 | Masters |
| 126 | | Soham Datar | 2192 | IND | 0 | 0 | 0 | ½ | ½ | ½ | 0 | 1 | 0 | 2,5 | 143 | Masters |
| 128 | WCM | Mrudul Dehankar | 2188 | IND | ½ | ½ | 0 | 0 | 0 | ½ | ½ | 1 | 1 | 4,0 | 100 | Masters |
| 130 | WIM | Mahalakshmi M | 2173 | IND | 1 | 0 | ½ | 1 | ½ | 1 | 0 | ½ | 1 | 5,5 | 32 | Masters |
| 131 | | Arjun C Krishnamachari | 2172 | IND | 0 | ½ | 0 | ½ | 0 | 0 | ½ | ½ | 0 | 2,0 | 146 | Masters |
| 132 | | Utsab Chatterjee | 2163 | IND | 0 | 1 | 0 | ½ | 0 | 1 | 0 | 0 | ½ | 3,0 | 130 | Masters |
| 134 | WIM | Chitlange Sakshi | 2147 | IND | 0 | 0 | 1 | ½ | 1 | 0 | 0 | ½ | 0 | 3,0 | 131 | Masters |
| 137 | | Panda Sambit | 2126 | IND | ½ | 0 | 1 | ½ | 0 | ½ | 0 | 0 | 1 | 3,5 | 116 | Masters |
| 143 | | Panesar Vedant | 2102 | IND | 0 | ½ | ½ | ½ | ½ | ½ | 0 | 0 | 1 | 3,5 | 123 | Masters |
| 144 | | Srihari L | 2101 | IND | 0 | ½ | 0 | 0 | 0 | 1 | 1 | 1 | 0 | 3,5 | 125 | Masters |
| 145 | FM | Vatsal Singhania | 2087 | IND | 1 | 0 | 0 | 1 | 0 | ½ | ½ | ½ | 0 | 3,5 | 114 | Masters |
| 146 | WCM | Sharma Isha | 2078 | IND | 0 | 1 | 0 | 0 | ½ | ½ | 0 | 0 | 1 | 3,0 | 136 | Masters |
| 147 | | Thrish Karthik | 2075 | IND | 0 | 0 | 0 | ½ | 0 | ½ | ½ | ½ | 0 | 2,0 | 147 | Masters |
| 148 | WFM | Salonika Saina | 2068 | IND | ½ | ½ | ½ | 0 | 0 | ½ | 0 | ½ | 0 | 2,5 | 139 | Masters |
| 149 | | Soham Kamotra | 2061 | IND | 1 | ½ | 0 | 0 | ½ | ½ | 0 | ½ | ½ | 3,5 | 112 | Masters |
| 150 | WFM | Tarini Goyal | 2038 | IND | ½ | ½ | 0 | ½ | ½ | 1 | 0 | ½ | 1 | 4,5 | 83 | Masters |
---