e-Zest Solutions victorious in War of Wits
India is booming in chess in almost all aspects except one, corporate chess. The number of corporate chess tournament is extremely less and mostly unheard of. However, e-Zest Solutions and Victorious Chess Academy took the responsibility to organize 'War of Wits', a chess tournament only for corporate employees only. On Sunday 13th October 2019, 88 different employees from various corporate houses flocked to Hinjewadi, Pune to participate in a one-day rapid tournament. Jenil Shah of Citi Bank won the individual tournament by scoring 6.5/7, while e-Zest Solutions won the bragging rights to be called the best corporate chess team in Pune with a score of 15.5/21. Photo: Victorious Chess Academy
Jenil Shah wins War of Wits
Twelfth seeded Jenil Shah of Citi Bank scored an unbeaten 6.5/7 to win War of Wits. His only draw was against the top seed of the tournament, Chinmay Kulkarni of UBS Business Solutions.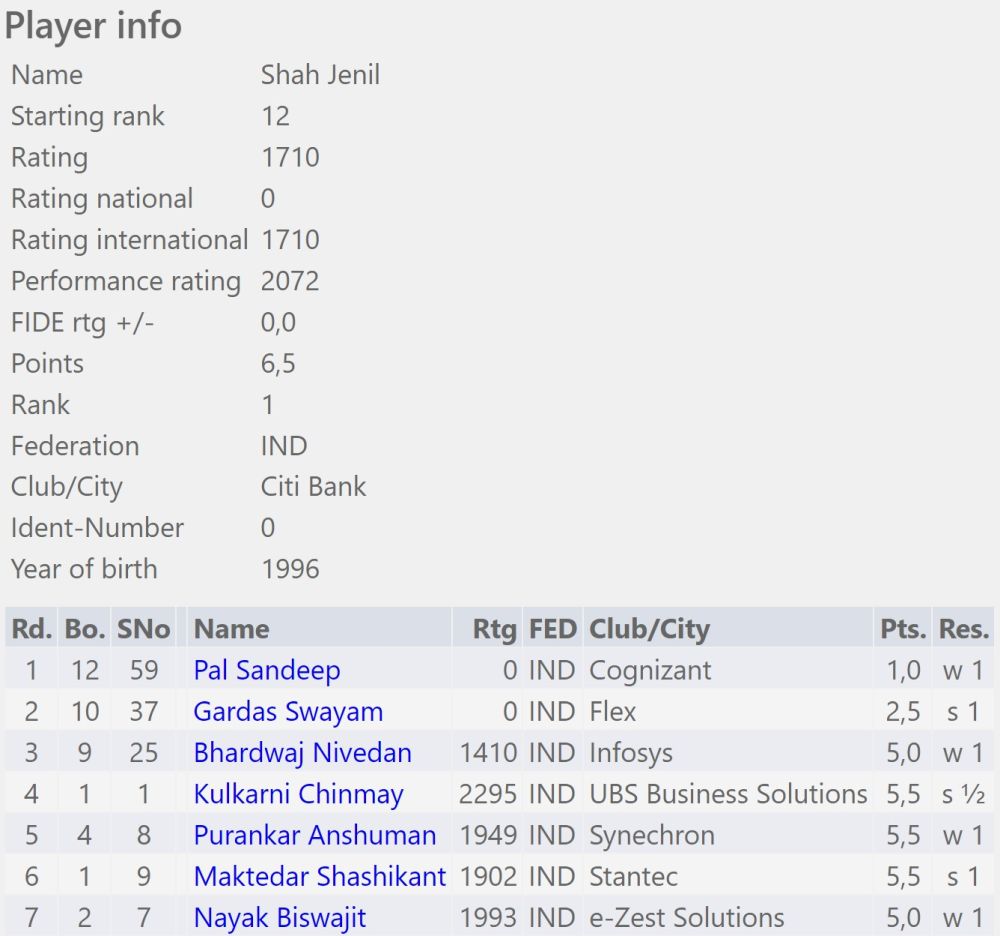 The tournament also had three prizes for top 3 companies. The rank was decided based accumulated points of the top three players representing a company. The first prize for the best company went to e-Zest Solutions as they scored 15.5/21. Both Dassault Systems and Synechron scored 14.5/21 each, however Dassault Systems secured second position and Synechron finished at third as Dassault had a better tie-break score.
Photo Gallery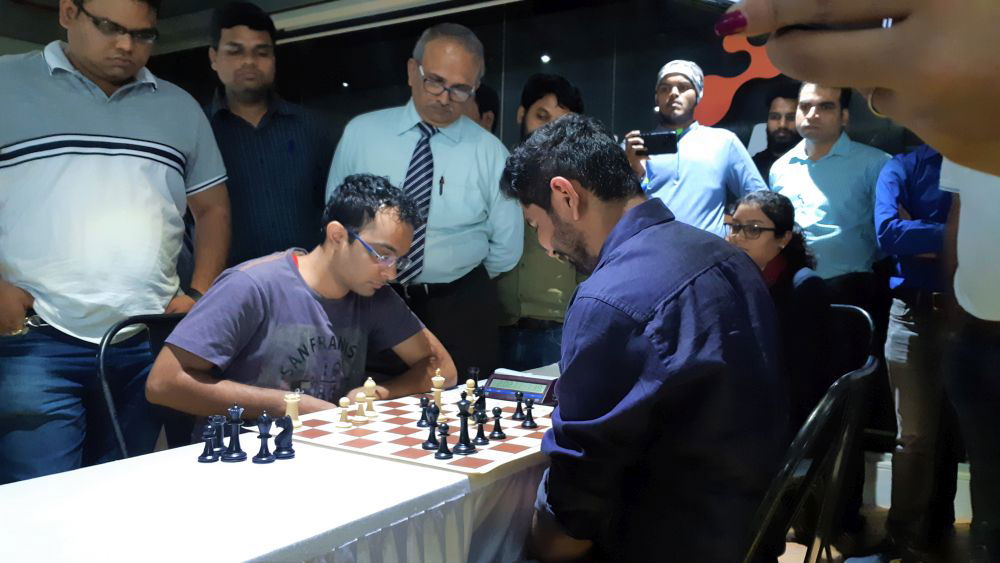 The guests of honor were WIM Aakanksha Hagawane, Mr. Shreenath Hagawane, Mr. Ashish Gupta, Mr. Jaywant Deshpande and Mr. Kapil Lohana.
Total 88 players participated from various corporate companies across Pune in 1st War of Wits One day Rapid Chess Tournament organized and sponsored by e-Zest Solutions in association with Victorious Chess Academy was successfully conducted on Sunday, 13th October, 2019 at Hinjewadi, Pune.
Final Standings
| | | | | | | | | | | | | | | |
| --- | --- | --- | --- | --- | --- | --- | --- | --- | --- | --- | --- | --- | --- | --- |
| Rk. | SNo | | Name | Typ | sex | FED | Rtg | Club/City | Pts. | TB1 | TB2 | TB3 | TB4 | TB5 |
| 1 | 12 | | Shah Jenil | | | IND | 1710 | Citi Bank | 6,5 | 0,0 | 6 | 30,0 | 28,5 | 27,25 |
| 2 | 4 | | Sharma Shyamu | | | IND | 2041 | Deutsche Bank | 6,0 | 0,0 | 6 | 30,0 | 27,0 | 24,50 |
| 3 | 1 | | Kulkarni Chinmay | | | IND | 2295 | UBS Business Solutions | 5,5 | 0,0 | 5 | 36,0 | 32,0 | 27,75 |
| 4 | 9 | | Maktedar Shashikant | | | IND | 1902 | Stantec | 5,5 | 0,0 | 5 | 34,0 | 30,5 | 24,75 |
| 5 | 3 | | Chavan Ameya | | | IND | 2048 | NCR Corporation | 5,5 | 0,0 | 5 | 32,0 | 29,0 | 21,50 |
| 6 | 8 | | Purankar Anshuman | | | IND | 1949 | Synechron | 5,5 | 0,0 | 5 | 31,5 | 28,5 | 19,25 |
| 7 | 20 | | Gupta Ashish | | | IND | 1515 | e-Zest Solutions | 5,5 | 0,0 | 5 | 29,0 | 26,5 | 22,75 |
| 8 | 15 | | Chevil Miral | | | IND | 1604 | Dassault Systems | 5,5 | 0,0 | 5 | 28,5 | 25,5 | 19,25 |
| 9 | 7 | | Nayak Biswajit | | | IND | 1993 | e-Zest Solutions | 5,0 | 0,0 | 5 | 31,5 | 30,5 | 20,00 |
| 10 | 25 | | Bhardwaj Nivedan | | | IND | 1410 | Infosys | 5,0 | 0,0 | 5 | 31,0 | 27,5 | 19,50 |
| 11 | 14 | | Patil Deepak | | | IND | 1655 | Infosys | 5,0 | 0,0 | 5 | 30,0 | 27,0 | 20,00 |
| 12 | 16 | | Sonkamble Bharat | | | IND | 1602 | TCS | 5,0 | 0,0 | 5 | 28,5 | 27,0 | 18,50 |
| 13 | 30 | | Bemarkar Kiran | | | IND | 1215 | Syntel Atos | 5,0 | 0,0 | 5 | 27,5 | 25,0 | 19,00 |
| 14 | 18 | | Burli Pranav | | | IND | 1529 | Lentra Al PVT LTD | 5,0 | 0,0 | 5 | 25,0 | 23,5 | 17,00 |
| 15 | 22 | | Srivastava Abhijeet | | | IND | 1447 | Dassault Systems | 5,0 | 0,0 | 5 | 24,0 | 23,0 | 17,00 |
---