Vidit Chess Tour SF: Aronyak stuns Arjun Erigaisi
Only five IMs qualified to the top 16 of Vidit Chess Tour. Out of them IM Aronyak Ghosh managed to beat three strong GMs in the knockout stage - Abhijeet Gupta, Harsha Bharathakoti and Arjun Erigaisi to advance to the Finals. He only needed two games in each stage to advance. Thus he is unbeaten in the Knockouts so far. GM D Gukesh played two Armageddons in the Knockouts and he won both of them. The Finals between Aronyak and Gukesh will be a rematch from ChessBase India Super Juniors Cup and definitely an interesting battle, today from 6 p.m. IST. Photo: Shahid Ahmed
Gukesh makes a strong comeback
GM D Gukesh started out his Semi-Final with a loss against GM Narayanan S L in Vidit Chess Tour. Then he won the next game to force Armageddon which he won comfortably after Narayanan made some inaccuracies which cost him a couple of pawns in quick succession. IM Aronyak Ghosh drew his first game against GM Arjun Erigaisi. In the second game, despite being in a difficult position, he found a combination which his opponent completely overlooked. Thus it will be Aronyak vs. Gukesh in the Finals.
Narayanan - Gukesh: 1-2*
GM Gukesh got a comfortable position out of the opening but GM Narayanan managed to equalize it. The game eventually reached to an opposite color bishop endgame which seemed to be headed towards a draw.
Narayanan - Gukesh, Game 1
The position seems to be harmless for black as the h-pawn can be stopped by the dark-squared bishop and white is not going to make a breakthrough on the queenside. Well that's not the case. Narayanan created a passed pawn on the queenside and combined Gukesh's mistakes to score a victory. First try to find out what should black do right now to prevent any kind of onslaught on the queenside?
48...Bg5 was the final mistake by black as that completely turned things into white's favor. Find out how.
Being in a must-win situation, Gukesh played with determination only to win. It was evident in his approach of all-out attack early in the game.
Gukesh - Narayanan, Game 2
12.g4 clearly shows that white is only playing for win.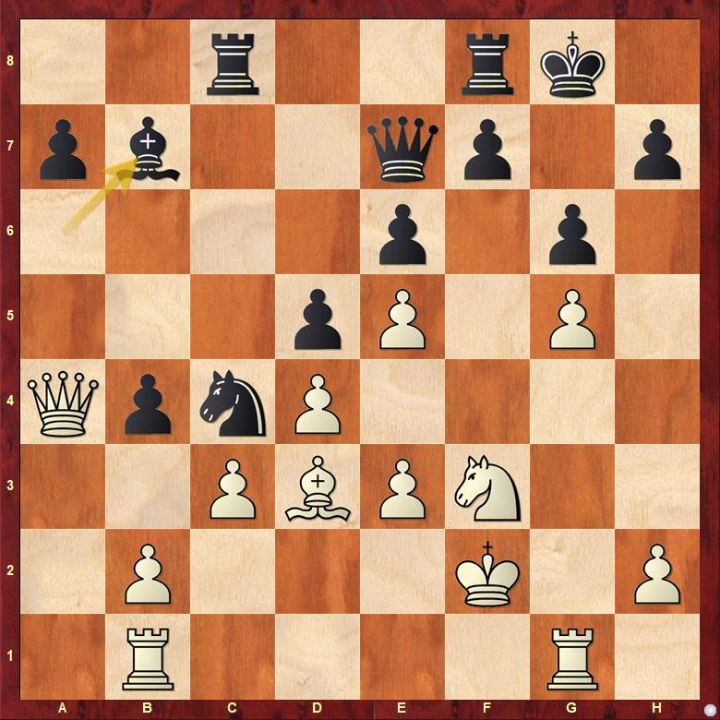 Although white initially intended to launch an attack on the kingside but when opportunity presented itself on the queenside, Gukesh focused his attention on it. 22...Bb7 may not seem to be a huge mistake but it definitely shifted things in white's favor.
Computer will not agree with 38.Nd6 but only a human will understand that it is the best move. White's king might be exposed but it is the knight which is looming large around black's king and eventually it played a key role in deciding the fate of the game. Gukesh won the game in another 13 moves forcing Armageddon.
Gukesh got the black pieces in Armageddon which means he just needed a draw to advance and it was Narayanan who was in a must-win situation, one that he is familiar with as he defeated GM Visakh in the Quarter-Finals.
Narayanan - Gukesh, Armagedoon
21.f5 is a simply erroneous move as black can just take it with 21...Rxf5. 21.Rf1 was the way to go for white. White lost two pawns in quick succession, rest became just a matter of technique for black and Gukesh scored a victory without any trouble. With this win, Gukesh advanced to the Finals.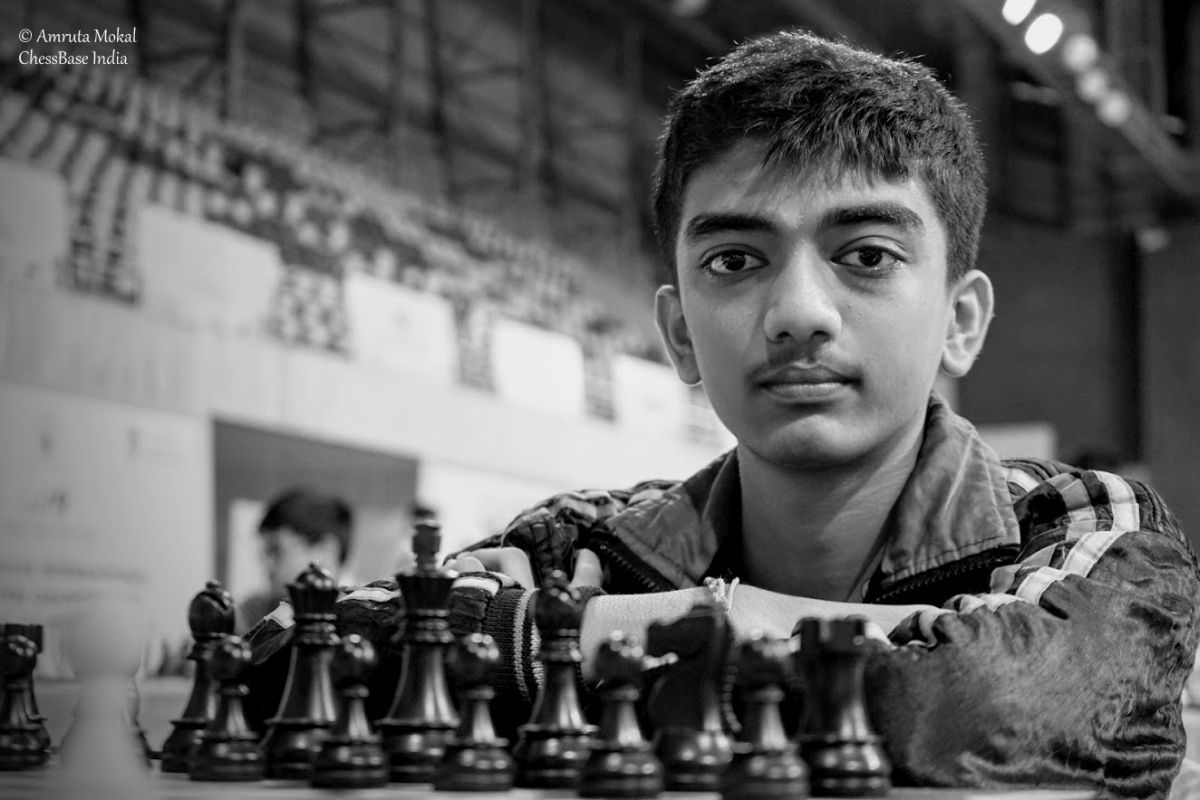 Arjun - Aronyak: 0.5-1.5
The first game between GM Arjun Erigaisi and IM Aronyak Ghosh was a lukewarm draw.
Arjun was better in the second game but he completely missed a potential devastating attack by Aronyak.
Aronyak - Arjun, Game 2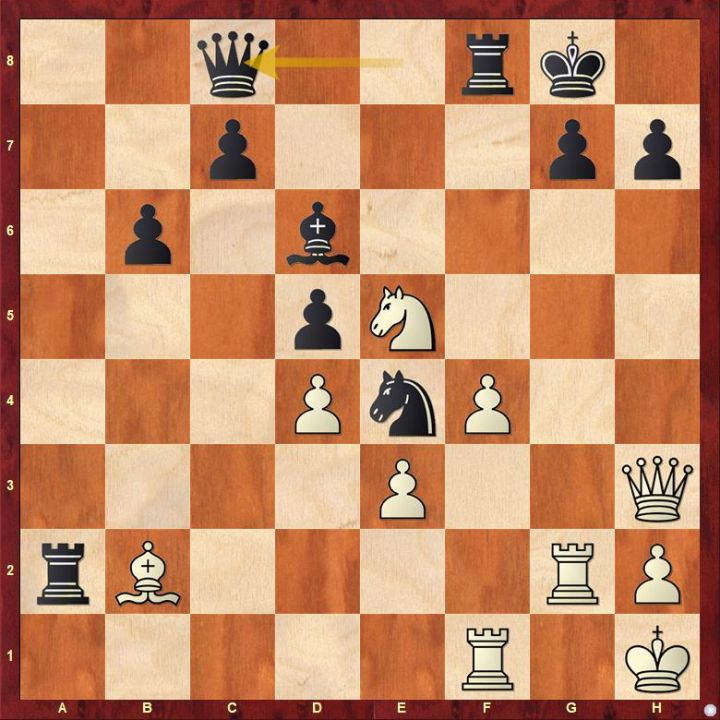 28...Qc8 was everything that white needed in that position not black. Find out why it is a blunder and what black could have done instead. Aronyak advanced to the Finals after this victory.
Last December in ChessBase India Super Juniors Cup Aronyak eliminated Gukesh in the Pre Quarter-Finals as he won Armageddon. Will Aronyak repeat the same performance or is it time for Gukesh to redeem his loss? We will find out in a few hours.

* - Won by Armageddon
Replay all games of Semi-Finals
Replay the Live stream
Top 16 Qualifiers
The qualifier events took place from 21st to 28th February 2021 on Tornelo. The time control for each event was 3 mins + 2 second increment.
Here are the results:
Event 1 (21st February) - GM Arjun Erigaisi 8.0/9 and GM Harsha Bharathakoti 7.5/9
Event 2 (22nd February) - GM Raunak Sadhwani 8.5/9 and GM Abhimanyu Puranik 7.5/9
Event 3 (23rd February) - GM Narayanan S L 8.0/9 and IM Mitrabha Guha 8.0/9
Event 4 (24th February) - GM Praggnanandhaa 7.5/9 and IM Sammed Shete 7.5/9
Event 5 (25th February) - GM Visakh N R 8.0/9 and IM Arjun Kalyan 7.5/9
Event 6 (26th February) - IM Aronyak Ghosh 8.0/9 and GM D Gukesh 7.0/9
Event 7 (27th February) - IM Pranesh M 7.5/9 and GM Vishnu Prasanna 7.0/9
Event 8 (28th February) - GM Abhijeet Gupta 7.5/9 and GM Diptayan Ghosh 7.0/9
Schedule
Online Qualifiers: 21st to 28th Feb at 7 pm IST
Pre Quarter-Finals: 4th March at 7 pm IST
Quarter-Finals: 5th March at 7 pm IST
Semi-Finals: 6th March at 7 pm IST
Finals: 7th March at 7 pm IST
Knockout Format
Pre Quarter-Finals - A total of 16 Participants will play in pre-quarters. The pre-quarters will be a series of two games. In case the score is equal, the result will be drawn by a single Armageddon game.
Quarter Finals - The remaining eight players will play a best of two games knockout series against their opponent. In case of a draw, there will be Armageddon.
Semi Finals - Top two players in each group will play two games against each other and winner in each group will qualify for finals. In case of a tie between two players, there will be a single Armageddon game.
Finals - Series of four games to decide the winner. In case of draw, there will be Armageddon.
Time control for the eight Qualifiers is 3 minutes + 2 seconds while for Knockout stages is 15 minutes + 10 seconds. Armageddon games will have a time control of 4 mins for player with the black pieces and 5 mins for player with white pieces.
Prize
1st - US$ 1000
2nd - US$ 750
3rd - US$ 500
4th to 16th - US$ 233
Top eight finishers will get an entry to Indian Qualifiers of Meltwater Champions Chess Tour and chess24 Premium subscription and free chessable courses.
Links
---