Chess Super League reinvigorates Tarini Goyal, becomes the latest WIM of India
Tarini Goyal scored her final WIM-norm at Vezerkepzo IM March 2022 in Budapest, Hungary. She crossed 2200 in the live ratings at Vezerkepzo 7days 2022 to become India's latest Woman International Master. The skill and talent was always there in Tarini. However, board exams and the Covid-19 pandemic delayed the inevitable. Chess Super League happened in October 2021. It became a turning point for the Chandigarh girl, now representing Haryana. She scored her final WIM-norm and crossed 2200 in the live ratings in consecutive tournaments at Budapest, Hungary. Check out Tarini's thoughts, her best games annotated by her and also her coach, IM Roktim Bandyopadhyay's word on her strength.
Tarini balances academics and chess
Tarini Goyal is currently pursuing Economics Honours from Delhi's Shri Ram College of Commerce (SRCC). Last year she won FIDE Binance Business Schools Super Cup 2021 for her team SRCC. She started playing chess at the age of five. Although an avid chess player, Tarini never let go of her academic pursuits, scoring 96.4% marks in Class XII and getting in to the prestigious Shri Ram College of Commerce, where again she is maintaining a CGPA of 9.1 so far. She has also been the Vice President of SRCC's Finance & Investment Cell which has enabled her to acquire the much-required leadership qualities in life.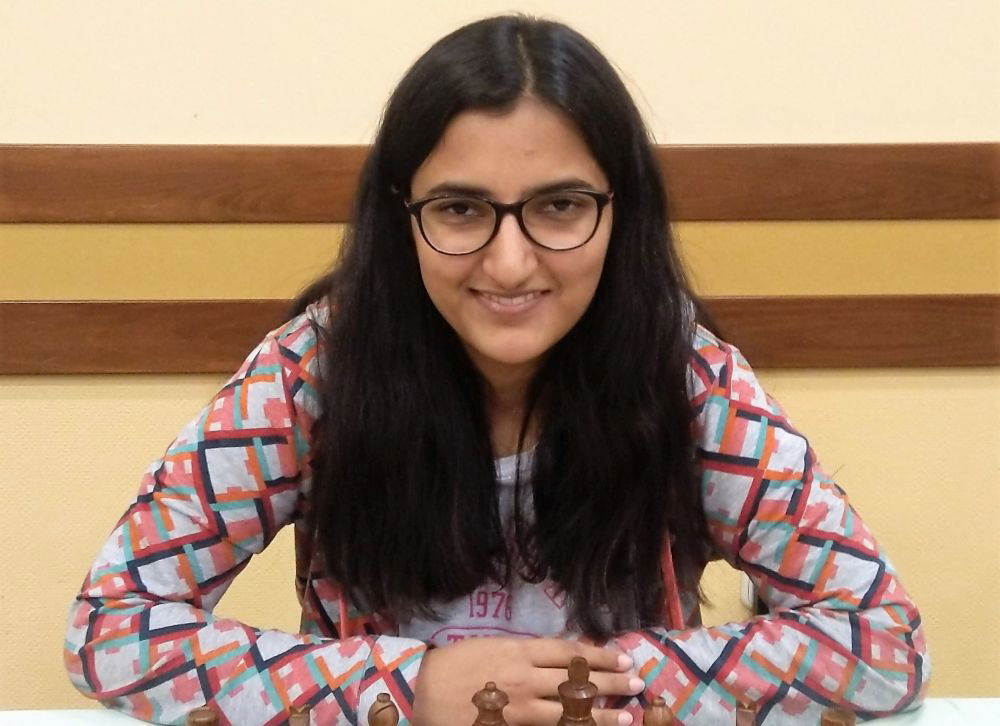 "My first norm was actually supposed to be a WGM norm, the one after I finished 11th (joint fourth) in the Mayor's Cup GM tournament in 2016. However, due to some technical issues, I couldn't get it. Similar incidents happened a couple of times in 2016 and 2017, when there would always be some technicality that stopped me from getting a norm. Finally, in 2018, I scored my first WIM norm in the World Youth Under-18 Girls Championship in Greece, where I also finished seventh. Post this, I switched back to studying for my class 12 board exams to be held in March 2019 and hence took a short break from chess. Getting back into the groove in mid-2019, I got my second WIM-norm in the 26th Abu Dhabi Masters Tournament." - Tarini Goyal shared with us.
She added, "With covid putting us all into a very difficult position, dilemmas regarding career choices and chess work started to creep in. I tried to balance studies, chess and also extra-curricular activities, and hoped to ensure that I'm in a good position regardless of whether I get to play tournaments or not. The opportunity to be part of the Chess Super League was a game changer for me, as it boosted my motivation level and enabled me to plan tournaments with the prize money we got from finishing third.
The final step of being able to travel to Europe (my first Europe trip other than World Youth / Junior events) was fulfilled with the help of my friend Vantika and her mom who offered to travel and stay together, one part of planning which poses a huge problem for me normally. I got two more norms in the three tournaments I played in Hungary, thus completing all the requirements for the WIM title. This has certainly been a very long pending journey with multiple roller coasters! I'm proud to have kept going despite the setbacks, and thankful to my family and Roktim Sir for having faith in me."
First WIM norm
Tarini scored her first WIM-norm at World Youth Under-18 Girls in 2018. She scored an impressive 7.5/11, suffered only one loss. She defeated WIM Olena Martynkova (UKR), drew with WIM Alicja Sliwicka (POL), WIM Oliwia Kiolbasa (POL) and WIM Aleksandra Dimitrova (RUS).
Tarini - Martynkova, World Youth U-18 Girls 2018
16...Re5 is a mistake as it immediately runs into 17.f4 Rh5 18.f5 +-. The attack on the kingside becomes relentless and Black cannot do much except be a spectator.
Second WIM norm
The second WIM-norm was scored at 26th Abu Dhabi Masters 2019. Tarini scored 4.5/9, performed at 2289. She defeated then WIM Priyanka Nutakki, drew with IM Rakesh Kumar Jena and WGM Mary Ann Gomes.
Tarini - Priyanka, 26th Abu Dhabi Masters 2019
14...Rd8 is a big positional mistake which turns things in White's favor. Try to think like Tarini and find out how.
Third WIM norm
Tarini scored her final WIM-norm at Vezerkepzo IM March 2022 in Budapest, Hungary. She drew with IM To Nhat Minh (VIE), IM Egor Bogdanov (UKR) and IM Srinath Rao S V.
Tarini scored her final WIM-norm at Vezerkepzo IM March 2022 scoring 5.0/9, performed at 2273 and gained 25.4 Elo rating points
Fourth WIM-norm and crossing 2200
Although, three WIM-norms are enough to fulfill the norm criteria, Tarini scored a fourth WIM-norm and crossed 2200 in the live ratings at First Saturday IM April 2022.
Tarini has set herself a target of achieving the WGM title, but insists that she would let it come at its own pace rather than getting anxious about it. Chess, says Tarini, is her passion and her life which would stay with her irrespective of whatever professional life she chooses for herself.
Tarini plays very well. We are working for over two years. We resumed working 6-7 months ago. It (WIM title) was expected from her. I expect her to become a WGM long before she became a WIM. She missed a few norms on technicality at Mumbai Open. Her class 12 board exams getting over allowed her to play more freely. If she continues like this, she can certainly be hopeful for WGM. She plays solid. Overall she can be considered a strong player. She is in general a thoughtful person. That reflects on her game.
Tarini's best games
Check out Tarini's best games annotated by her
Replay Tarini's games
---