SRCC clinches FIDE Binance Business Schools Super Cup 2021
Shri Ram College of Commerce won the inaugural edition of FIDE Binance Business Schools Super Cup 2021. A total of 32 teams from twelve countries spanning across five continents across the world took part in this event from 9th to 11th July. The entire event was played online at lichess with a time control of 10 mins + 2 seconds increment. The champions received the first ever NFT Trophy by FIDE. All the prize winners will get their medals and the right to participate in an online simultaneous chess game against one of the top Grandmasters in the world. In addition to that, all participants of the event will also get an official NFT tokens of the cup from Binance, one of the sponsor of the event.

Competing against the world's finest players from various B-schools, chess wizards of Shri Ram College of Commerce won the FIDE Binance Business Schools Super Cup 2021. The team consisted of IM Rishi Sardana, WIM Vantika Agrawal, FMs Ankit Gajwa and Jeet Jain, WFM Tarini Goyal - Captain, and Arijith M.
The first ever edition of the FIDE Binance Business Schools Super Cup, held from 9th to 11th July 2021, witnessed participation of 32 teams from 12 countries, spanning across 5 continents. The tournament was inaugurated by former World Champion Vladimir Kramnik and also witnessed the presence of Emil Sutovsky, Director General of FIDE.
Finishing first in the Group A qualifiers with 22 points, team SRCC moved on to the knockouts with 7 other teams. They beat MGIMO Russia 3.5-0.5 in the Quarter-final, and Moscow School of Management 3-1 in the Semi-final. Moscow School of Management was one of the best teams in participation with Grandmaster Joel Lautier, a former World Championship candidate who has a positive score against the legend Garry Kasparov. Mr. Lautier was all praises for the efforts of FM Jeet Jain, who held him by the hook until the last few seconds of their game.
Facing yet another Russian team, MIPT Business School in the finals, the players continued to dominate the field, winning the first set 2.5-1.5 and the next set 3-1. FM Ankit Gajwa and WIM Vantika Agrawal made the journey smooth for the rest of the team by winning their individual games in all 3 knockout rounds, right up to both sets of the finals. Vantika showcased excellent grit by maintaining a perfect score throughout the tournament, while Rishi and Ankit maintained their calm even in complex positions. With their superlative performance, team SRCC has made its mark in the records of the International Chess Federation (FIDE) as the winner of the first ever B-schools Super Cup.
The first titled player of SRCC, who pioneered the culture of professional chess within the college, FM Ankit Gajwa, also a FIDE Instructor mentions how emotional a feat this was to him, "This victory means a lot to me. SRCC has played a pivotal role in shaping my career. Winning this cup for our college and bringing it to India feels very good." His win against Sergey D Novikov, annotated in the section below, speaks volumes about his nigh on perfect intuition and dynamism.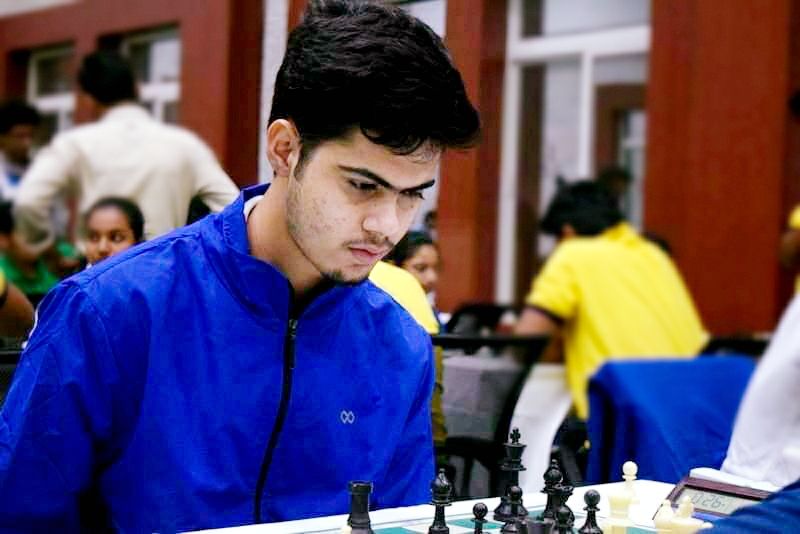 The team's highest rated player IM Rishi Sardana, a grandmaster norm holder and winner of the IIFL Wealth GM Tournament 2018-19, talks about their victory, "Given this was our first serious event since the pandemic, this victory means a lot to me. I'd almost forgotten the adrenaline rush of a high stakes tournament situation, and it feels great to be back home. Kudos to my amazing teammates for delivering in clutch moments!" He annotates a complicated win against Tromifov Sergey (2395) in the most important match of the tournament, showcasing great nerves and unwavering concentration.
FIDE Online Olympiad Gold medallist WIM Vantika Agrawal, who holds two WGM norms and various international medals across different categories, discusses her recently begun journey with the college chess team, "I started college at SRCC last year, and this was my first team tournament. It means a lot to me to win the gold medal for my college. Thank you to all of my teammates for remaining calm during tight situations and playing their best chess." Her favourite game from the tournament was her fine victory against IM Ivan Denisov in the Semi-finals.
An IM norm holder FM Jeet Jain, who was selected as a Shaktidoot player by the Sports Authority of Gujarat feels strongly about the opportunity that came his way, "This tournament was special as it brought me back into action after a long break. It was great to play with good opponents and with a wonderful team. Bringing the Gold medal for my college SRCC is always a proud moment" He analyses his game against a strong 2500 rated player, Timur Fakhrutdinov, in which he dictated the terms!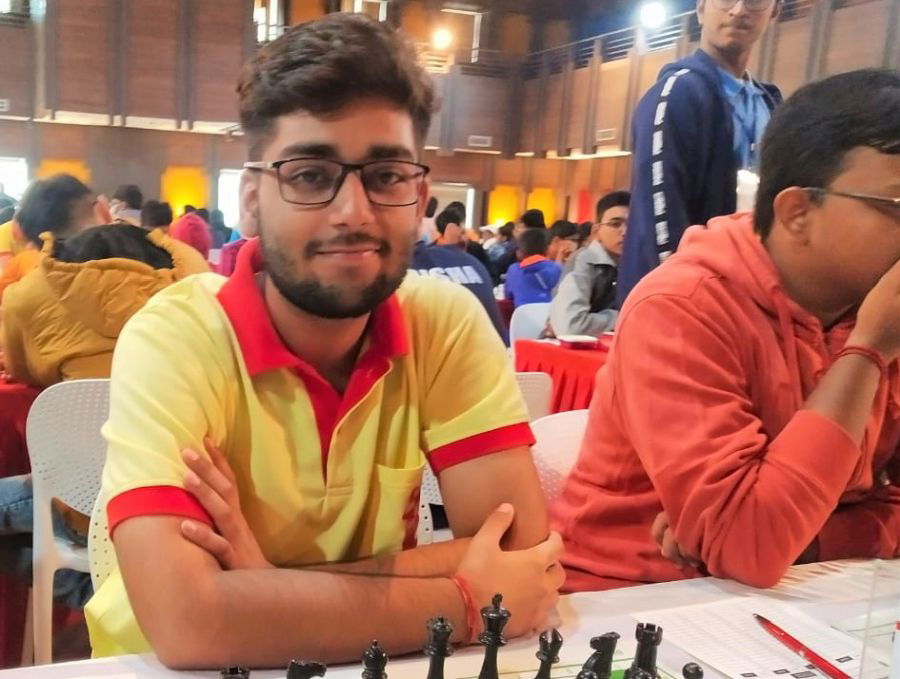 Arijith M, Co-founder and Director of the Eight Times Eight LLP (Online Chess Academy) who dedicates most of his time to studying law, remained dedicated throughout the tournament and recounts, "It was an amazing feeling to play for SRCC once again. Winning such a big event is always a proud moment. A big thanks to the organisers for hosting such an amazing event with all the restrictions they had. Hoping to participate next year as well."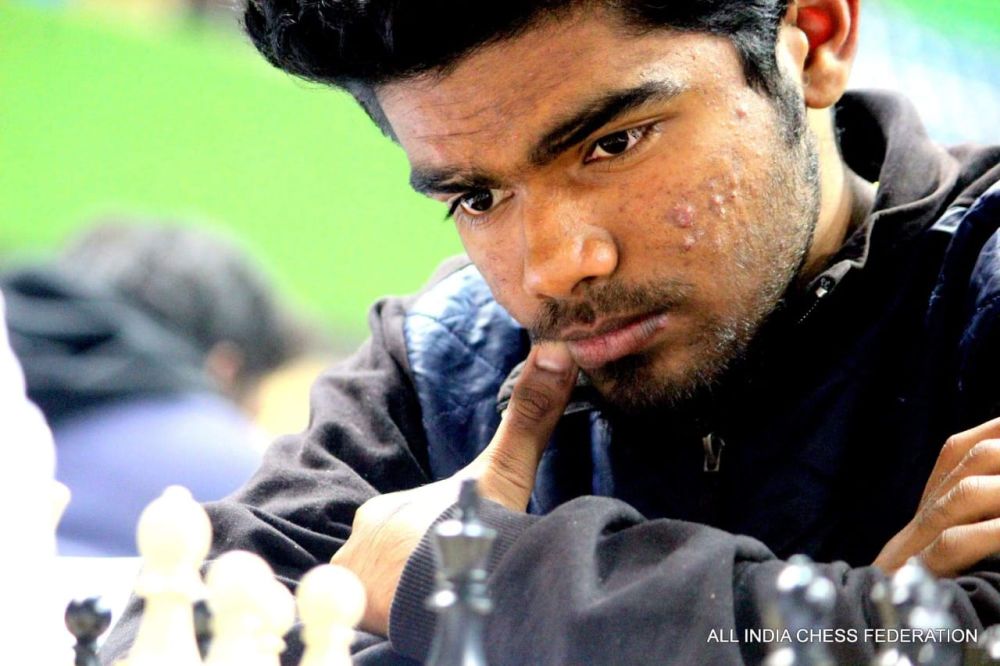 Commenting on the team's first international medal, Captain Tarini Goyal shares, "Having formed the team within just one day and registering a few minutes before deadline, I had multiple doubts in my mind as we started out. With pressure mounting on after a half decent first day, I maintained my calm and tried not to pass on the worries to anyone else in the team. With near perfect planning and availability of players on the second day, we managed to finish first in the qualifiers. The knockouts on the last day were all about our best four players winning it all! It was my first major experience of leading a team that included both super seniors and higher rated players, but it didn't pose any challenges, as the understanding we share as fellow chess players eased everything out." Tarini is a WFM and a FIDE Instructor who also has 2 WIM norms and various medals in National and Asian Championships to her credit.
Links
About the Author
Tarini Goyal is a former National Under-9 Girls, Asian Schools Under-11 Girls Standard and Blitz, National Schools Under-13 Girls, Chandigarh State Under-17 and 19 Girls and Open State Champion. She has also won Silver in Asian Youth Under-10 Girls, Silver in World Youth Mind Sports Under-14 Girls Blitz, Bronze in Asian Youth Under-8 and 10 Girls, third in National Under-11 and 17 Girls. Currently she is studying BA (Hons) Economics in Shri Ram College of Commerce in Delhi. She also has WFM and FI title.
---