Super Juniors Cup Quarter-Finals: Raunak decimates Praggnanandhaa
Super Juniors Cup day 4 had all the fireworks as one could expect. From having the World Class Anish Giri, Vidit Gujrathi, Adhiban and Harika on the Guest Commentary team along with 'The Wise-Captain' Srinath to first Quarter-Finals stretching to the Armageddon and the next Quarter-Final finishing in just four games. Both Raunak-Praggnanandhaa and Nihal-Iniyan was absolutely fantastic for all followers of the game. Nihal, Raunak, Arjun and Abhimanyu are the Semi-Finalists. They will battle tomorrow for a spot in the Finals starting from 3 p.m. IST. Finals will start at 8:15 p.m. IST. Catch all the action LIVE on ChessBase India youtube channel tomorrow. Photo: ChessBase India
Nihal makes an amazing comeback
Day 4 of the Super Juniors Cup started with fireworks as GM Arjun Erigaisi vs GM Aryan Chopra went to the end and Armageddon decided the game. It became the only Quarter-Final of the day which witnessed seven games to decide a winner. GM Abhimanyu Puranik played some brilliant mind-games and whitewashed IM Aronyak Ghosh with a 4-0 win. Praggnanandhaa couldn't overcome the in-form junior Raunak Sadhwani and crumbled to a 1.5-3.5 defeat. Raunak must be applauded as he made a strong comeback after being down by 0.5-1.5 . In the last Quarter-Final of the day, Iniyan caught Nihal off-guard in the first game, but Nihal bounced back and showed his class by winning the next four games consecutively, once again showing why he is one of the best junior in the world. Fun fact: Three out of four Semi-Finalists are the students of GM Srinath Narayanan.
Nihal Sarin - Iniyan P: 4-1
Iniyan won an absolute thriller after Nihal missed capitalizing on his advantage and allowed the tables to turn.
Nihal - Iniyan, Game 1
24.Nc3 only allows black to start throwing punches. What is it that white missed here? Eventually Iniyan checkmated Nihal on move no.44
Just like a best batsman is most vulnerable in the first over, a goal keeper is yet to warm up in the initial minutes of the football match, Nihal also shook his cobwebs after losing the first match and won the next four to reassert his dominance. Nihal won the second game without giving an inch of an opportunity to his opponent.
Nihal won the third game comfortably, after capitalizing on an opportunity which is an echo from a similar position which he missed in the first game. Scroll up and you will know what I am talking about.
Nihal - Iniyan, Game 3
Nihal opted for the French Defense in the fourth game as he was already in the lead with 2-1 and the Dutch no.1 and World no.11 Anish Giri was in the commentary, maybe to tip his hat towards him? Later Nihal revealed that he played that to revisit old memories of when he faced Iniyan in National Under-11 over half a decade ago. Nihal completely annihilated his opponent and increased his lead to 3-1.
Nihal played some excellent chess in the fifth game to beat Iniyan and win the match by 4-1.
Nihal - Iniyan, Game 5
Can you find the winning move for white after 21...Rg5 ?
Praggnanandhaa - Raunak: 1.5-3.5
One of the most anticipated match of the day was between Praggnanandhaa and Raunak. The first game didn't disappoint, it had all the fireworks, only the result didn't show it.
Praggnanandhaa - Raunak, Game 1
The game went on with 29.Rde1, however there was something better for white. What is it?
White is completely winning after 37...Qd7. How?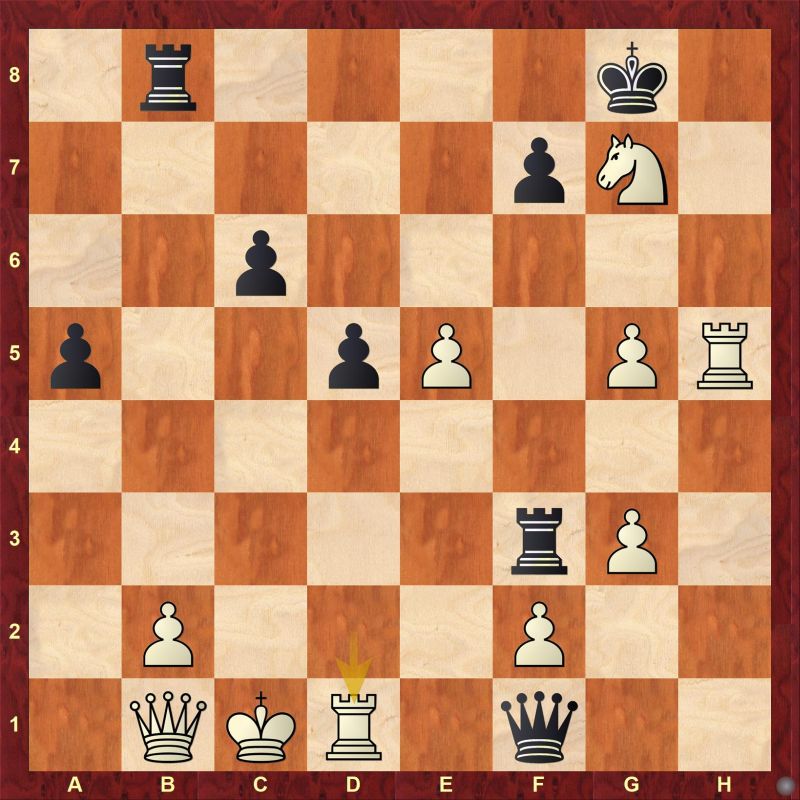 Find out the finish for black after 45.Rd1. With both players missing their wins, much to the dismay of everyone, the game ended up in a draw.
Raunak lost a couple of pawns in the second game and he couldn't find any compensation for it. Praggnanandhaa slowly converted his material advantage by launching an attack on the opponent's kingside.
Raunak - Praggnanandhaa, Game 2
White's last move is 22.Ra1. Why is it incorrect?
Despite being better for the majority of the game, Praggnanandhaa let his advantage evaporate and allow Raunak to get back in the game.
Praggnanandhaa - Raunak, Game 3
How should white continue here? The game went on 29.Kb1 Kb8 30.Rh2 and white suddenly allowed black to regroup. With this win Raunak equalized the score with 1.5-1.5
Raunak created a passed pawn on the b-file in the fourth game and Praggnanandhaa inadvertently helped his opponent to roll the pawn easily at first which snowballed into a win for the in-form Raunak.
Raunak - Praggnanandhaa, Game 4
16...Qa7 allowed the b2-pawn to have a free roll with b4-b5. Raunak increased his lead to 2.5-1.5
Praggnanandhaa went for a slow and inaccurate plan in the fifth game and paid a heavy price for it.
Praggnanandhaa - Raunak, Game 5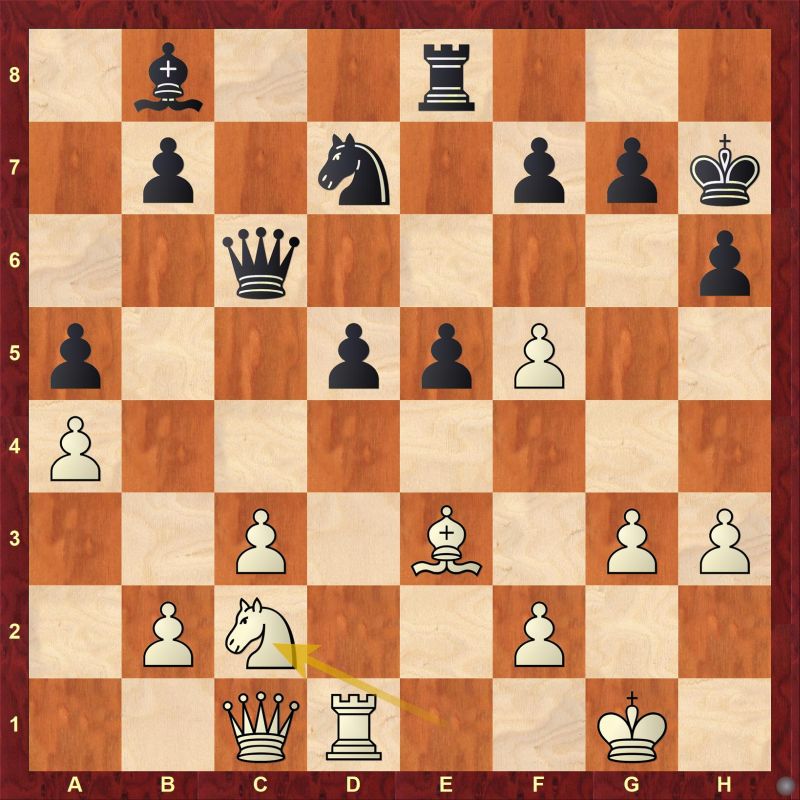 30.Nc2 is not the right plan for white. In fact, it only helps black. What was the better plan for white instead?
Abhimanyu Puranik - Aronyak Ghosh: 4-0
IM Aronyak Ghosh had the desire to go for a win as he took every opportunity he was presented but what he lacked is finishing in crunch. That set apart himself from GM Abhimanyu Puranik who did a 4-0 whitewash.
Aronyak - Abhimanyu, Game 1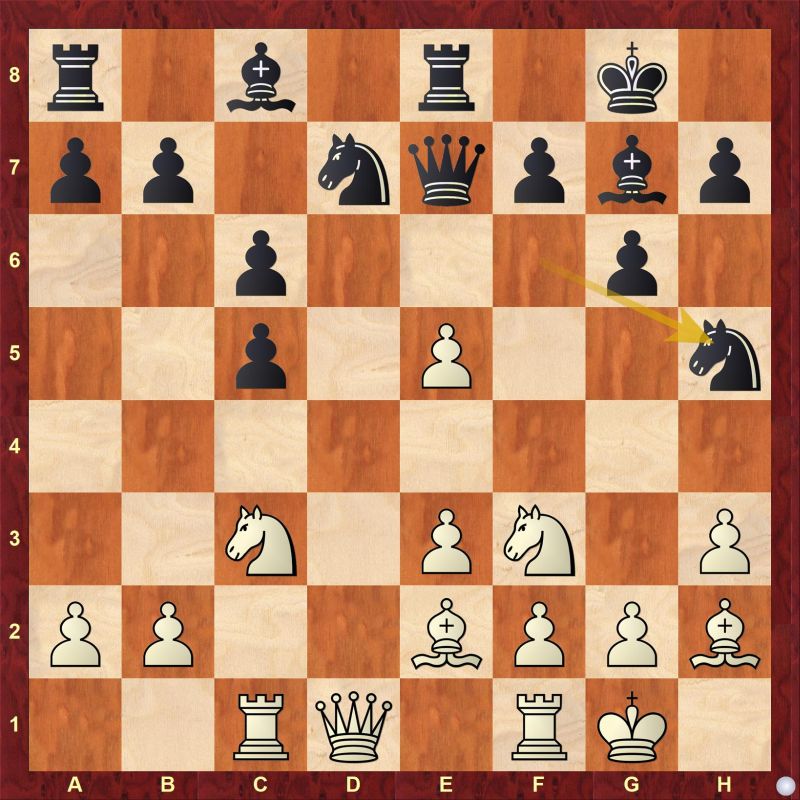 White is presented an opportunity with 13...Nh5. Will you take it? To beat stronger opponents you have to take every opportunity that comes your way and white did in the game.
White needed to play actively here because he has a piece for two pawns. What is the best continuation for white after 21...hxg6 ? Eventually Aronyak blundered which cost him the game.
In the second game, Aronyak once again got advantageous position where he needed to play more actively.
Abhimanyu - Aronyak, Game 2
Well first of all black shouldn't have played 19...exf5 and create weaknesses. Anyway after 20.Rf1 black made the mistake of playing 20...Ne4. What is the better continuation after 20.Rf1 ?
Being 2-0 down, Aronyak resorted to Larsen opening which transposed into an English opening later. This time he did not get any chance, the maximum he had was a draw but he blundered in the endgame and lost.
Aronyak - Abhimanyu, Game 3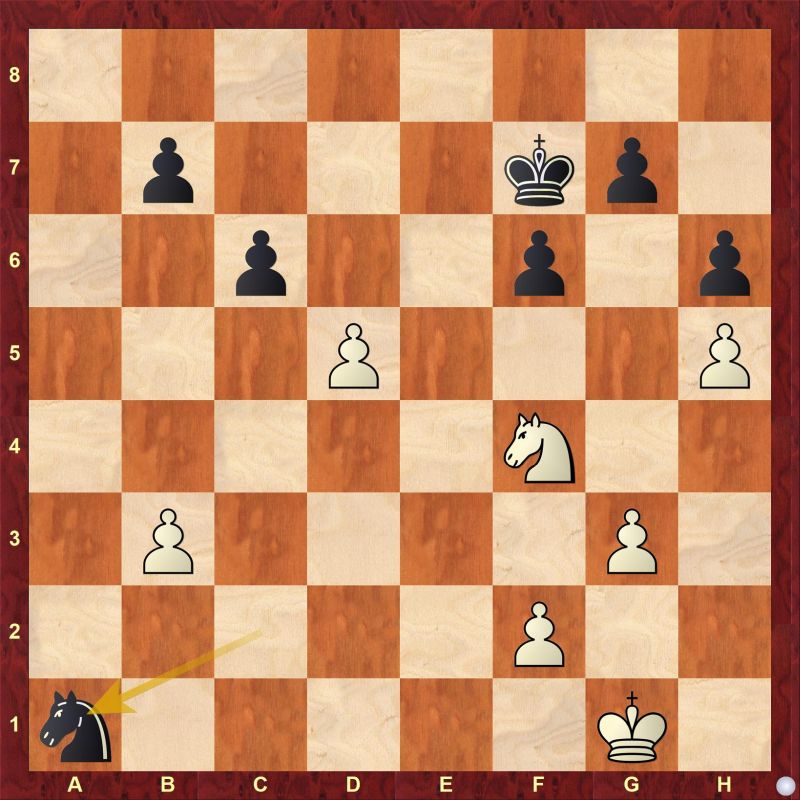 What should white play here to save the game after 31...Nxa1 ? White had one more chance to save the game in the end but he missed that too.
In the fourth game, Aronyak desperately wanted to win as he needed one to stay in the tournament, but he got into a worse position out of the opening. Abhimanyu being the 'Cerebral Assassin' went for Four Pawns Attack in the Alekhine Defence and this time he was got a decisive advantage early in the middlegame. Thus bringing an end to Aronyak's fantastic run in the end.
Arjun Erigaisi - Aryan Chopra: 4*-3
GM Aryan Chopra went wrong early in the opening against GM Arjun Erigaisi and got himself in trouble.
Arjun - Aryan, Game 1
Find out why 10...Bg4 is a mistake here.
What is the winning continuation for white after 27...Nf7 ?
Aryan struck back immediately by showing an incredible positional sense and levelled the score 1-1.
Aryan - Arjun, Game 2
It is hard to fathom that 20...Bxf4 can be an incorrect move, but it actually is. Can you figure out why? Black should have simply gotten rid of the piece which has invaded maximum into his territory with 20...Bf8.
White is having a winning position here. Find out the finish after 24...Ree8
The third game was a roller-coaster one, where evaluation kept changing in the final parts of the game. Arjun blundered a piece but Aryan eventually ran out of time in a winning position.
Arjun - Aryan, Game 3
24...Qe5 may seem like okay for black but if you take a closer look then you will see that it's not. Find out why.
In Game 4, Aryan blundered in time scramble and lost a seemingly equal Rook endgame. This time also on time, but the position was lost too unlike the previous game.
Aryan - Arjun, Game 4
What is the best way for white to continue after 36...Ra3+ ? With this win Arjun took 3-1 lead which means Aryan had to win the next two games to force Armageddon.
The fifth game was full of ups and downs. Both Aryan and Arjun had that fair share of chances and misses. Aryan won in the end and made it 3-2. However Arjun could have saved the game.
Arjun - Aryan, Game 5
It may look like it's over for white but it's not over yet. Find out how can white save the game after 36...e4.
Once again Aryan was in a must-win situation to stay in the event. He won the sixth game to make it 3-3 and force Armageddon.
Aryan opted for the King's Indian Defense with the black pieces as draw was sufficient for him to advance to the Semi-Finals as per Armageddon rules. In a seemingly equal position, Aryan did not anticipate his opponent's potential breakthrough by the harry.
Arjun - Aryan, Armageddon
What does the move 27....Kg7 allow for white? Also find out how black could have prevented it. White destroyed black's kingside and eventually liquidated into a winning endgame with two extra pawns.
*- Winner of the Armageddon.
Brackets after Day 3
Replay all Quarter-Final games from Day 4
Replay the live stream
Schedule
6th, 7th and 8th December - Matches start at 2 p.m. IST
9th and 10th December - Matches start at 3 p.m. IST
Prizes
| | |
| --- | --- |
| Prizes | Prizes |
| 1st | 125000 |
| 2nd | 75000 |
| 3rd | 40000 |
| 4th | 25000 |
| 5th | 15000 |
| 6th | 15000 |
| 7th | 15000 |
| 8th | 15000 |
9th - 16th ₹10000 each, 17th - 32nd ₹5000 each.
Total Prize Fund: ₹520,000.
Best female Prize: Rs.20,000
Links
---