Meet the 32 Gladiators of the Super Juniors Cup 2020!
The Super Juniors Cup is an initiative by the ChessBase India Foundation to bring the best juniors of Indian chess (born on and after 2000) together to fight it out for a big prize! The players are incredibly powerful in their own right, and have hence been given nicknames to better associate them with their personality! From tactical masters and queen sacrifices, to calculated positional maneuvers and crushing defeats, these champions have it all. 16 players will play on 6th of December, and the remaining 16 the next day on the 7th. Watch the live matches at the ChessBase India YouTube Channel!
Meet the future of Indian chess
The 32 players mentioned in this article are the participants of the Super Juniors Cup 2020 organized by the ChessBase India Foundation. They are also the future of our country and one or perhaps more than one will go on to become future World Champions, Candidates and top ten players! Knowing them well would be a prudent decision.
1. GM Nihal Sarin - The Immortal Gladiator
Nihal Sarin fully deserves his name, and he continues to live up to the immensely high standards that people usually expect at his level. His rating graph is one of the most consistent ones, with a steady growth that never diminished in all these years. From his monstrous power at tournaments like the World Blitz Championships, to carrying the Indian Team Gladiator-style to the next stage. A 2600 rated player, Grandmaster, and already in a contract at the age of 16. His performance as a chess player is immortal, and gave way to ChessBase India's very first YouTube video. The best part? This isn't even his final form yet.
2. GM Praggnanandhaa R - The Kingslayer
Sometimes, there are a plethora of achievements where each is just as impressive as the other. Being one of the youngest people in the world to cross 2600, routinely defeating the best players in the game, and becoming a GM at 12 years, 10 months and 13 days. Behind Praggnanandhaa's soft eyes and shy demeanour, is a force more potent than ever before, and a chess player to be reckoned with. Whether it be bad health or fatigue, Pragg will never lose his momentum, and would do anything for a sliver of extra knowledge. As his coach has said in the past which still holds up fairly well today; "Physically lightweight, but talentwise a heavyweight."
3. GM Aryan Chopra - Position Breaker
Grandmaster from the Capital, Aryan Chopra aces the tactical and positional side of the black and white game, by simply breaking open the center like he did at Abu Dhabi in 2016, when he played a brilliant move that secured him his final GM norm, at the age of 14. He won another scintillating victory at the Gibraltar Masters earlier this year, after defeating a very strong German Grandmaster, by infiltrating his opponent's side in just 27 moves in a shocking manner. The grind began for him at the age of 6 years, and from there the lad from Delhi became who he is now. An incredibly strong player who stands out!
4. GM Abhimanyu Puranik - Paladin of Black and White
Confidence is key to winning a chess game. True fearless chess comes from not caring about who your opponent is, and being unafraid to give up pieces and play risky chess. Abhimanyu Puranik is the epitome of this style, and he is known for keeping his calm no matter what kind of situations arise. In the World Juniors 2018, Abhimanyu went head to head with an IM on round 8, and risked it all by playing a new line which he had very little experience of. He was severely outplayed in the opening, and came close to a terrible loss, but coolly played on, and emerged victorious, against all odds. He plays chess with games on the edge, which most would consider unnecessary, but his astronomical performance ratings and number of medals tell a different story - one of success.
5. GM Gukesh - The White Tiger
Rarity, Beauty, Power. The rush to see who could become the youngest Chess Grandmaster dates back to quite long ago. Serjey Karjakin and Magnus Carlsen were the then pioneers of chess youth. Enter D Gukesh, who followed in their wake, and became the 2nd youngest GM. An incredible feat, and one that was met with massive appreciation, but not quite the mark. Did that deter Gukesh? Far from it, he took pride in what he accomplished, and looked back at his pace in the last two years, with each norm dominating chess headlines, and analysis of his game done in awe of his sheer mental capacity. Never during those years did he consider slowing down, and it paid off brilliantly for him.
6. GM Arjun Erigaisi - Unbeatable Conqueror
If you can remember an opening and all it's lines, then you'd be a pretty strong player in it. Then again, browsing dozens of games, and keeping in mind all the failsafes isn't easy. Arjun Erigaisi's mental prowess is a tough one, and his retention rate and ability to hold volumes of chess info is astounding, even to those who know him closely. Beating three world juniors in the same event, decimating in Online play, and going whole tournaments unbeaten defines Arjun as a chess player. It doesn't matter if a tournament is going poorly for seven rounds; if the eighth requires a victory against a Grandmaster, Arjun can give it his all and emerge as the champion.
7. GM Raunak Sadhwani - Blitz Ninja
Chess is always most authentic when played over the board. A digital experience doesn't quite capture the same feeling, and your reflexes need to be all that better when playing Online. Raunak Sadhwani is nothing if not prepared for it, and his aggressive play style coupled with making moves quickly make him a formidable opponent. Becoming a Grandmaster at the age of 13, shredding GMs over the board and mature enough to pass off as an adult, Raunak Sadhwani has it all to make him a fierce opponent. As for his games, well, a lack of fear and an intense concentration speak for themselves, and people watching him play can attest to a rock solid and focused player, with tunnel vision towards nothing else but the black and white board in front.
8. GM Harsha Bharathakoti - Brigadier of the board
Harsha Bharatkoti had an excellent game at Isle of Man in 2018 against a strong Grandmaster, when his pawns advanced, and reaching the 7th rank unfazed that their queen was gone. A game played so effectively that it ended at 31 moves, Harsha had just focused his knight, rook and queen to getting the job done, and it worked well. There were obstacles on the left, right and front, but onward the paws marched straight to the enemy lair. He is the type of person to make a comeback and steal the first from the sole lead right at the last few rounds, becoming the champion. Harsha knows the tendencies for a possible attack, and he just needs a slight chance to use them.
9. GM P. Iniyan - Sicilian Saint
GM P Iniyan is the type of person to finish things up as quickly as he can. An aggressive style of play is his preference, and it works wonders against players of all levels. Very rarely does he stress out, even over some of his most impressive games. His game in 2019 against a strong GM, where after the 29th move, he made his final GM norm, becoming India's 61st Grandmaster. Multiple incredible achievements to his name, following in Kasparov's footsteps, this 18 year old gentleman from Erode is here to shake the competition.
10. IM Saksham Rautela - Hawk of the Hills
Hailing from the mighty hills of Uttarakhand, Saksham Rautela has gone up in rating by a massive 300 points in a year while also becoming an IM along the way. One of his impressive wins was when he scored his first IM norm, and then becoming one himself right before the lockdown began. Ardent follower of MVL and Caruana, and with over 1100 fide rated games, upward is the only direction his rating and performance have gone, and his journey from his first tournament in 2012 to now forms nothing less than a never ending hill.
11. IM Arjun Kalyan - The Middlegame Monk
It is during the early game, when the pieces are barely out of the initial squares and plans are just being formulated, when Arjun Kalyan decides to go into in depth games to outplay his opponent. He convincingly beat a strong GM with the black pieces after a sacrifice and as a reward, made his final GM norm. His International Master is only temporary, as his games are, simply put, grand. An admirer of puzzles, abacus, and logic is what got him into the game, and it's what has brought him to where he is now. Classical time formats, complex calculations, and positional depths are where Arjun excels.
12. IM Harshit Raja - Najdorf Nightmare
An aggressive player, a hyperbullet admirer, and offering multiple sacrifices to those foolish enough to take the bait. After securing a promising chess career and admissions to top universities, all that's left to be done is to grind to the top. Harshit Raja does exactly that, and accompanied by his constant attacking play with support from a Najdorf setup, the advance of his pieces towards the enemy is unstoppable. Crushing grandmaster after grandmaster with back to back norms, and delivering them in a convincing blow, Harshit is the last person you'd want opposite you over the board. This 19 year old is going all out, and is mostly likely to let his moves do the talking for him.
13. GM Prithu Gupta - Rising Wizard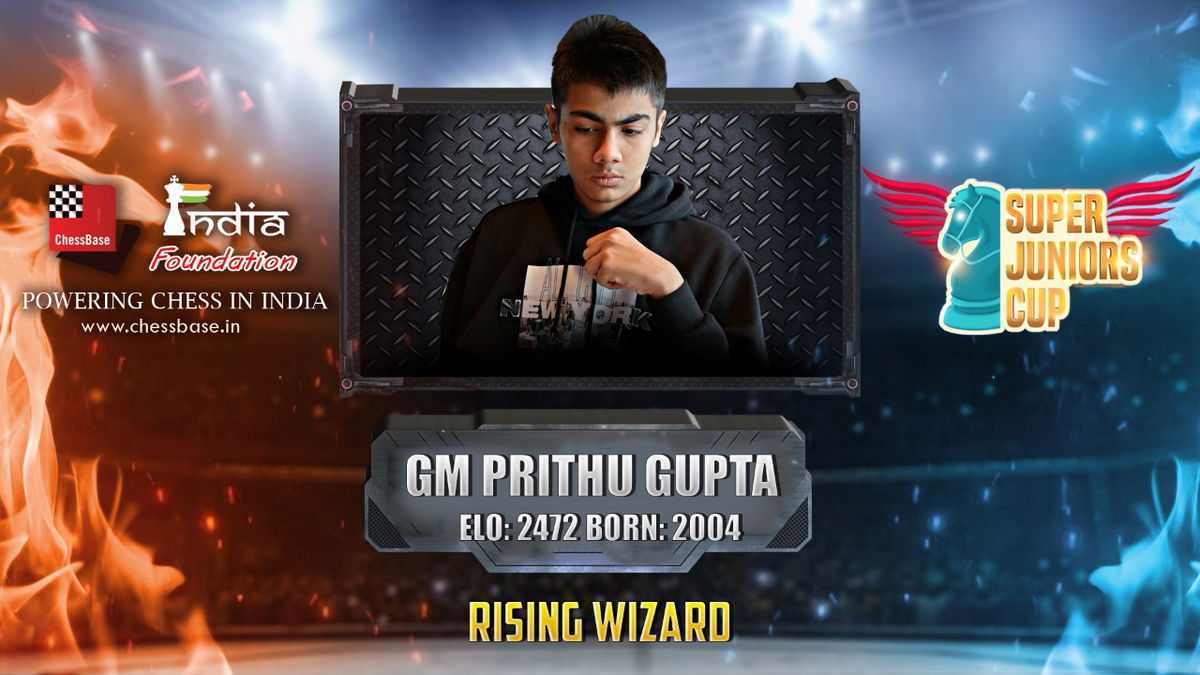 Being ahead of the crowd can be very easy if you got there before them. Starting chess at the age of 4 or 5 years old is not uncommon, and they become some of the greatest prodigies in the game. This boy started chess at the age of 9 years, much later than most chess players his age, and yet managed to become India's 64th Grandmaster in just 5 years, at the age of 15. How did he do it? the answer - reading chess books, keeping an open mind to all playstyles and taking inspiration from some of the greatest classics and names that shaped the game's history. As a result, he was able to coolly handle situations under pressure, such as winning the last two games in a tournament when they are crucial to getting a Norm. And that is exactly what he did. Introducing the brainy and rising youngster, GM Prithu Gupta, rated 2472, aged 15.
14. IM Rahul Srivatshav - Cavalier of 64 Squares
This Fischer fan has been such an ardent enthusiast of the game that he inherited the qualities of Fisher too. Aggressive play and a Sicilian player from black, albeit the Sicilian Taimanov. Some of his best games took place at the Chania Open in 2019, where one of them involved get\ting a complex haven of a position, and winning the game despite an inferior position. Another game is a victory that arises simply from taking advantage of enemy error, and using that to promote a queen in the middlegame. Well planned out games, that are practical and executed with a clean finish.
15. IM Raghunandan KS - Fearless Commando
Victory cannot be achieved without sacrifice, and chess players know this better than anyone. Raghunandan KS follows this very closely, and has caused ripples in the chess community more than once before. He was honored by the Karnataka Government to bolster his skills in the game. He has since used this well, and with the confidence from a fiery 4.0/4 start at the Dubai Open in 2019, he got an insane performance rating of 3166 and bagged a GM norm quickly. His games also include their fair share of giving things up for an advantage, and a game of his in 2016 against a higher rated player saw the sacrifice of a pawn, a knight, a bishop, a rook and a queen to win the game. The King did unintentionally come close, but he prevailed and gave checkmate soon enough. Quite a risky game, but can be more aptly described as Fearless Chess.
16. IM Rathanvel VS - The Counter-Striker
The first instinct when under attack by a lot of players is to look for ways to save the piece, looking for squares it can flee to. What the predator doesn't see coming, is for the prey to retaliate. IM Rathanvel VS has a sharp style of play; after training countless hours of tactics, aggressive play comes naturally. Luring his opponent to a seemingly safe position, only to be trapped under counter fire. The Abu Dhabi Masters in 2018 witnessed this firsthand, with the top seeded Grandmaster shocked, as he was outplayed by a soft spoken 17 year old. To Rathanvel, it didn't matter whether he lost his rook. What mattered is gaining the offensive, and pushing the knight to a solid spot, rooted in enemy territory, where it was least expected.
17. IM Mitrabha Guha - The Victorious Troooper
The impact that winning a tournament makes on the winner can be anywhere from high to low, depending on the tournament itself. Mitrabha Guha on the other hand, wins so many of them it's hard to keep a count. The records of his victories are seemingly endless, from Telegraph Schools and Fischer Random blitz events all the way to his GM Norm and his victory at the IMvitational. Him being the sole leader of a tournament with unbeaten scores is not uncommon, and word of his domination has reached many ears. A powerful contender for the prize.
18. IM Aditya Mittal - Tactical Thunderbolt
Chess players usually find ways to overcome obstacles to keep going for tournaments, such as time and money. These two alone are huge, and most players leave if either one is inadequate. Aditya Mittal had his own health to overcome, and he has done it fabulously. He stood apart from the crowd in the most beautiful way possible, as a powerful chess player. Becoming an IM at the age of 12, coupled with some incredible increase in rating last year crossing 2454 ELO, he has been just as enthusiastic as ever before. His sharpness over the board and a keen eye for enemy weaknesses more often than not allow him to emerge victorious. Most would be insecure about their own appearance, but Aditya never lets it get to him, and his games are enough to leave the opponent dumbfounded about where they went wrong, and admiring the brilliancy of the young boy. His critical thinking and understanding of the game have allowed him to soar high, and he continues to do so with great pace.
19. IM Bharath Subramaniyam - Daring Dynamite
Lively, carefree and mischievous, Bharath Subramaniyam is full of life and takes all enjoyment in his game. Despite his confidence and focus over the board, there is still a hint of playfulness in his eyes. His results are marvelous too, and him becoming an IM from his first IM norm in the span of seven months is a testament to that. It doesn't end there, because he still dominates his age category. His game sense is also commendable, as he can quite accurately predict what the opponent is going to play judging by his own annotations. Whether it be laying traps, exploits, attacks, combinations, sacrifices, or even winning lost games, Bharath can do it all.
20. IM Rithvik Raja - The Punisher from the South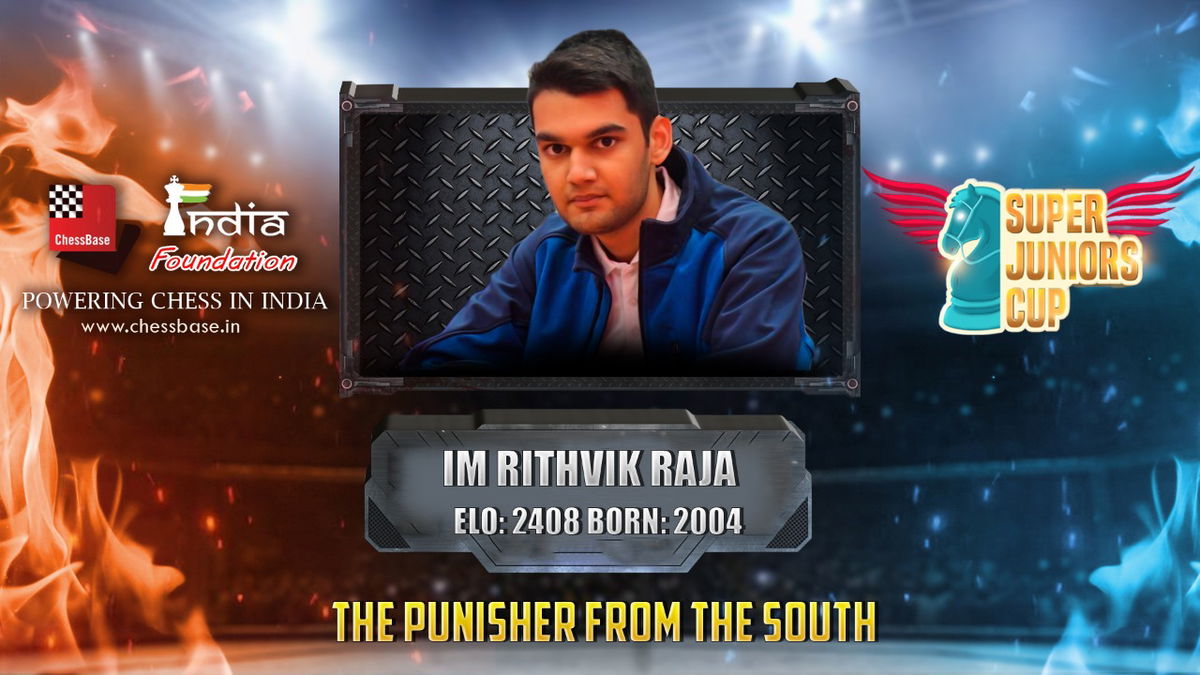 A strategic eye and dynamic decision making skills are all Rithvik Raja needs to win his games. Online Blitz is just one of his many impressive sills, and he does it well, defeating some of the best players in the form of mouse clicks with profound thought behind it, The current National U-15 Sub-Junior has felt strongly about chess being restricted due to lockdown, and has actively played many tournaments that support the PM Cares fund to combat COVID-19. The former National Champion and Asian Youth Gold medal winner has pulled up and is ready to fight.
21. IM Aronyak Ghosh - Strategic Superyouth
The World Youth 2019 in Mumbai was when Aronyak took the opportunity to strike, by playing some of his best games and winning the bronze. He scored an undefeated 6.5/7 to win the Tata Steel Chess festival 2019. Sharpening his skills further, Aronyak then won the Telegraph Schools' Chess 2019 with yet another unbeaten finish of 8.0/9. He even drew with Ding Liren in a friendly blitz game. He became an IM with 3 norms in 3 months, and has played a multitude of online tournaments in the lockdown. The anything-but-e4 player will do all that he can in the image of his idol, Magnus Carlsen.
22. IM Koustav Chatterjee - Lord Chaos
Being put out of your comfort zone is, well, pretty uncomfortable in a manner of speaking. In chess, players tend to go into positions where they are better suited to, but it can be disastrous if the playing style gets switched up. Koustav was playing a seemingly normal game, when it converted to a high-tension attacking game. Koustav sailed through and the game ended with resignation in Koustav's favor. His extensive Catalan and Nimzo knowledge was of his own doing, as becoming an IM all on your own without a coach requires a lot of effort. Using books, video material and practicing hours of tactics lead to him being the immensely capable player he is today.
23. IM Harikrishna A.Ra - Midgame Crusader
There are only 3 norms needed for becoming an International Master, so there isn't much reason to wait to apply once you get them. Harikrishnan took it one step further, and had 6 IM norms when he applied for the title. When playing a game, there's a lot of pieces and squares that are ready to be exploited in the early game. Harikrishnan has perfected the art of this, and his excellent win against a 2458 rated player in the endgame ended with a fine bishop sacrifice and resignation of his opponent 31 moves in. An avid blitz player, who plays bughouse in his casual time, and was introduced to chess thanks to his 1600 rated brother, Hari is ready for the challenges to come.
24. IM Sankalp Gupta - The Tactic Beast
It's generally considered favorable practice to measure one's success with their understanding of the game, and to play with only the game in mind. Sankalp Gupta plays for the thrill of winning games. Having played hours of hyperbullet and proudly declaring an 'addiction' to tactics sprints. His fundamentals are extremely strong, and a slight mess up can lead to a full-fledged attack on the king, as seen in his game against a Grandmaster. Remorselessly ending the game short and still casual about the result.
25. FM Srihari LR - Liquidation Maestro
Srihari L R, a middlegame fanatic and d4 expert. Self described as "patient" his games show much more of that. They start seemingly simple, with nothing too extraordinary. It's right as most pieces have been developed, or when the opponent makes a mistake, is when he capitalizes. A central push, followed by multiple threats over the board at once, that begin to overwhelm the opponent from trying to stop them. Once even one of those threats yields an advantage, that's when Srihari performs the liquidation task, and converts into an endgame with no doubt of the outcome. World Youth, Asians, National and Commonwealth are just a few of the many places such gems were played.
26. IM Neelash Saha - Gamechanger
Multiple state championship prizes bagged by him, IM Neelash Saha is the gamechanger. Classical time formats are where he excels, and he is versatile in his style of play, switching to attacking and defensive measures fluently. His knowledge of the game can be attributed to the trove of chess books he owns, and it is the secret to his win against an extremely strong GM at the Kathmandu Open in 2018. He sports the Online Chess username of Gamechanger, and the name serves him well, because it is the same name which many stronger players have seen defeating them online with considerable ease. Using his gut feeling and sheer intuition, he deals well under time, and has won two National Championships and a Commonwealth silver. A formidable opponent to look out for.
27. IM Kushager Krishnater - Opening Badshah
The initial moves of a chess game can make or break the position. The two chess players try to trap each other through complex maneuvers as fast as possible. IM Krishnater Kushager is one such person, who seizes the advantage early on, and can end the game before it's even begun. In 2019 at Greece, after getting knocked from the initial moves into unfamiliar waters, he played determinedly. The strength of play from his opening was consistent throughout the game and his efforts were soon rewarded. As he stated, he loves getting an advantage right at the beginning. Additionally, he was the only one to hold a Super Grandmaster to a draw at an event with 32 other players, and as the GM stated, IM Krishnater is definitely "one to watch out for."
28. WIM R.Vaishali - The Perfect Finisher
Practical chess knowledge is quite valuable to know, right alongside training thousands of tactics. R Vaishali has the best of both worlds, and getting rid of her own weaknesses while exploiting those of her opponents is her forte. Storming undefeated into tournament finals, eliminating the toughest of players, and winning every single game to become the tournament's undisputed champion comes naturally to her. Being honored by the prime minister of the country is another experience altogether, and her shy and unassuming character makes for a great surprise over the board to her opponents. After all, India No. 3 in the Women's section worked hard to get to where she was.
29. WIM Divya Deshmukh - The Golden Girl
Winning the gold medal at any tournament is never an easy task. However, winning 14 of them at just the age of 12 is an accomplishment of its own. And WIM Divya Deshmukh hasn't ever ceased to win the gold. Becoming Indian no. 3 for a period of time at the age of 13 took effort, and her playing style of an aggressive, and tactical manner suits her well. Even on some of her best games, she is severely critical of what could've been better, and is dedicated to giving a fair analysis, giving the slightest of mistakes the harshest judgement. A perfect attitude to becoming the Golden Girl of Indian Chess.
30 WGM Vantika Agrawal - The Double-Trouble Warrior
A lone warrior is best accompanied by another companion. The power of two when coordinated is a powerful combination, and Vantika Agrawal knows how to use this well against her opponents. Be it in guiding her two knights in a dance of death towards the enemy king, or using the bishops to stare down the black and white diagonals of the board. Using two extra queens to win a game, is double the failure of the opponent, which in this case was a Grandmaster. The best games come from unexpected ideas, and Vantika uses her strategy, planning, and tactics in full force. She packs the power of two, in one; a deadly weapon.
31. WIM Isha Sharma - e4 Duchess
Not always do you need a complex position to outplay your opponent. Sometimes, simple and reliable is enough to win. 1. e4 is such a move, and is the perfect start for players of all levels. Isha Sharma has over the years become an expert on these lines, and even her hardest encounters begin with the king's pawn advancing. Defeating a WGM at World Juniors 2018, in the very first round, crushing a 2400 rated player in just 23 moves, and leading major tournaments with 7.5/8, all thanks to knowing the nuances of one opening and perfecting it. Tread cautiously, for you may never suspect where the traps are laid.
32. WFM Savitha Shri - Tactic Crusader
Indeed, the name fits her well, with the flawless execution she used in her games. Her rating accelerated from 1968 to 2261 in just two months. She proved her strength by becoming a national champion thrice in her age category, and with an aggressive style that has now settled into a calmer, more calculating approach. It is this patience that let her win the U-12 World Championship. Her spain circuit let her win many valuable prizes, and she has swept the many obstacles in her way pretty well. She will definitely add spice to the tournament, and is willing to put up a good fight.
The Lineup (6th December, Day 1)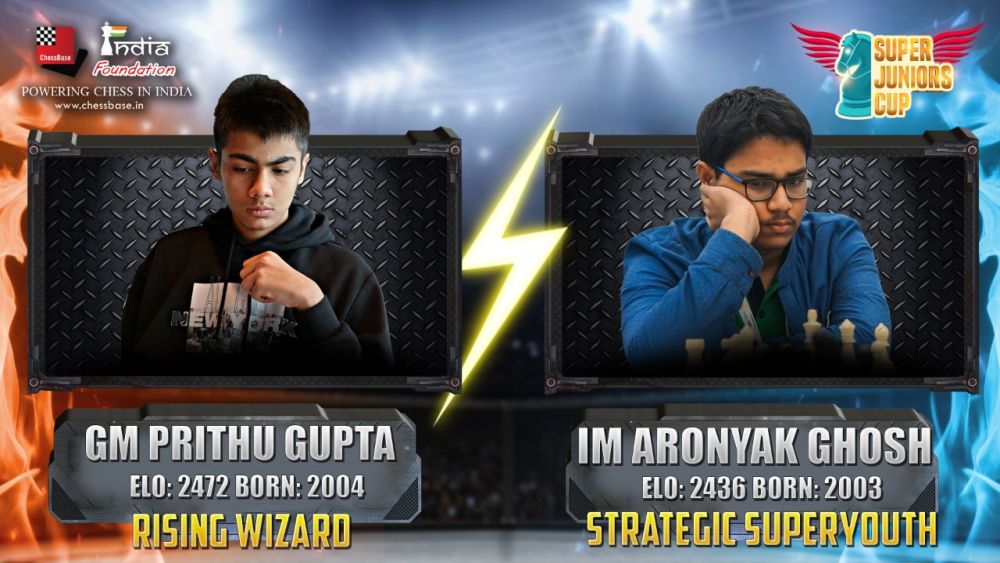 Find out who will dominate and reign as champion at the ChessBase India YouTube Channel LIVE!
About the Author
Avathanshu Bhat is a 15 year old Chess Player from Mumbai. He is the Editor-in-Chief for ChessBase India Juniors and Manager for ChessBase India's Elite Pass. He is a voracious reader, a Nolan film enthusiast, and is passionate about everything tech.
---