SRM IST, Chennai wins two in-a-row
Last month, SRM Institute of Science and Technology, Chennai won the All India Inter University Women Chess Championship 2023. This month the men's team became the National champion with a perfect score 10/10. Four out of the six members were part of the winning team last year. Only Bharathidasan University, Trichy and MG University, Kottayam put up a close fight against the eventual winner as they suffered a 1.5-2.5 loss each. The runner-up, Savitribai Phule Pune University lost to SRM IST, Chennai 0.5-3.5 in the penultimate round.
L to R - IM Ajay Karthikeyan, IM Harikrishnan A Ra, GM Karthik Venkataraman, IM Harshavardhan G B, GM Arjun Kalyan and Srihari L.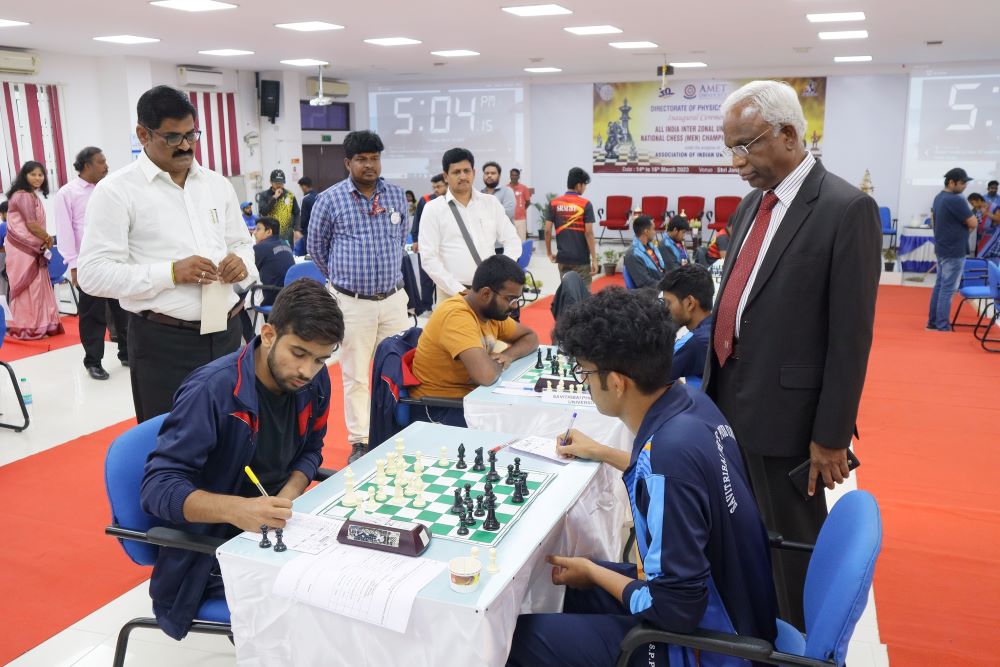 A total of 16 teams including 2 GMs and 5 IMs participated from four zones across the country. The five-round Swiss league team championship was organized by Directorate of Physical Education, AMET University at Shri Janakiraman Auditorium, AMET University from 14th to 16th March 2023. The time control of the tournament was 60 minutes + 30 seconds increment each from move no.1.
Round 5 results
No.
SNo
Team
Pts.
MP
Res.
:
Res.
MP
Pts.
Team
SNo
1
1
SRM IST, Chennai
11½
8
3½
:
½
6
10½
ADAMAS University, Kolkata
2
2
3
University of Madras, Chennai
10½
5
1½
:
2½
6
10
Savitribai Phule Pune University
4
3
7
Rashtrasant Tukdoji Maharaj Nagpur Unive
10
5
3
:
1
5
9½
MG University, Kottayam
8
4
6
Bharathidasan University, Trichy
9
4
1½
:
2½
5
8½
University of Calcutta
5
5
10
University of Delhi
7
4
3
:
1
3
5½
Shivaji University, Kolhapur
9
6
15
MDU, Rohtak
5½
3
4
:
0
3
5
Atal Bihari Bajpayee University, Bilaspu
16
7
12
Kalinga Institute of Social Science, Odi
7
2
1
:
3
2
7
MIT World Peace University, Pune
11
8
14
Punjabi University, Patiala
6½
2
1½
:
2½
1
5
Dr.B.R.A University Agra
13
Final standings
| | | | | | | | | | | |
| --- | --- | --- | --- | --- | --- | --- | --- | --- | --- | --- |
| Rk. | SNo | Team | Games | + | = | - | TB1 | TB2 | TB3 | TB4 |
| 1 | 1 | SRM IST, Chennai | 5 | 5 | 0 | 0 | 10 | 15 | 154,3 | 0 |
| 2 | 4 | Savitribai Phule Pune University | 5 | 4 | 0 | 1 | 8 | 12,5 | 140 | 0 |
| 3 | 7 | Rashtrasant Tukdoji Maharaj Nagpur Unive | 5 | 3 | 1 | 1 | 7 | 13 | 104 | 0 |
| 4 | 5 | University of Calcutta | 5 | 3 | 1 | 1 | 7 | 11 | 109,8 | 0 |
| 5 | 2 | ADAMAS University, Kolkata | 5 | 3 | 0 | 2 | 6 | 11 | 113,5 | 0 |
| 6 | 10 | University of Delhi | 5 | 3 | 0 | 2 | 6 | 10 | 86 | 0 |
| 7 | 3 | University of Madras, Chennai | 5 | 2 | 1 | 2 | 5 | 12 | 103 | 0 |
| 8 | 8 | MG University, Kottayam | 5 | 2 | 1 | 2 | 5 | 10,5 | 105 | 0 |
| 9 | 15 | MDU, Rohtak | 5 | 2 | 1 | 2 | 5 | 9,5 | 72 | 0 |
| 10 | 6 | Bharathidasan University, Trichy | 5 | 2 | 0 | 3 | 4 | 10,5 | 109,5 | 0 |
---